In today's fast-paced digital landscape, social media has made it quite feasible for people to connect and interact with each other. If you see it from the business perspective, it is definitely helping marketers reach their target audiences. However, it is also the fact that managing multiple social media platforms has become quite a challenge for such marketers.
Don't worry! The good news is that there are powerful social media automation tools available to lend a helping hand. These tools have revolutionized how marketers operate in this dynamic landscape, offering ingenious solutions to managing multiple social media platforms seamlessly.
In this article, we'll explore how these social media automation tools can be your secret weapon for maintaining an effective online presence while optimizing your marketing strategies.
Listen To The Podcast Now!
What Is Social Media Automation?
Social media automation is a process of using specialized tools or software to streamline and efficiently manage social media activities. It allows users, including businesses and individuals, to schedule posts, auto-like, auto-comment, auto-share, and analyze content across multiple social networks without the need for manual intervention.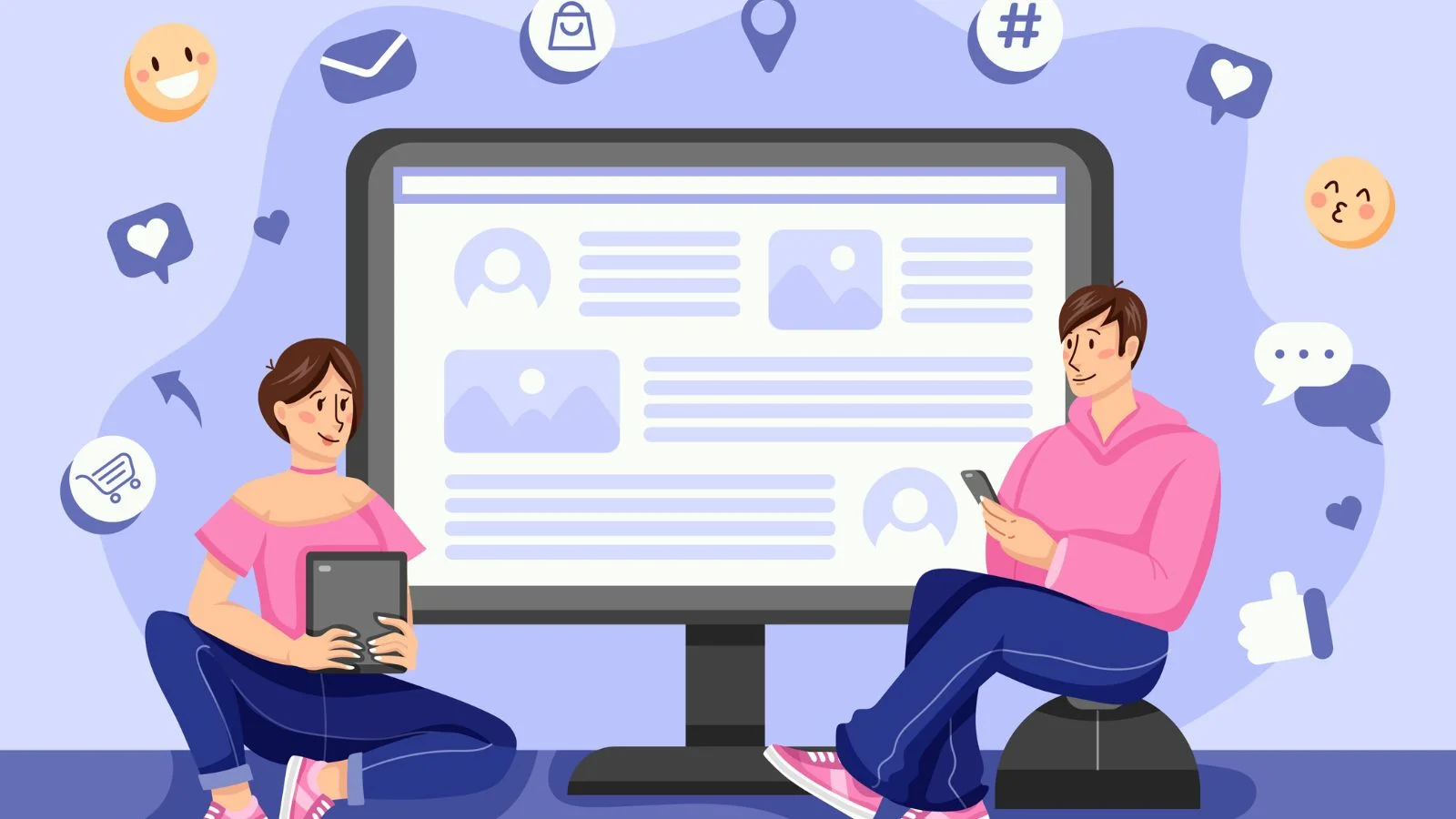 Automation aims to increase efficiency, consistency, and engagement in online interactions. Instead of manually handling each aspect of social media interaction, automation empowers users to plan, organize, and execute their strategies in a more systematic and automated manner.
It involves setting predefined parameters and actions that trigger based on specified conditions, allowing for consistent and timely execution of tasks even without constant manual intervention.
Post Scheduler: 
Automation tools enable the scheduling of posts in advance, ensuring content is published at optimal times for maximum audience reach and engagement.
Manage Multiple Social Media Accounts:
It allows you to manage not one or two but multiple social media accounts from a single dashboard, eliminating the need to log in and out of each and every social media platform.
Content Planning:
It would help you to create a calendar planner for deciding your social media posting schedule and maintaining a consistent posting that aligns with your marketing strategy.
Automated Responses:
Such tools can also help you respond to comments, messages, and mentions automatically, acknowledging user interactions even when you're not actively online.
Analytics and Reporting:
With the social media automation tool, you can access comprehensive data on post performance, engagement rates, follower growth, and more, helping you make data-driven decisions.
These are the features of social media automation that empower users to manage their online presence more effectively, reduce the manual workload, and ensure consistent, high-quality engagement with their audience across various platforms. One such efficient social media automation tool is Socinator.
Socinator is the most dynamic and intelligent young tool that helps marketers automate social media activities & analyze engagement at a fast pace. It has specific automation features for all the popular social media platforms like Facebook, Twitter, Youtube, Pinterest, LinkedIn, Reddit, Tumblr, and Quora.
Incorporating the cutting-edge prowess of Socinator, you can supercharge their social media strategies with unmatched efficiency and precision. From streamlining automation across major platforms to insightful engagement analysis, Socinator emerges as the ultimate ally for today's dynamic digital landscape.
Also Read:
Is Automation the Key to Social Commerce's Success?
Ultimate Guide: 11 Social Media Management Tool
How to automate social media posts? | A complete guide to social media automation
Benefits of Incorporating Social Media Automation Tools

Convenient To Handle:
Automation tools have made it easier for us to manage things that would take much longer work to do manually. Especially when it comes to handling multiple social media platforms, instead of manually tackling each post and update, automation lets you manage everything in one place.
Just having the assistance of a social media automation tool can help you with scheduling your posts across various social media platforms. And you don't need to hop from one social media to another.
It's like having a digital assistant that takes care of the legwork, leaving you more time to focus on what truly matters: engaging with your audience and crafting great content.
Enhance Consistency & Quality:
Another benefit of using social media automation is that it allows you to be more consistent with posting quality content. With manual social media management, it's easy for posting schedules to become irregular due to time constraints or oversight.
However, using social media automation, you can establish a consistent posting schedule well in advance, ensuring that your audience receives a steady stream of valuable content.
Besides that, it will enable you to plan and curate your content with greater precision. You can design your posts, captions, and graphics meticulously, aligning them with your brand's identity and message.
This enhanced control over content creation results in a more coherent and professional online presence. By automating routine tasks, you free up valuable creative time, allowing you to focus on generating high-quality content that resonates with your audience.
Save Your Time & Resources:
Social media automation is also a remarkable tool that can help you save time and resources. With the ability to plan, schedule, and execute posts in advance, you reclaim precious hours that would otherwise be spent on manual posting.
Imagine dedicating this newfound time to strategizing, brainstorming innovative ideas, and interacting directly with your audience. Additionally, automation minimizes the need for a large team, as a well-chosen tool can manage multiple tasks efficiently.
This translates to cost savings and optimized resource allocation, making automation a double-edged sword for maximizing productivity while minimizing operational overhead.
Optimize Your Posting Time:
Fine-tuning the timing of your posts is crucial for maximizing the impact of your social media campaign. Understanding when your target audience is most active ensures that your content reaches them when they're most receptive.
With automation tools, you can analyze your audience's online behavior and determine the right time when they are most active. Accordingly, you can create strategies for scheduling posts to coincide with these peak engagement periods.
That way, you can boost visibility, interaction, and ultimately, your social media success. This optimization of posting schedules not only enhances your content's reach but also demonstrates your commitment to delivering valuable information at the right moment.
Monitor and Measure Performance:
Keeping track of your social media performance is made remarkably efficient through automation. You gain the ability to effortlessly monitor key metrics such as engagement rates, click-throughs, and audience growth.
These insights provide a comprehensive view of what works and what needs adjustment, enabling you to refine your strategies. With the data readily available and presented in a user-friendly format, you can make informed decisions, tailor your content, and optimize posting schedules for maximum impact.
Challenges With Social Media Automation
Automatic social media posting offers convenience, but it's not without challenges. Firstly, content relevance can suffer as automated posts might not align with real-time events or trends.
Secondly, maintaining an authentic voice and engagement becomes complex, as pre-scheduled posts might not address current conversations. Moreover, over-automation risks flooding feeds, leading to user disinterest.
Lastly, technical glitches can disrupt scheduling, causing posts to fail or appear at unintended times. Striking a balance between automation and genuine interaction is essential to overcome these hurdles and maintain a vibrant online presence.
The solution lies in a thoughtful integration of automated scheduling with timely manual engagement. By combining the efficiency of automation tools with regular real-time interactions, you can ensure your content remains relevant, your engagement feels authentic, and your online presence remains vibrant.
Conclusion
In today's ever-evolving digital landscape, social media automation stands as an indispensable asset, offering a bridge between efficiency and authenticity. As we've explored, the conveniences it brings, from enhanced consistency and quality to streamlined monitoring and measurement, are vital for businesses and individuals seeking a competitive edge.
However, it's important to remember that while automation empowers us, genuine engagement and timely adjustments remain at the heart of successful social media strategies.
By embracing automation as a tool that complements our efforts, we pave the way for a dynamic online presence that thrives in the fast-paced world of social media.
So, whether you're a marketer aiming to scale up or an individual building a personal brand, the synergy of automation and human touch is the compass guiding you toward lasting digital success.