Hotel marketing is a crucial part of running a successful hotel business. It's not just about promoting your services and getting new guests; it's much more than that!
It is about the tools and strategies set in place to promote a hotel, attract new guests, and keep previous ones coming back.
With dynamic travel trends, marketing managers are changing their strategies to stand out from their competitors and leave their blueprints on people's minds.
For example, some people really enjoy staying in hotels while, on the other hand, some avoid it, and they prefer Airbnb because it's cheaper and has a personal touch. However, if the hotel can market itself right and offers lucrative prices, they might choose it instead.
All you have to do- is showcase your hotel's strengths and understand your customers and your competition well. That will help you increase your booking.
In this blog, we review a variety of pro tips you should consider adding to your hotel marketing strategy if you haven't already.
In a hurry? Listen to the blog instead!
Why Is Hotel Marketing Important?
Hotel marketing is necessary because it helps hotels attract potential guests, boost revenue, and stand out in a competitive industry.
Moreover, it's your chance to set up a brand your customers trust. And if they trust your hotel, they are more likely to tell their friends and family and book with you again for future stays.
5 Pro Tips To Successful Hotel Marketing Strategy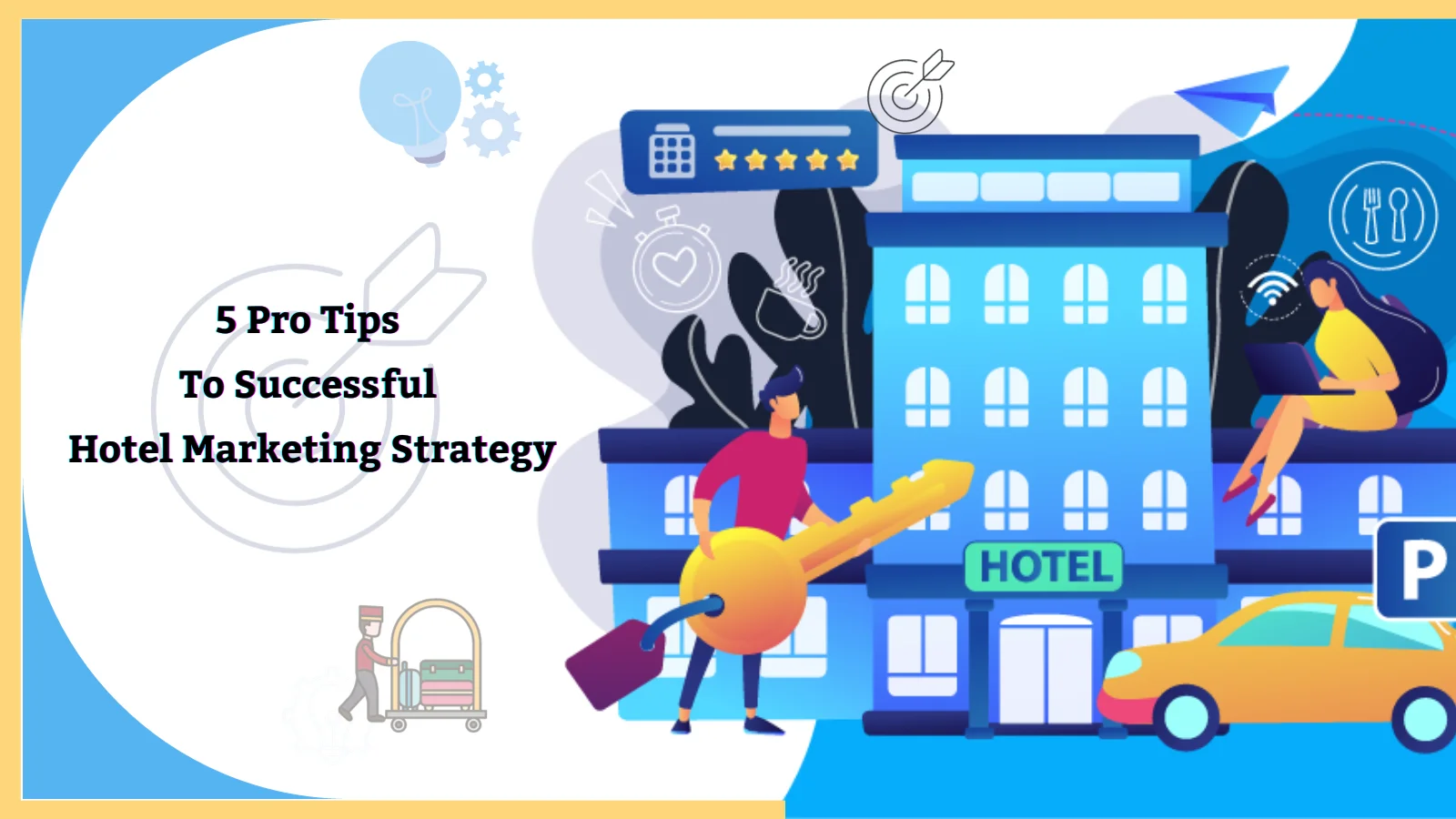 Whether you want more group bookings, to improve your social media presence, or to increase website traffic, these hotel marketing strategies will be your helping hands.
Technology and trends change constantly. The five steps I've outlined below are a few tricks to boosting your hotel sales and marketing strategy.
Identify your audience.
Don't underestimate the power of software
Build partnerships with local businesses
Invest more money During Peak Booking Seasons
Monitor online reviews
Identify Your Audience.
Understand your target audience inside and out. Conduct market research to identify your potential customer preferences, behavior, or demographic insights. From guest preferences to travel patterns, knowing what your guests choose allows you to create personalized hotel marketing campaigns.
Use your skills to create personalized hotel marketing intended to drive business from specific market segments and efforts to meet your guest's needs.
Hotels have a variety of customers who have different preferences for booking, traveling, and different budgets.
Don't Underestimate The Power Of Software.
In today's world, technology has taken over. People use the Internet to book hotels. So if you don't have an online presence in your hotel business, you won't get many bookings. You should register on all the relevant hotel booking platforms to grab the attention of potential guests when they're looking for a place to stay.
Social media platforms are without a doubt- one of the most essential tools you can use to market your hotel and increase hotel revenue. However, managing multiple social media is time-consuming. To streamline your efforts, rely on social media automation tools like Socinator.
This tool will allow you to schedule your post in advance, monitor engagement, and it also analyze your performance metrics.
Using automation in your Hotel social media marketing can decrease your burden and let you focus on your business rather than doing routine tasks like posting, replying to comments, etc. In the long run, it also saves you money by reducing your time and effort to manage your presence on social media platforms.
Socinator – The Social Media Marketing Automation Tool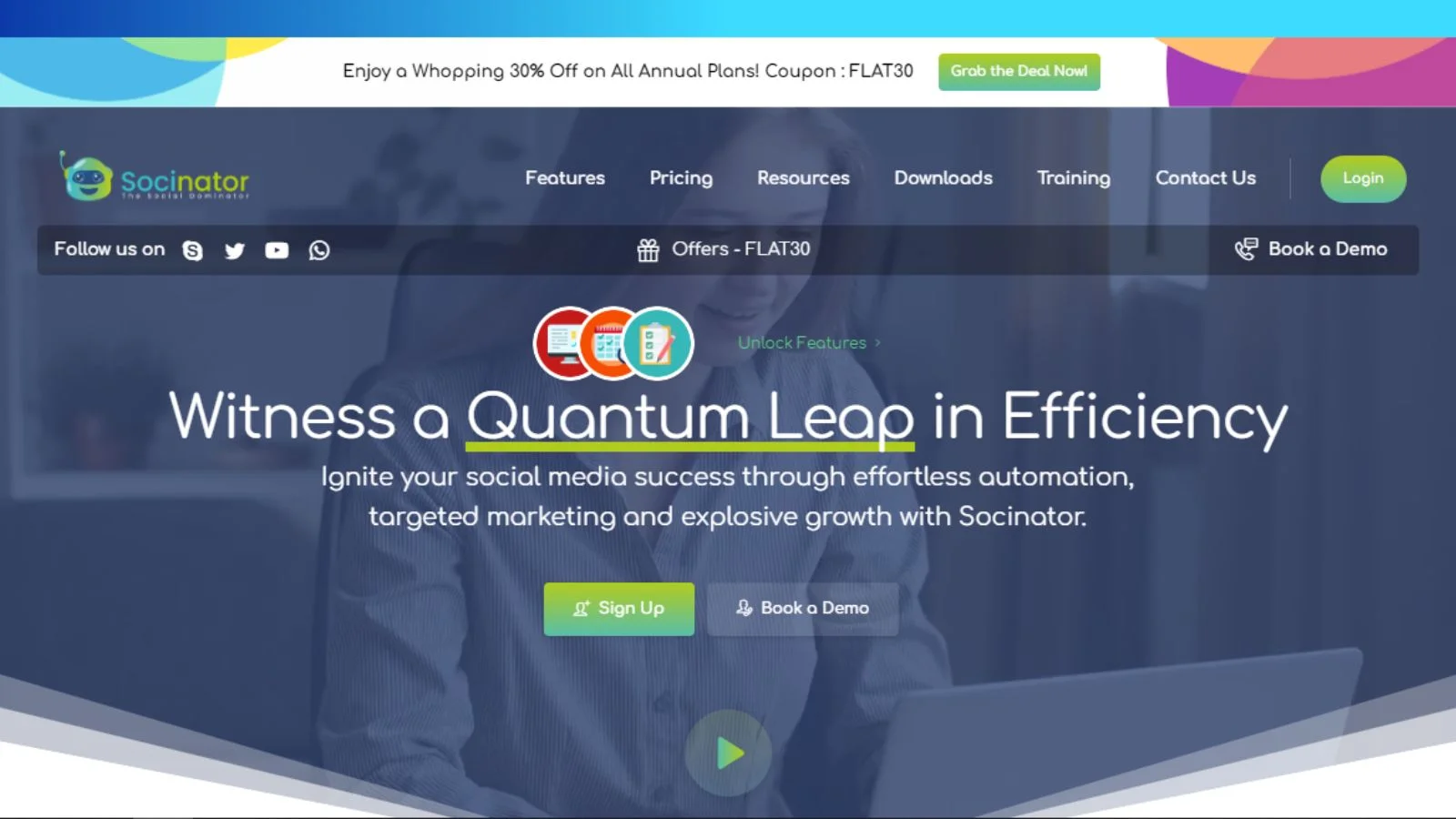 It is the ultimate social media marketing software. With a seamless, easy-to-use interface and powerful automation features, it lets you streamline the process of posting and scheduling your content on social media platforms and makes it well-organized.
Socinator is available for all major platforms, such as Facebook, Instagram, Twitter, YouTube, etc. Also, you can use it to manage multiple social media platforms and multiple accounts using a single dashboard.
It is a  social media automation tool that allows you to maintain a consistent online presence, even during peak season when you're busy with other elements of a hotel.
Let's discuss some of the advantages of Socinatior:-
Saves time by automating social media posts.
Auto send/ accept/ cancel Requests.
Find relevant profiles, groups, and pages.
Auto Unfollow/ Unfriend.
Engage with Auto like, comment, reply, share, and repost.
Track insightful analysis & measure social performance
Automated chatbots for massaging.
Plan, collaborate, & schedule ahead of time
Helps in Keeping organized with post management.
Get notifications of social conversations in one place.
Build Partnerships With Local Businesses.
Now, if you have built quite a presence online, you should also be looking for other collaboration opportunities that may help you in getting more business. Building partnerships with like-minded businesses and making friends with local business owners is a great way to build co-partnerships and co-promote each other.
Suppose your hotel is near a famous amusement park. You might partner with them for a contest where the prize includes free tickets or buy one get one ticket (BOGO) to the park and a discounted hotel stay. This collaboration can attract more guests to your hotel and is the best way for hotel marketing.
Invest More Money During Peak Booking Seasons.
Find out when your guests are booking for the peak season and invest more in marketing during this period of time to draw them in. You can check historical data to understand the busiest times of the year and when it's slow, then reduce your ad budget accordingly.
Knowing the time of the year when your guests are looking to book more rooms is a great hotel marketing opportunity!
Monitor Online Reviews.
Online reviews can significantly influence a guest's decision to book a hotel. Pay attention to what people say about your hotel online. Monitor and respond to online reviews quickly. This will help more customers choose to stay with you.
By using a tool like Socinator, you can respond to reviews and comments through its automated chatbot feature quickly.
How To Promote Your Hotel Business Online?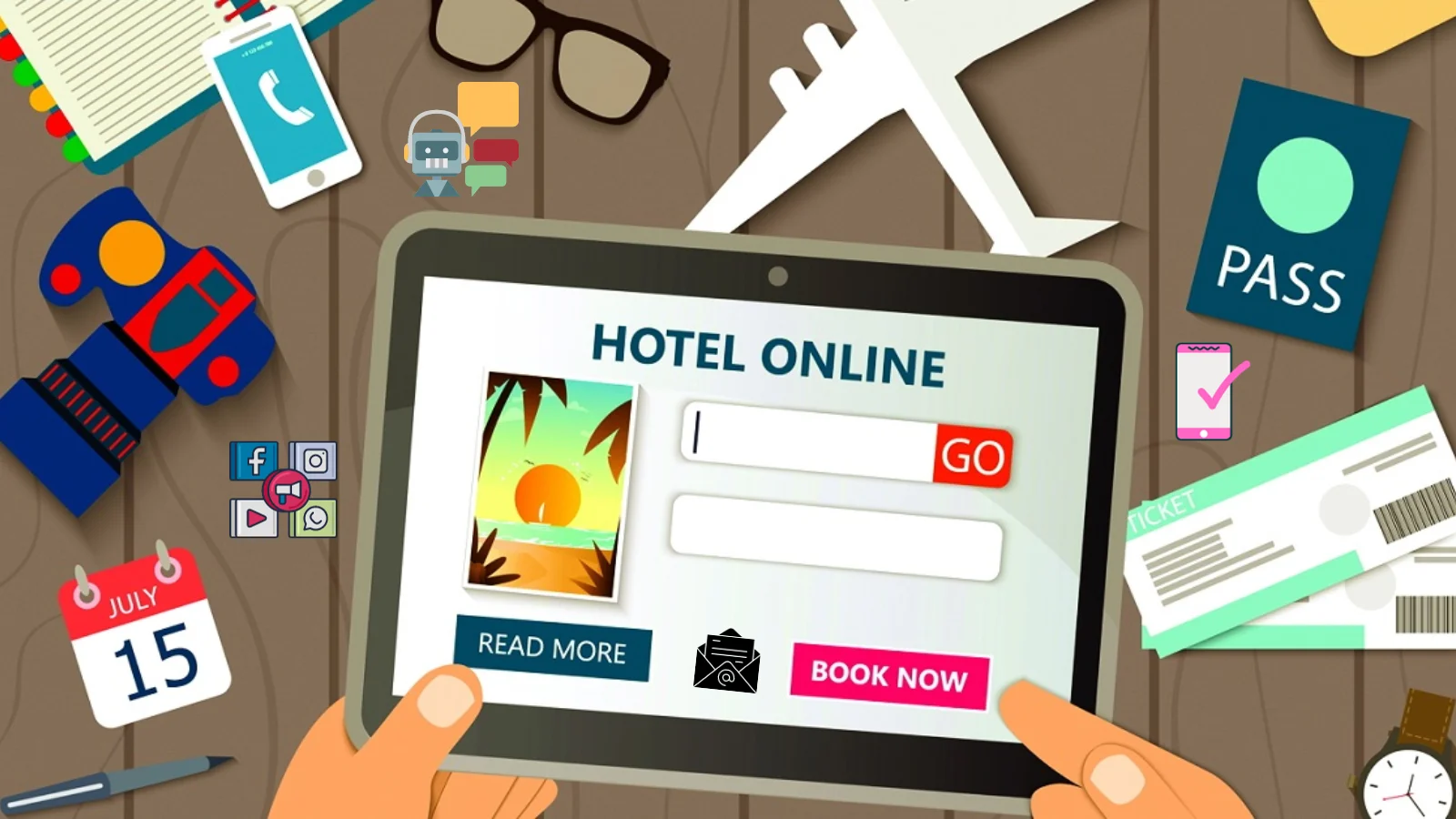 Here are some hotel marketing strategies that would allow you to effectively promote your business online.
Allow Digital Check-In And Check-Out:-
This strategy can be helpful since time is the most valuable factor in the corporate world for business travelers. As a result, they stay at a hotel where all the systems are quick and fast forward.
One of the major factors to consider when achieving your hotel marketing objectives is making your arrivals and departures process as fast as possible.
The use of a digitalized marketing strategy for your hotels, such as a digital check-in and check-out system, can be highly beneficial to prevent unwanted events and save time.
Social Media Promotion:-
Today, everyone uses one or all of the most popular social media platforms, such as Facebook, Instagram, Twitter, and TikTok, to showcase their facilities, share guest experiences, and run contests like offers and discounts to attract potential customers.
Post pictures of your hotel rooms, garden area, pool, dining, and updates. To make it more convenient, you can use the Sociantor automatic post feature, which saves you time.
Email Marketing And Chatbots:-
A well-thought-out email marketing strategy is useful for people who come or are about to come to your structure. By sending a newsletter with special offers, updates, and personalized recommendations to past guests and subscribers, such as, "Read this Email before reservation", "Your opinion is important to use", and " Thanks, Anna! Your booking is confirmed".
Chatbots have become a highly universal hotel digital marketing strategy in the hotel industry in recent years. Using an application like Socinator, you can use its chatbot feature to engage with your audience. It would help you to answer the queries of your potential customers. And thereby it would build trust for your brand and people would consider visiting your hotel again.
Work With Marketing Influencers:-
One of the most efficient marketing strategies is  influencer collaboration marketing. Partner with travel influencers and bloggers who have outstanding online following to promote your hotel through sharing information about the hotel's reviews, photos, and videos.
Learn More:
Social Media Automation Explained: Why You Need It
Social Media Metrics: Everything You Need To You
5 Impactful Tip  To Find Influencer In You Niche
Conclusion
Hotel marketing plays an important role in today's travel industry. From hotel to hotel, marketing strategies can vary based on a range of factors including location, market mix, area travel demand, budgets, or nearby attractions.
However, hotel marketers have started opting for software like Socinator to achieve their goals effortlessly. With Socinator's amazing feature, you can streamline auto posts, reply to messages through chatbot, track insightful analysis, and much more, which can enhance your online presence on multiple social media platforms to boost your hotel booking.
An effective marketing strategy listed above will help you bring in potential customers, grow your business, and increase booking.