Instagram – the hub of captivating visuals and endless scrolling. If you're a business owner, you know how important it is to have a loyal following. But worry not, there is no need for shortcuts or magic tricks.
Ever since Instagram marketing Ads, TV, and Business Accounts came out, it's become more of an influencer, marketing, and business platform. Not only do people use Instagram to connect with friends, but they also use it to connect with their favourite brands and to shop online.
From crafting irresistible content to engaging smartly, we've got seven actionable tips to get Instagram followers. So, now say goodbye to a fake audience and hello to a genuine community that genuinely cares.
Ready to dive in?!
Hit 'Play' Button & Tune Into The Blog!
How To Grow Instagram Followers Organically?
There are tons of tips out there on how to get Instagram followers naturally. But the truth is, if you know what the most important steps are, it's not that difficult. Here are the top 7 organic Instagram growth strategies.
Craft Compelling Content.

Schedule Your Posts.

Compile the List of Relevant Accounts in Your Niche.

Track your Competitor's Followers.

Experiment with Post Variety

Join an Engagement Group

Repeat and Be Consistent
Craft Compelling Content
Instagram users love to 'like' and 'comment' on content that they think is good. According to a study, an average Instagram image gets 23% more engagement than an average Facebook image.
So, how do you get your audience to like your content on Instagram? The first thing you need to do is make your content interesting. The more interesting your content is, the more likely your audience is to share it.
Here are some ideas on how to make your content interesting and how to get your engagement rate up on Instagram.:
Upload more video content because video posts are proven to get 38% more engagement than posts containing images.

If you don't want to hire a professional video agency, you can create your video using video marketing tools and platforms.

In order to increase engagement and subsequent follower counts, it is important to utilize the appropriate hashtags.

Share viral content from other social media platforms such as Twitter, Facebook and YouTube.

Provide content that resonates with your target audience. The quality of your content will vary depending on your target audience, so it's important to know who they are in the first place.
Schedule Your Posts
Once you've collected new and interesting content, your next step is to plan your posts for a week to a month, depending on how long you'd like to plan. Posting at the right time is a key metric.
It will ensure that your content is visible to as many people as possible — and that you get Instagram followers as well. However, sticking to a rigid posting schedule can be tough, especially if you're juggling various responsibilities.
Scheduled posts are a game-changer in this scenario, allowing you to plan, create, and schedule your content ahead of time. Socinator's Scheduled Post feature empowers you to do just that, ensuring that your Instagram feed remains vibrant, relevant, and engaging even when you're not actively online.
Socinator – Advanced social media management tool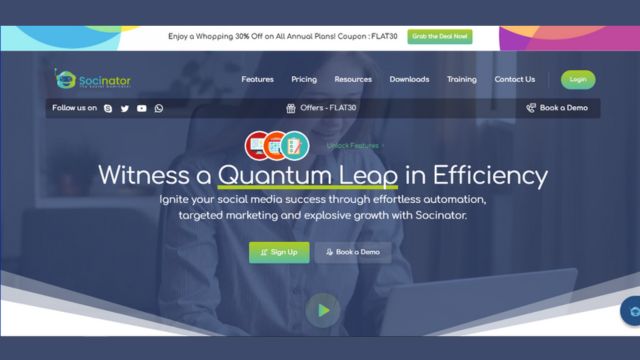 Socinator is an all-in-one  solution that makes it easy to manage your social media accounts across different platforms. It's perfect to grow their online presence, whether it's a person, business, or influencer.
With this automation tool, you can schedule posts, automate interactions, and more. All in all, it's a great tool to help you save time, get more engagement, and reach your social goals.
Here are some key features of Socinator:
Scheduled Posts: Schedule your social media posts in advance across platforms like Instagram, Facebook, Twitter, LinkedIn, Pinterest, and more. This ensures a consistent and well-timed flow of content to your audience.
Automated Interactions:

Engage with your audience effortlessly through automated actions such as liking, following, commenting, and direct messaging. This helps you build and nurture your online community.

Automated DMs and Comments:

Send automated direct messages and comments to get new followers, fostering personalized interactions without manual effort.

Analytics and Reporting:

Gain insights into your social media performance with detailed analytics and reports. This helps you understand what's working and make data-driven decisions.

Support for Multiple Platforms:

Socinator supports major social media platforms, including Instagram, Facebook, Twitter, LinkedIn, Pinterest, YouTube, and more.

Security Measures:

Socinator employs safety features to ensure your accounts remain secure and avoid any violations of platform rules.
Incorporating Socinator into your social media strategy can help you save time, maintain consistency, and get Instagram followers organically.
Compile The List Of Relevant Accounts In Your Niche
Create a list of all your competitors and top Instagram accounts in your niche. For example, if you are a food and beverage influencer, you could create a list of all the top food bloggers and restaurants in your niche that speak to your audience.
Start by taking some time to get to know these accounts so you can figure out what you should be posting. As you compare brands, ask yourself:
What subjects does their audience relate to?

How frequently do they publish?

What are the most liked posts?
Now, utilize your competitors' accounts to expand your audience too!
If you want your business to succeed on Instagram, this is a key part of what you'll need to do to get Instagram followers. With a well-defined niche, you're more likely to get the kind of engagement companies want, so they'll pick you to be their influencer.
Track Your Competitor's Followers
Once you have a list of these accounts, follow them one at a time. These followers are your target audience because they are already following your competitors, indicating that they are interested in your sector and likely in the content that you share.
The current Instagram algorithm limits the number of followers per day to between 100 and 200. If you follow over 200 people daily, there is a chance that Instagram will suspend your account. Again, just take it slow.
Leave likes and comments on competitors' followers' posts
Take the time to connect with a large number of followers and engage as authentically as you can, leaving comments when a post grabs your attention.
This not only shows that you care about what your followers are posting, but it also guarantees that they care about you.
The goal is that many of those followers will like what you're posting and follow you back. This is an easy way to get Instagram followers organically.
Experiment with Post Variety
Yes, experimenting with different types of content can help you get Instagram followers brilliantly. Here are some tips and ideas to help you get Instagram organic growth:
Hashtags: Find hashtags that are relevant to your niche and incorporate them into your posts. This will help your content reach more people who are interested in similar topics.
Instagram stories: Use Instagram stories to show what's going on behind the scenes, get daily updates, vote in polls, and have fun with interactive elements. Stories show up first in the feed, so they're more visible.
Reels: Use this to make short, captivating videos. Use music, current trends, and clever editing to grab people's attention.
IGTV Videos: You can use it to create long-form content. This way, you can show off your knowledge, give tips, or give more in-depth information.
Live Streams: Host live stream Q&A sessions and tutorials or simply share your thoughts so, that you can interact directly with your audience.
Carousal Post: These are great for sharing multiple photos or videos in one post. They're great for step-by-step instructions, before and after shots, or just for telling stories.
Remember, it's all about finding the right balance between different kinds of content while still staying true to who you are as a brand.
Read More:
07 Proven Strategies For Marketing Instagram Accounts
Instagram Live: Tips To Change The Marketing Game
7 Steps to Engage Your Audience on Social Media
Join An Engagement Group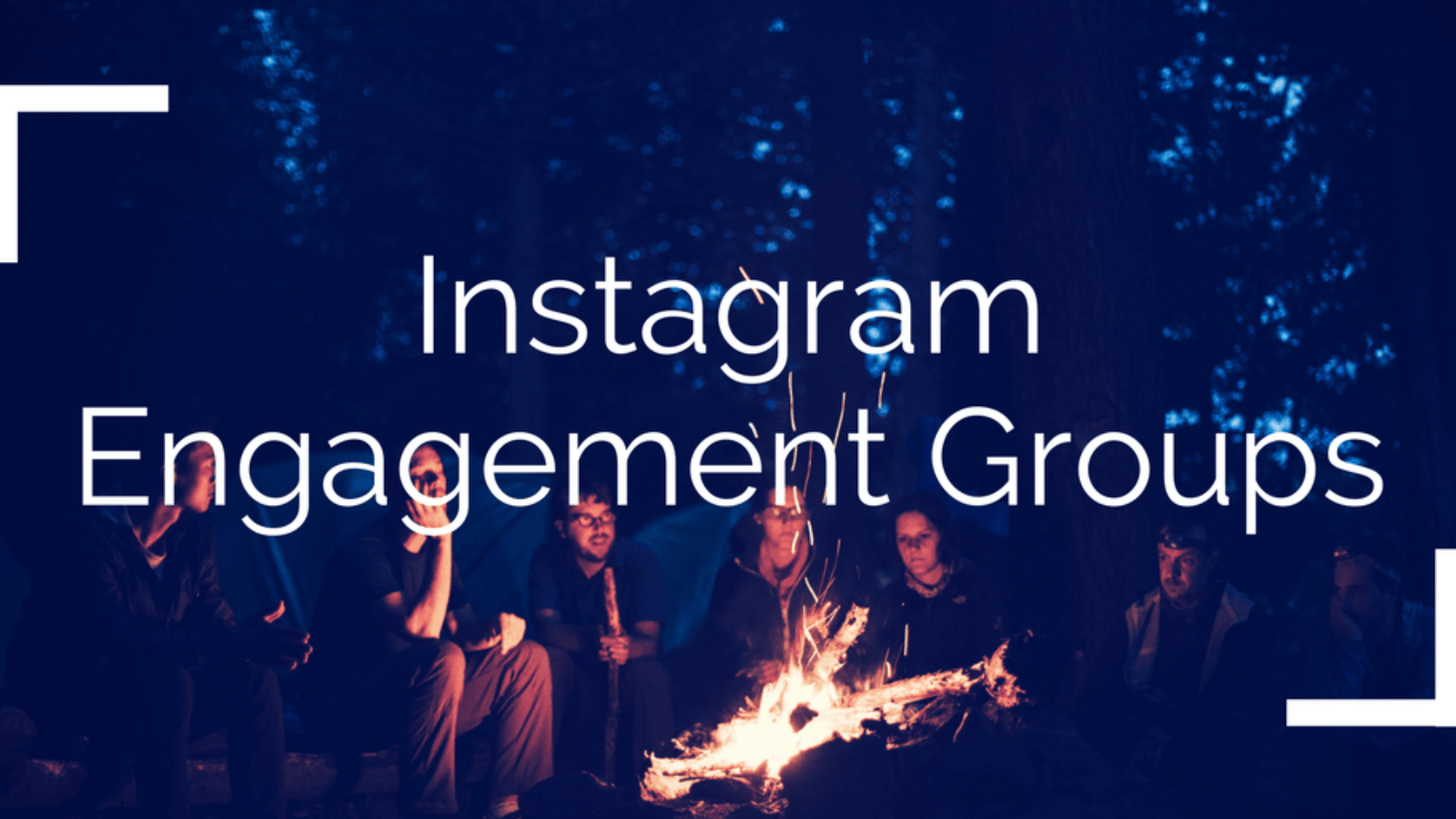 An Instagram engagement group is a group conversation that takes place on Instagram as well as other social media platforms.
For example, there are many Instagram engagement groups on the Telegram app. These groups are "engagement groups" because everyone in the group is willing to like, comment, and like other members' posts in return for liking or commenting on their posts.
If one of the members of the group posts a new Instagram post, the entire group will like, share, and comment on that post.
Most groups also have a set of rules that you need to adhere to to participate in the group. The more members in the group, the quicker your followers will grow. What's more, a group can also like and comment on a new post immediately after it is uploaded.
This makes it easier for you to be featured on Instagram's Explore Page and organically get Instagram followers.
Repeat & Be Consistent
If you don't want to spend money and still grow an engaged following, these methods work and are free to use. In general, gaining your first 1,000 followers in two months by doing this is very achievable.
This means that in less than two years, you could achieve 10,000 followers All while building a true and engaged audience.
Finishing Up
Gaining organic followers allows you to reduce your marketing budget while simultaneously curating a quality audience that will interact with your brand and ultimately convert it into a buyer or client. Be prepared to invest time and you will find that it is possible to get Instagram followers as early as tomorrow.