The use and effect of social media marketing have strongly increased in recent years. With every person, from baby boomers to millennials, being a participant in at least one social media platform, it is safe to say that the new way of word-of-mouth marketing is social media marketing.
But why are companies involved in social media marketing? Most would say it is to connect to their customers, to have a relationship with them in order to keep their products and company top of mind and viewed in the best and super positive aspect.
Social media is 'owned media' now, where the business essentially 'owns' the platform, like its own website or blogs. But hold up, isn't that the duty of public relations?
PR and social media both fall under the same marketing. Other things that classify as marketing might be things like advertising, other forms of digital marketing, direct mail, and promotions.
In this blog, we'll delve into the world of social media PR and explore the valuable tips to improve your social public relations.
Hit 'Play' Button & Tune Into The Blog!
What Does PR Mean In Social Media?
PR social media means using platforms like Twitter, Facebook, Instagram, and TikTok to make people talk about a brand or company. It's like shining a spotlight on your business in the world of social media PR.
Social media is an impactful tool for PR because it lets you connect with people who might have been hard to reach before. In addition,  social media automation tools can help you check the impact of your campaigns and fine-tune your strategy.
How Has Social Media Changed Public Relations?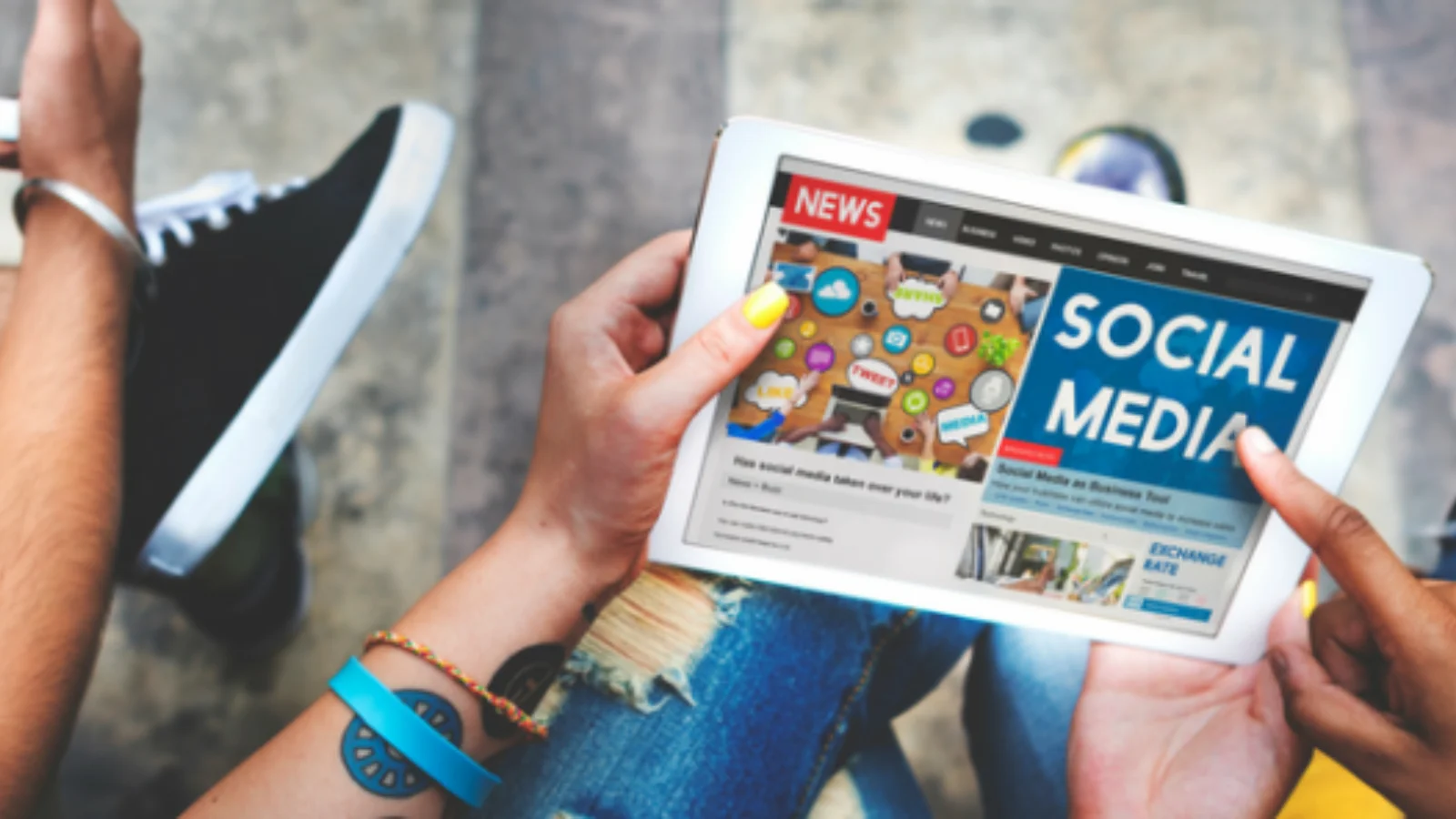 In many ways, social media has completely changed the PR landscape, and it is clearly evident the impact social media has had on PR. Below are a few points:-
Communication:-
Social media PR has provided brands the opportunity to reach customers on a variety of channels, or brands can now communicate to their customers directly through platforms such as Facebook, Instagram, and Twitter, whether through posts, reels, or tweets for creating a personal connection.
Consumers can like, comment on, and share brand content, which can help spread brand awareness and messages. This two-way communication street can be a huge advantage for brands that know how to use it.
Influencing:-
Social media has allowed common people to become influencers who can help brands promote their stuff to specific groups. Brands can team up with bloggers, vloggers, and experts to make impactful PR campaigns.
Instead of creating the content by itself, a brand can use the creative powers of these influencers. That's why influencers with a large following are highly in demand for obvious reasons. However, it's vital to look past the follower count to see whether the influencer is suitable for the brand.
24/7 Cycle:-
The internet is constantly active. Social media gives brands the opportunity to engage with consumers on a range of channels, but with golden opportunity comes responsibility.
In order to fulfill customer demands, many brands have extended their social monitoring hours to nights and weekends. Since news and controversial issues often break on social media, brands that monitor their social platforms closely and address these issues quickly and safely can control the conversations rather than reacting to them.
5 Tips To Improve Your Social Media PR Strategy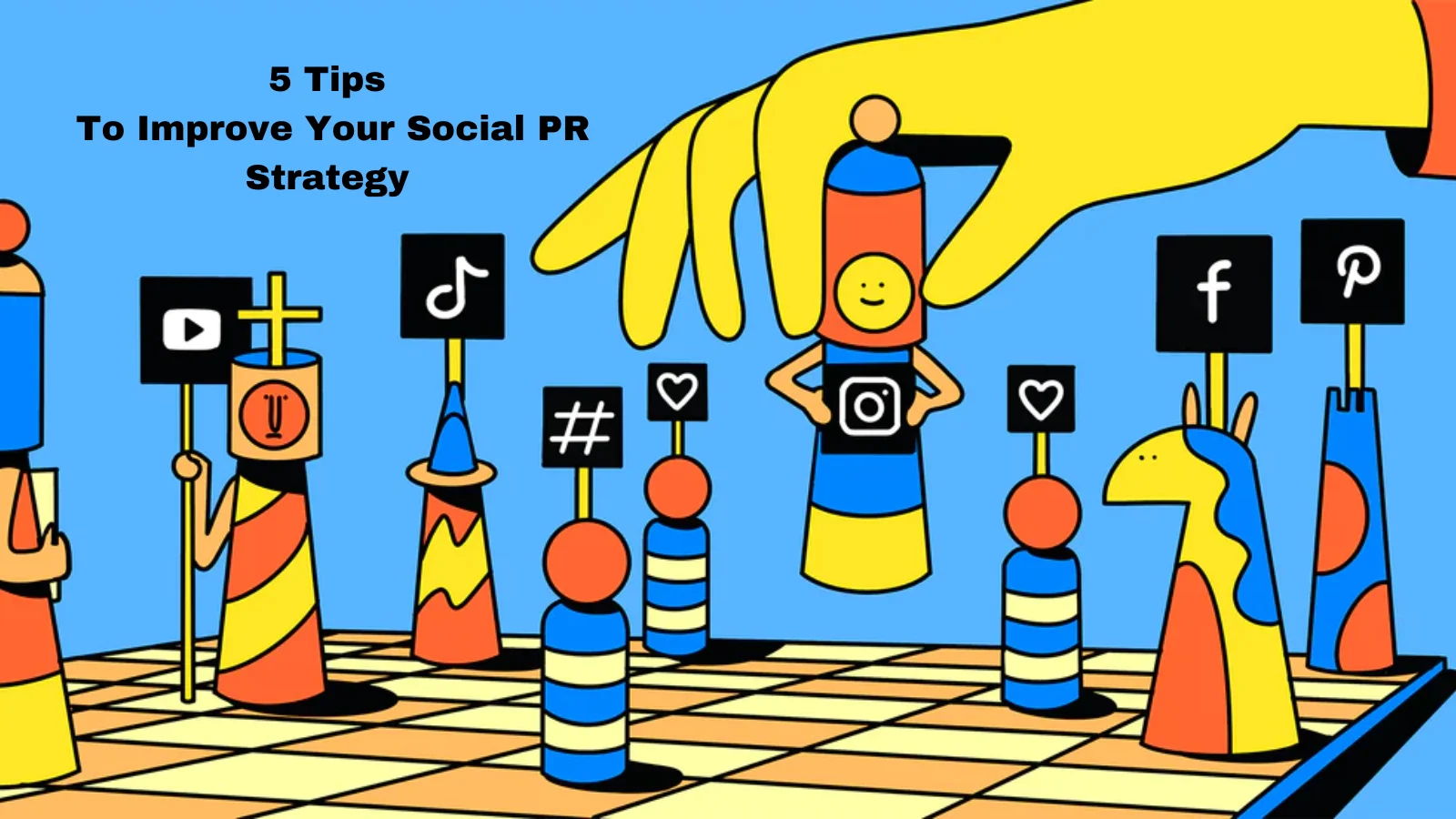 To effectively use social media to support your PR strategy, you need to clear your goals. Start figuring out your key objectives, then ask:
What niche do you occupy in your industry?
How can you distinguish yourself from your competitors?
Who is your target audience?
Which platforms does your potential audience engage with most?
By answering these questions, you can create a roadmap to reach your primary goal while figuring out the details of how to do it.
Understand Your Target Audience:-
It's better to know exactly who your audience is- rather than trying to reach everyone. You can create a "buyer persona", which is like a detailed profile of your potential customer. It helps you figure out which social media platforms and content will work best to attract the people you want.
The best way to get this info is by using data like preference, behaviour, and interest of your target audience. Knowing your audience will stop you from spreading yourself too thin or spending mixed messages that might confuse people about your brand.
Engage with Influencers:-
One of the prime ways to create PR for your brand is to partner with an influencer.
Before social media companies had to call the news to share stories. But now, social media PR influencers have become powerful messengers. Research says that 63% of people trust these influencers more than a company's own ads.
Collaborate with social media influencers who coordinate with your brand. Their endorsement can significantly boost your PR efforts and expand your reach to their following. They're like experts in the field, and that's why people believe them.
Engage With Journalists:-
To build strong connections with journalists, especially on platforms like Twitter, you should aim to create a real relationship that can help you in the long run. Twitter is a great way to connect with journalists because they're there to interact with the public.
When you want to reach out to a journalist, do your homework. Find which media outlets are a good fit for your brand, identify the journalists who regularly write about the topic related to your industry, and check their Twitter profile to see what kinds of stories are interesting.
Once you have this info, tailor your approach to match their interest. If it looks like your goal aligns, send a short and attention-grabbing messenger. Since Twitter is all about quick and concise messages, stick to that style even when you're reaching out to someone.
Building strong relationships with journalists can lead to valuable opportunities in the world of PR.
Create A Brand Guideline:-
When you want people to recognize and remember your brand. It's important to be consistent. It means posting content regularly on social media, but it can be a time-consuming process. But don't worry, we recommend a handy social media automation tools that will soothe your social media presence with an auto-post feature, and that is Socinator.
Make sure you're always on the same page. You can create "brand guidelines" that will help you define your brand and give you a reference point to make sure you sound the same on all social media, even if you use different platforms. Remember that consistency is what ultimately strengthens your brand.
Use Social Media Automation Tool:-
Use a tool like Socinator to make your social media PR work better. This tool can help you schedule posts, manage your multiple social media accounts, and keep things running smoothly. It saves you time and helps you stay on top of your PR game on social media.
Socinator: The Social Media Automation Tool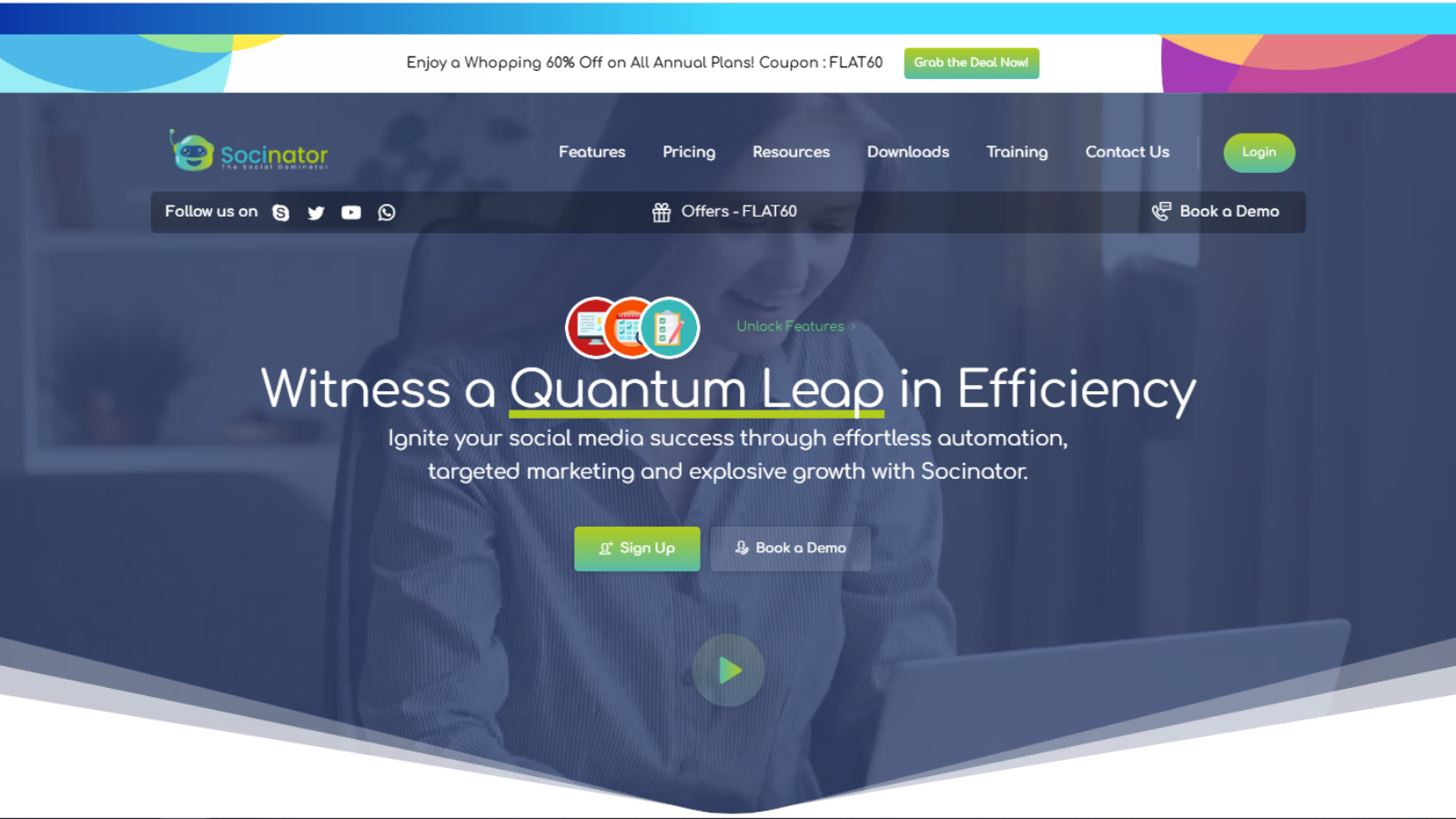 With over 5,000 users, 100 plus companies already subscribed, and an existence in more than 15 countries, Socinator is the ultimate tool for social media marketing.
It has a seamless and easy-to-use interface, possessing impactful automation tools and features that let you make your social media workflow well-organized.
Here are the top 5 features of Socinator that can improve your social media Public Relations:
Consistency:
Socinator helps you plan and post content on various social media platforms regularly. When you consistently share content, your audience stays engaged, and they get to know your brand better. Without a tool like Socinator, posting regularly can be tough because it takes time.
Audience Engagement:
Connecting with your audience is vital for building a strong brand. Socinator's automated chatbot features let you quickly respond to comments, messages, and mentions. This makes your audience feel like they're part of a community, and they trust the brand more.
Content Management:
Good social media branding depends on having great content. Socinator helps find you and manage content easily. It ensures your brand's message is both interesting and fits well with what your audience wants to see.
Analytics And Insights:
Socinator gives you detailed information to help you understand what your audience likes and how well your posts are doing. This data allows you to adjust your social media PR strategy to make it better. An essential aspect of social media is to monitor and measure your ads performance.
Compliance And Security:
Socinator is a tool that keeps your social media accounts safe and follows the rules of each platform. This reduces the risk of getting in trouble and damaging the brand's reputation. It's like having a security guard for your online presence.
Hence, above are some of the features that you can obtain using Socinator. It is one such ultimate solution for social media marketing.
Also Read:-
The Top 06 Most Useful Socinator Features for a Powerful Social Media Presence
Social Media Automation Explained : Why You Need It
How To Build Successful Social Media Marketing Plan For 2024
How To bridge The Gap Between Social Media And PR
Gone are the days when putting a press release and sending emails were all the PR department had to do to inform customers. Now, customers expect more from organizations, businesses, and brands. Using social media and your PR campaigns can improve customer engagement and build a positive press.
Wrapping Up
Enhancing your social media PR is crucial for a strong online presence. By implementing the right strategy and tips, you can build and maintain a positive reputation on social platforms.
Creating a targeted and successful social media strategy will improve your performance online. Utilizing different ways to interact with your audience will boost your reach. Most essential, analyzing your metrics will help you determine whether or not you are on the right track.
Social media is constantly growing, and with seemingly new trends every day, the tips listed above will help you create your strategy and grow your Public relation.
Additionally, monitoring your campaigns using Socinatior and adapting to the change in the digital landscape will keep your public relations and social media efforts effective.