Instagram is one of the most popular platforms for businesses who want to enhance their brand presence, engage with their audience and drive sales in this digital marketing era.
With its vast user base and visually appealing interface, Instagram provides marketers ample opportunities to use its potential to level up the marketing game on this platform. But for doing that, having an impactful Instagram account with huge followers is a must.
In this article, we will explore proven strategies to unlock Instagram success and expand your follower base. By implementing these strategies, you can increase your brand visibility, boost engagement, and ultimately drive valuable traffic and conversions.
Whether you are a budding entrepreneur, an influencer aiming to expand your reach, or a marketer seeking to enhance brand awareness, this guide will provide valuable insights to help you in marketing Instagram accounts effectively.
Let's dig into the details!
Listen To The Podcast Now!
Benefits of a Large Instagram Following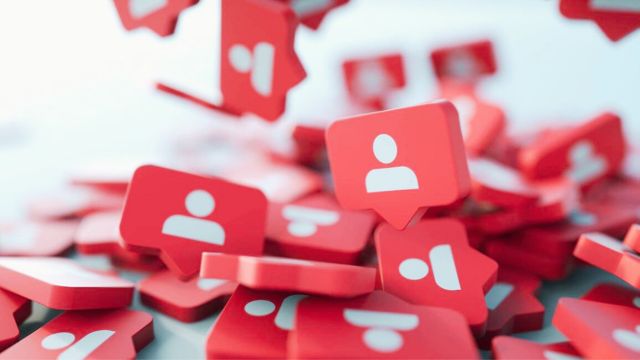 Are you curious about the various perks that come with having a massive Instagram following?
Having a large following can have a number of advantages. Here are a few that you might find useful:
Increased visibility:
When you have a large following, your content reaches a wider audience. This increases your account's visibility and leads to more likes, comments, and shares, enhancing overall engagement and brand exposure.
When people share and like your posts it is visible in their followers explore section. This will increase the chance of them visiting your profile and hitting that follow button.
Influencer opportunities:
A huge following comes as a result of marketing Instagram accounts better. Which then attracts attention from brands and businesses wanting to collaborate with influencers.
When your Instagram account has more followers, these brands will want to work with you to promote their product so that it can reach a wider audience and yield them benefits.
This can make your Instagram journey profitable as you will have many offers of sponsorship deals, paid opportunities, and free products.
Credibility and authority:
Having a large Instagram following indicates that a lot of people trust that brand. If you want your brand to build the same kind of credibility and trust, try marketing Instagram accounts to increase your followers to achieve it.
You will become a respected authority in your niche as more brands related to the same industry will want to work with you. It gives more credibility to your content.
People will value your opinion, advice, and recommendation. They will promote your products to their followers and connections, which will help your brand to grow even more.
Networking and connections:
How can one forget the power of networking and connections?
Having a massive following will open doors to connect with like-minded individuals.
They can be industry professionals and influencers with whom you can collaborate that can lift your personal growth and take your business to new heights.
Networking and connection can help with marketing Instagram accounts as well.
Increase in website traffic:
Having enormous traffic on websites or blogs is the dream of many.
If you want to increase the number of visitors to your website a vast following on Instagram can make it a reality.
When you have so many followers, the number of people who check your stories, bio, post, and updates increases. They can click on links you share, this will take them to your website or other digital business platform.
Also, these visitors can share links to their stories and bios, driving more traffic to the website.
That increases the website's visibility and potential for higher conversion rates.
So if your goal is to drive traffic to your business website, marketing Instagram accounts to increase followers on your brands profile is helpful.
Can build a personal brand:
You can build and strengthen your brand with the help of a large following.
If you have a lot of followers on Instagram, this tells that people like your
content and find your post engaging. You can use this skill to build your brand and earn some profit.
This can help showcase your talents and gain opportunities
If you want fresh ideas on this you can follow best digital marketing Instagram accounts it will somewhat simplify your journey towards Instagram success.
You gain social influence:
When you have a significant following, you gain potential to influence others. People trust you and they don't hesitate to try your recommended products or services.
Followers tend to try a new product, support a cause, or adopt a lifestyle promoted by you because it inspires them to take action.
Overall marketing Instagram accounts become easy when you have a large following and vice-versa. Which helps in your brand growth and success in the long run.
Effective Strategies For Marketing Your Instagram Account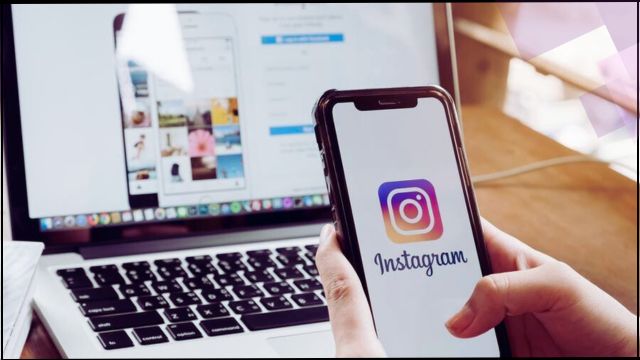 Instagram offers a platform to promote your business and take it to a new height for free. All you need to know is how to establish an Instagram account that can yield you maximum benefits, and make people aware of your existence even before you can start promoting your brand.
Here are 7 strategies that you can implement to market your Instagram account:
Enhance your profile: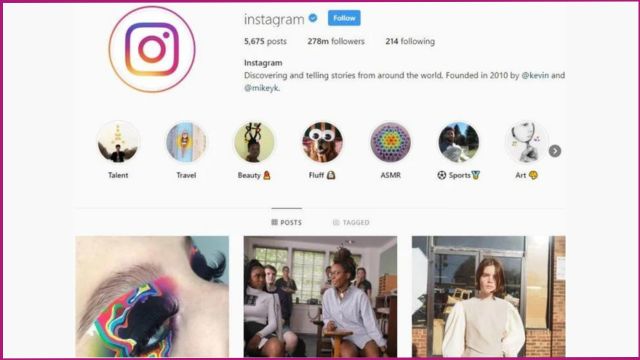 The first thing visitors will see if they land on your account is your profile. If they find it appealing, they take action by following or liking your post.
So make sure your profile is what you want to show and share with them.
You can use a high-quality image as a profile picture, create a bio that reflects your view, and add a link to your website or page to drive traffic. Use keywords and hashtags for better reach.
Create high-quality useful content: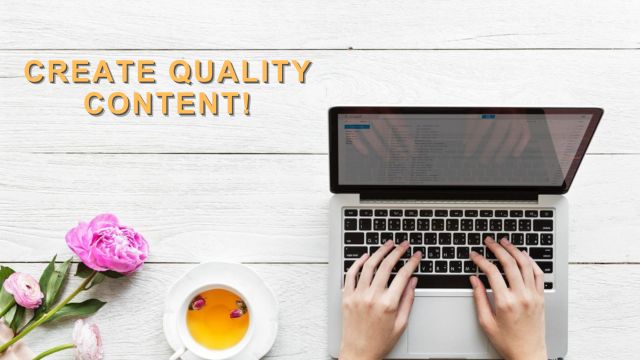 The initial step towards marketing Instagram accounts is to share beneficial high-quality posts.
To compel the audience to follow you, try and create visually appealing, engaging, and standard content.
Share unique and fresh posts using different formats, such as stories, carousels, videos, and photos.
This can help your posts work according to the Instagram algorithm.
Instagram first checks the response by sharing your content to a few percentages and then boosts views only if it is engaging and beneficial to the users.
Engage with the audience: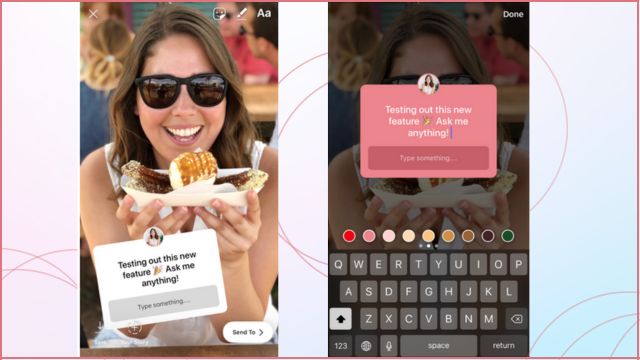 For Instagram's success, a strong bond with its followers is crucial. To build a solid connection with the audience, try to respond to their comments,  mentions and DM on Instagram, regularly.
Take time to like and comment on followers' posts who punctually engage with your content. This assists in marketing Instagram accounts and proves that you want to interact with and value your audience leading to further engagement.
But if you are a budding entrepreneur or influencer who doesn't have a team and time to engage with the audience. You can use tools to automate some of your tasks. This will make time to interact with the audience or create high-quality content.
Socinator is a powerful automation tool that can save time which you can use to interact with your audience.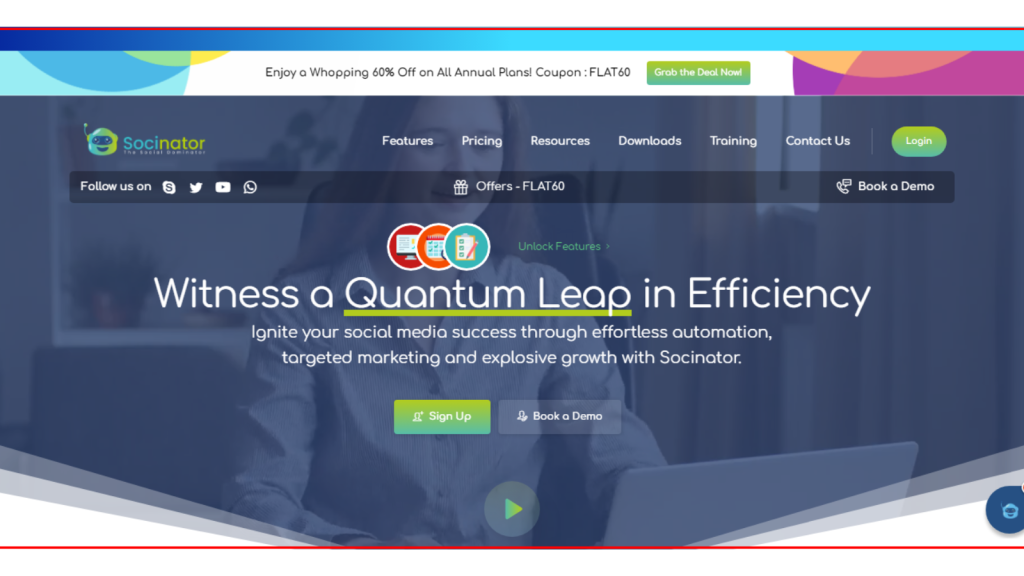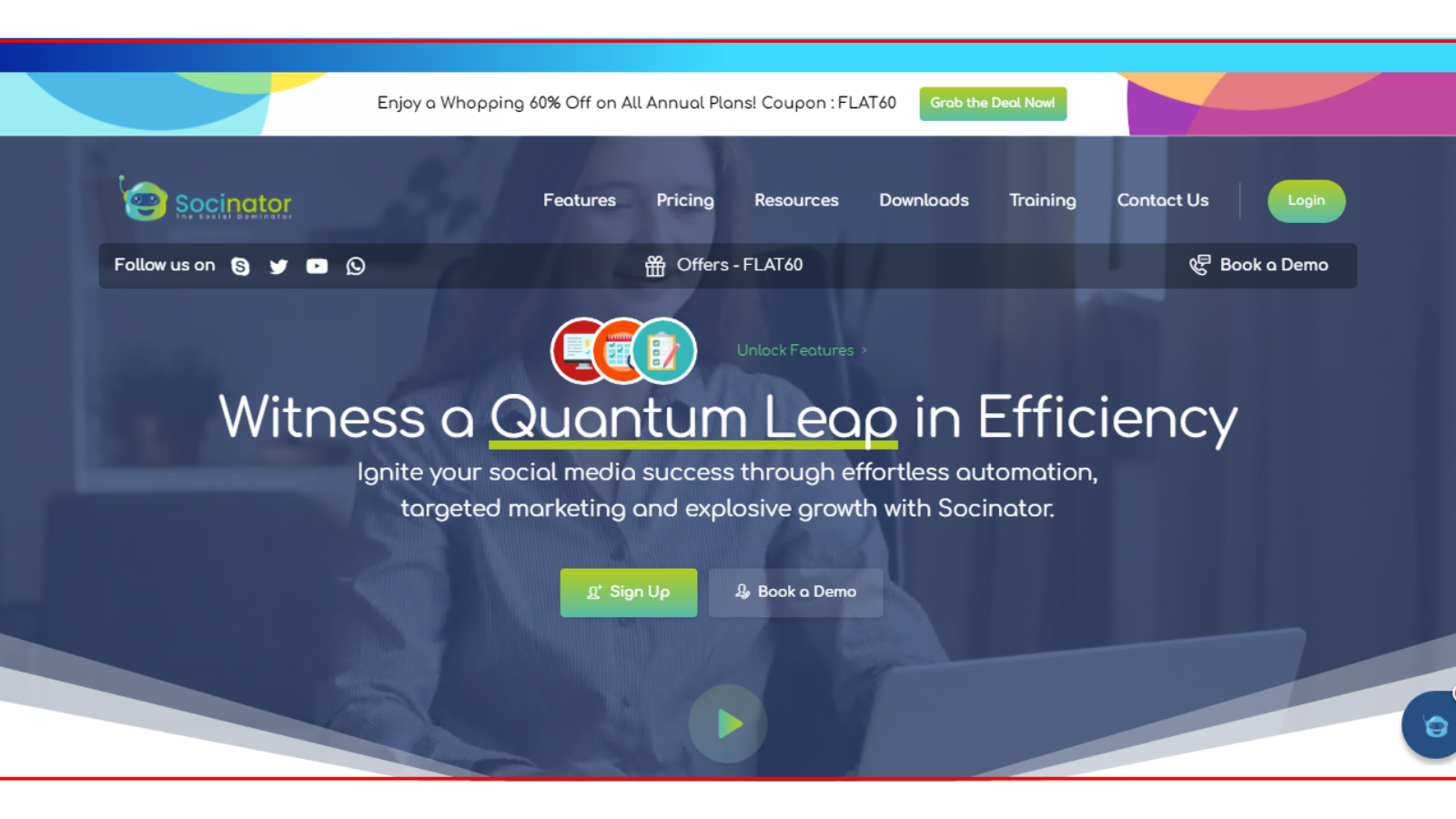 Checkout Socinator's feature:
One can schedule the post to publish on a specific date with auto-publishing avoiding the hassle of manual posting when they are busy with different tasks.
With Socinator, you can automate tasks, such as comment, like, follow, unfollow, follow back, and repost.
It can also find and extract hashtags, target audiences, and schedule display pictures for your account.
You can manage multiple accounts, delete posts, block followers, broadcast messages, and live chat using Socinator.
Interesting right! how Socinator can help you with so many tasks. So don't wait to try this essential software that can save time and accelerate your marketing campaign journey toward Instagram success.
Use relevant hashtags: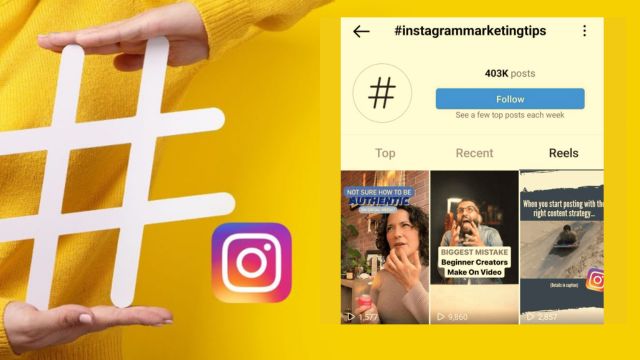 To reach a wider audience and get discoverable, use of hashtags is essential on Instagram.
Hashtags increase content visibility in any particular niche or category. Try to research popular and related hashtags to your industry to increase the post's chance of reaching users interested in such content.
Use a mix of universal, correct, and niche-specific hashtags in posts and reel captions to reach your target audience. That will gain more engagement and followers for your Instagram account.
There are many other benefits of hashtags, such as forming a community, campaigns, and activities related to promotion organically.
Incorporate hashtags to increase the chance of more likes, shares, and engagement on your content.
Also Read

Boost your Instagram engagement: 7 strategies to become Instagram famous

Grow your business on Instagram: 5 tips for success
Collaborate with Instagram influencers: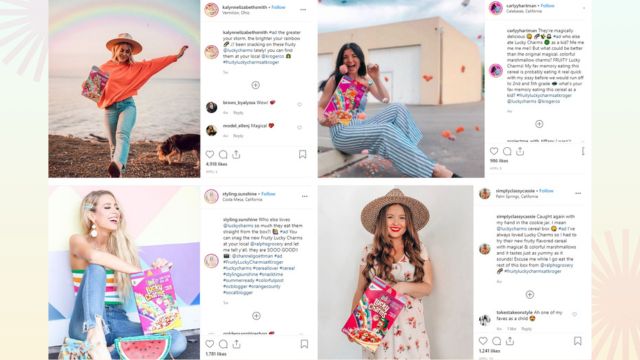 Partnering with an idol influencer can make things work, aids marketing Instagram accounts and boost your Instagram's success.
For higher conversion rates on investment, look for influencers who align with your brand and have a relevant following.
Once you have found that perfect influencer, convey your goal to them so they can understand it and help to achieve it.
Collaborate on content creation, such as photos and videos that suit the influencer's personality.
Giveaways and coupon codes offer works as well where an influencer can push their followers to take action or purchase products.
Running sponsored posts or contests with the help of influencer promotion is in trend. They can also influence followers by using product hashtags and unboxing videos to promote the brand.
Cross-promote on different platforms: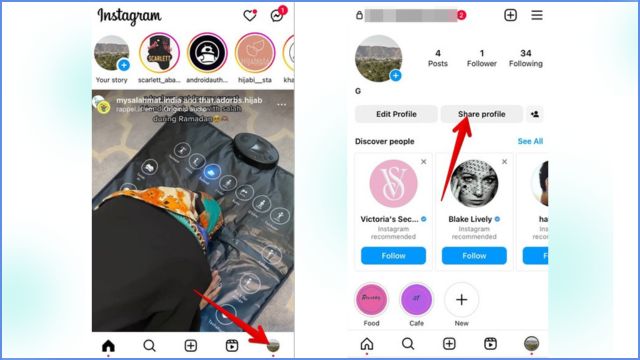 Think unconventionally to ascendancy your presence on other social media platforms, your website, or your email newsletter to promote your Instagram account.
Cross-promotion helps to funnel your existing audience to your Instagram account. It can level up your IG game.
Marketing Instagram accounts on other platforms is common these days. One can promote the Ig profile on LinkedIn, Facebook, and Twitter. This helps in reaching a fresh audience.
To make it work, add Instagram profile links on FB and LinkedIn, share Instagram posts on other platforms like Twitter, and mention your Instagram handle in your email signatures.
People usually have questions on how to set up multiple Instagram accounts for marketing, first they can opt for cross-promotion. They can take their IG growth to the next level, as it offers endless possibilities.
Do giveaways and run contests: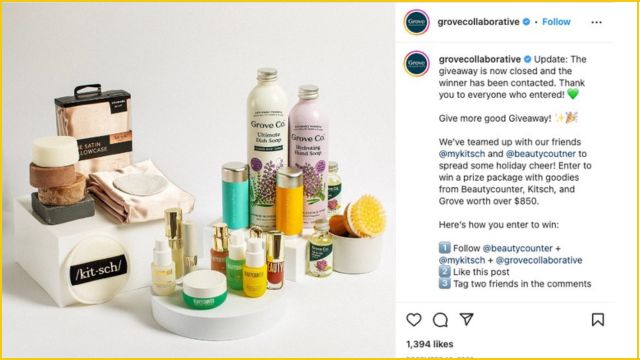 Organizing contests and giveaways offer a great way to increase engagement and gain new followers.
When brands run contests, this helps with promotion activity grabbing the attention of new audiences. As you get new visitors, you can encourage them to follow your account, like, comment, or share your content, and tag their friends to enter.
Keep in mind your target audience's interests while offering attractive prizes.
This strategy works because people like gifts and free products, and then this audience will increase engagement on your post by talking about it in their community.
Conclusion
Marketing Instagram accounts yields a large following and can bring numerous benefits to your brand or business.
A considerable following increases reach and the chance of attracting potential followers.
However, building a significant following requires a strategic Instagram account marketing approach.
Implementing the seven strategies in this blog will facilitate marketing Instagram accounts better and attract a larger follower.
To achieve sustainable growth on Instagram, consistency, authenticity, and adjustment in your strategies based on analysis and feedback are essential.