Are you looking to level up your Instagram game? Well, you're in the right place! Instagram scheduling is a game-changer when it comes to managing your social media presence. It's like having your very own personal assistant who takes care of posting for you while you focus on creating amazing content.
With the ever-growing popularity of Instagram as a visual platform for sharing photos, videos, and stories, scheduling posts in advance can help ensure consistent posting, save time, and boost engagement.
In this article, we will explore everything you need to know about Instagram auto posting, from the benefits and best practices to the tools and techniques for effectively scheduling and automating your Instagram content.
Whether you're a small business owner or an aspiring influencer, read on to discover how Instagram scheduling can streamline your social media strategy and help you achieve your goals. So, grab a coffee, get comfy, and let's unlock the power of Instagram scheduling together!
How To Schedule Instagram Posts?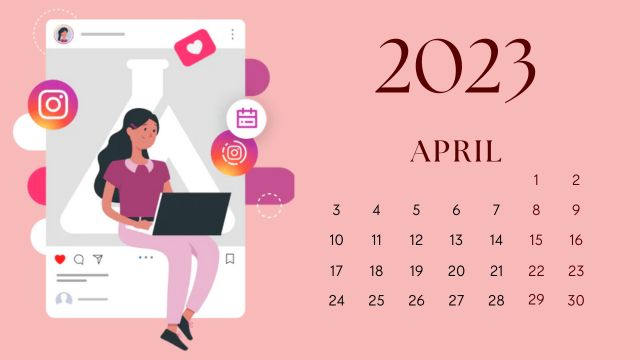 With the help of Instagram scheduling software, you can easily schedule your posts in advance, ensuring a consistent and strategic approach to your Instagram content. One powerful software to schedule Instagram posts is Socinator, a comprehensive social media management platform that caters to the needs of businesses, influencers, and content creators alike.
Socinator provides a user-friendly interface that simplifies the process of scheduling Instagram posts. With its intuitive features, you can create, plan, and automate your posts according to your content calendar, saving you time and effort. The platform offers advanced scheduling options, allowing you to specify the date, time, and even the time zone for your posts, ensuring that your content goes live at the optimal times for your audience.
One of the standout features of Instagram Scheduling Software Socinator is its ability to schedule carousel posts, which are posts that contain multiple images or videos in a single post. This feature enables you to create engaging, swipe able posts that can showcase different aspects of your brand or tell a story in a visually appealing way.
For instance, a fitness brand can schedule a series of workout videos to be posted every day at peak workout hours to engage their target audience. A travel blogger can plan and schedule a series of travel photos and captions to be posted while they're on the go, allowing them to maintain a consistent posting schedule even while traveling.
In addition to scheduling, Socinator also offers features such as conte                                                                                                                                                                                         nt creation, analytics, and team collaboration, making it a comprehensive solution for managing your Instagram and other social media accounts in one place. The platform also provides insights and analytics that can help you measure the success of your scheduled posts and make data-driven decisions to optimize your Instagram strategy further.
Leveraging Instagram scheduling software, such as Socinator, can greatly enhance your social media strategy by allowing you to efficiently plan, schedule, and automate your Instagram posts. It provides a convenient and effective solution for managing your Instagram content, saving you time and helping you achieve your Instagram marketing goals.
How Does Instagram Scheduling Software Works?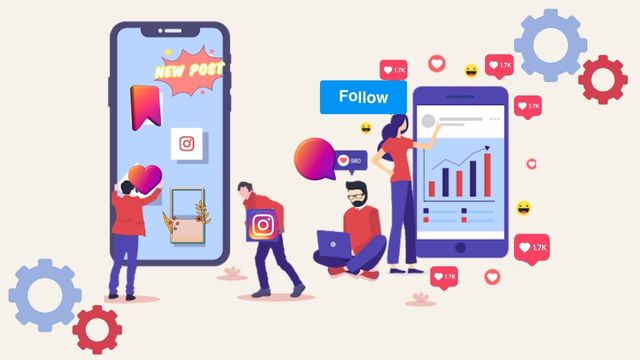 Automating Instagram posts with Instagram scheduling software – Socinator is a straightforward process. Here's a step-by-step guide on how to do it:
Also Read-
Everything You Need To Know About Instagram Scheduling Software
Step 1: Sign up and connect your Instagram account-
First, sign up for a Socinator account and login to the dashboard with your license key. Then connect your Instagram account to the platform. Socinator requires authorization to access your Instagram account in order to schedule and post content on your behalf.

Step 2: Create a Content Campaign-
In Socinator, navigate to the " Sociopublisher" tab and click on "Create Campaign" to start a new campaign. Select "Instagram" as the social media platform for your campaign.

Step 3: Set up your Campaign details-
Give your campaign a name, click on the "Post Manager", then add media and other details to customize your campaign. You can either upload images or videos from your computer or use Socinator's built-in RSS Feed to create visuals for your posts. You can also add captions, hashtags, and locations to your posts.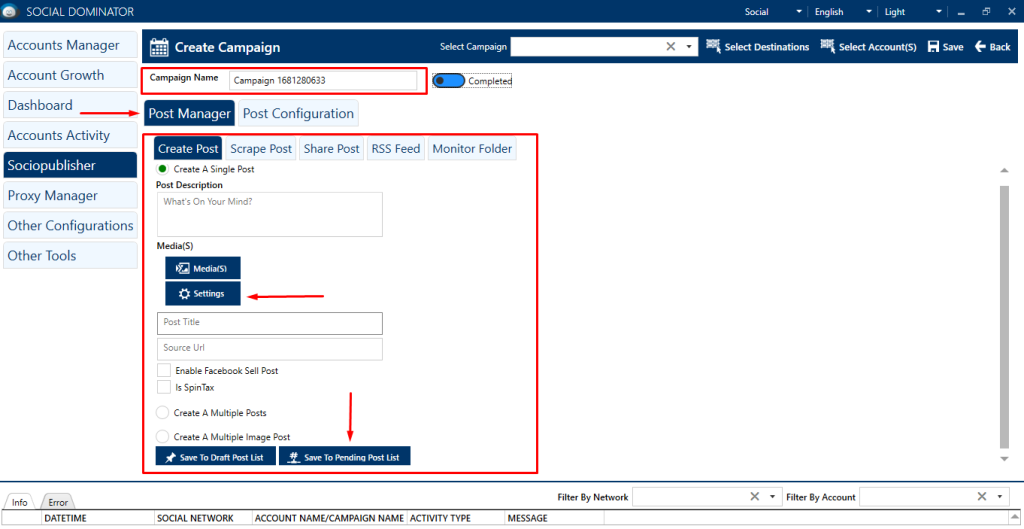 Once done, you can go to the "Settings", select your social media platform, choose the type of campaign (e.g., single post, carousel, story, reels), and click on "Save to Pending Post List" to save the post.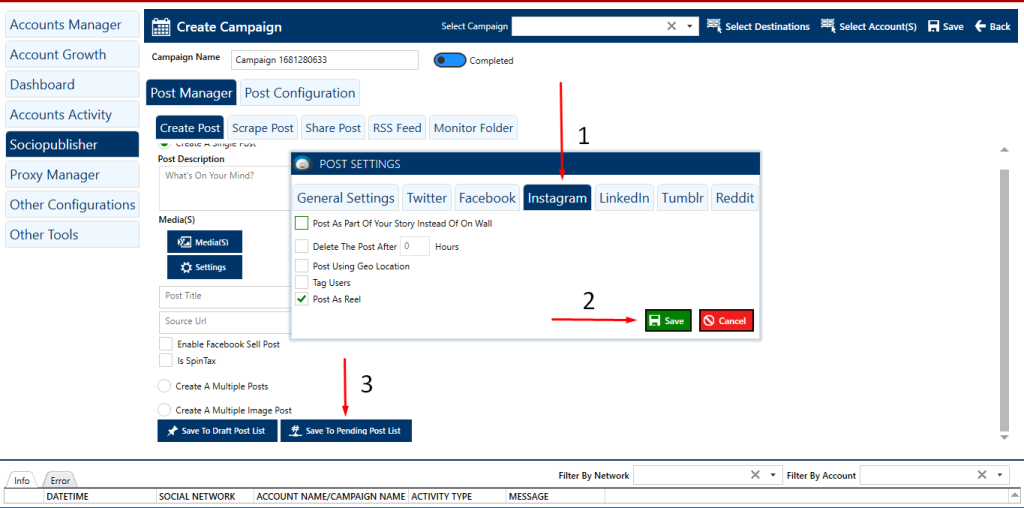 Step 4: Schedule your Instagram Posts-
Once you have created your post, you can choose the date and time you want it to be published on Instagram. Under the "Posts Configuration" tab within your campaign, you can set the time for your Instagram posts.
Socinator being one of the best scheduled posting software for Instagram, allows you to select specific dates and times for each post, gives you the option to automatically publish the posts on random times every day, add a delay between the posts or automatically schedule your posts based on predefined posting times that you have set up.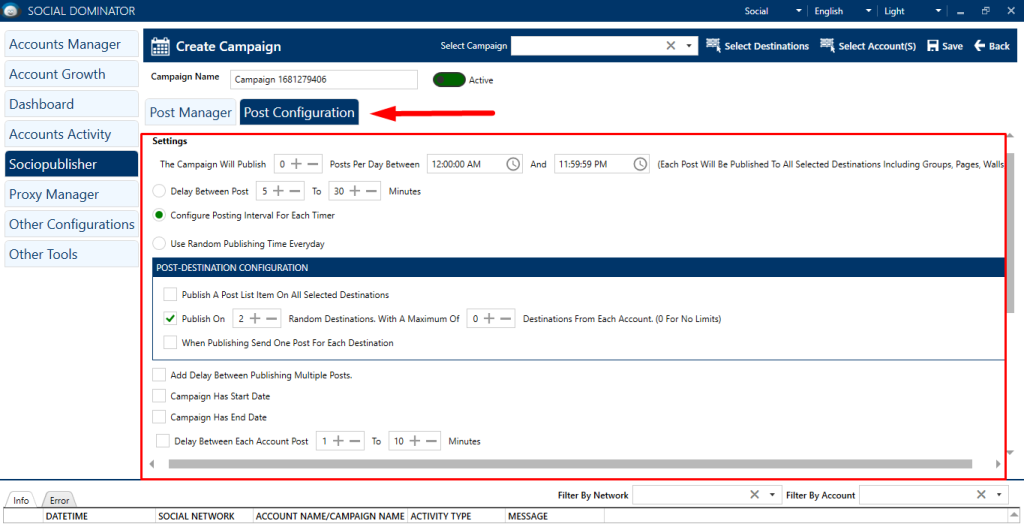 Step 5: Review and Publish-
After scheduling your posts, review your campaign to ensure that everything is set up correctly. You can preview your posts, edit or delete them if needed, and make any final adjustments before publishing.
Though there are so many Instagram scheduling software available out there, but Socinator makes it easy to schedule Instagram posts with its user-friendly interface and advanced scheduling features. By following these simple steps, you can efficiently plan and automate your Instagram content, saving time and maximizing the impact of your social media marketing efforts.
Also Read-
What It Takes To Succeed At Scheduling Instagram Posts?
Benefits of Instagram Scheduling-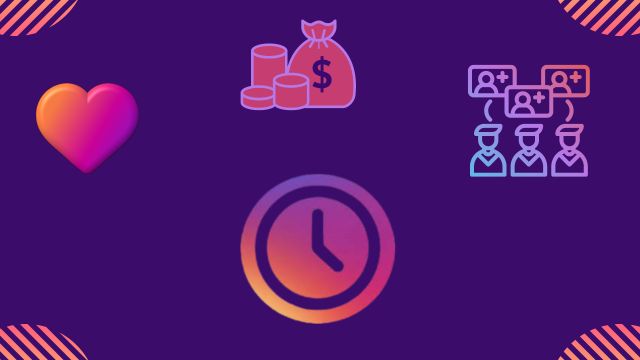 As a savvy social media user, you're already aware of the importance of scheduling your Instagram posts for consistent and strategic content delivery. But did you know that there are even more advantages to Instagram scheduling beyond just saving time and effort?
In this section, we'll take a closer look at the numerous benefits of using Instagram scheduling software to elevate your Instagram marketing game.
From increased efficiency and optimized posting schedule to improved content consistency and performance tracking, Instagram scheduling offers a range of advantages that can enhance your overall Instagram strategy.
Let's explore the benefits of scheduling your Instagram posts and discover how it can supercharge your social media efforts!
1. Scheduling posts can standardize your Instagram content-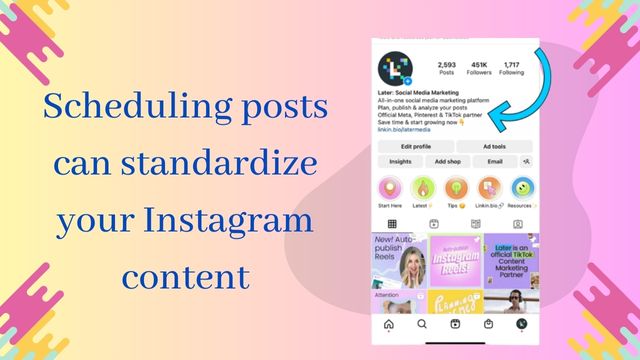 When you schedule your content in an organized manner, you have a clear view of how relevant your posts are, which gives you a chance to work without any gaps or flows for the coming days, keeping you ahead of many others in the same race.
With the help of Instagram scheduling software, you are ready with the content calendar that keeps you updated because of already scheduled posts, so now you have ample time to search for trending topics and work on them.
Like any other area, a well-organized Instagram feed looks standard and makes it relevant, which results in growth and helps to create an impact with the quality of a post. Nowadays, social media is all about aesthetics. Scheduled content gives that extra time to work on aesthetics which creates a positive first impression when anyone visits the page for the first time, making them hit the like and follow button.
2. Scheduling posts can increase followers-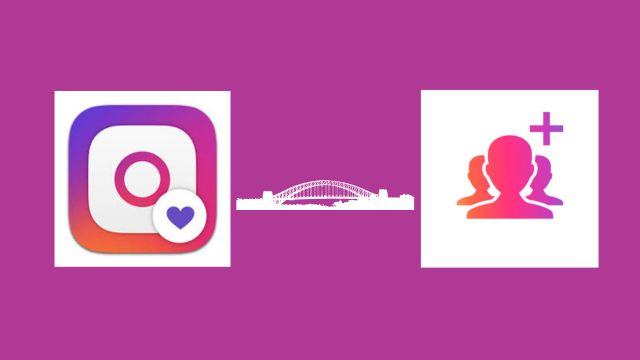 Instagram post scheduling helps boost engagement, which in turn helps gain followers because the more engagement there is, the more it is shared, increasing followers. When you frequently share posts, it guarantees that you will gain followers, and this will make you Instagram famous.
When you have scheduled content, you have lots of time to think and maintain relevance in your content which brings people to your profile to see the effort in your work then they are bound to hit that follow button.
Increasing followers is the ultimate goal of any account holder on Instagram, whether it's a celebrity, cricketer, influencer, business or other random pages.
3. Scheduling posts can keep one consistent-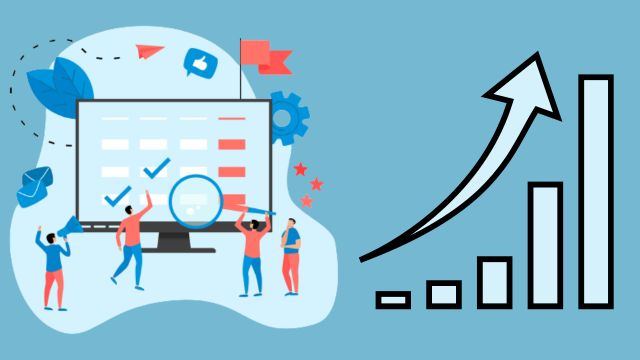 Consistency on any social media platform is very important to gain engagement, but achieving this is not always easy for various reasons. By scheduling your Instagram posts using Instagram Scheduling Software, you can be sure that your posts will go live on time, even if you are extremely busy.
So, this planning can keep you consistent with your posts on Instagram. Also, when content is shared consistently, your followers have an idea of when you post and what to expect next, and because of that, they interact even more.
Also, you can create different posts at a time when you feel your creative best. Since Instagram algorithm considers adding back-to-back posts as a bot activity, you can schedule those posts for future. This keeps you consistent for the days when you lack creativity.
4. Scheduling posts adds more to your business.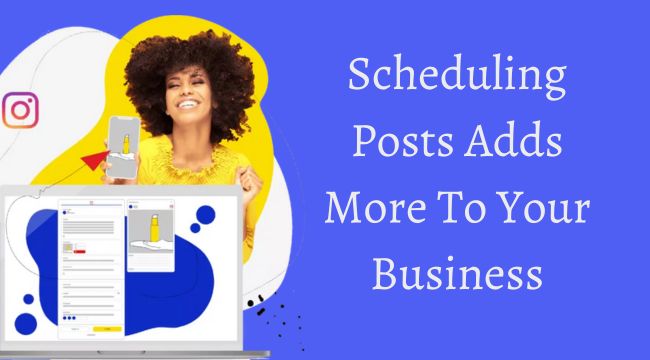 Planning and scheduling your posts with the help of Instagram Scheduling Software can help you attract your followers to your business. Because a well-planned post schedule has that quality that will draw its followers to their website, that's how it helps your business grow.
These are some of the reasons why scheduling your Instagram posts is important and helpful. That's because whenever you create content in a hurry or without planning, chances are that you won't be able to maintain the quality of your content. And it would seem more like that the post is just for the sake of publishing.
To avoid this, one can take their time, avoid the hustle, and perfectly plan their content in advance to establish and keep consistency even when they are busy with other things. And to achieve this, Instagram scheduling software like Socinator is the best option.
Conclusion
Leveraging Instagram scheduling offers a plethora of benefits that can elevate your Instagram marketing game. From saving time and effort to ensuring consistency in posting and optimizing content performance, Instagram scheduling software can help you achieve a more effective and efficient Instagram strategy.
So, why wait? Start incorporating Instagram scheduling into your social media strategy today and unlock the potential for greater success on Instagram!