Social media has become an integral part of modern-day business and serves as a powerful tool for brand promotion, engagement, and growth. Top-performing brands on social media share a common thread—they craft and adhere to robust and consistent social media branding guidelines.
Whether you have a business, startup, or home-based venture that embodies your unique vision. To foster its growth, a robust presence on social media is indispensable. Neglecting this platform can impede your ability to connect, network, and convert potential customers.
A well-defined social media branding strategy seamlessly complements your digital marketing, advertising, and content management efforts. Whether you're operating online or have a physical location, a vibrant social media presence with active engagement is imperative.
In this blog post, we'll explore the core principles of social media branding guidelines, showcasing brands that have harnessed them for enduring digital impact.
Ready to unlock your brand's potential? Let's dive into it.
Hit 'Play' Button & Tune Into The Blog!
What Are Social Media Branding Guidelines?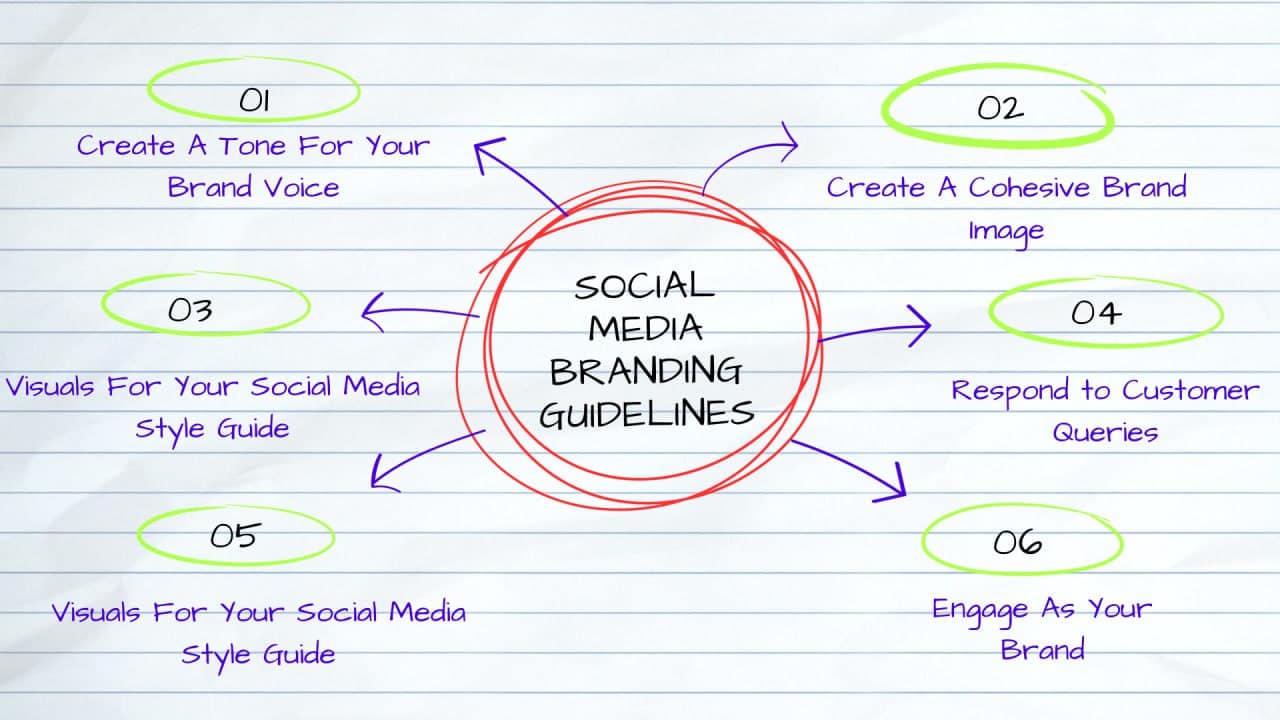 Social media branding guidelines are the essential blueprint for every company venturing into the digital landscape. These guidelines can help you define the brand's voice, tone, communication style, visual aesthetics, and overall identity on various social platforms.
Sticking to them, a brand can ensure a consistent and cohesive presence across all its social media channels.
This consistency is pivotal because it enables followers and audiences to instantly recognize and connect with the brand, regardless of the specific social platform they encounter it on. In essence, social media branding guidelines serve as the compass that steers a brand toward a unified and impactful online presence.
To put it in simpler words, it is a social media style guide for your business, following which you can make your brand more recognizable in front of audiences.
Create A Tone For Your Brand Voice
Creating a distinct brand voice is a critical aspect of perfect branding on social media. To achieve this, following social media guidelines for perfect branding is essential. Start by identifying a set of adjectives that best describe your brand and how you want it to be perceived.
Additionally, craft a persona for your brand, envisioning it as a person with age, personality traits, and defining characteristics. This exercise provides clarity for defining your brand's voice.
An insightful practice involves seeking inspiration from brands that exemplify the desired tone and style, even if they're not in your industry. Analyzing their voice, not just their content can offer valuable insights.
Document your ideal brand voice in your social media brand Guidelines, employing descriptive words and examples to provide a clear picture of how your brand communicates and engages on social media. This process ensures a consistent and compelling brand identity.
Create A Cohesive Brand Image
A cohesive brand image is integral to perfect branding on social media and adherence to social media branding guidelines for better viewer engagement. Social platforms are inherently visual, and maintaining consistency in your brand image is vital. Whether it's your Facebook page, website, or Twitter profile, the look and feel should align seamlessly.
This "visual voice" extends beyond colors and logos, encompassing imagery, graphics, and the overall visual identity your brand projects. To define your ideal brand image, assess past and current content. Identify what resonated with your audience and what didn't align with your desired image.
Create a list of descriptive words detailing the look and feel you aim to convey, including preferences for colors, lighting, styling, and fonts.
Drawing inspiration from other successful brands on social media, especially platforms like Instagram, can provide valuable insights. Incorporate these findings into your social media brand guidelines to ensure a unified and compelling brand image.
Visuals For Your Social Media Style Guide
Incorporating visuals into your social media branding guidelines is crucial for a robust social media strategy for employer branding. These visual elements form the core of your brand template, ensuring consistency across all your social media channels.
Your brand template should encompass:-
Brand Colors: This section should include hex codes for your primary and secondary colors, along with guidelines on their proper display. It specifies aspects such as white space usage in images and color combinations to avoid.
Fonts: Define the fonts to be used, header sizes, spacing preferences, and whether they should be bolded for emphasis.
Filters: If your strategy involves using filters, specify which ones and at what intensity they should be applied, especially on platforms like Instagram.
Visual Guidelines: Clearly outline what visual elements will be used on your social media channels and what won't. For instance, decide whether GIFs will be part of your content strategy and whether they should align with your company branding.
Logos: Provide access to a range of logos in different sizes, color variations, and transparent backgrounds, ensuring uniformity in your brand representation.

Respond to Customer Queries
Swift and personalized responses demonstrate your commitment to customer satisfaction and reflect positively on your brand. However, managing queries manually can be overwhelming, especially as your brand grows.
Here's where automation tools like Socinator come into play.
These tools streamline the process by enabling auto-responses on social media. With predefined responses, you can address common queries promptly, maintaining a consistent and on-brand tone.
It's important to note that while automation tools can handle routine inquiries, they should be used judiciously. Complex or sensitive issues may still require a human touch.
Incorporating such automation tools not only enhances efficiency but also ensures that your brand remains responsive and customer-centric on social media. By aligning these tools with your social media branding guidelines, you can provide a seamless and satisfying customer experience, reinforcing your brand's positive image in the digital sphere.
Build a Library of Reusable Templates
There are many tools using which you can create your content on the given social media branding templates effortlessly.
Begin by importing your brand elements into these templates, which simplifies the process by fetching your website URL, brand colors, and fonts. From there, you can easily generate a set of templates, including social media graphics, all aligned with your brand.
Moreover, you can repurpose existing graphics into brand templates, ensuring that your team always has easy access to a library of on-brand templates. This streamlines content creation, maintaining consistency and visual identity across your social media presence.
Engage As Your Brand
Engaging your brand on social media is a fundamental principle of effective social media branding guidelines.
Just as your brand takes center stage in visual graphics and campaigns, it should also serve as the foundation for interactions with customers, followers, and fans. Every engagement on social media should align closely with your brand's established voice and tone guidelines.
Collaborate with your customer success team to establish a consistent language and communication strategy. It ensures that individuals encountering your brand across various touchpoints have a memorable and impactful experience, motivating them to explore your offerings. Consistency in messaging is crucial, as it weaves a cohesive narrative.
A unified brand voice not only enhances social media presence but also bolsters multichannel and omnichannel marketing efforts. However, it all hinges on fostering a solid company culture that radiates outward through consistent communication across teams.
Improve Your Social Media Branding With Socinator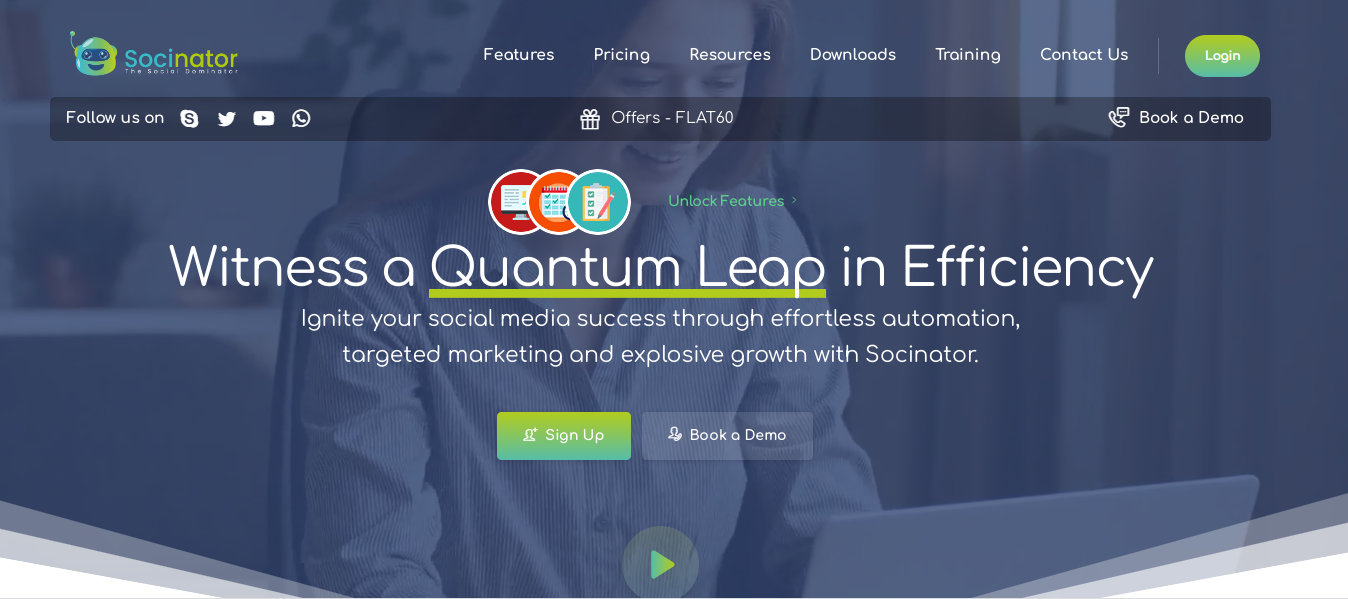 Socinator is a powerful social media management and automation tool designed to enhance your social media branding efforts. It offers a wide range of features and functionalities that can help businesses and individuals streamline their social media marketing strategies.
Here are the top 5 ways in which Socinator can improve your social media branding, following key social media branding guidelines:
Consistency:
This tool allows you to schedule posts and updates across various social media platforms. By maintaining a consistent posting schedule, you can keep your audience engaged and informed, reinforcing your brand identity.
Audience Engagement:
Engaging with your audience is vital for building a strong brand. Socinator's automated features enable you to respond to comments, messages, and mentions promptly, fostering a sense of social media community and trust.
Content Management:
Effective social media branding relies on high-quality content. It helps you curate and create engaging content with its content discovery and management tools, ensuring your brand's message is both relevant and appealing.
Analytics and Insights:
To refine your branding strategy, you need data-driven insights. Socinator provides detailed analytics to help you understand your audience's preferences, track your performance, and adjust your strategy accordingly.
Compliance and Security:
Maintaining the security and integrity of your brand is crucial. Socinator is a reliable social media automation tool that protects your accounts and ensures that you comply with platform-specific guidelines, reducing the risk of brand damage due to policy violations.
Also Read:
Social Media Automation Explained: Why You Need It
Is Automation the Key to Social Commerce's Success?
How Social Media eCommerce Marketing Is Impactful?
Dishing Out The Taste of Success: Restaurant Marketing Strategies 101
Conclusion
Remember that your social media branding guidelines should be a living document, continually evolving to meet your brand's changing needs. Use the foundational sections we've outlined as your starting point, but don't hesitate to tailor and expand your guide as your brand evolves. You can also make use of social media automation tools to work smarter!
These guidelines are the compass that steers your brand through the dynamic digital landscape, offering authenticity, recognition, and increased revenue.
They also foster team alignment, simplify onboarding, and help define your brand's unique voice. Embracing automation tools like Socinator can further enhance your brand's responsiveness and customer-centricity. In essence, mastering social media branding guidelines is the key to building a resilient and impactful online presence.