Facebook is a powerful marketing platform for building a solid social media presence, increasing brand awareness, nurturing leads, and increasing sales. However, given that 93 % of social media marketers use Facebook to promote their brand, Facebook marketing automation software is a must if you want to stand out on a crowded platform!
A lot is going on in a marketer's life: understanding your audience, creating relevant content, sticking to a content schedule, posting at the right time, engaging with your audience, and tracking every metric on Facebook. According to research, 64% of marketers handle their company's social media profiles as part of their many responsibilities.
To carry out all these responsibilities, you must have a well-thought-out social media marketing strategy and powerful automation Facebook sales and marketing software to assist you throughout the process.
Hit The
play

Button To Listen:
You must choose the best Facebook automation software to streamline your workload and save time and resources if you want to effectively manage your tasks and get the most out of your social media efforts. Stay along to learn more about Facebook marketing software and how it can help you with your job.
How Does Facebook Automation Software Help You?
Facebook automation tools streamline most of the tasks involved with handling a Facebook business page. A great example of Facebook automation done well is scheduling posts in advance or leveraging automation to help analyze A/B testing results.
For example, we use Socinator automation software to manage our social media handles, so let's see how it helps in running your Facebook business page.
Seamless Account Management:
Efficient Account Management: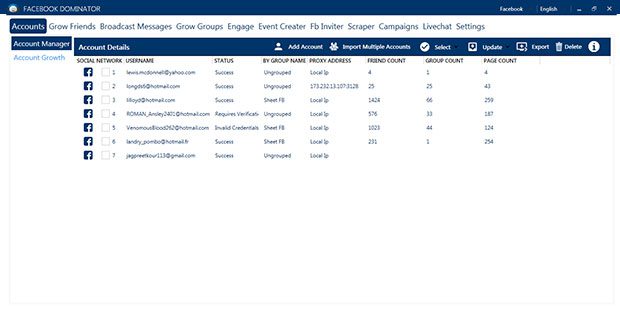 Managing multiple accounts can be very challenging. But with Socinator, you can efficiently manage various accounts. It has intelligent algorithms and provides complete control over activities delays, making them look organic.
Activity Statistics And Detailed Reports: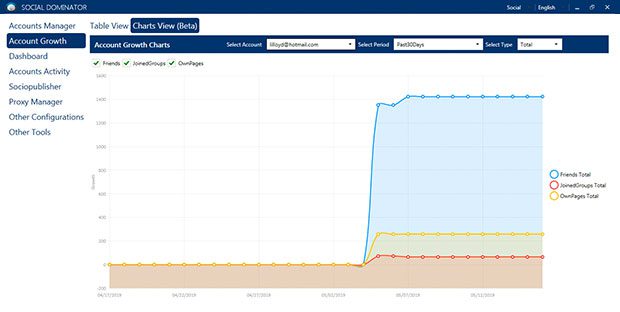 Keeping track of every activity with your account helps you fine-tune your marketing strategy. With the help of Socinator Facebook marketing automation software, you can get all the statistics and reports for the activities performed with your accounts.
Complete Account And Report Export: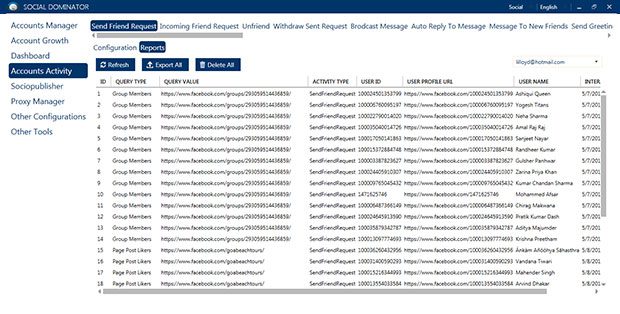 It allows you to export every info about the activities and your accounts as a CSV and analyze your plan more efficiently.
Automate All Activities With The Facebook Makreting Automation Software: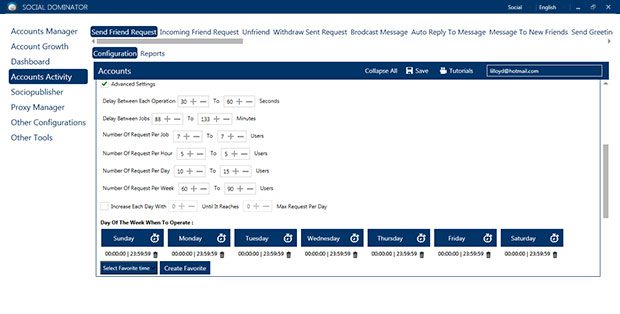 You may schedule practically every step on Facebook to save time and benefit from automated data filters that only grow the audience that meets your criteria.
Auto Publish Content from RSS Feeds: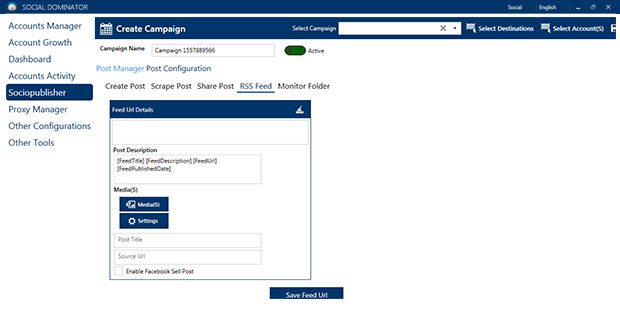 It also supports RSS Feed scheduling and posting, saving you time manually scheduling each post and giving you more power to increase your marketing efforts.
Auto Accept/Cancel Friend Requests: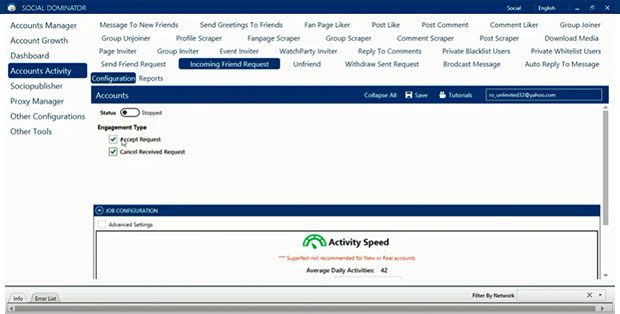 It takes a long time to determine whether a request from a profile is relevant to your business and then decide whether or not to accept it. With auto-accept/cancel friend requests and strong filters to keep friends interested in your niche, Facebook marketing automation software saves a lot of effort.
With Socinator's Auto Unfriend tool, you will never longer be bothered by unwanted friends. Schedule this action and regularly clean your friend list to keep a business growing with the correct audience.
Auto Send Friend Requests: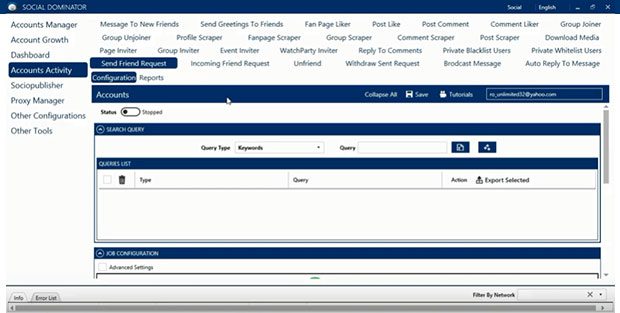 Socinator allows you to send friend requests to the accounts in your niche and grow your audience with the help of intelligent filters and algorithms.
Schedule Auto Invite friends to like pages/events:
Socinator provides a more effective method for inviting your friends to like your page. Auto-invite your friends to select your pages for them to expand quickly. You can also ask your friends to your events to ensure a large crowd and a successful event.
Keep Engaged And Create A Community: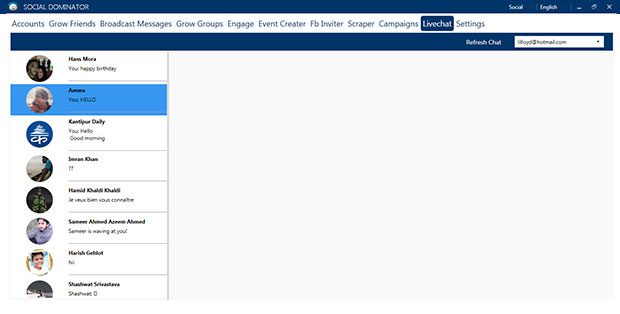 One of the best features that will enable you to stay connected with your audience is live chat, which reads and chats with your friends from the right inside of the Socinator dashboard. This feature is convenient if you are building an army of multiple accounts.
Auto Post/Share Content In Your Groups: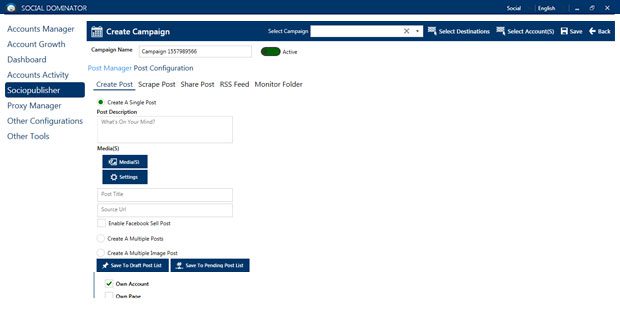 Boost your traffic and posts' visibility by auto-sharing them with the targeted audience in your joined groups.
Auto Engage With Messages, Likes, and Comments: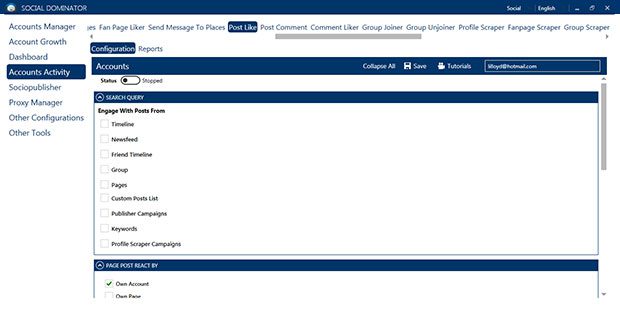 Auto engages with your audience by replying to new messages and liking/commenting on posts. You have control over multiple places to entertain, like your timeline, friends' timeline, groups, pages, etc., to reach much more traffic with little effort. 
Auto Wish On Life Events: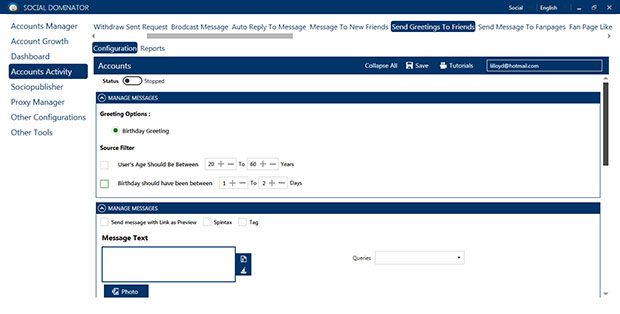 You may show your audience how much you care about them by automatically wishing them their achievements and life events with the help of the Socinator's Auto wish on event feature.
Also Read-
How To Auto Post In Facebook Groups?
Improve Reach And Expand Audience Base:
Socinator has powerful filters to help you grow your accounts, groups, and pages only with the targeted audience, increasing the possibility of getting higher CTR and better revenue.
Find Groups And Pages In Your Niche: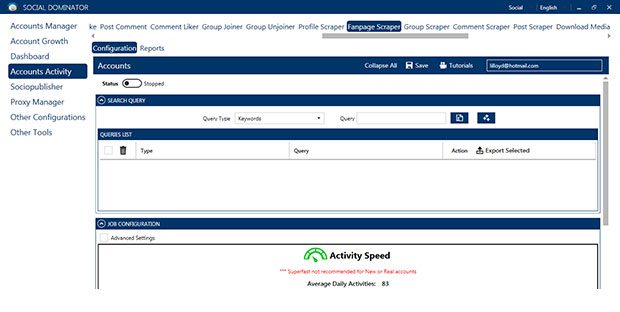 Auto search and find groups and pages you might be interested in to post your valuable content for more clicks. Comes with the ability to export all the available details for your analysis.
Schedule Auto Invite Friends To groups: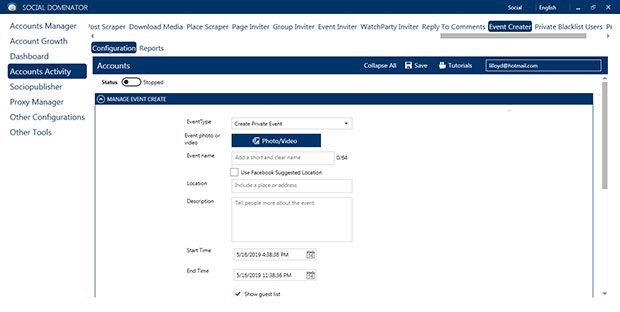 Auto invites your friends to groups saving you enormous time and increasing engagement in your group with your friends. Socinator can also auto-accept new group members to keep it growing even when you are sleeping.
Join/Un-join Groups In Your Niche:
Search for and join groups in your niche automatically, giving you more opportunities to disseminate your material and increase traffic. Un-join them automatically if you no longer need them.
Reach People In Your niche:
Socinator also provides many search features like keywords, targeted groups, and page like to reach your target audience and reach them by sending friend requests or DM, which helps you boost your sales and ROI.
These features come in handy and save a lot of time and effort. Socinator is one of the market's best social media marketing and automation tools. Pricing starts at $9.95 monthly and has various packages to choose from. It also offers a free demo. So, what are you waiting for? Try it now!

Now Let's discuss some other marketing automation Facebook sales and marketing software!
Top Facebook Marketing Automation Software You Should Use:
Facebook Marketing Automation Software #1. ContentStudio: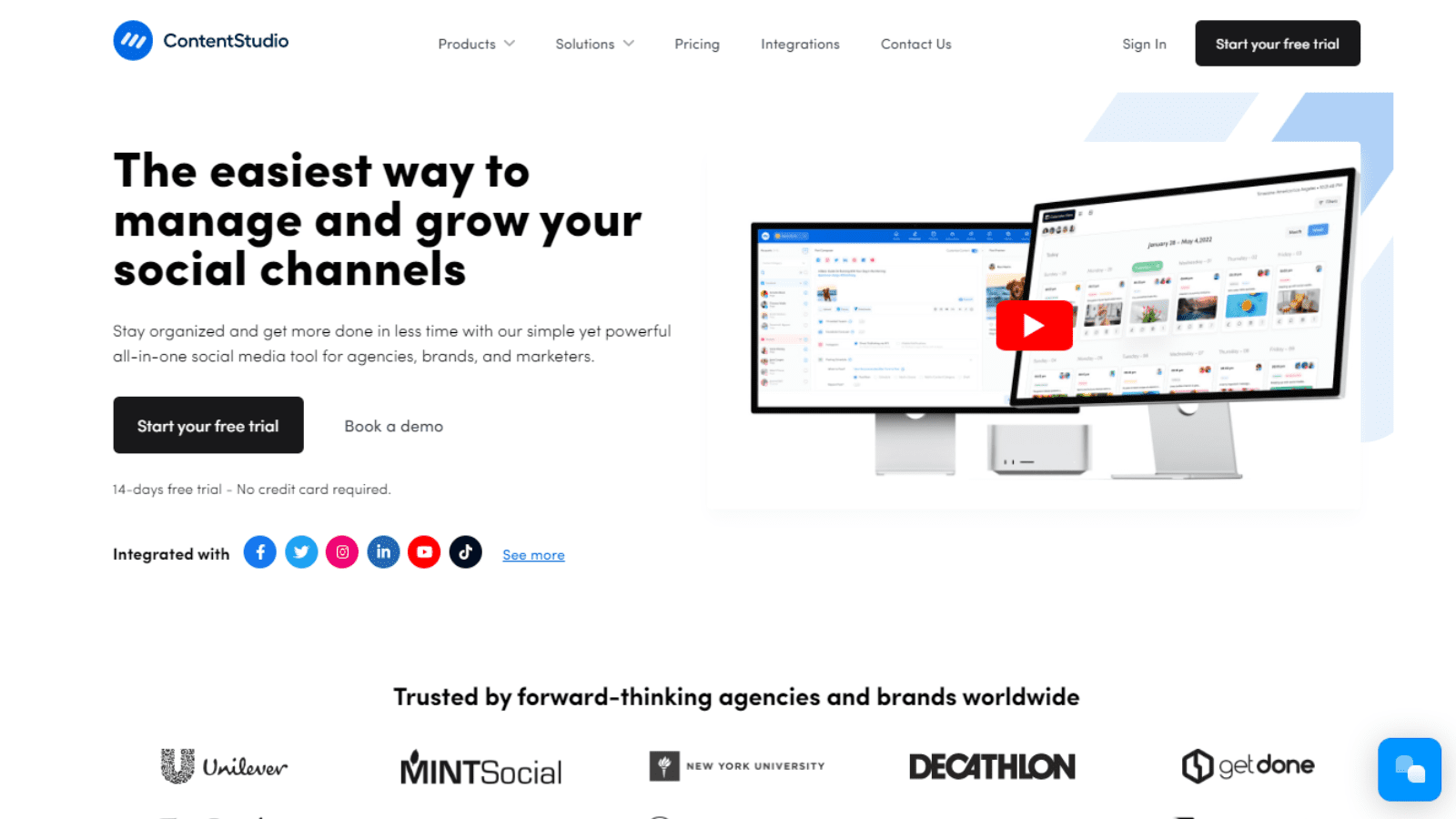 ContentStudio is a well-known Facebook marketing automation software that provides content automation, planning, scheduling, a social inbox, analytics, and content discovery.
Furthermore, it allows you to plan, discuss, and manage when and where content is shared or published in the Content Planner part of ContentStudio.
ContentStudio includes a social media content calendar that enables you to simply examine, accept, reject, and change posts. This lowers the possibility of sending out incorrect or error-filled content. In addition, all team members can simply cooperate. The pricing starts from $25/month.
#2. Zapier: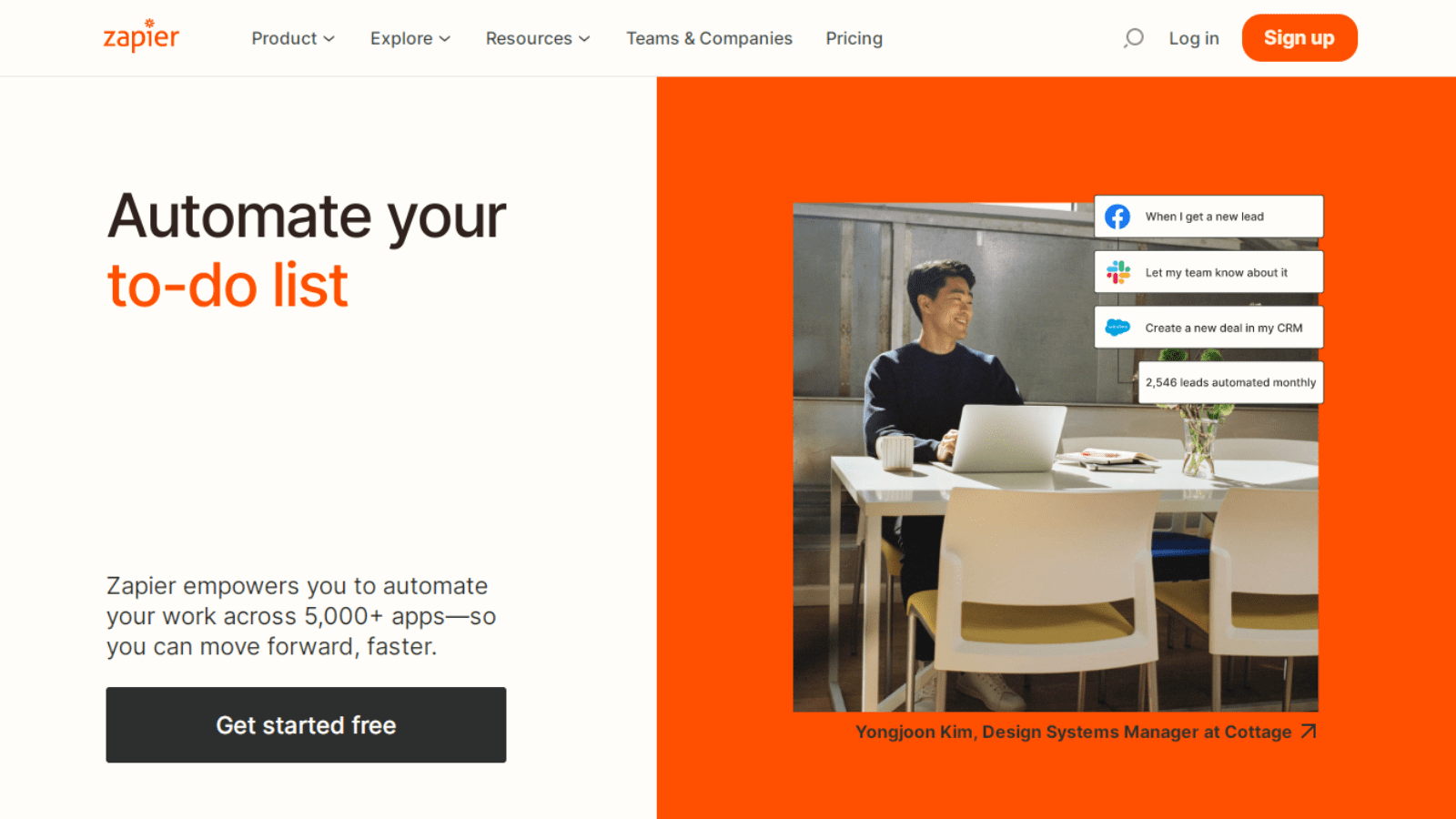 Zapier is a platform that connects your apps and allows you to move data across them to automate your processes and focus your attention and resources on more impactful activities.
You may use it to connect your social media sites and profiles and create automated workflows with other marketing tools in your stacks, such as your CRM and product management platform. Zapier offers a free plan and the pricing starts from $19.99/month.
#3. Agorapulse: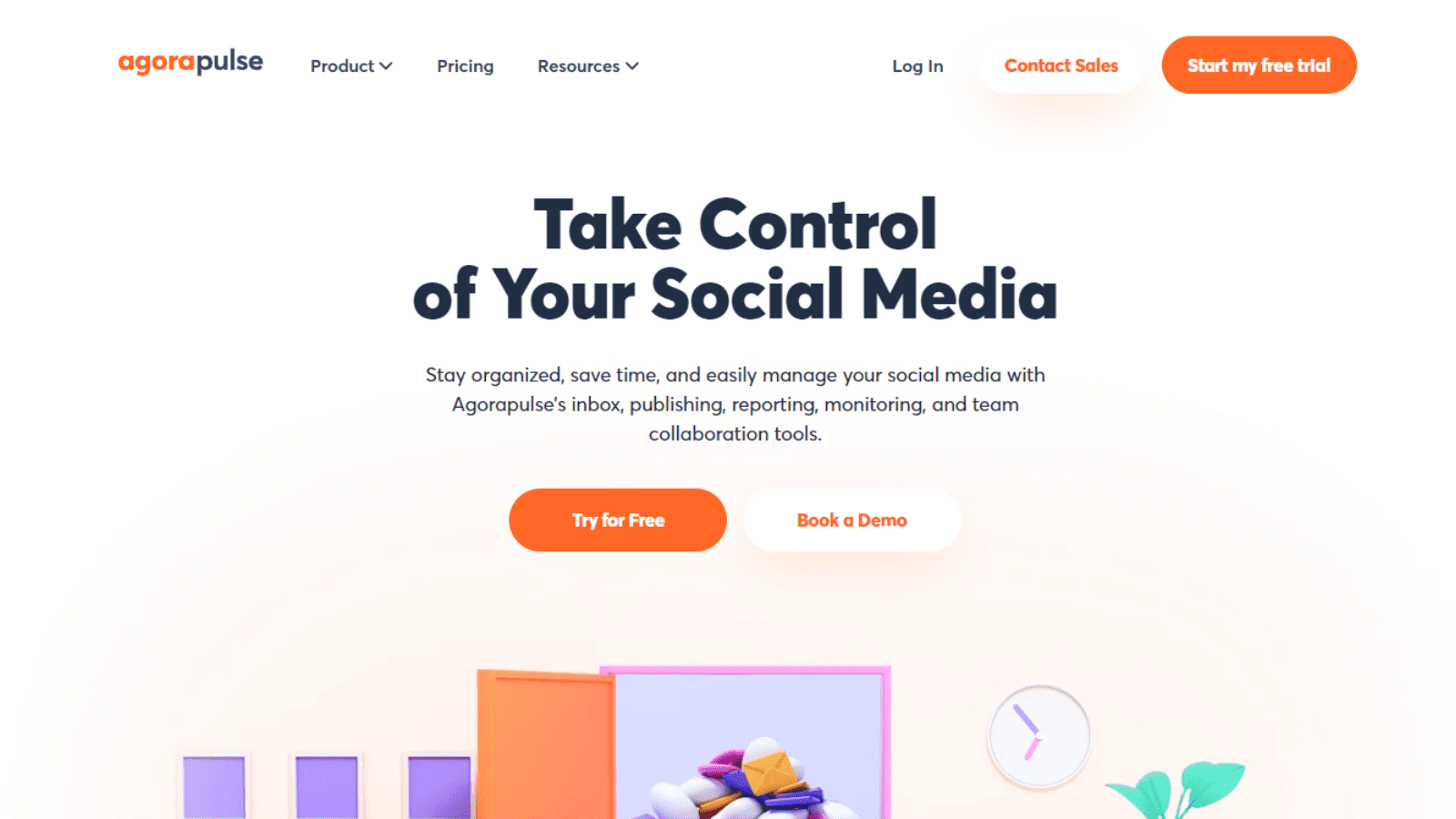 Agorapulse is a simple yet efficient solution for managing Facebook page content and engagement. It allows you to schedule and publish Facebook page posts, track engagement and activity, and perform social listening.
With the Agorapulse barometer, you can examine and compare Facebook pages to discover more about your competition. It delivers a plethora of reports to assist you in tracking your efforts. It also has workflow collaboration tools for large groups. Agorapulse also offers a free plan for beginners, and the pro plan pricing starts from $79/month.
#4. CoSchedule: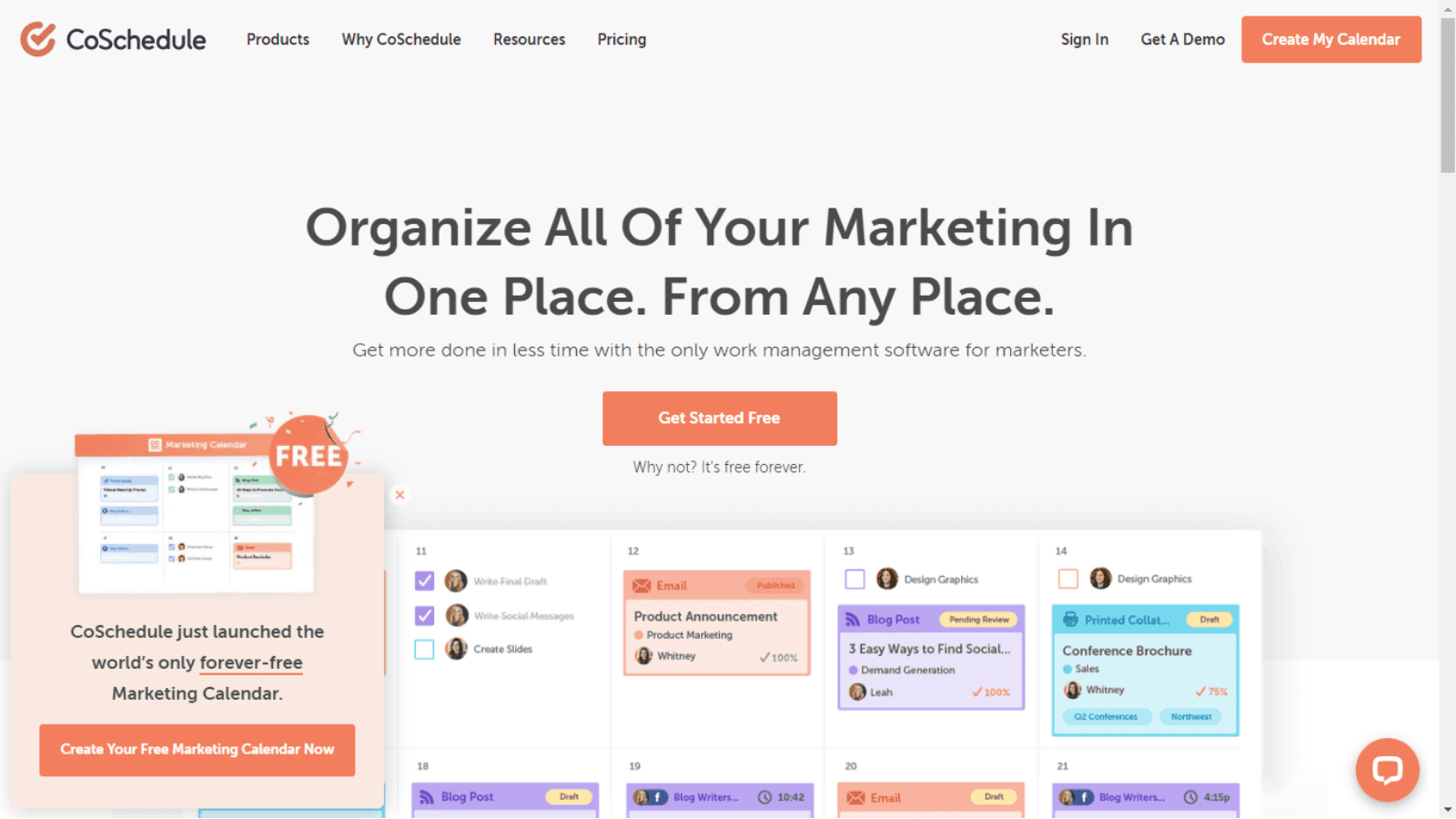 CoSchedule is an excellent Facebook marketing automation software that helps you plan and schedule your social media content so that it may be published automatically across numerous social media platforms without effort.
One of the most powerful aspects of the program is its content calendar, which allows you to plan out your Facebook material ahead of time and obtain a high-level picture of your social media content strategy.
A social media marketing calendar allows you to see, schedule, and share all your social media postings in one location. Pricing for unlimited publishing begins at $29 per user each month. There is also a free version available.
#5. Hootsuite:
Hootsuite is a powerful marketing social media automation platform. Because of the sophisticated features and cost range, it primarily targets major corporations and large-sized agencies. Because of its comprehensive features, it is compatible with a wide range of social media networks.
Hootsuite gives you complete control over Facebook automation and top-tier integrations to help you manage your Facebook page easily.
Furthermore, Hootsuite's social media streams allow you to watch numerous social media networks simultaneously. Yes, you may use it to keep track of all your brands with real-time updates. Hootsuite offers a 30 day free trial and the pricing starts from ₹1915 /month.
#6. Post Planner: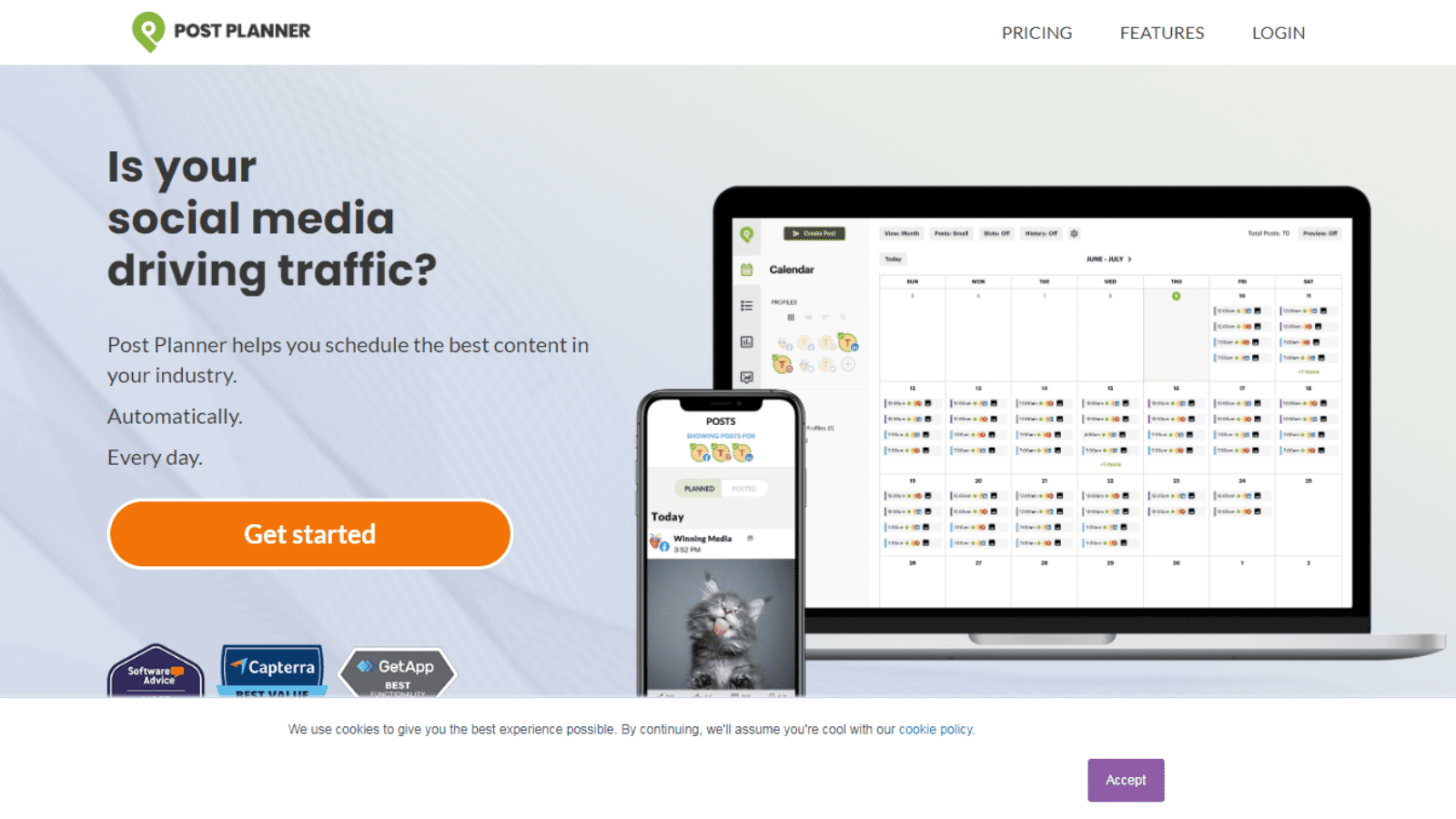 Post Planner Facebook marketing automation software helps you manage your posts and engagements more effectively. It assists you in finding, planning, and posting fantastic content to your Facebook page. 
The suggestion engine in Post Planner selects top-performing content that is likely to generate the most engagement on your Facebook page.
Every interaction is a data point that helps you improve over time. It enables you to achieve your goals in less time. Use the tool to plan your Facebook page's publication timetable and more. The pricing starts from $9 /month. It also has free trial and yearly plans starting from $6 /month.
#7. Canva: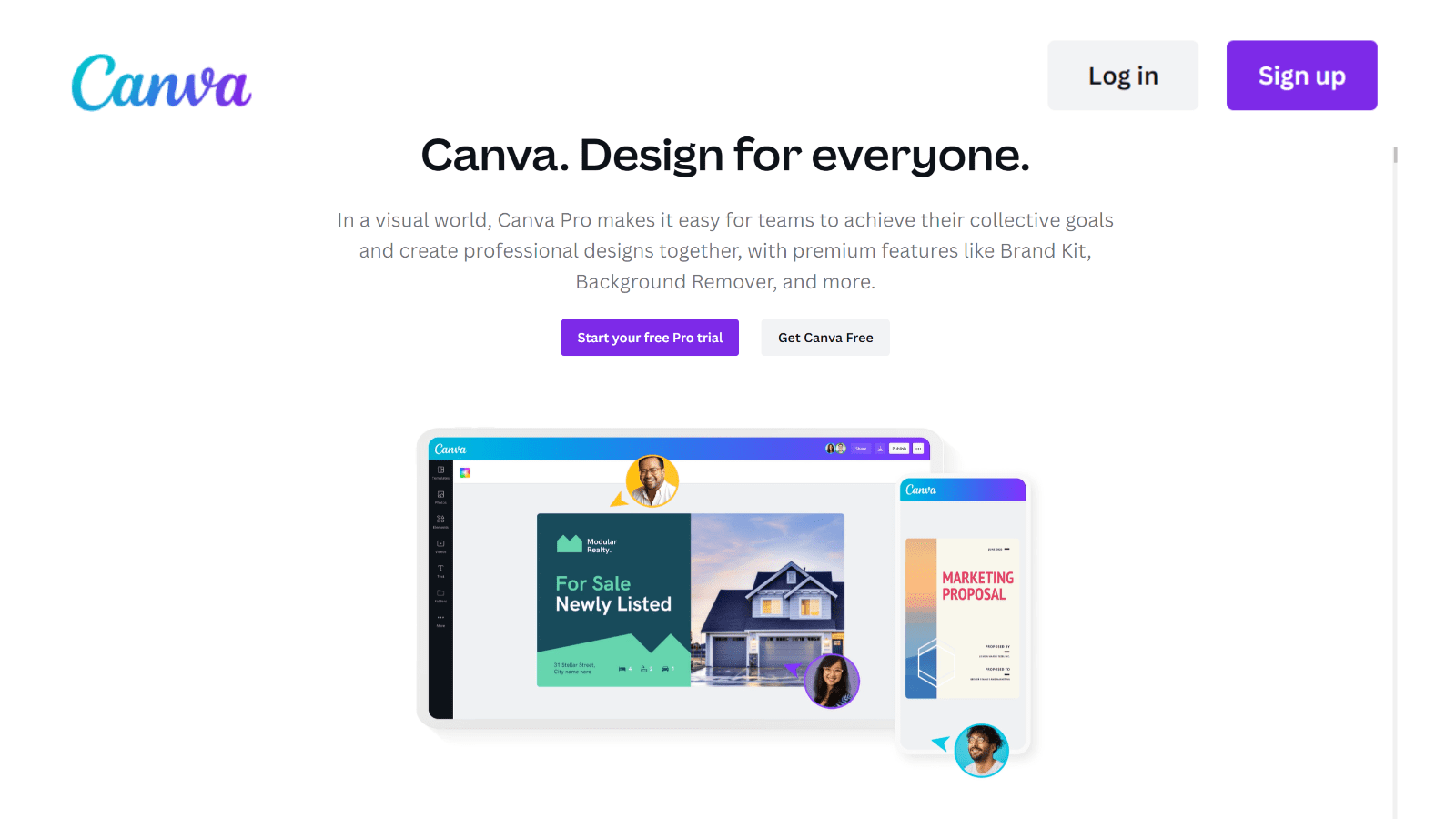 Canva is an online graphic design tool with various functions and features that even inexperienced users can use to create Facebook ads, stories, and posts. It is helpful for small businesses and start-ups to constantly produce compelling content, and it takes less than five minutes to generate a high-quality, engaging design.
All of your Canva designs are your property. This tool can let you create anything, from a résumé to an invitation card. You can also work with others or form your own design team.
The premium version is also available for more features. It has robust drag-and-drop features and a large selection of templates, elements, text styles, backgrounds, and animation effects. The free version of Canva is more than enough from a beginner and also for experienced. But, if you have a team, you can go from pro-plans. Pricing starts from ₹3999/year for upto 5 people.
Check Out Our Latest Posts:
   Best B2b Marketing Automation Software For Small Business
   Know Few Things Before Running A Weekly Target Ad
   9 Enterprise Marketing Automation Platforms To Help Your Business Grow
To summarize:
All of these Facebook marketing automation software will assist you in tracking the performance of your posts and scheduling them for maximum impact. You will also be able to communicate with prospects and customers more efficiently.
You can target your customers with the right Facebook marketing tools while increasing visibility and reach. Conversions can be increased by improving your funnels. Now, put them to the test to evaluate which ones best match your needs.