Nowadays, using automation resources, anyone can manage repetitive tasks single-handedly. Especially if you are a Facebook marketer, having social media automation by your side would be reassuring. Suppose you want to post your content on multiple Facebook groups- all you need is the automation tool that can schedule and auto post in Facebook groups.
Whether it's large or small-sized organizations, everybody is trying their best to connect with their potential customers. In this context, targeting the relevant Facebook groups could bring them a great advantage, as we all know that people interact with each other. With more communities, groups, and fan pages building around, it has become easier for brands and consumers to interact with each other.
However, if you want to manage Facebook marketing for your business and want to engage your audiences on multiple Facebook groups, then using automation resources can be really helpful.
Let's first understand-
What Is A Facebook Auto Poster Tool?
A Facebook auto-poster tool is a software that allows you to auto post in Facebook groups, pages, and profiles. It can help marketers and businesses save time by allowing them to schedule their Facebook posts in advance. So they can focus on other aspects of their social media marketing strategy.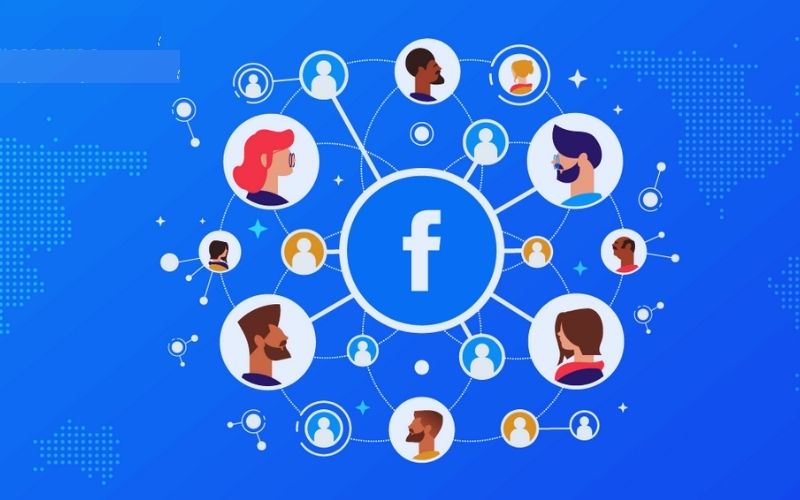 The main benefit of using a Facebook auto-poster tool is that it allows you to be more consistent with your posting schedule. By scheduling posts in advance, you can ensure that your Facebook group, page, or profile is regularly updated with fresh and engaging content, even if you are busy with other tasks or away from your computer.
Online you will find many Facebook auto-poster tools available, ranging from a simple auto-publisher tool to more advanced tools that can help you manage multiple Facebook accounts, automate post creation, and track the performance of your posts.
While there are only a few reliable Facebook automation tools like Socinator that allow you to auto post in Facebook groups without any trouble. As we know that Facebook is quite strict with its policy and allows only a few reliable third-party resources to auto post in multiple Facebook groups.
Why Should You Auto Post In Facebook Groups?
If you want to promote your business on multiple Facebook groups, it would be too much of a task for you to manually publish your content on so many Facebook groups or pages. Instead, relying on automation resources is a great option.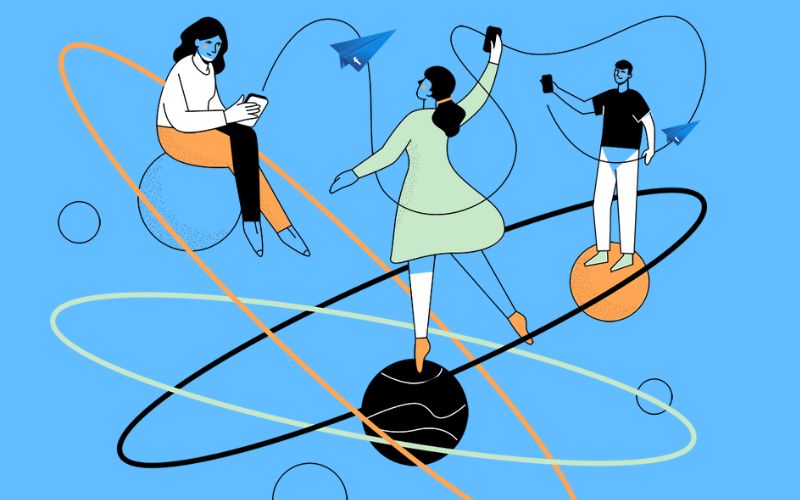 Here, we have also shared some reasons why you need a Facebook group auto-publisher tool:
Save time:
Auto posting allows you to schedule your posts in advance, so you don't have to manually post your content to each group whenever you want to share your content. You can use such tools not only to auto post in Facebook groups but also to automate your day-to-day Facebook activities like sharing content, liking, commenting, etc.
Reach a wider audience:
By posting on multiple groups at once, you can reach a larger audience and increase your chances of engagement and visibility. The more people see your posts, the better will be the chances that they would like to engage with your brand and make a deal.
Consistency:
Manually posting regularly to Facebook groups can be time-consuming and not easy to maintain in the long run. However, using an auto-posting tool can help you to ensure that you maintain a consistent posting schedule without spending too much time on it.
Also Read-
Instagram Auto Comment: Hit The User Engagement Psychology
Targeted Marketing:
Auto-posting in Facebook groups can help you reach specific audiences and target your marketing efforts to the right people. That way, you could grab the attention of users who might be interested and want to make a deal with you.
Analytics:
Using a Facebook auto-poster tool can provide you with all the valuable analytics and insights that would help you boost your post performance. Analyzing the insights would help you know about shortcomings in your marketing so that you can reflect on them to optimize your content and get better results.
Best Tool To Auto Post In Facebook Groups:-
Facebook itself provides multiple automation features, which you can use to auto post in Facebook groups. However, you may also consider using some reliable third-party automation resources like Socinator to schedule or auto-publish your post on multiple Facebook groups at once.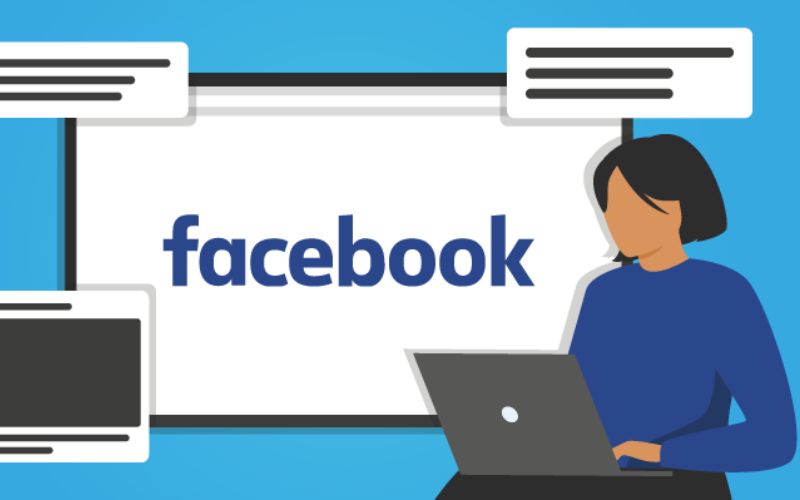 Here we will show you the best that allows you to publish your content on Facebook groups and pages.
Socinator:
Socinator is a powerful social media automation tool that can help you manage your Facebook marketing activities effectively. With its user-friendly interface and robust features, you can easily auto post in multiple Facebook groups, saving time and effort in your marketing campaigns.
To auto post in Facebook groups, connect your Facebook account with Socinator. At the top corner of your screen, you have the option to select the platform for automation purposes. You can select Facebook. Here, you need to select the 'Grow Groups' tab shown at the top of the screen. Select Group Joiner. Under the search query section, select the keyword based on which you can find groups you want to join.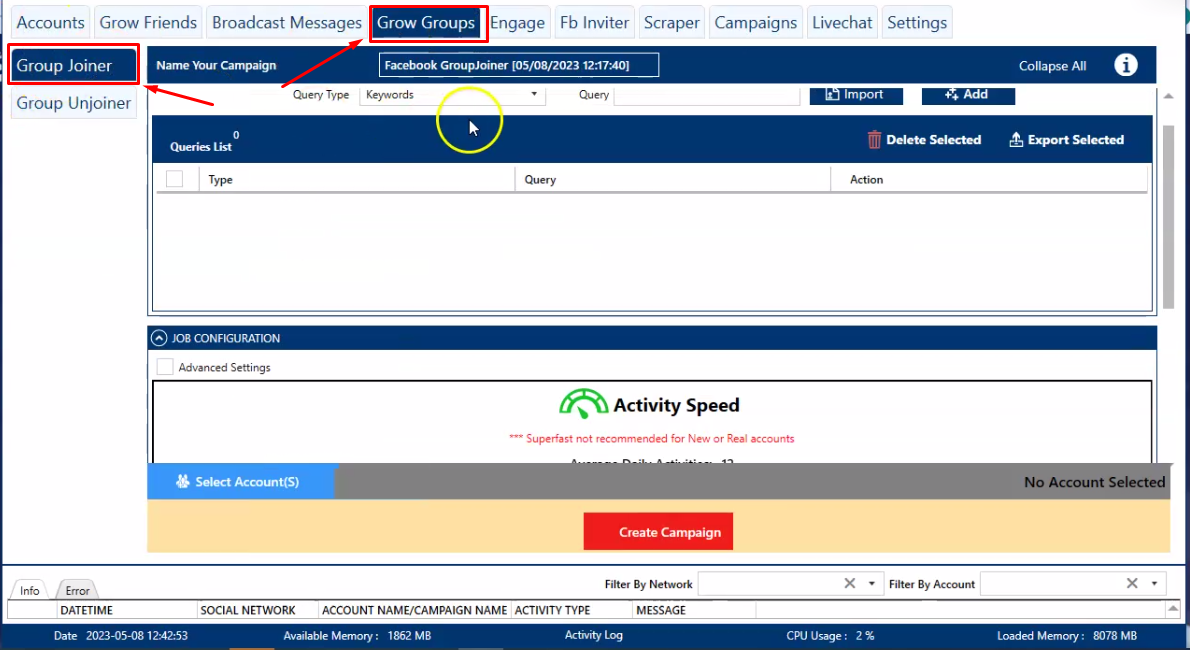 Now coming under the job configuration, here you can set the automation frequency at which you want to join Facebook groups. Below that, you have the filter options. Based on the demographics you want to target there you can set your preferences. For example, you want to join public or private groups or you want to join groups joined by your friends. After that, you can save the configurations and toggle the status to active.
Returning to the account manager, you need to select "Sociopulisher."
Click on the "Create campaign" option. There you can assign a unique campaign name. Under the post manager, you have the option to create a post. You can write post descriptions, add media files, and add post titles. There you also have the option to create multiple posts at once. Save the posts you have created in the draft post list.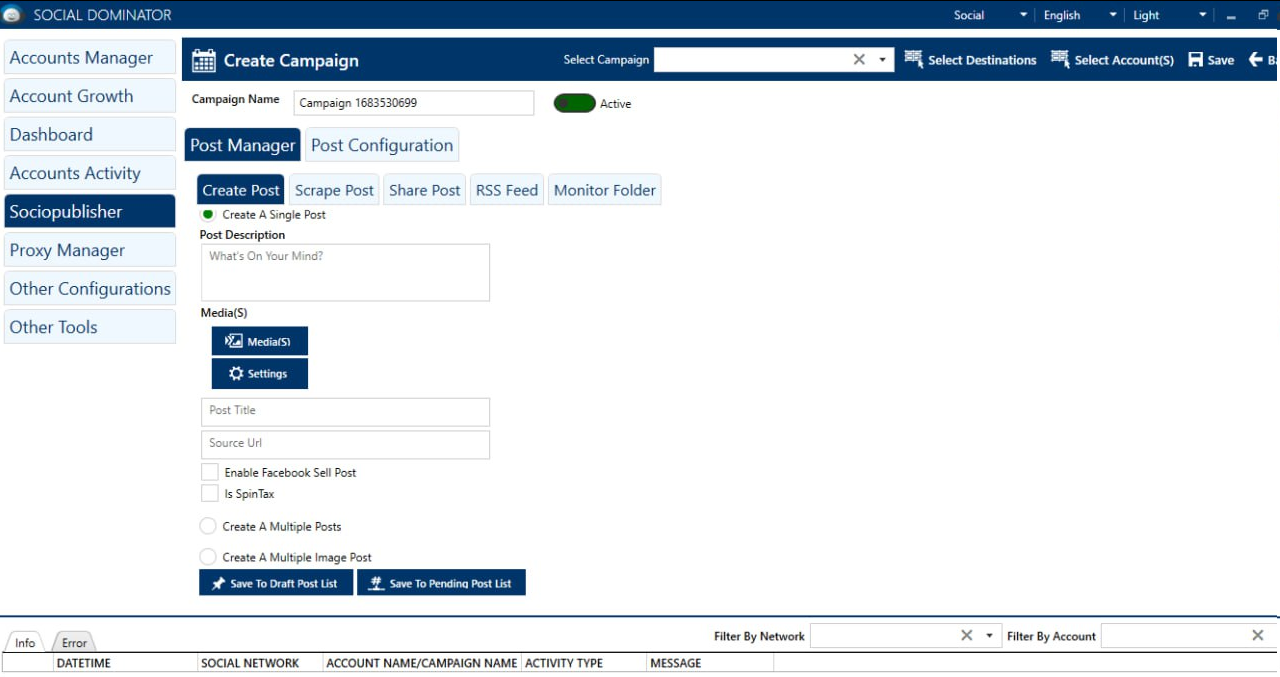 Besides the post manager, you have the post configuration option. By selecting that you can set the frequency at which you want to auto post in Facebook groups.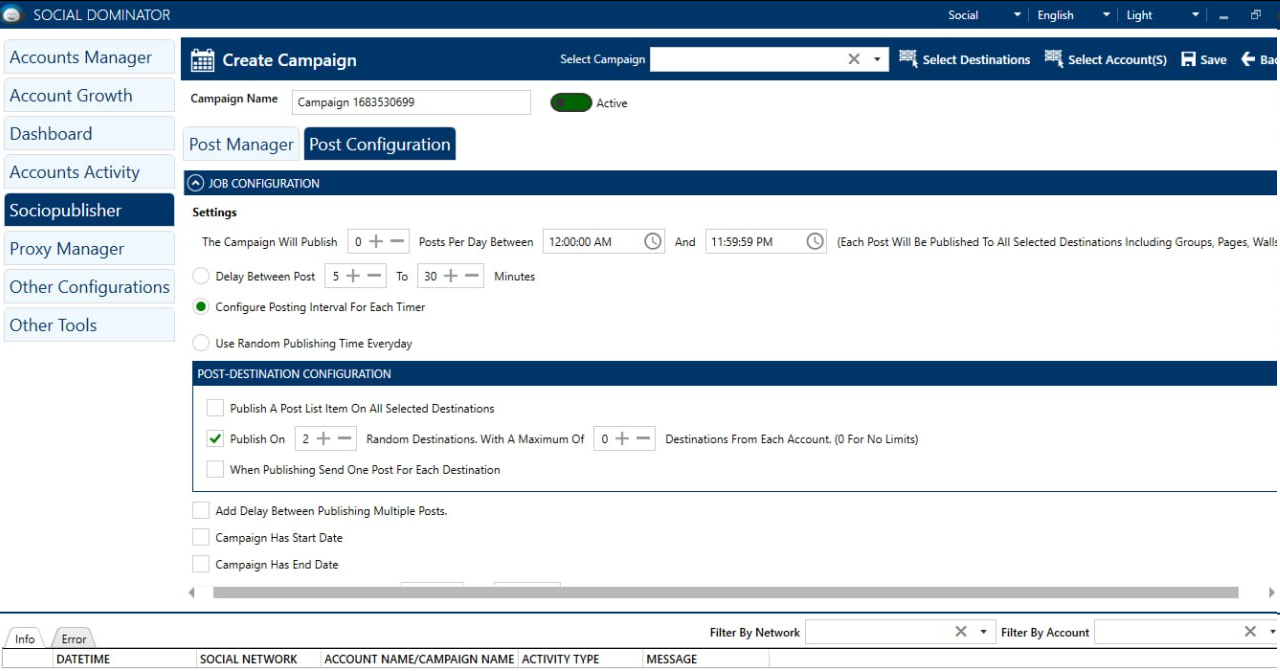 After that, you need to select the destination and select the account. Click on your Facebook account. Here, under the groups, you can add all the groups where you want to publish your posts and save them.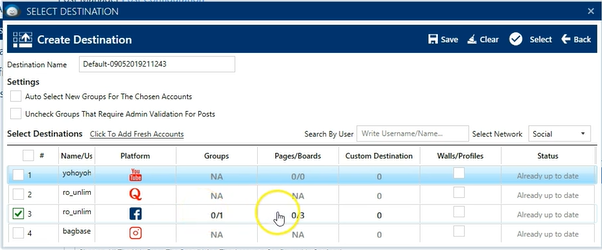 After saving it all, your Facebook campaign is created and it will automatically publish your posts in the Facebook groups you have selected. In case, you want to know- how to set Facebook page to auto post in groups? You can also use Socinator to auto-share your page posts to multiple Facebook groups.
However, as we know, these days Facebook has become way stricter with spam content. Also, most Facebook groups have certain guidelines that you need to follow for posting your content.
Here are some best practices to help you auto-post without causing spam:
Obtain permission: Make sure you have permission from the group admin or moderators to automate posts in the group. Respect their rules and guidelines.
Provide value: Ensure that your posts offer value to the group members. Share informative content, updates, helpful tips, or relevant discussions that align with the group's interests.
Limit posting frequency: Avoid excessive posting. Determine a reasonable posting frequency that won't flood the group's feed. Depending on the group's activity level, one post per day or a few posts per week may be appropriate.
Use scheduling tools: Instead of posting in real-time, utilizing scheduling tools to automate posts at specific times.
Diversify content: Ensure your posts vary in format and content. Share a mix of text-based updates, images, videos, links, polls, or questions. This helps to keep the group engaged and prevents monotony.
Interact with the group: Don't solely rely on automated posts. Engage with group members by responding to comments, addressing questions, and participating in discussions. This shows that you're an active member of the community, and not just a bot.
Respect group guidelines: Familiarize yourself with the group's guidelines and adhere to them strictly. Violating group rules can lead to your posts being marked as spam or being removed by moderators.
Also Read-
Discover The Best Ways To Get 10x Retweets On Your Profile
Conclusions:
Automating posts in Facebook groups can be a useful way to streamline content sharing, but it must be done responsibly to avoid spamming. To auto-post in a Facebook group without causing spam, you can use a third-party tool like Socinator.
It allows you to schedule posts in advance, so they're published at specific times. However, it is also important to ensure your posts are relevant and valuable to the group's members to avoid being marked as spam.