As the world becomes more digitized, social media platforms like Facebook have become one of the most remarkable marketing channels. It has more than 2.7 billion monthly active users worldwide, making it one of the most popular social media platforms globally. 
Apart from being an essential source of entertainment, Facebook is the most preferred marketing hub for brands. Businesses nowadays rely on Facebook Marketing to promote their products and services, as the platforms offer a diverse range of audiences. 
However, with cutting-edge competition, it is not easy to succeed in your strategies and stay ahead of your competition. If you go the manual way, you will require ample resources and the most significant time to make the most out of your Facebook Business Page.   
And here comes the importance of Facebook Marketing Software. But before talking more about it, let us first check out what Facebook Marketing is and the different ways to promote on Facebook.
Play to Listen to This Article:
What is Facebook Marketing?
Facebook marketing is a process of promoting brands and products on the social media platform Facebook. It is considered one of the most powerful platforms for the growth of all sizes of businesses.
You can find a marketing strategy for every budget, whether you look for a free social media marketing solution or you want to set aside a regular sum for paid Facebook Ads.
Facebook marketing can be done in various forms, such as:
Paid advertising-
One of the most common forms of Facebook marketing is to pay to advertise. Businesses can use the Facebook advertising platform to create targeted ads that reach specific audiences based on their interests, demographics, and behaviors. Facebook ads can appear in the form of sponsored stories. Facebook advertising can be an effective way to reach a large audience quickly, and it also allows businesses to track the effectiveness of their ads through analytics.
Organic posts-
Another major factor of Facebook marketing is organic posts. These are the posts that businesses create on their own Facebook pages, and they can include anything from product updates to blog articles to photos and videos. Organic posts are important because they allow businesses to engage with their followers and build brand awareness over time. Organic posts can also be shared, commented on, and liked, which can increase their visibility and reach.
Engagement with the customer-
In addition to paid advertising and organic posts, Facebook marketing also involves engaging with customers through comments, messages, and other forms of communication. By responding to customer inquiries and feedback, businesses can build stronger relationships with their customers and show that they care about their needs and opinions. This feature can lead to increased customer loyalty and better overall satisfaction.
Build brand awareness-
To be successful in Facebook marketing, marketers need a clear strategy that aligns with their overall marketing goals. This strategy should include a plan for creating and promoting content, engaging with customers, and measuring the effectiveness of their efforts. It is also vital to stay up-to-date on the latest trends and practices in Facebook marketing as the platform constantly evolves.
Overall, software for Facebook marketing can be a powerful way for businesses to reach a large audience, build brand awareness, and engage with customers. Whether through paid advertising, organic posts, or customer engagement, Facebook can be a valuable tool for businesses looking to grow and succeed in the digital landscape.
However, managing and executing a successful Facebook marketing campaign can be challenging and time-consuming. Now, this is where automated Facebook marketing automation software comes in handy.
What is Facebook Marketing Software?
Facebook marketing automation software is a tool that helps businesses streamline their marketing strategies and achieve better results. It allows users to automate numerous tasks such as posting, scheduling, and analyzing data, saving time and effort.
Facebook marketing software also comes with various features and functionalities that make it easier to create effective campaigns, follow their performance, and optimize them for betterment. It can be invaluable for businesses looking to maximize their impact on Facebook.
05 Benefits of Facebook Marketing Software
Now that you all know what Facebook Marketing software is. Let us check out some of the significant benefits it offers.
Increases Efficiency and Productivity
Facebook marketing software can help businesses save time and increase productivity by automating repetitive tasks such as scheduling posts, creating ads, and responding to messages. By scheduling these tasks, marketers can free up time to focus on other aspects of their marketing strategy.
The software also helps businesses to manage multiple accounts from a single platform. This feature increases efficiency and reduces the risk of errors.
Better targeting and segmentation
Facebook marketing software allows businesses to target their ads and posts to specific audiences based on their interests, location, and demographics. This feature ensures that the content is relevant and engaging to the audience, increasing the chances of conversion.
This level of targeting can result in a higher return on investment (ROI) by people who are most likely to be interested in the products or services.
Improves Analytics and reporting
Facebook marketing software provides businesses with in-depth analytics on the performance of their campaigns. This analytical information can help identify areas for improvement, optimize campaigns for betterment, and track the ROI of their marketing efforts.
As analytical reports can provide marketers with valuable insights, such as engagement rates, click-through rates, and conversion rates, businesses can measure the success of their campaigns and make informed decisions.  
Cost-effective
Facebook marketing software eliminates the need for hiring a social media manager. It also allows businesses to target their ads to a specific audience, reducing the cost of advertising.
However, it is a cost-effective way for businesses to reach their target audience. Automating many time-consuming tasks associated with social media marketing can save marketers money. Moreover, with advanced audience segmentation, marketers can target specific groups of people with their ads, reducing the likelihood of wasted ad spend.
Saves time and effort
Facebook marketing software can help businesses save time by managing all social accounts safely and organically. It also frees up time for marketers to focus on other notable tasks.
With automated Facebook marketing software, businesses can schedule their posts and advertisements in advance, saving time and effort. This feature is helpful, especially for marketers with limited time and resources.
Now, you might be confused about what is the best Facebook marketing software to use.
Don't worry;
We have an answer for you. 
Socinator – All-in-one Social Media Management Tool: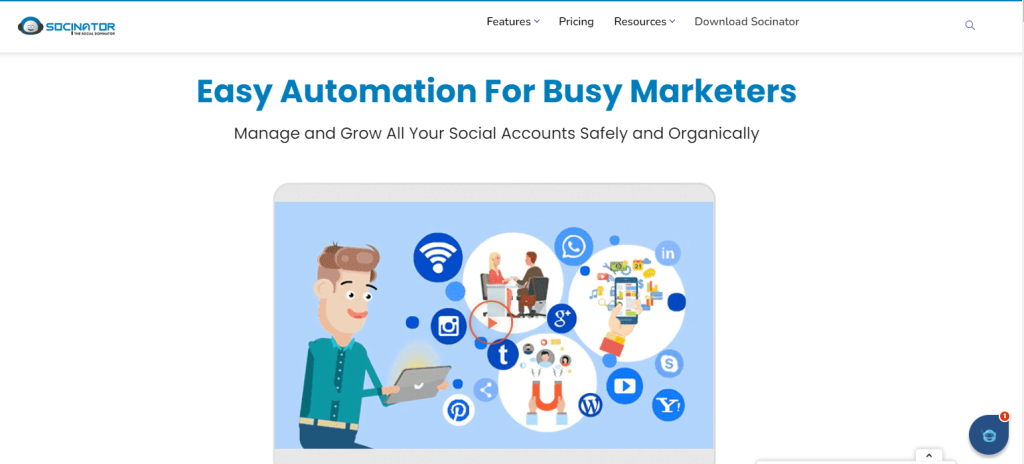 If we talk about Facebook automation tools, the most suitable one is Socinator, which allows you to manage multi-tasking and achieve your marketing goals on social media.
With Socinator, you can access all your social media accounts on different platforms in a single dashboard and access them all together at the same time.

Check out some of the powerful features of Socinator;

Multiple Social Media Platform Support:
Socinator supports multiple social media platforms, such as LinkedIn, Twitter, Facebook, Instagram, Quora, YouTube, Pinterest, and Reddit, to expand your outreach to a larger audience. It also provides custom made features depending upon the functionality of each platform.
Auto-Connect Request:
Socinator helps you to build a strong engagement with audiences without being online. You can automate sending friend requests to the people as per your niche and even connect with your audience without any efforts. 
Autorespond To Messages:
Using Socinator, you can Auto-reply to your audience messages every day. Since all queries can not be the same, Socinator allows you to customize the reply for different scenarios, so that you cannot send inappropriate messages.
Bulk scheduling:
You can schedule unlimited posts in a bulk for all your social media handles. Just add the content you want to publish, set the date and time, and the rest of the work Socinator will do for you, without needing your presence. This helps to speed up the process while maintaining consistency with your posting schedules. 
Posts Customization:
Facebook marketing automation with Socinator lets you automatically publish fresh and relevant content from your favorite RSS feeds with ease. Using Socinator's Auto Publish Content from RSS Feeds feature you can save time and effort by streamlining your content curation and scheduling process while ensuring your social media profiles remain active and engaging for your followers. 
Read blogs:
08 Best Facebook Marketing Automation Software You Need To Utilize
9 Things You Need To Know About Best Facebook Marketing Software
Facebook Marketing Automation Tools To Revamp Your Business
Final Thought:

In conclusion, Facebook Marketing Software can be a game-changer for your business. With its advanced features such as automation, audience targeting, and analytics, it can help you to effectively reach and engage with your target audience on Facebook. By leveraging the power of Facebook Marketing Software, you can streamline your social media marketing efforts, save time, and ultimately boost your business growth.

So why wait? Start exploring the world of Facebook Marketing Software today and take your business to the next level!