Most of you may believe that Instagram branded content tools are only useful for big business brands, but believe us, you can also become a creator and use branded content to grow your business.
If you really want to grow your influence and earn money through Instagram, then this is the article for you. In this article, we are going to explain how to partner with brands or creators so that you can bring more engagement and earning from your Instagram posts.
By using Instagram branded content tools, you have the control to decide on which content brands can tag you as a paid partner. Also, it let you access real-time insights to measure the performance of your campaigns. It would help you to bring transparency and consistency to your branded content so that you can efficiently manage Instagram for business purposes.
If you are ready to find more about Instagram branded content tools, then you should continue reading this article till the end.
What Are Instagram Branded Content Tools?
Before knowing how to use it, you should know what 'branded content' is.
According to Instagram, Branded content means- when a creator publishes content that features or is influenced by a business partner for an exchange of value.  It means that Influencers or creators publish their posts to promote a brand, and for that, they would get compensated.
Branded content posts have- "Paid partnership with (brand name)" label just below the creator's handle. Unlike sponsored content, which seems more like ads, branded content is not an ad. You can easily recognize sponsored content as it also has a Sponsored label just below the brand's handle.
You might have spotted some posts on your Instagram feed that have- Paid partnership with (brand name) label on the corner, which shows that it's a branded content on Instagram.
So, to make it more obvious for the audience, Instagram has created tagging features with insights for brands or creators. They are designed in a way so that brands and creators can collaborate together in a more transpirable way.
The best thing about using brand content is that it allows you to use the Brand Collabs Manager tool. So that brands and creators can easily find the right match to showcase their creations in front of viewers. While they both get access to the insights to check the performance of their campaigns.
Who's Eligible To Use Instagram Branded Content?
For using Instagram branded content tools, you need to be eligible based on Instagram policy.
Here we are showing you a quick overview to find if you are eligible or not.
Content creators must have a business or creator account. And brands also need to have a business account on Instagram. So, if you haven't switched to a business or creator account on Instagram, switch it now.
The creator needs to have an authentic presence on Instagram, which can attract audience interest.
The creator must comply with all of Instagram's policies and community guidelines.
A creator must not be a government official who is subjected to government rules or ethics. For more information, you should read the Instagram partner monetization policies in detail.
If you have already met these requirements, then you are ready to use Instagram branded content tools.
How To Set Up Your Instagram Branded Content Campaign?
To work with Instagram Branded Content, here we are going to show you some steps for brands and creators to follow.
Step:1- Approve Tag Requests of Instagram Branded Partnership With Brands or Creators-
Tagging the branded partners is quite different from normal Instagram tags. To access branded content, go to your business or creator account profile and click on the three-line button on the top right corner.  Tap on the Settings option at the bottom of the menu.
If you have a business account on Instagram, you will get a business option. In the business section, you have a Branded content option. Click on that. There you have the toggle "Manually approve tags" to turn it on or off.
There you can Tag Requests, which shows the number of people who want to tag you. In case you want to check the list of your branded partners, tap on the Approve Business Partners. From there, you can see the list of approved branded partner's accounts.
On the other hand, if you have a creator account, then first you need to set up branded content tools. Here are the steps to follow for a creator to use branded content tools.
Tap on the three-lined menu on the right corner.
Go to the settings option.
There you need to select the Account option.
Then tap on the Branded content tools.
Click on the Get tools button.
Step: 2- Use Brand Collabs Manager
Recently Facebook has launched a tool called- Brand Collabs Manager, which you can also use with branded content on Instagram. If you want to set up the Brand Collabs Manager, it's better to use a desktop instead of your phone device.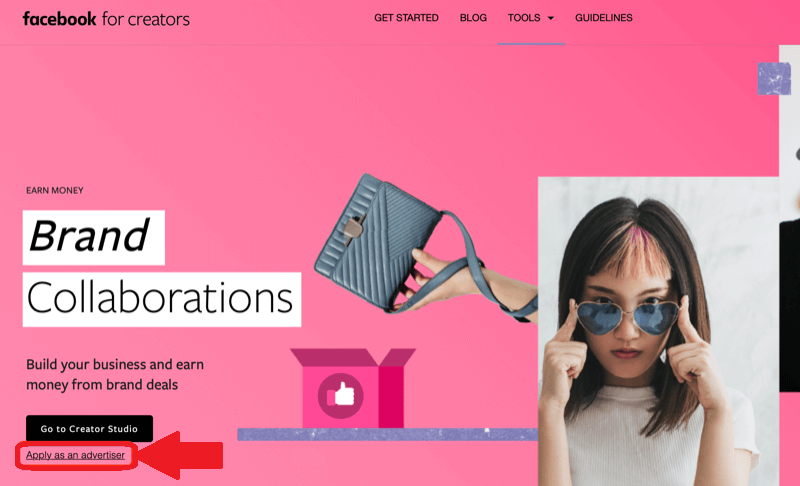 Open the Brand Collabs Manager and log in with your Facebook account.  It has a default set up for creators. In case you have a business account on Instagram, then tap on the Apply as an Advertiser option. There you can see the tab- Apply as an Advertiser. Click on that.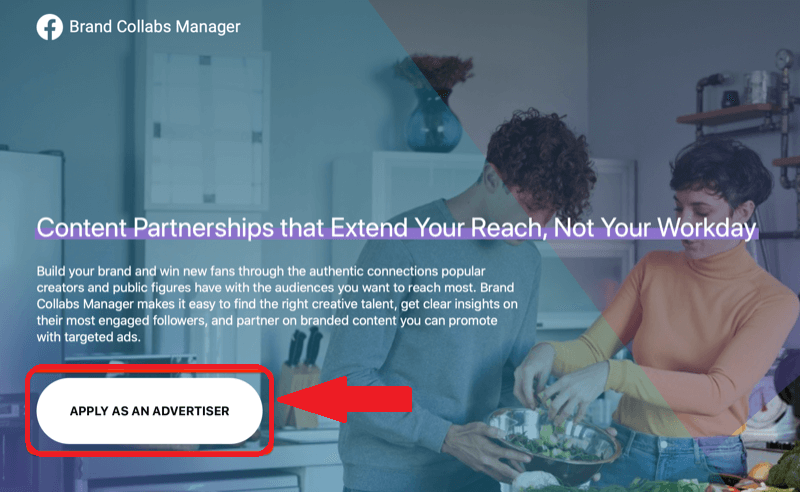 It will show you the list of Facebook business pages that you manage. Opt for the Facebook business page that's connected with your Instagram account. There you need to add an email address and check the box- Accept all terms of Service box and click on the Submit button.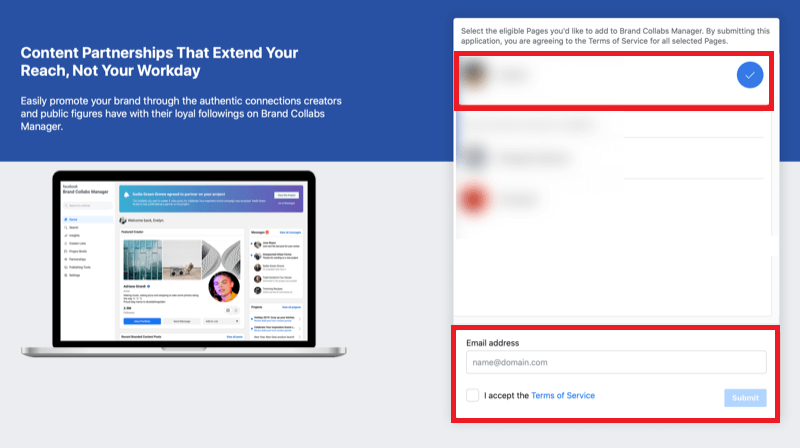 If you want to use Brand Collabs Manager as a creator, you need to set up and activate your creator portfolio. On it has been activated, potential business partners like advertisers, marketers, and brands would be able to find your portfolio and contact you to tag request branded content on your posts.
To be eligible for using Brand Collabs Manager, you need to fulfill three must-have requirements.
Meet the monetization eligibility for creators.
Branded content must be posted using the branded content tool to tag the featured brand or business partner
Follow the branded content policy of Facebook/Instagram.
Now you need to set up your creator portfolio. Here are the steps to follow.
Go to the Creator studio and then tap on Monetization.
There tap on the Branded content and click Portfolio.
Under the Portfolio option, you have the option to customize your portfolio. You need to update your Portfolio intro for Facebook. Also, you have the option to view branded content partners. Click on the Audience on Facebook to customize the audience who you want to show your portfolio.
Now click on the Settings tab and update your email, notification, pages for approval, and blocked pages settings.
Step:3- Tag A Business Partner
After setting up Brand Collabs Manager, being an advertiser, you would be able to check on creators whom you want to form a partnership with. And if you are a creator, your portfolio will be shown to other marketers and advertisers on Instagram.
But first, you need to activate branded content tools. Then you can start tagging business partners in your posts. While creating a new post, go to the "Advanced Settings, tap on the "Tag business partner." And then select the business partners' accounts.
In case you are ready to tag a brand in your post, but it doesn't allow you to tag. Then you should contact your business partner and ask them to approve your tags.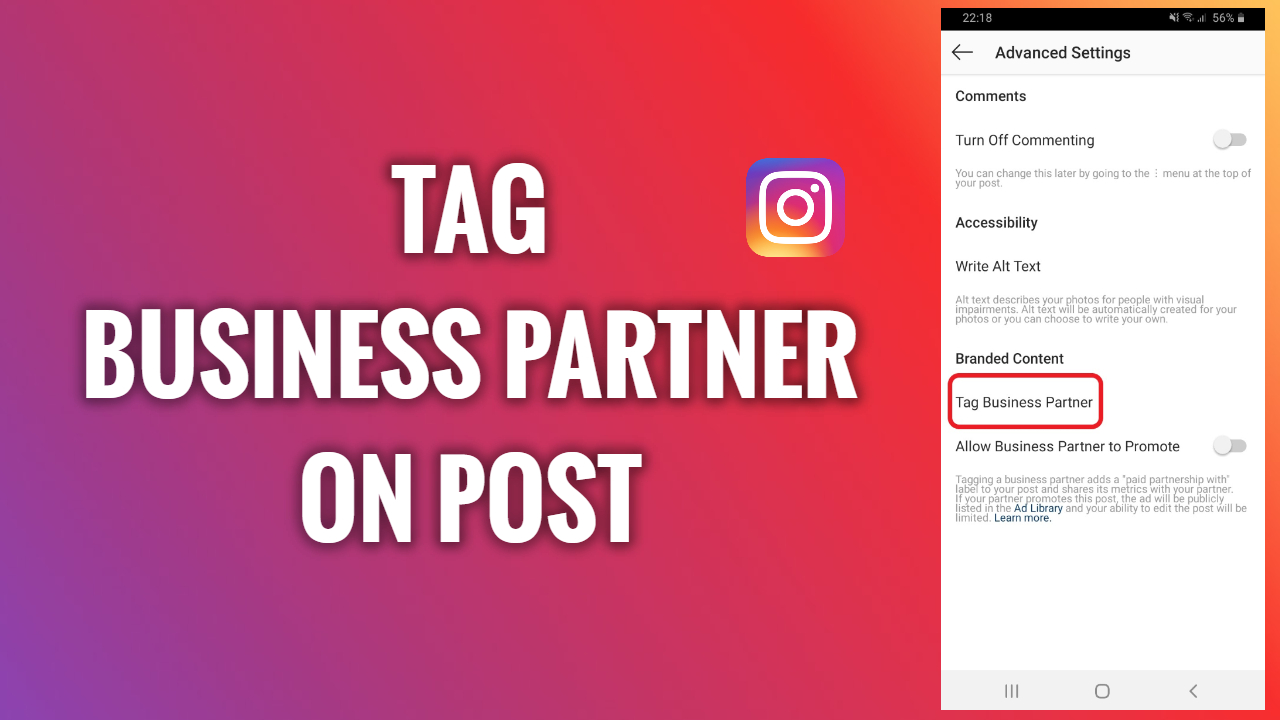 Once you will get the approval, the name of your business partner will be clickable on the Tag Business Partner page. Next, you tap on their name and it will get listed next to the Tag Business Partner on the Advanced setting screen.
After finishing the post, you can see the label "Paid partnership with brand name" on the top of your content.
Step:4- Branded Content For Insta Stories
You just need to upload a story on Instagram like you usually do. Go to the stories option. Upload the image or video that you want to add to your stories. And then tap on the chain link on the top of the screen. There you can see multiple options depending upon your account features. Scroll down and tap on Tag Business Partner. There you need to select the brand with whom you want to associate with.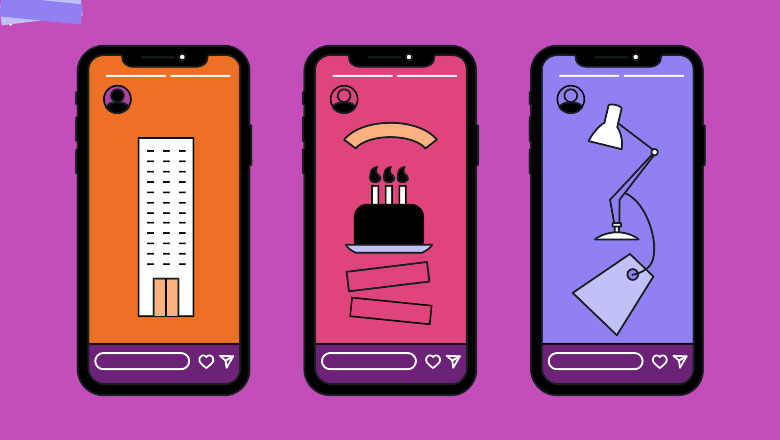 Further, you can edit the story with stickers and filters and publish it. It will show the label "Paid partnership" on the top of your story post.
If you have been tagged on Instagram by your brand partners, you will get the notifications. On the Activity screen, tap on the branded content, it will show you the notifications of stories that you have been tagged by creators on Instagram.
In case you want to remove yourself from the branded content story post on Instagram, then click on three dots. A menu will pop up where you can tap on Remove me from the post.
Step:5- Find Creators For Your Brand
The Best thing about Brand Collabs Manager is that it allows you to search for the business partners (Creators) relevant to your business. While you can also check the audience insights and demographics. If it matches with your potential audience, then you can contact them to send a direct message to propose a partnership with them.
On the Brand Collabs Manager, you will see the Suggested Creators on the screen. Tap on view all creators, and it will show you the potential brand partners to consider. You would be able to see their followers and engagement rate on the screen.
Now, if you have found the creator who fits perfect for your brand, click on their thumbnails to see more information about their Facebook page performance. There you will see the other partners they have collaborated with, and you can check their targeted audience that brings more conversions.
On the home page of Brand Collabs Manager, you can find out about the performance of your posts. In the left side, you need to click on Insights. There you can toggle between two options.
Published by partners: It shows all the content posted by others who have tagged you for branded content.
Published by you: It shows the branded content created and published by you only.
For Instagram feed posts, you will see its reach, engagement, and impressions with audience demographics like age, gender, etc. And in case of stories, the Post Breakdown tab will show reach and impressions. Tap on Story Metrics to check the clicks, conversions, and replies from the viewers of story posts.
Save Your Time & Effort Using Social Media Automation (Socinator)
Instagram branded content tools can surely help you to promote your brand. However, being a creator/marketer, there are many things you need to manage. What you need is a social media automation tool like Socinator that can save you time and effort. So that you can efficiently promote your brands through branded content posts on Instagram.
About Socinator
Socinator is an all in one automation software, which you can utilize to automate your social media activities. It has an easy to use dashboard where you can add multiple Instagram accounts and efficiently manage it as a whole team. Besides it also allows you to check insights of your followers and engagement so that you can make more efforts to increase your reach on Instagram.
Conclusion:
Have you decided to use Instagram branded content tools for marketing your business? If not, then you are missing out hugely. We know that Instagram creators have better reach with the audience, and it's easier for them to influence others. It is a great opportunity for both brands and creators to collaborate together and get more business opportunities for each other.
Hope you have gained a lot from this article. If you really like this article, then please also share it with others.
In case you have any queries, mention them in the comments below.
Also Read:
Alternatives to 59 Chinese apps that are banned in India
Do Customers Engage On In-Stream Video Ads?