Are you wondering what strategy works best in franchise advertising to grow business in different locations?
Well! It is the most crucial marketing model for running a successful business. Here, franchise business promotes their brand and engage customers and franchisees at both the corporate and local levels.
Many businesses find it difficult to create effective marketing to generate leads and provide customer service in various locations. Keeping the brand image alive concerning the locality is quite tricky. 
Well! The good news is you can achieve your franchise advertising goals with smart work and market knowledge. Franchising is nothing new, it is an activity to scale your business in different locations and remain a profitable brand. While on the other hand, you need to get blended with the location where your franchise has been launched.
In this blog, we will discuss what is franchise advertising, some franchise marketing strategies, and challenges related to it. We will also talk about the best marketing automation platform to grow business.
Let's start!
Listen To The Podcast Now!
What Is Franchise Advertising?
Franchise advertising mainly refers to activities used by a franchisor to identify potential customers and franchisees who might be interested in operating their own business using the franchisor's established product or services. 
Franchise Marketing is crucial for franchisors to reach maximum potential audiences and maintain brand visibility. Moreover, it also helps franchisees generate leads and grow their businesses. Enhancing engagement with the target audience enables the franchisor and franchisees to tailor their marketing plan, boosting success rates. 
A well-known fast-food franchise example is McDonald's, with over 38,000 outlets worldwide. Each outlet is owned and operated by franchisees, but there are some signage and menu items of the central franchise. Also, the major decisions and plans are created and optimized by the franchisor. Whereas, franchisees need to follow the guidelines and promote the brand- as per their instruction. 
The larger goal of any franchise advertising is to boost brand engagement by improving the number of franchise units. Let's talk about strategies that help franchise expand their brand to more locations and generate large consumer attention.
How To Create A Successful Franchise Marketing Strategy:
If you are looking to create an influential franchise marketing strategy, here are some tips for creating a successful franchise advertising plan for you, your franchisees, and your overall business. 
Set Clear Brand Guidelines
To get a successful marketing strategy, you must create clear brand guidelines that are easy to understand. This guideline should feature all the sections that give your franchisees a good picture of the franchisor's brand identity, and social media strategy can be effectively performed by different franchisees.    
Include these guidelines in the franchise manual, where the brand history, vision, and values are all incorporated into one section. This process will help franchisees to follow operational instructions. 
Further, to create consistency among all your franchises, you must provide access to franchisees to everything that makes your brand. It protects the event of a legal dispute, as franchisor and franchisee responsibilities are clearly outlined.
Know your Potential Audiences
As a franchise, you would not be interested in just spending your marketing efforts or money on advertisement for everyone less likely to be interested in your brand. 
Therefore, knowing your audience is crucial to ensure you aren't wasting your valuable time and resources. Remember, you aren't only marketing to customers but also to entrepreneurs and professionals who want to start their businesses. Also, in a franchise business strategy, the target audience varies, and you may need to alter your advertisement plan while targeting a certain part of your audience. 
Include Local Marketing
Local marketing is vital for a successful franchise. And this should be part of your basic marketing strategy. It includes an understanding of demographics, community involvement, localization of ads, and brand consistency. Proactive and sustained local marketing will increase the individual franchisee as a dynamic member of their community.
The best part of local marketing for franchises is that it is extremely affordable and less expensive. Franchisors can focus on other higher-priority tasks and business development aspects. You must provide your franchisees with the materials and resources necessary to succeed locally. 
You can observe many brand franchises that follow these details. 
For example, McDonald's has to stop making edibles from beef in India because Indian culture will not allow this. It happened because of the growth potential of India and the development rate. These factors can benefit these franchisees in the long run.
Direct Mail Still Works
Email is one of the most influential and inexpensive marketing methods. The best use of email marketing for your franchise is they can send out promotional messages to a large list of people at once. It includes promoting special deals or offers, new products or services, and events.
Franchisors must have details of all their different business locations. Email marketing helps regularly stay in touch with franchisees, customers, and website visitors. Beyond segmentation, message personalization increases relevance with your brand.    
Automate Your Marketing Effort
Managing various tasks can be overwhelming in the fast-paced world of franchise advertising. The manual approach is time-consuming, from creating and sending marketing materials to targeted audiences and managing social media. 
Therefore, you can switch to marketing automation to make your marketing efforts easier. A game-changer process that can revitalize franchise marketing, you can automate your marketing materials. 
So, do you want to include an automation tool in your marketing business? Here we have something for you!
Socinator – The Social Media Automation Tool You Need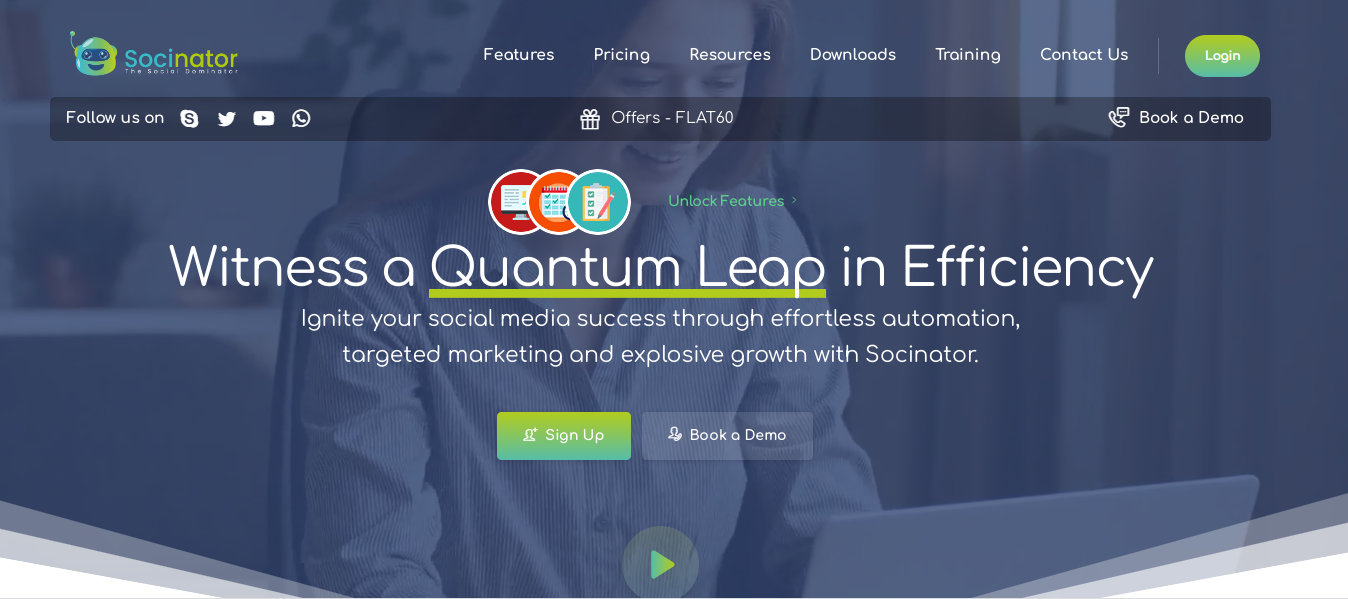 Socinator is one such franchise marketing automation tool that provides you with the convenience of complete social media marketing.
This tool integrates with almost all popular social media platforms – such as Facebook, Instagram, Twitter, YouTube, Tumbler, Quora, Pinterest, and Reddit. With this tool, you get to automate almost every single activity! 
Talking about its best features of the Socinator marketing automation tool that can help you grow your business are;
Schedule Posts

Auto Reply

Activity Reports

Broadcast Messages

Auto Send/ Accept Friend Requests

Auto Like/ Comments/ Share

Auto Follow/ Unfollow
Socinator means no hassles for logging in to a particular social media site. You do not have to stress about any advertising action.
Read More:
How To Select The Best Marketing Automation Software?
11 Social Media Marketing Ideas for Non-Profit Charity Organizations
9 Enterprise Marketing Automation Platforms To Help Your Business Grow
Challenges of Franchise Marketing and How to Deal With it!
Franchise marketing is affected by several things. Consumer patterns, uniqueness of locality, overall marketing dominance, and so on!
The main challenge of such marketing is to establish a balance between the marketing strategies of the brand and the franchisees. Sometimes, shared marketing practices often spark disagreements within the team altogether.
Having to glide through many ideas and implementing them is not an easy task. Sometimes, brand strategies do not seem to work for some franchisees. Which consecutively is a call for improvisation.
So, are you looking to open a franchise? Then there are many things you need to consider. Despite being the most profitable brand, you can fail at being the most favorite franchisee at that place.
A similar thing has happened to Ford India. They had to shut down their franchise in India because they could not derive significant sales in the last two years. It is a decorated brand with popularity. Even then, it failed to remain a profitable brand in India. 
However, Fast-Moving Consumer Goods retailers and stores are generating massive profits and establishing new franchises. Those are some examples that will help you make the right decision to overcome these roadblocks and drive success. 
Making the right decisions at the right moment is what ensures marketing franchise stability. Maintaining consistent brand identity across multiple franchise locations is critical,  marketers should develop comprehensive guidelines that serve as a blueprint for franchisees to align their marketing efforts with the overall brand identity.  
Moreover, to establish a more profitable brand it is important for franchise marketers to implement localized marketing strategies to connect with local customers. Embracing the latest marketing ideas is also vital to effectively promoting franchises, marketers can invest in continuous learning and stay updated with the latest marketing trends. 
Final Words
Now! You know the franchise advertising strategies, you can adopt the above methods that best suit your needs and get to work. Whether you plan to use a few or all of these franchise business strategies, you need to keep your branding and marketing consistent across your franchise network.