With great power comes great responsibility. This saying is also true for social media management because of all the powers social media provides for business. This responsibility comes upon the shoulders of social media managers.
When the term social media started, it was merely a way to connect with family and friends. But with time, it has become a vital and affordable marketing strategy for all sizes of businesses. Social media has provided a platform for all businesses to connect with their right audience. 
But with all the tasks of managing multiple messages across several social media accounts, companies get overwhelmed and start hiring experts to take care of all this for them.  It does not matter what approach you take for social media management, whether with the help of a firm or a toolset. The most essential thing to understand is what it includes and how to make it a success for your company.
But what are the things social media managers need to know about social media management? How can you build a strategy that guarantees the success of social media marketing? In this article, we will discuss all the essential topics you should know about social media management.
What Is Social Media Management?
As the term suggests, it is a process to manage every part of social media and develop a marketing strategy. Social media management is the process of analyzing social media audiences, creating and posting content for social media handles, observing engagements, collaborating with influencers, measuring metrics, and reporting on social media performance and ROI.
All these tasks have turned into companies' marketing strategies, which were once marginalized by businesses. Do you know why? Because social media provides immense money-making opportunities for managing social media accounts in an organized and efficient way.
Importance Of Efficient Social Media Management:
Social media platforms hold immense potential for businesses. Brands can leverage social media platforms to successfully hit their objectives across the marketing funnel, from raising brand awareness to increasing store visits.
Cost-Effective:

Despite your marketing budget, social media is a cost-effective way for marketing. Signing up for social media networks, posting content, engaging with the audience, and more is free of cost. Even social media promotion gives a valuable way for reaching your audience and building a community.

A Wider Reach:

Social media management is a necessity for businesses. Because from Facebook to LinkedIn, these platforms can connect you with users across the world. You can also use social media platforms, like Pinterest, to reach niche audiences. 

Users:

Combining social media into your marketing strategy enables you to regulate your marketing actions with user behavior. For example, 74% of people now use social media when making purchase choices. More than 80% of users get advice about purchases through social media.

Performance:

Marketers and business owners alike agree on the performance of social media marketing and advertising. Via social, companies can build their brand and even generate leads and sales. Almost 45% of business-to-business (B2B) marketers, for example, have earned a client through Facebook.
How To Do Social Media Management?
Now, you know the definition and advantages of social media management and what social media management for businesses typically focuses on. Now, it's time to learn how to do social media management properly.
Audit Your Existing Social Media Strategy
If you are already marketing and advertising your business on social media, then audit your existing social media strategy. Look at what's working and what isn't within your social media campaigns.
Common steps within a social media audit include:
Analyzing your social media goals

Ensuring your branding across social media networks matches

Analyzing your social media metrics, like followers, engagement rate, and more

Research on social media metrics to find trends

Analyzing your competitor's social media strategy
Your audit will provide critical insight into your social media strategy. Plus, it will create a foundation and improve your social media campaigns.
Research On Your Target Audience
Finding the right audience is a core part of social media management. If your company doesn't know who your audience is, developing a social media strategy is challenging.
Finding the right audience is critical in social media management. By targeting your audience on their preferred platform, you can earn a bigger return on investment (ROI).
Choose Social Media Platforms Suitable For Your Business
Next, you'll decide which social media platforms to use. Time is one of the most valuable resources when it comes to social media management for businesses, so it's essential to focus your efforts on the networks that matter most to your audience.
While you should have a profile on the top social media networks, like Facebook, Twitter, and LinkedIn, you shouldn't divide your time between them evenly. Instead, prioritize social media platforms by how much your audience uses them.
Develop A New Social Media Strategy
Before your account manager (or your internal team) can launch your social media campaign, they need to develop your strategy. In most cases, they'll focus on building a strategy for each platform due to the different roles and uses of Twitter, LinkedIn, Facebook, and other social media platforms.
In addition to considering your audience, they'll also look at the following factors:
Your goals:

What does your business want to accomplish with social media? Do you want to build more brand awareness among consumers or establish brand loyalty among existing clients? Or, is there another goal you want to accomplish?

Your industry:

What do audiences in your industry want to know? Are there content gaps that your company can fill, such as with blog posts or guides that you can then share on social media? Or, are there industry leaders you can connect with on different platforms?

Your brand:

What is your brand voice? Do you have a set of standards or processes when engaging with clients in a public forum? Or, how does your branding influence the colors and media that you use?
Create A Social Media Calendar
Another deliverable included in most social media management services is a content calendar for each of your social media accounts. This calendar serves as a reference point for you and your professional social media management team.
In your content calendar, which will include the current month, you can view scheduled posts for your social media accounts. These posts may include company announcements and holiday tidings, as well as shared content, such as a blog post from your website or an image from a client.
Create Platform-Specific Content
A social media specialist does more than building a content calendar for your company — they also create the content in it. In some cases, they may oversee every aspect of content creation, from developing the topic to writing the copy to select the media.
To create the best possible content, however, many social media specialists will work with graphic designers and copywriters. The result is a piece of content that resonates with users and accomplishes your company's goals.
Monitoring Your Social Media Performance
A crucial part of social media management is monitoring the performance of your efforts. Tracking ads performance, engagements, and all the other metrics you need to track gives you the data to create a solid strategy.
Best Social Media Management Tools
Looking at all the tasks that come with social media management can be overwhelming, but don't worry! Many social media management tools are available to ease up the process and do a lot in no time effectively. Here are the best social media management tools to manage social media handles:
Socinator: The Social Dominator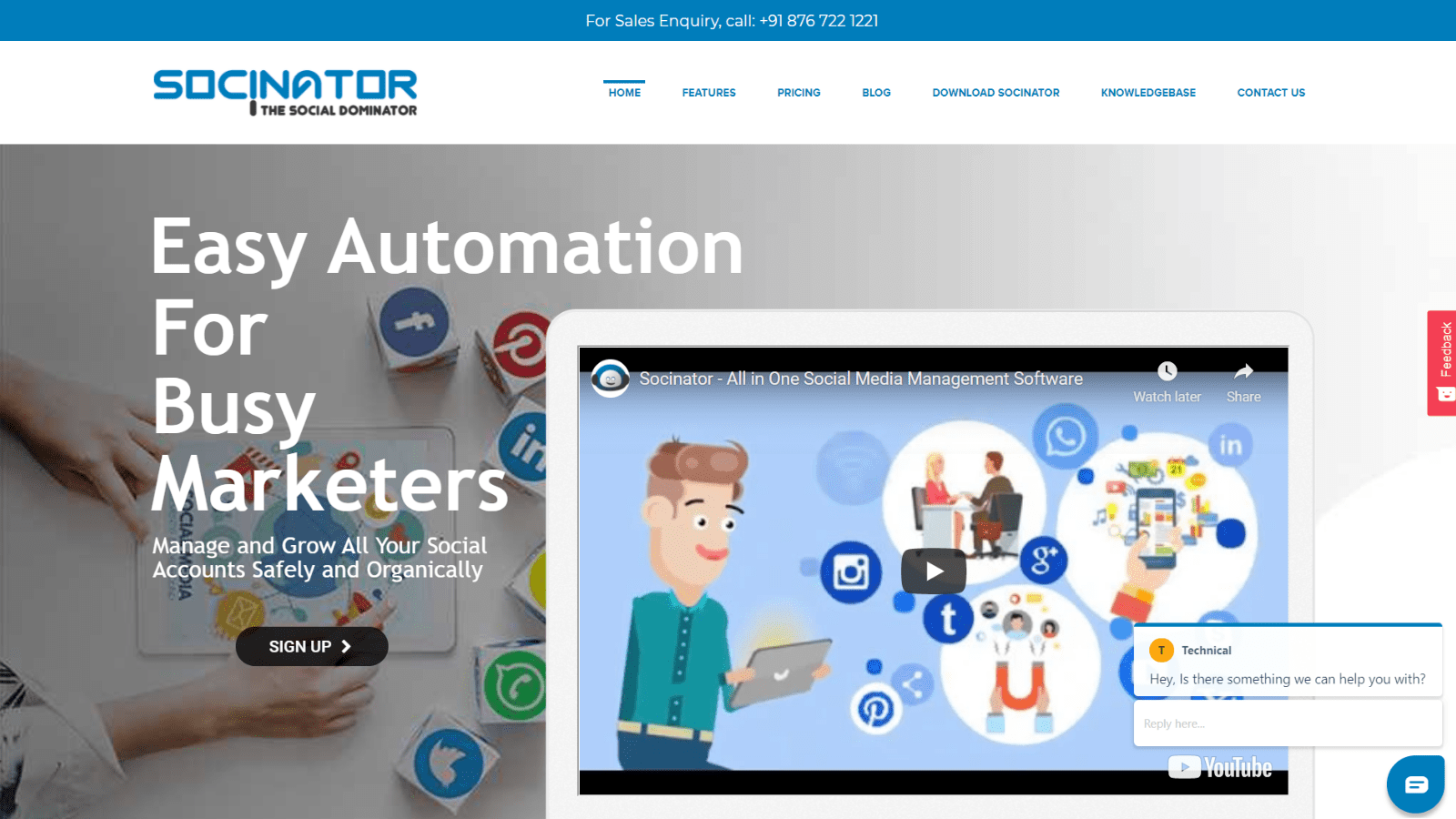 Socianator is one of the best social media management and automation tool you can find. With its industry-leading features, you can grow your social media handles safely and organically. Socinator provides automation for more than 9 platforms including Facebook, Instagram, Twitter, YouTube, LinkedIn, Quora, Pinterest, etc. 
With Socinator, you get features according to the platform you want to manage and it also comes with RSS feed reader. An excellent user dashboard lets you manage your social networks in one place.
Features:
Advanced Publishing
All Activity Automation
Activity Statistics And Reports
Auto Publish Content from RSS Feeds
Efficient Account Management and many more.
Pricing:
Socinator pricing meets everyone's needs which starts only at $9.95 Monthly.

Sprousocial:
Sprout Social provides usability, publishing features, and analytics across all major social media platforms. This provider also offers one of the longest free trials in the business. Sprout Social provides businesses based on the array of scheduling tools and analytics they offer, their mobile app for iOS and Android, and their paid promotion tools to help you expertly boost Facebook posts.
Features:
Social Analytics
Social Engagement
Social Publishing
Social Listening
Social Automation
Pricing:
Its pricing starts at $89 per month.
Zoho:
Zoho stands out as an all-in-one tool consumers can use to run the social aspects of their business in one place while managing their email, projects, accounting, and webinars. Zoho is an all-in-one tool based on the CRM product they offer in addition to social media management software. 
You can utilize Zoho to store and manage your email, create and oversee products, and take care of accounting all in one place. Zoho also offers comprehensive social media management software you can buy separately or integrate for full all-in-one management.
Features:
Flexible Scheduling
Access to Content Calendar
Monitoring Dashboard
Social Analytics
Pricing:
Zoho offers 3 pricing plans which start at $10 per month.
Check Our Latest Posts:
What to Post on Instagram-10 possible Instagram post ideas to boost your business!! 15 best Instagram Ideas To Level Up Your Instagram Game Have A Look At The New Instagram Algorithm To Boost Your SEO
Wrapping It Up:
Finally, we have discussed all the things that require for social media management. Here's a bonus tip – Be A Human, while managing social media, you have to interact with your audience. As individuals, we have a higher tendency to follow accounts of "real people" vs. businesses even if we don't personally know the person. So try to create a human voice for your social media handles.
With this guide and the help of the Socinator, any social media manager can nail social media marketing. Follow all the steps provided above and utilize the potential of social media for your business effectively. I hope it was helpful. Let me know if I missed anything, or you have any queries, comment down below!