Are you looking for the Best Instagram ideas? You have come to the right place!
Instagram is one of the most popular social media platforms with more than 1 billion monthly users. That provides an opportunity for businesses and marketers to connect with their prospective customers. 
In fact, it is not just a social media platform anymore but also a place for people to discover new products, connect with their favorite brands, and shop. 
However, just posting normal photos or videos won't cut it. You need to be unique and give your followers creative content they can't get anywhere else. Your Instagram posts should be crafted to boost engagement, build your brand, and provide quality, all while keeping things familiar – but how?
Hit The
Play

Button  To Listen To The Podcast:
You don't need to break what's working for you. It is always a good idea to try out some new types of Instagram posts and Stories. That is why we have curated this list of some splendid Instagram ideas that can help you ace your Instagram game. So without wasting any time, let's dive in!
(How-to) Content:
If you are looking for what to post on Instagram, it might be the best idea to provide valuable content to the audience. It is one of the most effective and popular Instagram post ideas and works almost on all platforms. Posting how-to content drives engagement on your post and also establishes you as an industry expert.
Typically, any type of business can find some form of "how-to" content that can provide value to its audience. For example, food and beverage businesses can share recipe videos.
In the beauty industry, it can be in a form of a product tutorial. You can use this type of post to guide your audience on how to use your products. It can also be about new and innovative ways of using your products.
Include Influencers:
Influencer marketing is one of the easiest ways to advertise on the Instagram platform. The best thing about influencer marketing is that the audience you get from it is loyal to their beloved creators. And get access to that audience.
People trust influencers more than brands and paid ads that intrude in their feed. They'll convert more as well because it's one of the ways to support their favorite influencer. You can ask the influencers you work with to post photos on their accounts. At the very least, you can use them to announce your new partnership.
User-Generated Content:
When you can't figure out what to post on Instagram, it can be the easiest yet effective way. You don't always have to create your own Instagram posts. If your existing following are sharing amazing Instagram posts that you can repost on Instagram.
All you need is their consent.
Alternatively, ask your audience to send you photos and videos to share in your Instagram posts. If your product/services help your users create something, you can share their work with your audience.
User-generated content can help you build social proof for your business. Many brands like GoPro, Apple, and Canon rely heavily on user-generated content, and they also plan events and contests to get their audiences to participate.
Ask Questions In Your Posts:
If you want to create a bond with your audience, the first step is to know about them and let them know about you as well. There are many ways you can get to know your audience, ask them questions in your post and stories. And also, encourage them to ask questions about you.
Getting direct input from your audience humanizes your posts/brand or what you want to promote. Asking questions is the key to learning more about your audience and getting valuable information.
It is your best opportunity to get feedback from your customers and plan your future Instagram strategy. Asking questions encourages your followers to share their thoughts and ideas on practically any topic. They might even help you come up with new product ideas if you ask the right questions.
Before And After:
Sharing before and after is a classic form of content. If done right, it is great for entertainment and marketing as well. You can show pictures of the product before its final form and after it is done. It does not matter in which industry you are. Just try to be more creative.
Introduce Your Team:
There is always a team and their efforts behind any product or service. Introduce them to your audience. Putting a spotlight on the face of your team and letting your audience see the faces behind the brand will create a deeper connection with them.
You can share simple portraits of them or videos while working on a project. What OnePlus Nord did is a great example, they introduced the whole team and shared the story of their team's efforts.
Make A Repost:
Reposting is one of the most powerful things to do on any social media platform. Just like we talked about sharing user-generated content. Reposting the beautiful posts of your followers shows how much you care about your audience. User-generated content impacts the shopping decisions of 79% of people, and that is only by their own repost.
You can also re-share your own posts as a continuation or reminder of the upcoming events. If you have made any improvements based on customers' feedback, repost it and show what you have done. You can make the posting process easier with the auto-posting feature of Socinator.
Get On With The Latest Meme Trend:
Memes, what can work better than this? Combining humor with the trendiest topic is a great form of content for entertainment. And the great advantage of this is that this type of content is sharable and has higher chances of getting viral.
A meme is a form of text, image or video, that is typically humorous and relatable, thus spreading rapidly amongst internet users. As a brand, you can creatively use pre-existing memes or create your own to promote your product or service. For inspiration, look for the social media handle of brands like Make My trip, Zomato, Durex, Cred, etc.
Do Fun Instagram Reels:
One of Instagram's most beloved features, Reels, allows users to create short videos on the platform. This feature opened a world of possibilities to fun and creative Instagram content for brands.
Small business or a large company, Reels is the perfect way to let your audience know you a bit better. It is also best for greater reach and engagement.
Run A Flash Sale In Stories:
You can take advantage of stories by running a flash sale. In the retail world, flash sales can vary from predicted to the most surprising. Either way, they're short and drive a customer to purchase so they don't miss out on the opportunity.
You can apply this for limited stock products, giveaways, or even a quick discount on something you don't usually discount. It surprises the customer and makes them check your stories more often for another flash sale. Make flash sales a marketing tactic, it will boost your engagement skyrocket.
Take On A Recurring Challenge:
There is always some sort of challenge going on. Try to participate in the trendiest challenges. It can be a daily, weekly, or even monthly occurrence. It's up to you how often you want to tackle the challenge. To execute this, you'll need to either look up pre-existing challenges or create one that makes sense for your brand.
Use Popular Hashtags:
Using popular hashtags can do wonders for your Instagram account. Perhaps using wildly popular hashtags like #ootd or #tbt might work for huge brands that have already built an engaged audience.
But until your account gets there, these tags will have your post buried in the hashtag feed within seconds. You can use Socinator to search and find hashtags for your niche to use in your posts. 
Grow Your Instagram Account 10X Faster With

Socinator: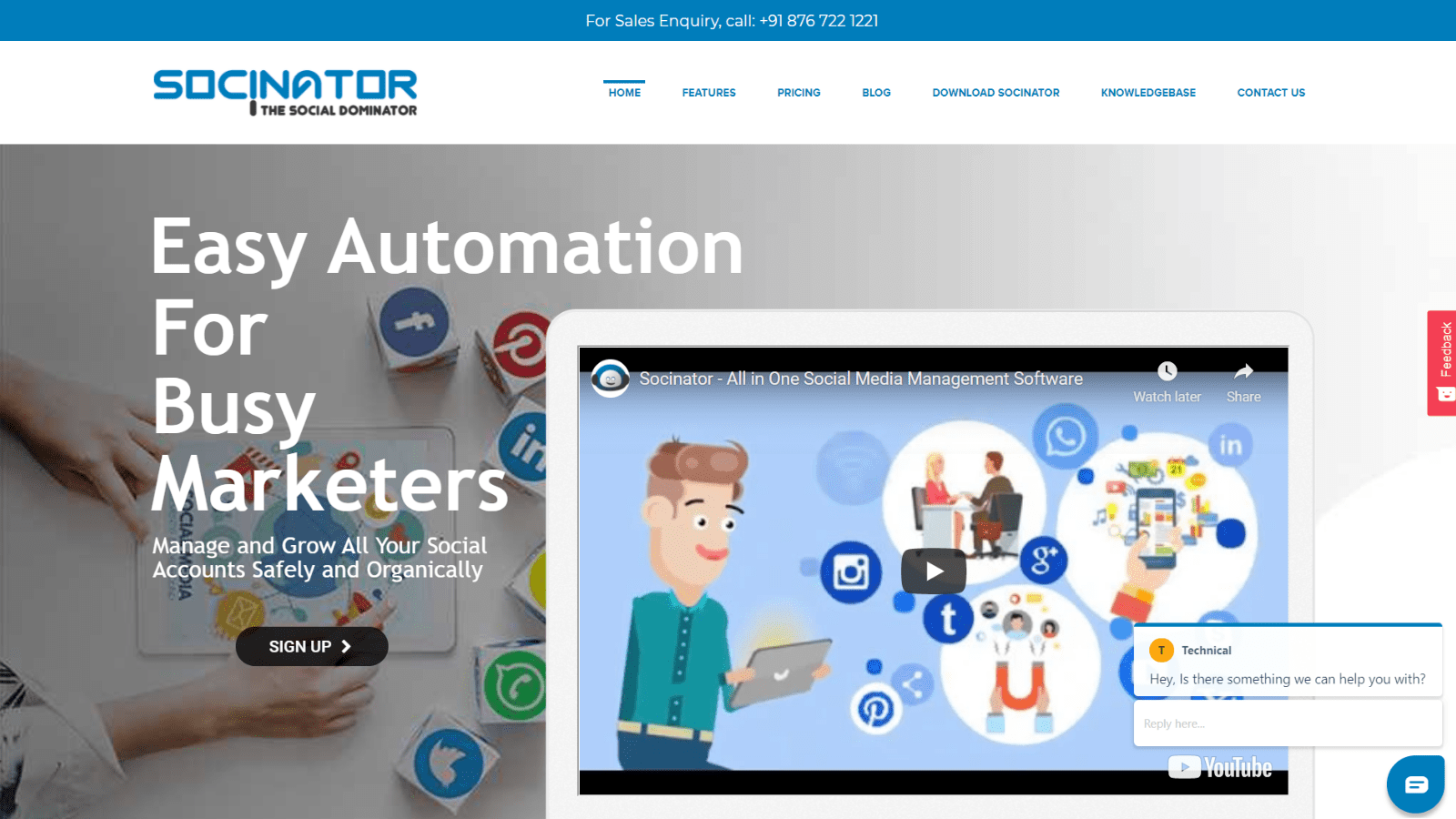 Socinator is one of the best tools for social media marketing and automation solutions. It gives you the ability to automate your social media activities on various social media platforms. 
It provides automation features for Facebook, Instagram, YouTube, Twitter, Linked In, Quora, Pinterest, and many other platforms. For Instagram, some specific features are Auto Follow, Follow Back, Auto Like, Auto Comment, Auto Repost, Auto Messages, Live Chat, and Many More.
Efficient Account Management
Managing multiple Instagram accounts is difficult. With Socinator, you can handle your Instagram accounts efficiently.
Find And Extract Hashtags
With this excellent tool, you can now search for similar hashtags for your niche to use in your posts. You can use this feature to enhance your hashtags and get a better reach for your posts.
Activity Statistics And Reports
It shows all the reports and statistics for the activities performed with your accounts. All this data will help you to analyze growth and make better strategies.
Auto Publish Posts
With the help of this feature, you can schedule Instagram posts directly to Instagram. There are no push notifications required.
Pop Quizzes and Puzzles:
Pop quizzes and puzzles are great for getting more engagement on posts. There's nothing better than to ask your audience a question for getting more likes and comments on your posts. Quizzes work because they not only engage your audience but also get them to share their responses.
The same is the case with puzzles because they generate interest and curiosity among people to find and share the answer. The sense of competitiveness that it excites in people is what makes such posts unique and effective.
Encourage Your Followers To Tag A Friend:
If you want to boost comments and engagement, encourage your followers to tag a friend. It also exposes your account to new people in the best possible way – through a personal endorsement. You can use this technique with the competition or giveaway posts, but it also works individually.
Check Out Our Latest Posts:
Have A Look At The New Instagram Algorithm To Boost Your SEO How Marketing on Reddit Works?: A Definitive Guide All you need about social Posting errors that futile every strategy
It's A Wrap:
The possibilities are endless!
These are many interesting and effective Instagram ideas you can try. You can use a combination of these to revamp your Instagram feed and get more followers and engagement. These ideas will hopefully get you started.
You don't need to tackle all of these Instagram post ideas at once. To start, choose a handful of ideas that you can turn into regular themes.
If you need help to take social media marketing game to next level, Socinator got you covered. Now it's your turn to amaze everyone with your fabulous Instagram photos!