Pinterest emerged as a popular platform for businesses to enhance brand awareness and drive website traffic.
It is a social media platform where users can browse and save ideas on a wide range of topics such as fashion, food, home, decor, and travel.
With over 400 million active users, Pinterest is a digital pinboard where users can share pins which are collections of images and videos with links to their sources.
However, managing a Pinterest account can be challenging and time-consuming, especially for businesses with limited resources.
Pinterest automation makes marketing simple for businesses, makes it a game-changer. Automating various tasks associated with managing a Pinterest account using tools and technologies is referred to as Pinterest automation.
It helps you to save time so that you can focus on creating high-quality content to engage your audiences.
In this blog you will explore the benefits of Pinterest tools for business and provide a comprehensive overview of the best automation technology to assist organizations in fully maximizing Pinterest's potential.
The Challenges of Managing a Pinterest Account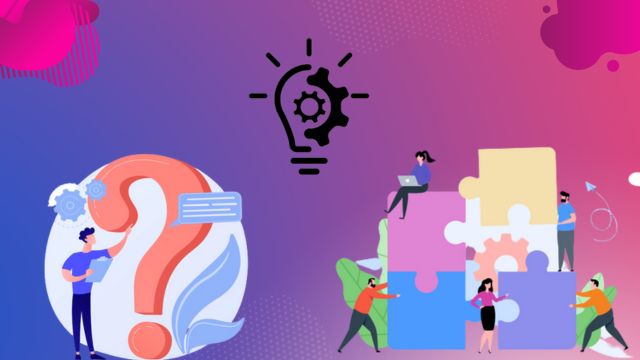 Time and Resource Constraints: Managing your social media account can be challenging in this fast-paced digital age as you might lack consistency.
It requires a lot of effort and time to create a strategy that can engage the followers. Hence, with limited resources, you struggle dedicating time to your Pinterest account.
Staying Relevant in a Dynamic Platform: Keeping up with trends is difficult because this platform keeps on emerging all the time.
Ensuring that your pins are relevant is hard, especially if you are in a competitive industry.
Creating Standout Content: Creating high-quality content on a visual platform like Pinterest demands creativity, time, and resources to make your content stand out.
Producing high-quality content can be a challenge with limited budgets.
Engaging with Followers: Another challenge is engaging with followers we know to build a strong presence on Pinterest.
Interacting with followers is crucial, and with limited resources, responding to every comment, like, and mention can be time-consuming.
Analyzing Strategy Effectiveness: It can be challenging to assess the effectiveness of your Pinterest strategy because analyzing metrics such as click-through rates, engagement rates, and website traffic can be complex.
To deal with all this, you can opt for automation. It is valuable for businesses looking to simplify their Pinterest marketing efforts and increase efficiency.
What are Pinterest Automation Tools?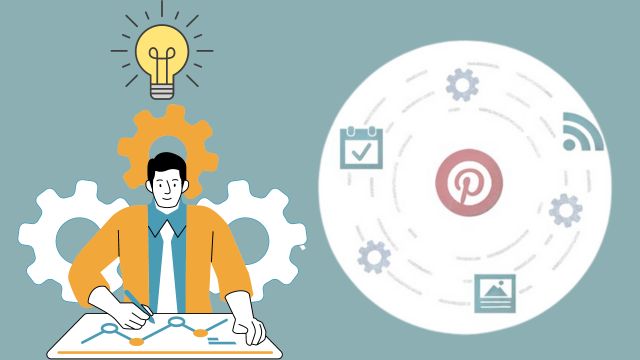 Pinterest automation tools are the software that simplifies managing a Pinterest account, saves time, and increases productivity.
They can help you with time-consuming tasks such as pinning, following, unfollowing, and posting, allowing businesses to focus on creating high-quality content and engaging with their audience.
You can use automation to increase your audience by optimizing the timing and keywords of your pins, making sure your content is visible to your target audience when they are most active on the platform.
With automation tools, businesses can benefit from one of its primary advantages which is time-saving. To accomplish this, you need the best Pinterest automation software like Socinator.
Socinator is a social media automation tool that offers Pinterest automation features
Businesses and individuals can manage their Pinterest accounts by automating their activities like auto-publishing pins, auto repins, auto follow/unfollow, auto comment, and auto likes, etc on Pinterest.
This best-selling software serves you as a virtual assistant for Pinterest online marketing, automating time-consuming tasks such as post publishing, commenting, follow/unfollowing, and board creation.
It provides activity reports and performance statistics to help you improve your marketing strategy and extract targeted users.
Users can schedule their pins using Socinator to ensure that their content is seen by their target audience when they are most active on the platform.
With Socinator, you can save time and focus on other critical aspects of your business.
Socinator  also has this feature using which you can search for the relevant keywords in your business niche serving as one of the best Pinterest keyword tools.
Moreover, Socinator supports multiple social media platforms like Facebook, Instagram, Twitter, Linkedin, and more.
This makes it a versatile option for businesses looking to streamline their social media management across multiple platforms.
How to Use the Pinterest Automation Tool?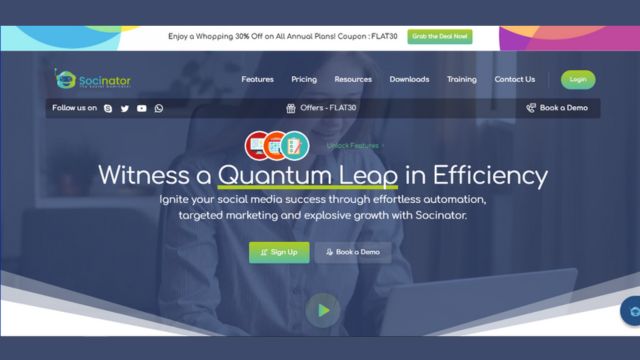 Follow these steps to leverage Pinterest automation:
Select an automation tool: When it comes to choosing an automation tool, Socinator is the top choice to consider. Its exceptional features and reliability make it an outstanding option for your automation needs.
Register and connect account:  Once you select the tool, register for the service and connect your Pinterest account.
Personalize according to your preferences: To meet your specific needs, you can use the settings and options provided by Socinator to customize your preferences.
Content scheduling: Use the tool to schedule your pins to be published at the optimal time for your audience.
Automate engagement: You can automate engagement by configuring the tool to automatically follow, like, and comment on other users in your target audience. This helps increase your reach and interaction on the platform.
Analyze your result: Maximize the impact of your automation efforts by tracking your performance using the tool's analytics and reporting features and making any necessary adjustments.
Perks of using Pinterest Automation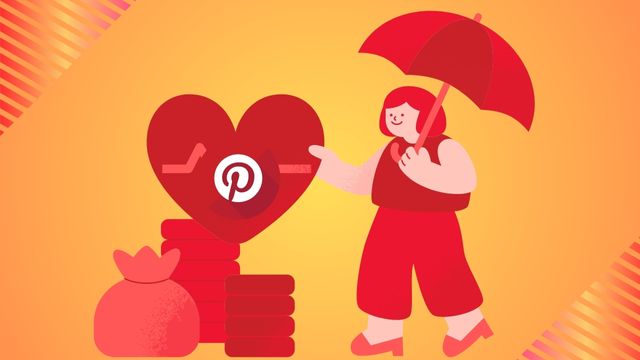 Pinterest Automation offers numerous benefits that might completely transform your online presence. Some of its outstanding advantages include:
Saves time and effort:
One of the advantages of using automation is that it can save you time and effort. You don't have to upload pins manually every time you want to share content. You can set pins to post at a specific time zone whenever your audiences are most active.
It will help users utilize this valuable time on Pinterest to find the most relevant keywords to increase visibility and drive sales.
Rise in engagement:
Automating your Pinterest strategy can lead to an increase in participation.
You can increase overall engagement on the platform by sharing engaging and high-quality content consistently with your followers.
It can include scheduling pins to be posed at optimal times and ensuring that your content is shared regularly.
Using automation tools, you can streamline your Pinterest strategy and focus on creating engaging content that resonates with your audience.
As a result, your number of followers and engagement levels are most likely to rise over time.
Increases website traffic:
Pinterest is a powerful platform for driving website traffic, and automating your Pinterest strategy can help you take full advantage of this.
Automation tools help you share your pins consistently, which in turn increases your website traffic and clicks.
It includes scheduling pins to post at the ideal time, using keywords and hashtags to improve search visibility, and regularly updating your boards with fresh content.
Automating your Pinterest activities can promote your website effectively and lead to an increase in traffic over time.
Performance tracking:
Automation tools often include analytics features that help you monitor your performance and refine your strategy. By analyzing data on your pins, boards, and audience engagement, you can optimize your Pinterest strategy.
Automation can help you identify which pins are most popular, which board can drive the most traffic, and other valuable insights that can help your decisions.
Make informed decisions about how to allocate your time and resources, and continuously improve the strategy.
Effortless expansion:
With automation tools, you can successfully expand your reach and strengthen your brand.
This gives you more time to focus on other critical aspects of your business while maintaining a significant presence on the site.
Also Read


Pinterest Marketing 2023: The New Age Online Shopping Platform
Best Practices for Using a Pinterest Automation Tool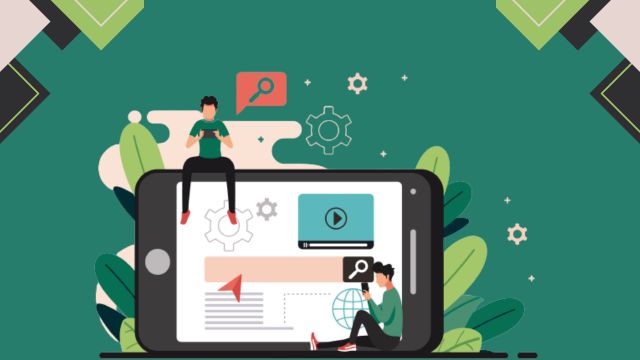 Adhere to policies and guidelines to avoid getting your account suspended or banned while using automation tools.
Select a reliable automation tool like Socinator with a good track record and features like scheduling, analytics, and reporting.
Customize your automation parameters to match your interest and objectives by adjusting the settings for your target audience, and keywords.
It is crucial to use high-quality content relevant to your audience and industry. Spamming or excessive posting can lead to a decrease in engagement.
Regularly monitoring and evaluating your performance will enable you to make data-driven decisions and improve your approach.
It is essential to maintain engagement with your audience, even with automation.
Respond to users' comments and questions to foster loyalty and thrush among your followers.
Key Takeaways
Pinterest automation could prove to be beneficial for bloggers and businesses. It makes it easier for you to showcase your creativity and skills and gain better exposure through Pinterest.
Nowadays, many marketers and creators rely on Pinterest marketing tools, to manage their content (pins) more efficiently. And it also helps them drive more traffic and engagement on their business website.
While you must understand that using automation software requires careful usage and strict adherence to its rules to avoid negative consequences. Ultimately, generating high-quality and engaging content that resonates with your audience remains the key to attaining success on Pinterest.