The beginning of October is when most brands start their fall sales and execute their Halloween marketing ideas & campaigns. Halloween sales last year reached a record $10.14 billion.  There is a good chance that figure might be exponentially increasing this year. 
Imagine losing out on a pumpkin-sized spike in profits, the thought is scary, though. Despite Halloween marketing efforts, your sales have not even increased since Halloween. No need to worry! We have got you covered. 
We cannot help you cast any spells, can we? (first witch cackle of the season) but we can offer you a "spooktacular collection" of Halloween marketing campaign ideas for your social media.  
You will bewitch your followers and give them plenty to share with this pot full of tips and tricks. Get ahead of Halloween's carving and spice up your (pumpkin) festivities. We have a hauntingly good ride in store for you! 
So fasten your seat belts! 
Listen to this podcast on Halloween Marketing Ideas

Halloween Marketing Ideas: The Magic Potion Bottle Full (10/10)!


Let us open the magic potion bottle and see what Halloween 2022 has in store for you! To make the most of this season, let us learn about those Halloween marketing ideas that will help possess your audience like a magic potion.  
1. Ask Your Audience To Post a Horror Incident
To build engagement on your posts, you need to ask your audience to post a horror incident so that you get some attention on your posts. It will make your audience talk and interact with your posts.
2. Create Halloween Discount Offers


Create offers and discounts aligned with your brand's marketing goals. First-time discounts might attract new customers. Existing customers can receive cashback rewards for being loyal to a brand. Both are possible. Use spooky images and funny captions to promote your products around Halloween – like Kmart did.
3. Show Up consistently This Halloween Season!
You must be consistent in the Halloween week to make the best of this Halloween season and possess your audience with spine-chilling marketing ideas. To make the best of this season, it's necessary to post consistently on your social media, and for this, you can use an automation tool like Socinator and dominate your social media in style.

With this tool, you can schedule your social media posts without any hassles and get your social media ready for Halloween. It helps you save time and focus on other important marketing factors to reach your festive goals.
Apart from the scheduling feature, Socinator also helps you automate your social media activities with amazing features such as auto-like, auto-comment, auto-engage, and many more.  This way you will not only be consistent but can also boost your engagement and reach on all major social media platforms.
4. Send Halloween marketing emails to Your Customers!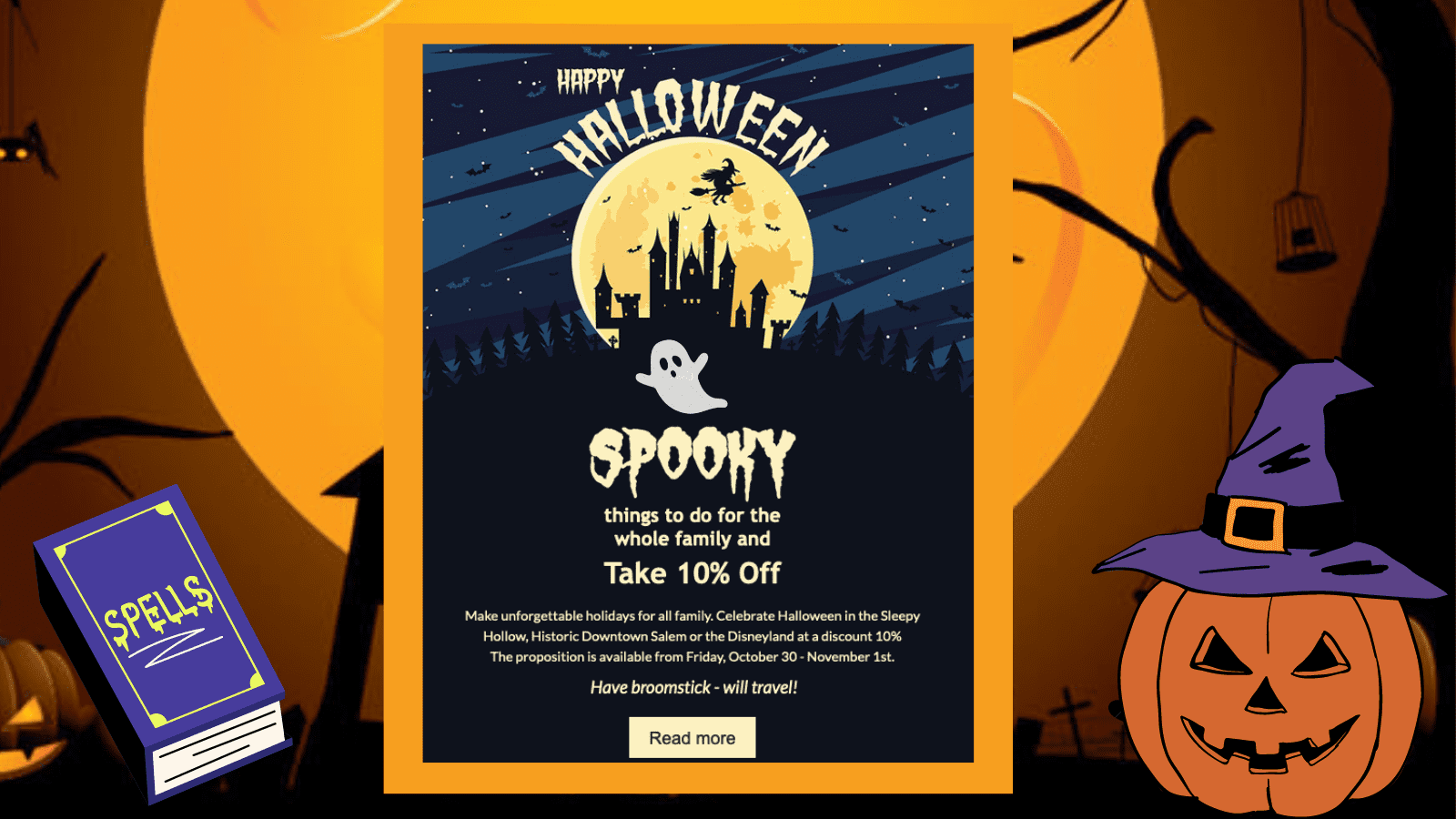 This Halloween season is the perfect time for you to experiment with Halloween marketing ideas and grow your social media. For that, you can send out offers, discount codes, or sales on your products via emails to make customers buy from you and grab a pumpkin size profit.  
5. Apply Nostalgia Via your Posts
Halloween is all about reflecting on the ghosts of the past to make them remind and recall the good time you shared with your audience last year. People tend to relieve emotions on Halloween, and it's the right time to feel the ghosts of memories around you. Think of the road trip, the memories you shared with your loved ones, and the fun time.
6. Ask Your Audience To Share, Participate and Win A Giveaway


Ask your audience to share the spookiest thing that has happened with them to help them win the limited Halloween gift edition of your product. It will make them participate and share the Halloween contest with other followers, which will help you gain more attention and engagement on your social media.
7. Create Halloween hashtags
To make a buzz with your post this Halloween, you should create Halloween hashtags that are shorter, easy-to-use hashtags and have your brand name hashtag. And use it consistent with your brand, focus on one message at a time and create a unique hashtag for your Halloween posts.
8. Add Timer to Your Landing Page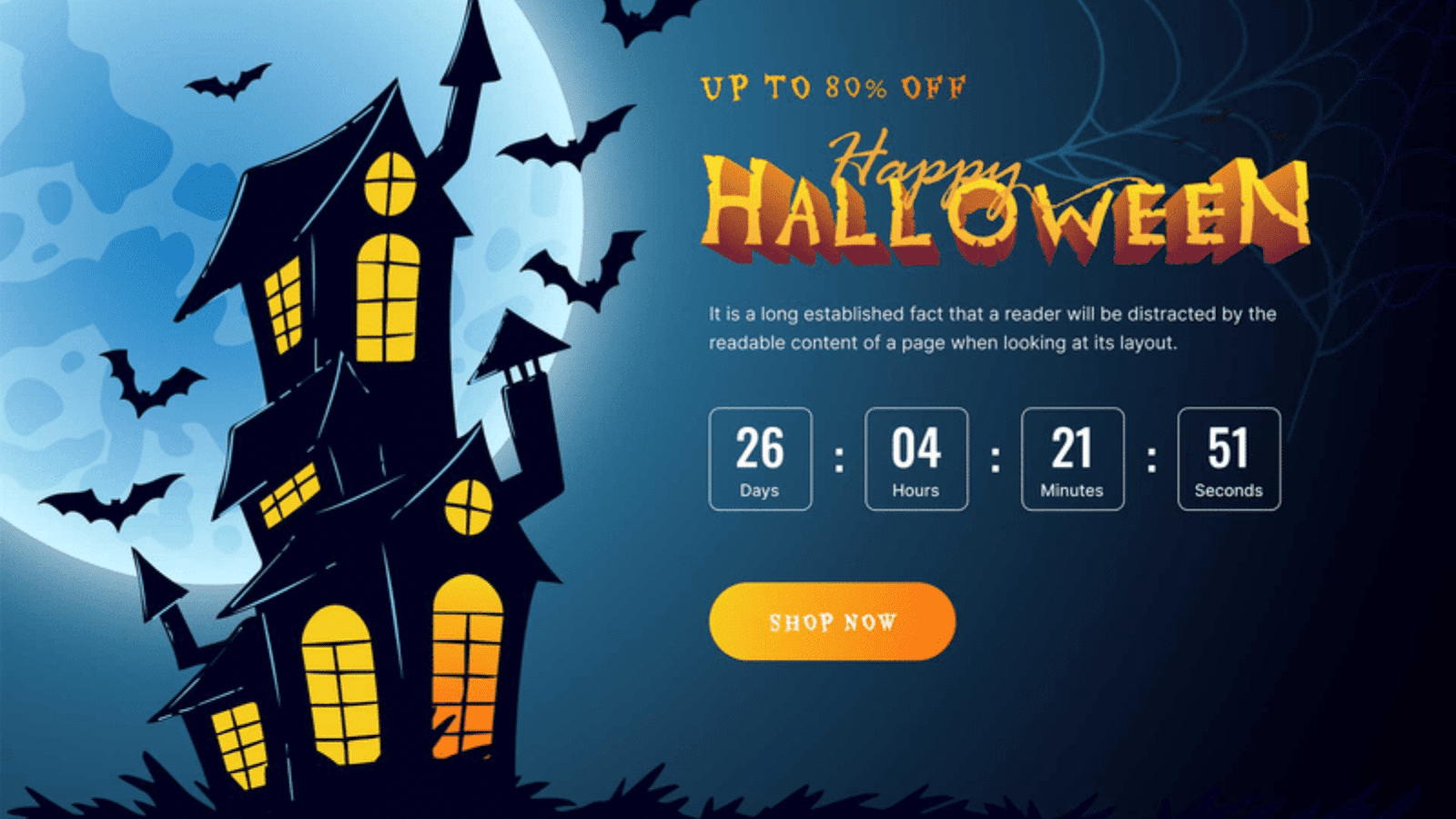 Boost your product sales this Halloween by adding a countdown timer to your landing page! For making people take action under the FOMO and make them buy your products out of fear of missing the deal. This emotion of fear is way stronger than joy and happiness. Therefore most people will buy from such landing pages that have deal timers on their page.
9. Create a Spooky landing page for your offer
Halloween is the perfect time to pitch your customers amazing deals. So this time of the year, you must create some good landing pages to boost your offer.
10. Emotional Triggers That Will Possess Your Followers


Make use of emotional triggers in your social media posts to grow your account. You can use words that trigger emotions and create a FOMO in your followers. For example – limited time offers, hit-or-miss deals, buy now, last chance, etc. These phrases induce an emotional trigger in your customers and make them buy from you.
Halloween Day: What Your Brand Can Do!
During this hazily fun occasion, here are a few ways your brand can show a lighter side:
You can use Halloween-themed karaoke recordings or employees' Halloween outfits to showcase your Halloween spirit.

Consider arranging a Halloween party or rewarding clients who visit your store in Halloween attire.

By running a Halloween costume entry campaign to boost your presence and viability among people in a fun way.

Give rewards to those who performed best in the outfits that created the most buzz.  
We hope these Halloween marketing ideas help you grow your social media.
Halloween Ads That Are Spooky to Watch!
Here are some of the Halloween ads that are spooky to watch but hold the potential to spook you like wildfire!
#IPS Monitors Ad You Must Watch
#Spooky Carwash Ad You Can't-Miss
Also, Read
Automated Software For Social Media
Top 5 Influencer Marketing Platforms You Must Try
100 Halloween Hashtags to boost your campaigns
Halloween Marketing Ideas – Sealing The Magic Potion Bottle (0/10)

We hope these small business marketing campaigns helped you make the most of your social media. Also, take care of the timing, the right content strategy, tone, and target audience to get clarity in your business. People tend to respond to posts that are trending or posts they like.
So use your creativity to make the most of these Halloween marketing ideas that will help you boost your social media. In this blog, we shared some magical ways you can use to elevate your social media. Implement these strategies to earn a pumpkin-sized profit, grow your audience and build a successful brand. These tips are just the beginning of growth to know how socinator can possess your account and provide you engagement.