If you wish to boost the marketing of your company, you should consider using marketing automation software. In 2022, more than half of the marketers utilize automation software to increase traffic and consumer contact.
Automation in marketing is essential for today's marketers. It's quickly becoming a must-have tool for businesses aiming to enhance customer satisfaction, increase ROI, and streamline operations. 
Using good automation software brings a lot of advantages with it. When used correctly, it may help you nurture leads and turn them into satisfied customers by delivering well-targeted content. It directs your attention to providing exceptional customer service. You can personalize content based on data, optimize social media posts and marketing emails, and increase conversions with automation software. 
Before we go into the specifics of automation software, let us first understand what marketing automation is.
What Is Marketing Automation?
Automation in marketing means the use of technologies to automate repetitive marketing tasks. Utilizing technology, automation eliminates the need to manually identify consumers who express interest in your product or send a one-time email to your contacts. 
What Is A Marketing Automation Software?
Marketing automation software is a tool that automates marketing-related operations and procedures. This software is used by businesses to automate, simplify, and analyze marketing processes. 
Automation also helps in managing workflows such as lead generation, lead capture, nurturing, segmentation, relationship marketing, customer retention, account-based marketing, and analytics. This sort of technology may aid in the acceleration of marketing workflows and the evaluation of the overall efficacy of marketing campaigns and strategies.
The best marketing automation software will give you a centralized, easy-to-manage database including your interactions and information. On the other hand, automation in marketing will not address all of your difficulties. Consider this when selecting automation software. The program is intended to save you time by automating certain operations. 
Why Use Marketing Automation Software?
So, why should you employ marketing automation? The quick answer is that marketing automation may assist your organization in succeeding. But the same can be said for a variety of other things.
Employing marketing automation software allows you to concentrate on innovative problem solving rather than the hard lifting of marketing and automation. Automating the marketing increases sales productivity by 14.5 percent while decreasing marketing costs by 12.2 percent. 
According to recent research, organizations that use automation to nurture leads saw a 451 percent boost in quality leads. Those fostered leads, in turn, make 47 percent greater purchases than their non-nurtured peers. 
Benefits Of Using A Marketing Automation Software
Essentially, automation can help to streamline your marketing operations and increase the efficiency of your business. But first, let us look at some additional advantages of employing automation software.
Efficiency 
Automation increases the overall efficiency of your business. You can save money and time by using automation software.
Marketing automation software can assist you in automating the everyday task of manually publishing on social media. This implies that your team will focus on more creative tasks like brainstorming and developing new campaigns and initiatives.
Increased Conversions 
Marketing automation can increase conversion rates while also increasing your team's efficiency. Your automation software tracks your leads, and you can even use it for retargeting non-converting website visitors to increase your conversion rate. 
Better Return On Investment 
Automation provides a quicker and better return on investment. According to a Forbes Insights and Turn research, in a global poll of American Marketing professionals, marketers or business owners who use automation software saw their profits climb three times.
Better Lead Nurturing 
Nurturing leads can be time-consuming and difficult. Without lead nurturing, converting leads to sales prospects will be more challenging. Automation is one of the most effective ways to develop a marketing plan that will evolve and bring in new leads. It can also integrate other areas, such as sales and customer service.
Aligning Sales And Marketing 
Conflicts will likely arise when marketing and sales use distinct tactics to achieve different goals. The imbalance between the marketing and sales departments is rarely the result of either party's responsibility. Antiquated processes and institutions are to blame. You can align company goals and efforts by connecting your sales and automation processes on the same platform.
Automation in marketing can boost sales productivity by 14.5 percent while lowering marketing costs by 12.2 percent. It may also assist you in generating more leads and increasing your income. 
Most Common Marketing Automation Features
Although marketing automation systems differ significantly in customizing, integration, and personalization, most of them provide several aspects. Let's have a look. 
Lead Nurturing 
Advanced lead nurturing is one of the best features of Automation software solutions. It helps businesses track, categorize, and communicate with leads to turn them into paying customers.
Social Media Automation 
Marketing Automation software can inform you how many interactions each post received. This can help you in determining what kind of content works the best. You may also plan future updates, check who shares your material, share it on social media, and much more. In today's market, you must consider this while purchasing social media automation software.
When it comes to social media marketing tools,
Socinator
stands head and shoulders above the rest. Socinator is a social media marketing and automation platform for small and medium-sized enterprises. 
Comprehensive Analytics And Reports
The most significant benefit of automating your marketing process is access to exact data, which most Automation software delivers. The majority of Marketing Automation software appears to be software with configurable dashboards that give essential corporate KPIs in simple language.
Email Marketing Automation 
One of the essential functions of automation software is email marketing. Marketers can use these automation tools to create, modify, and embed forms that are critical to lead generation and email outreach customer journeys. 
While several automation platforms are available today, Socinator is on another level. Let's look at what makes Socinator unique and one of the best marketing automation software solutions.
Socinator- The Best Marketing Automation Software?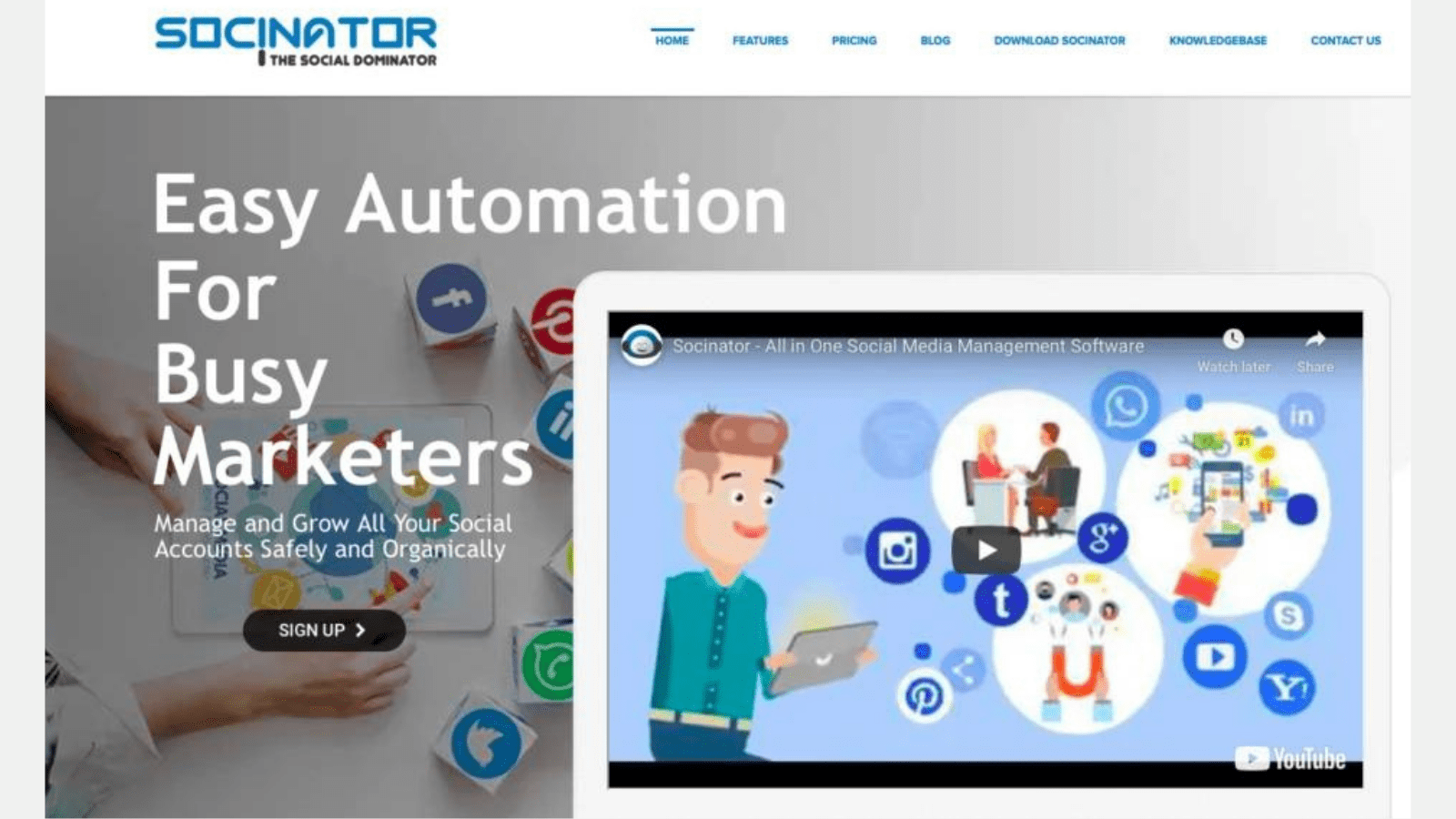 Socinator is a one-stop-shop for automating your daily social media activity. The Calendar tool allows you to organize your posting schedule and manage frequent engagement activities.
Socinator can help you increase profits by using easy marketing methods and features that automate the whole social media marketing process. Socinator uses essential marketing solutions from Facebook, Instagram, Twitter, LinkedIn, Quora, YouTube, Pinterest, and Reddit to help you handle your social media marketing demands with ease. 
Following are some of the countless benefits of using Socinator
Boost your social media presence 10X quicker and naturally.

Schedule, post, link, and accept requests for your social media online presence in autopilot mode.

It auto-publishes content for RSS, auto-shortens URLs, and auto-submits captcha verifications with a single click.

Get complete reports for each social media platform activity.
Apart from this, Socinator offers solutions for each unique social media network. It includes Facebook automation, Quora automation, Pinterest automation, Youtube automation, etc. 
Conclusion 
Automation in marketing can help your company flourish by automating the monotonous and frequently repeated procedures that consume a significant amount of time. Suppose you want to maximize your marketing budget, simplify marketing material across many social networks, and develop meaningful sales content. In that case, you should investigate some of the top marketing automation systems on the market today.
Begin utilizing Socinator for all of your social marketing chores to gain the many advantages, such as automated content selection, publishing,
management, and scheduling.
Read More
The Ultimate Guide To Small Business Marketing 
Social Media Impression VS Reach VS Engagement: Understanding The Difference
Twitter Search In 2022: A Guide For Marketers