Happy New Year all! 
This year I want to wish a lot of happiness for all of us. We all have gone through an unexpected wave of coronavirus in our life but let's welcome this year with full of joy and excitement.
YouTube videos have become an important part of our life. We spend a lot of hours watching a variety of videos to entertain ourselves.
While watching videos, I noticed something which I wanted to share with my readers. Some of the

YouTube videos

were of good quality and some were not. In fact, in a few videos, the size of the videos and images vary which creates a bad impression while watching.
So, I decided to write a blog that will contain a guide for YouTube video dimensions, resolutions, and aspect ratio. Also, I would like to add some YouTube marketing strategies to enhance your YouTube channel in 2021. 
Thus, with increased excitement let's proceed into the blog and explore valuable information that will not only improve the appearance of your YouTube videos but also help you to do business and make money roll into your account.
Why YouTube?
Generally, we all know why we love YouTube. But let me acknowledge you with some technical points about this app which will justify the above question.
YouTube is known as the second most popular social media app after Facebook. More than 2 billion viewers visit YouTube every month. People spend billions of hours watching YouTube videos and generate billions of views. In fact, 89% of internet consumers have their YouTube account.
And the most important fact to consider is, almost 80% of marketers prefer to do video marketing on this platform due to its maximum viewers and reach. 
Now, have you ever heard about Socinator? let me brief you about it.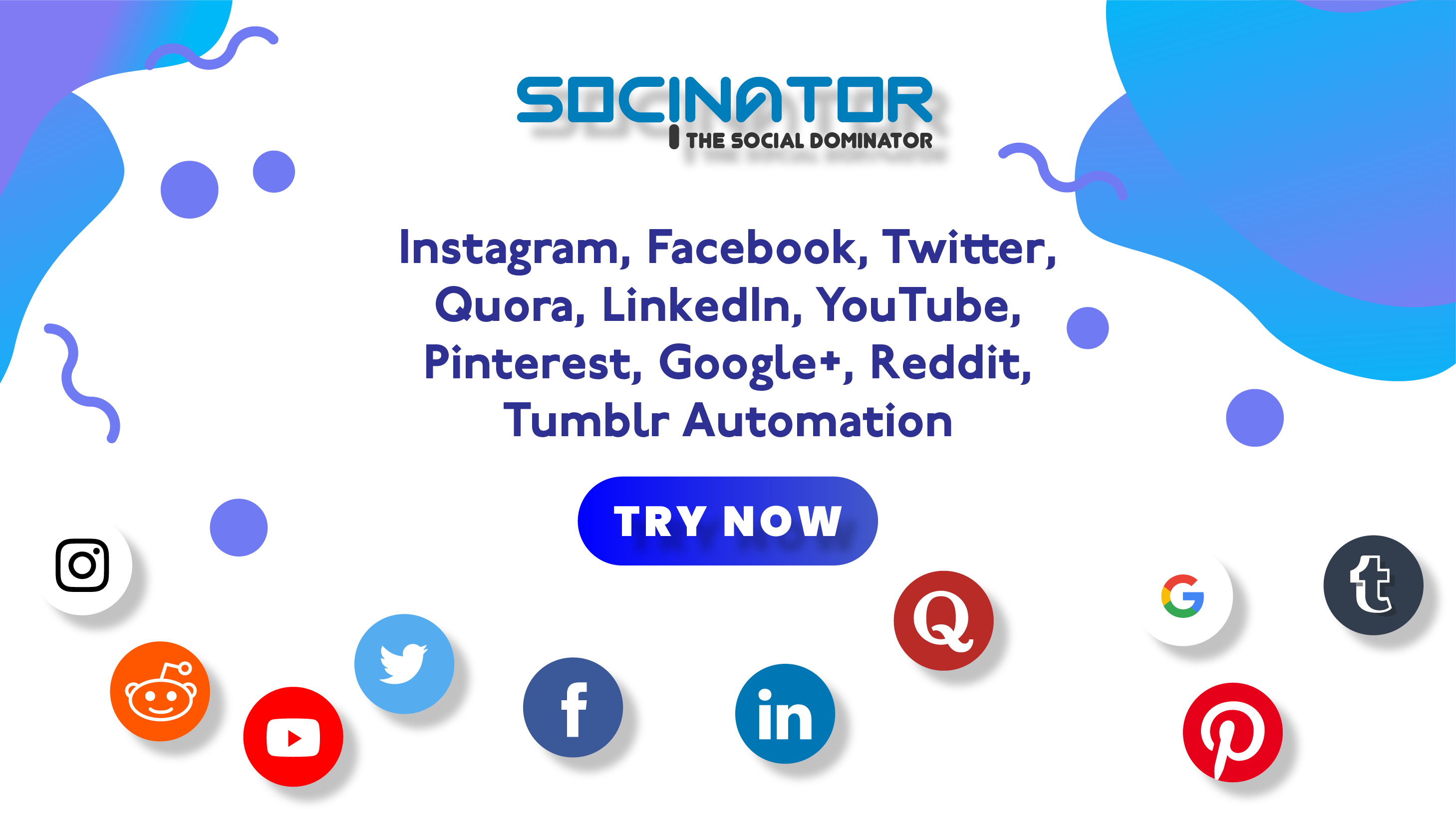 Socinator is a social media management tool that manages all your social media accounts with its automatic features like auto-schedule, auto-reschedule your posts, auto-like, auto-dislike, auto-comments and many more. These automatic features can help you maange your accounts with less efforts. Install now and enjoy the features of Socinator!
What is YouTube video marketing?
 It is a fact that most businesses choose YouTube for their video marketing where they can enhance their business through YouTube ads. You can also create traffic using this process. You just need to follow some strategies through which you can generate leads without ads.
YouTube is a user-friendly and visual platform that most businesses use for their growth. Once they have larger viewers, the channel becomes viral. So, follow these strategies to make your channel go viral, get more likes and subscribers.
YouTube marketing strategies to follow:
1. Create a channel on YouTube:
If you are thinking of creating video content and upload it to your YouTube channel, first of all, you need to create your google account as well as a YouTube account.
Remember that, you need to create a standard email account that you can share with your co-partners and team members. Don't be tense. It is as easy as eating a burger. So follow these steps to create a google account.
Go to the sign-in button on the google page where you enter the sites to visit.

Now choose the option "create a new account".

If you are opening this account for business purposes, then go to "manage your business option".

There you will get some questions which you need to enter such as your name, email id, etc., and then click on the "click button".

Now agree on the privacy policies of Google and that's it. Your account is created successfully!
It's not over. Now, you have to create your YouTube channel. Follow the steps.
Open YouTube and move to the menu where you will get the "log in to new account" option.

After logging in, click on "My Channel".

There you will get an option to create the channel. And yes, enter your business name.
2. video optimization:
This is the thing which I was talking about. It is not only about the videos. It is the content and the quality which gives you views and more subscribers. You need to create YouTube videos with the perfect size, resolutions, aspect ratio, and dimensions.
Let me guide you on this.
YouTube Video title:
When you think about creating a video, you also need to put pressure on your mind to create a video title that will push the fingers to click on the video. The title should be eye-catching, short, and descriptive which on one glance, the readers can imagine the content inside it.
Add the keyword into your title which is related to your blog. This helps you to rank in SEO. for a healthy title, keep your title less than 60 characters. 
YouTube Video description:
Video descriptions include the content of your video, what you are going to present in the video, and also about your viewers. Through this description, viewers will have a quick and brief understanding of your video content.
Always the first three lines of your content are shown by YouTube with an option "see more". If the audience likes to read more they can click on it which will show the entire description. You can also add your website link or CTA button in the description box.
YouTube Video dimensions:
YouTube is allowing you to upload video sizes ranging from 240p to 2160p. These are some YouTube video dimensions that you can consider for your videos.
240p: 426×240 px

360p: 640×360 px

480p: 854×480 px

720p: 1280×720 px

1080p: 1920×1080 px

1440p: 2560×1440 px

2160p: 3840×2160 px
The lowest dimension of YouTube video is 426*240px and the highest dimension is 3840*2160px. Not only the YouTube video dimensions, but there are also many more things that you need to know before you upload your videos. So, read the blog till last to successfully upload a video on YouTube which will give you more likes and subscribers.
Aspect ratio:
The perfect aspect ratio for the video on YouTube is 16:9. This means that the length of the video should be 16 and the breadth must be 9. Not only this, there are some other aspect ratios that you can consider in your videos.
1:1 ratio is the ratio where the video will appear in a perfect square. This ratio is initially used in videos of other social media apps.
The 4:3 ratio is the ratio where the length of the video is slightly longer than the width. The rest part is covered by black bars which will be visible to you.
9:16 ratio is the ratio where a tiny part is covered by the video and the rest part appears to be black.
Video formats:
Keep in mind that you can only upload videos of the following formats:.mov, .mpeg, .mp4, .avi, .wmv, .mpegps, .flv, .webM, and 3Gpp.
Video tags:
You can also add tags to your videos which will associate with other videos. This will show your video whenever anyone searches for similar content. In this way, you can improve your SEO.
3. Getting reach by doing research:
It is very important to know your audience and their requirements. According to this research, you can create videos which will go viral as it fulfills the needs of your viewers. Marketing is the best strategy to reach out to your business and have a targeted audience.
Your research will get you to know about your audience and help you enhance your brand. This will also increase traffic and conversations. In fact, once your video is liked by the audience no one can stop your video to get hit by millions of likes. So, create a compelling video that will connect with the audience easily.
4. Never forget for feedback:
When you create videos, your mind should be full of audience interest which you have collected from your research. Their support for your video content is the most important part.
So, to get their support you can ask them about your ongoing videos or what they want to see in your future videos. Implement their replies to your videos. In this way, you will create videos of their interest which will increase the likes and subscribers.
5. Trust is key!
Your audience must have trust in your channel. So you need to give your channel a perfect appearance full of perfections in every video. YouTube thumbnails can help you in this by adding value to your channel.
As a part of marketing strategy, the YouTube thumbnail makes the audience click on the video and watch it. With magnifying captions, YouTube thumbnail is an effective marketing strategy. The thumbnail images create interest in the videos and give an outline to your video content.
Make a list of your videos with different names reflecting your brand and its reliability.
You can also add your video link on other social media platforms which is one of the best marketing strategies. This will help you spread brand awareness with the followers of different social media platforms.
YouTube thumbnails size:
The thumbnail image size of YouTube is 1280*720px with a minimum width of 640px.
6. Include voice search:
Voice search is streaming on YouTube. People like to search by voice rather than typing with fingers. It is also one of the best ways of YouTube marketing. In fact, people use voice search to search for YouTube videos. The voice search is more comfortable and if we add a keyword to it, we can get the exact result.
So, you need to frame your video title with the keyword which will enhance your video giving you more likes and subscribers.
7. YouTube ads:
Ads are the best way to reach an audience with less effort. Through Google ads, you can advertise your video content on YouTube.
Checkout our new posts:
How To Delete A Board On Pinterest With 06 Easy Steps
The Best Social Media Management Advice You Should Take In 2021
That's It!
Here we have gone through some of the marketing strategies that will help you make your brand famous. We have also added some technical information about the YouTube video like the size of the video, resolutions, dimensions, and the aspect ratio.
I hope you like this article. If you want to add something to this article, feel free to comment below. And yes, do not forget to comment about which strategy worked best for you and what was the result. I would love to hear from you!
All the best for your next YouTube video!