Well, it's been a month of 2021 and the situation is giving a voice to a peaceful year that we all are going to spend. Now, we all are safe and I hope you are taking care of your family and yourself. 
Hit The Play Button To Listen To This Podcast:
Now coming to the point, running the business with the help of social media is on-trend. Businesses are gaining lots of profit using social media platforms. With a good sense, you should not compromise with your business and maintain your social media platforms with quality content.
 But, maintaining social media can be tough and challenging. So, it is better to schedule your social media work with the help of a social media calendar.
What is a social media calendar? How to create it? How to schedule social media content in it?
In this guide, you will get all the answers to the above-raised questions which you need today to get running with your social media calendar.
What is a social media calendar?
With the help of Social media calendar, you can plan the best way to organize your upcoming content. In other words, planning the content and scheduling it for posting is easy with a social media calendar.
Social media calendar helps you maintain consistency in scheduling quality content on social media. Ultimately, you will be successful in keeping your targeted audience and clients happy.
You just need to keep track of few things like,
The platforms or networks where you are going to post or scheduling to post.

The scheduled date and time of your posts.

Any kind of images or videos which your post is using.

Maintain post-publishing metrics like comments, likes, and shares.

Keep the track of your success when your posts go live.
Why do we need the social media content calendar?
A successful social media requires regular publishing of quality content. So, we need a social media calendar through which we can plan and schedule our posts.
These are the few reasons why we need to use social media calendar.
1. Time management:
Social media needs attention and effort every single day. Along with publishing quality content, businesses have other marketing goals. So, time management is required. 
With a social media calendar, planning of posts can be done for weeks and months. It saves a lot of time which you can invest in other marketing plans for the future. Scheduling can help you post every single day or multiple times a day which is the best way to maintain your social media accounts with less time.
Many social media calendar tools allow you to schedule your posts in advance. You can also manage your audience engagement from one place.
Socinator can take care of your social media with its automatic features if you are willing to give it a chance. Want to know about this amazing tool? Continue reading till the end to get information about the best social media management tool.
2. Posting consistency:
A successful social media needs your effort and attention every day. To maintain it, you need to post every single day. This consistency can be maintained with the help of a social media calendar where you can schedule your posts for weeks and months in advance. 
Even if you are busy with other work, your consistency of posting will keep going on with which you can engage your audience on social media.
 Through this engagement, your organic reach will be increased and many new people will start taking interest in your posts or may start following you. This can be the true path to increase your conversation with your new as well as old audiences.
3. Avoid big mistakes:
When you plan ahead of time, you can take care of mistakes having time in your hand. You can avoid copy content like posting the same content over multiple channels. The dreaded scramble can be avoided when things come up.
4. Improved content:
Scheduling posts for the future will help your team to do their best in creating quality content that will support your marketing goals.
5. Track performance:
With a social media calendar, you can easily analyze the performance of each post and see which posts are performing the best. Accordingly, you can adjust their strategies.
Now, let me tell of 06 easy steps to create a social media calendar:

1. Examine your social media networks and content:
Analyze the efforts you are giving to your social media networks which will give you a clear image of what to work on. This can help you to update your social media strategies and maximize your ROI.
Analyzing the current content will give you new opportunities to improve the quality of your upcoming posts with new ideas. Publishing quality content is the key to success in your social media business.
2. Select your social channels:
It is important to choose your social media channels where you can post. You need to be clear on the user demographics of all the social media platforms. This will help you to make best practices to improve your marketing strategies.
With Socinator, you can choose social channels like Facebook, Instagram, Twitter, etc which have the maximum audience reach.
3. Decide what your social media calendar needs to track:
When you are inclined to use social media calendar tools like Socinator, you need to have a clear outline of the information, which you want to acquire from this tool.
When you work for your clients with dozens of team members, you need to have information like, what is going on, what needs to be done, when it is to be done, what is the status of the posts and at last how successful the posts are. This information is required to manage your social media work.
4. Establish a social media workflow:
After gathering possible information, you need to establish the social media workflow for which you need to think about some points like:
Consistency of posting in each of your channels.

The appropriate time to post on your channel to get maximum output.

Best practices to maintain social media.

Who will approve the post and how communication will work there.

What is the process of creating quality content.
5. Improve your work with feedbacks:
With feedback, you can know the impact of your posts on social media and audiences. Accordingly, you can make changes to improve your posts. So, to have a successful business, ask for feedback, work according to the needs of your audience and interact with their queries.
6. Start scheduling:
After all the gatherings and collected information, now your social media posts are ready to run and you can switch to schedule your posts.
As I have already given you a glimpse of a social media management tool, let me brief you about Socinator.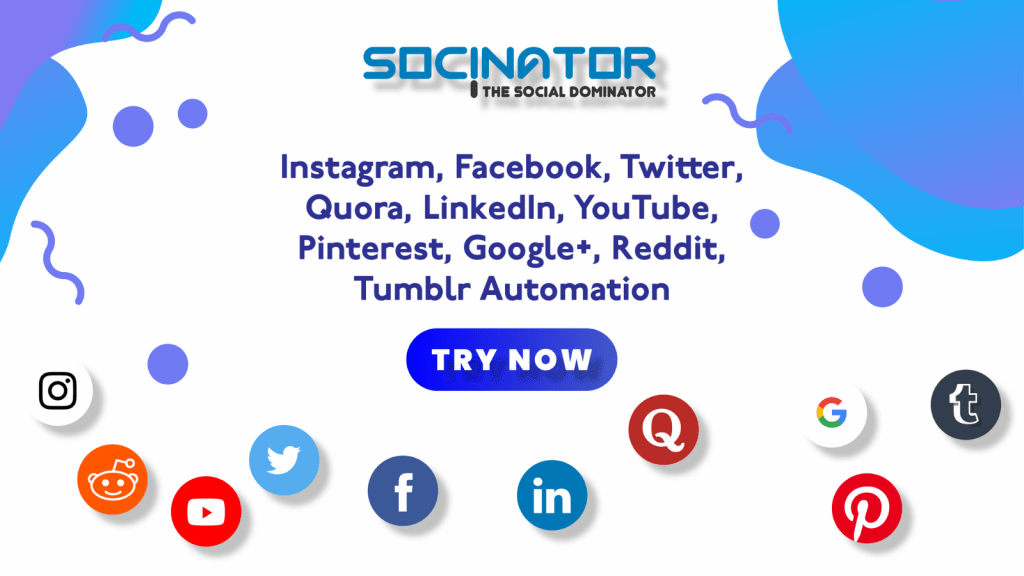 Socinator is a social media management tool that can manage and grow all your social accounts safely. It has the power to reach millions of people around the globe. It can be an all-in-one solution to have a bigger impact on your social media channels in less time. So, don't waste your time and install Socinator to enjoy its features. 
Now let us have a look at its features.
Features of Socinator:
With socinator, you can experience advanced scheduling and posting of your posts on multiple channels at once.

You can grow your Instagram accounts 10x faster with its automatic features like auto-like, auto-comment, auto-message, and more.

It has Facebook automation features with which you can increase engagement and precise reach of the audience.

It has Twitter automation features with which you can boost your activities for better engagement and ROI.

You can schedule your YouTube account on auto-pilot and watch them grow.
There are many more features of Socinator that will manage your social media activities more efficiently with fewer efforts.
Now manage all your social media accounts in one place and save time with Socinator!
Checkout our other related posts:
Ultimate Guide: 11 Social Media Management Tool
How To Implement Social Media Integration in 2021?
Top 10 Ideas To Revamp Your Social Media Campaigns In 2021

That's it:
Once you plan to use social media calendar, use Socinator to schedule your upcoming posts. With Socinator, getting engagement and tracking the success of your hard work is easy.
The above article has all the information regarding the social media calendar, what is its need, and how to create it. 
If you have any queries regarding this article or anything you want to add to this article to make it more valuable, frame your voice into words and reach me below in the comment section. I would love to hear from you!