Social Media is one of the most lucrative mediums for businesses to promote their brand. Today a business can't really flourish if they're not deploying at least a few social media platforms in their marketing plan. Instagram, Facebook, Twitter, you name it – these are the biggest mediums to use to your advantage. But it is a true hassle to navigate all of them and that's why a social media automation software is your best friend. Well, if you don't have the budget for a social media manager that is – and even they use this kind of software in their job.
Social Media as a part of the marketing plan
Social media is just that, social. And everyone knows that being social takes time and effort. In the world of social media, this means publishing new, interesting content on a regular basis, interacting with your followers, liking their stuff, commenting on their blurbs, following new users and so on. Time-consuming. Without a social media manager, this can get a little overwhelming, especially for a smaller business. Hiring a social media manager isn't a cheap solution. But luckily we have other options to save us a big buck and lots and lots of time.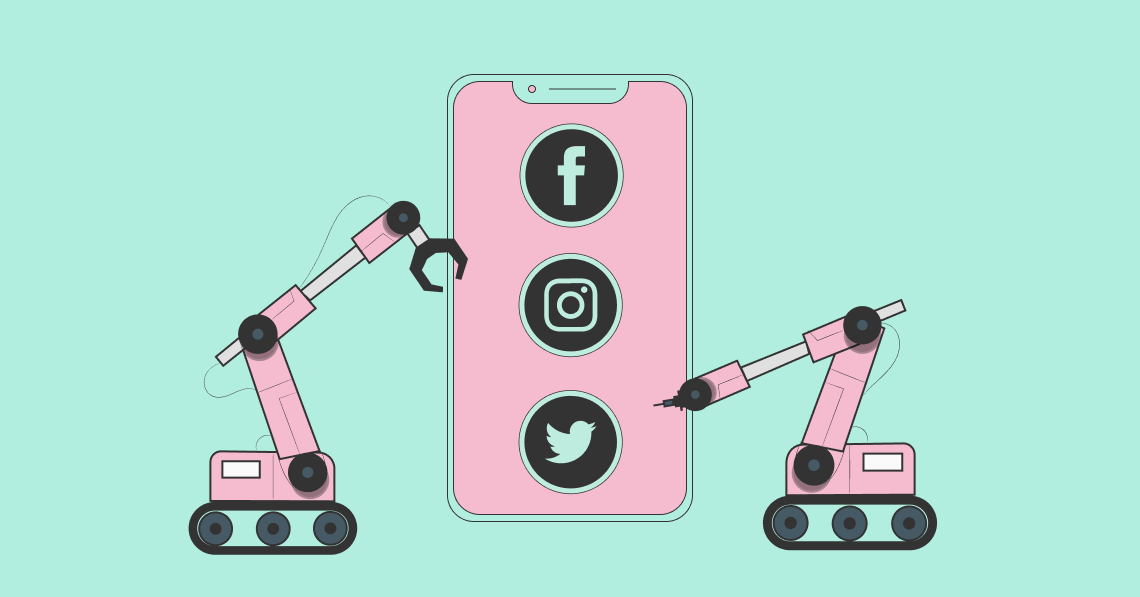 With social media automation software navigating the depths of social media today, everything gets so much easier. And cheaper, since you can do it yourself by dedicating an hour a week to prepare your stuff. You can set posts to be automatically published, you can set a cycle of likes to be distributed on auto-pilot etc. With the right tools, managing social media won't be rocket science. With the right tools, you'll be your own social media manager.
Picking the right social media automation software
The Internet is full of social media automation software choices, how do you know which one to choose? There are so many options. So to help you out, we have gathered here a list of 7 best tools for you to choose from. So put down that pen and paper and forget about writing a complicated list of pros and cons for each and every social media automation software there is. We've got you covered.
Without these, a business can sure survive, but it will be a lot more stressful. Some people hate automated social media, but for a business owner, it can be a lifesaver. Well, if not a lifesaver, then a business saver. A social media manager would cost you an arm and a leg, while a social media automation software cuts the cost into a fraction. The Internet is full of opinions about automating social media, but in here, we are totally all for it. You can make automating social media personal too, with just a little bit of effort.

The Best of the Best Automation Tools
Let's dive in – here's our list of the best social media automation software options.
Buffer
Buffer is a great tool when it comes to automating your social media activity. It works also for individuals who don't require as many possibilities. Buffer is free, with limitations, but it works great for individuals who want to post regularly and at specific times for example. But paying a little extra, you'll get more social media profiles to add and more extensive statistics. Buffer comes also as a phone app.
Hootsuite
This is another choice if you're not keen on paying for automating your social media. However, it has a limited array of features when it comes to the free plan; 3 profiles and 30 scheduled posts. Hootsuite is a little bit pricey one though, their cheapest professional plan costs €25/month and has just a little bit more features than the free plan. Compatible with Windows, Mac, Android, and IOS.
IFTTT – If This, Then That
This software lets you build your own automated actions. For example, if you post an article to your website using WordPress, you can make IFTTT make a post of it to your Facebook page, Twitter and so on. IFTTT is free to use, but will not perform automated likes or such.
SocialPilot
Supports up to 200 social media profiles and 500 post-sharing. Bulk scheduling is a possibility and working in teams is a breeze. The cheapest plan, costs $25 a month, including 50 profiles and analytics to name a few. Works on Chrome, Firefox, and Safari browsers and on Android and IOS.

BuzzSumo
This tool has a ton of features and it's most useful on business websites with their great analytics and call-to-action options, but their social media automation features are also great, but not free. However, it is worth every penny if you know how to use them wisely. $79 a month can still be a bit salty.
Crowdfire
Crowdfire is one of the more affordable automation tools. It used to be only for Twitter and Instagram followers but has grown a lot to cater to all social media needs. The free plan works great for individuals, but at $7,48/month you'll get a lot more features.
Socinator must be our favorite. It caters to all businesses and is definitely one of the most affordable. Their price to quality ratio is top notch and Socinator has features like no other. You can automate all your social media needs: publish in bulk, automate likes and follows, use the unfollow tool etc. For only $9.95/month you get automation for 10 different social media accounts and with the pricier plans to offer only more accounts, but they all include the same features. What a score!
All 7 mentioned tools are great with their own pros and cons. However, our favorite social media automation software is definitely Socinator having the most features and the best pricing.
Some More Quick Links: