Twitter is a bustling platform where the world comes together to share thoughts and ideas and engage in real-time conversations. However, getting your voice heard in this digital cacophony can be challenging.
The timing of your tweets plays a pivotal role in determining their success.
But, what if you could have your tweets go live precisely when your audience is most active, even when you're away from your device?
That's where the art of scheduling tweets comes into play.
In this blog, we'll explore how to schedule tweets to maximize your reach on Twitter, ensuring your messages reach their intended audience at the most opportune moments.
Listen To Blog Post Now!
Why Schedule Tweets?
Scheduling tweets is a powerful strategy for several reasons. It allows you to reach a global audience, breaking the barriers of different time zones. By analyzing the performance of scheduled tweets, you can pinpoint the optimal times for posting, significantly boosting engagement and expanding your reach.
This approach is particularly valuable for publishing tweets during weekends, evenings, or other high-traffic periods when you may not be available to tweet manually.
In essence, by answering the question, "Can you schedule tweets?" with a resounding "yes," you gain control over your Twitter presence, ensuring your messages have a better chance of making an impact anytime, anywhere.
How To Schedule Tweets On X (formerly Twitter)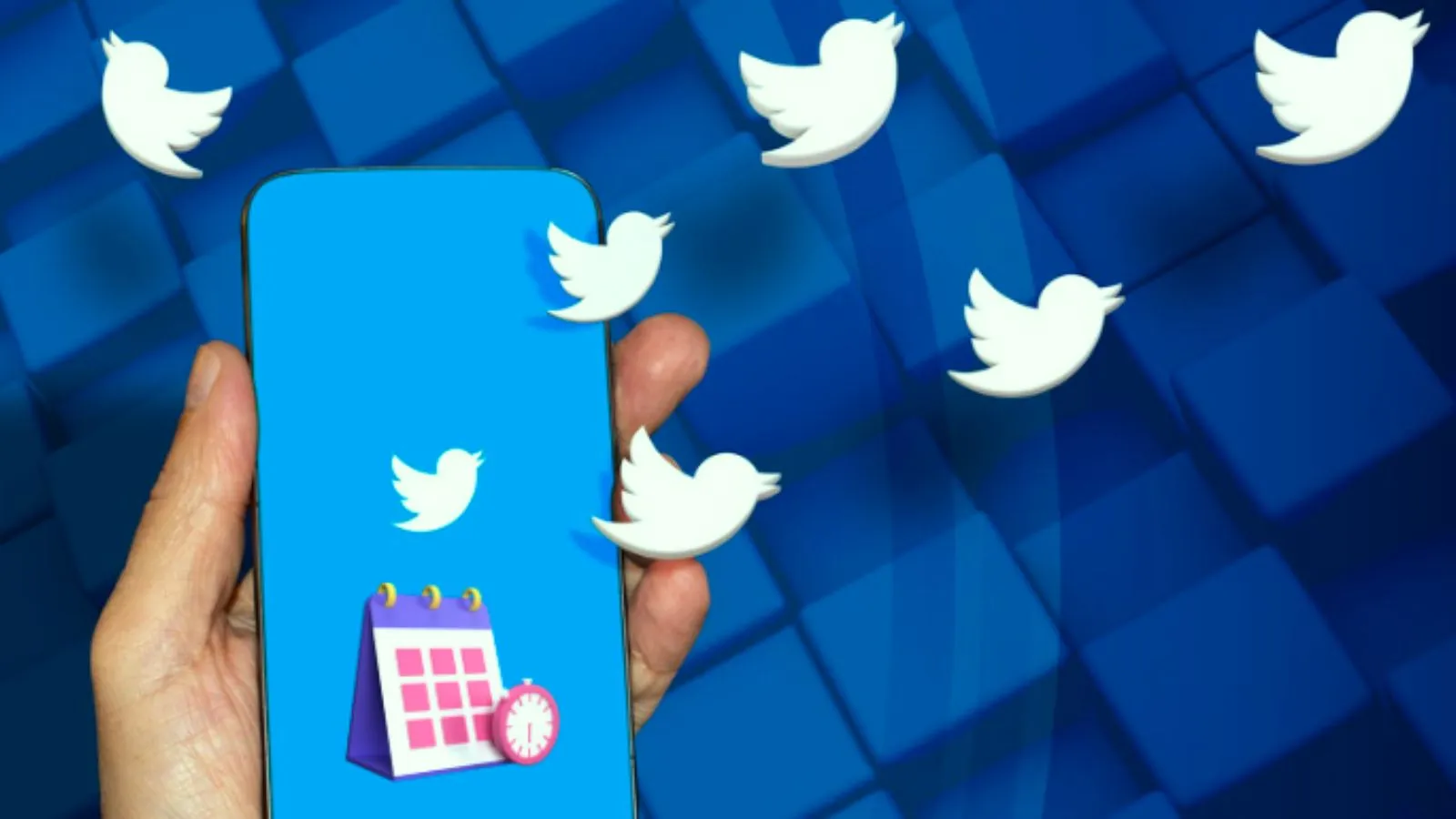 Scheduling tweets on X (formerly Twitter) is a straightforward process that gives you the flexibility to post content at the optimal times for your audience. Here's a step-by-step guide on how to schedule tweets:
Login to X (formerly Twitter): Begin by logging into your X (formerly Twitter) account, ensuring you have access to the account from which you wish to schedule Twitter posts.
Navigate to the 'Tweet' Option: Once you're logged in, locate and click on the 'Tweet' option, typically found on the left-hand side of the page.
Compose Your Tweet: Write the content of your tweet as you normally would. Craft a compelling message, add hashtags, and include any media or links you want to share.
Schedule Your Tweet: To schedule the tweet for a later time instead of sending it immediately, click on the calendar icon. This action will open a scheduling window.
Choose the Date and Time: In the scheduling window, select the date and time you want your tweet to go live. Make sure to consider your audience's activity patterns for optimal engagement.
Confirm and Schedule: Once you've set the desired date and time, press "confirm" to schedule your tweet. Twitter will ensure your tweet is posted at the designated time.
While scheduling tweets directly on Twitter is a convenient feature, it does have some limitations. It might help you to schedule a tweet a few months in advance,
However, if you are looking to create a long-term scheduling calendar, then it might not help you. Moreover, it also doesn't allow you to auto-schedule your posts in bulk, as the manual scheduling process on Twitter) can become time-consuming.
Also Read:
Twitter Analytics- Not Just About the Likes on Your Tweets
How To Manage Multiple Social Media Accounts Like An Expert
Twitter Marketing: The Modern Mix Of Automation & Advertising
How To Schedule Tweets Using Socinator?
Socinator offers comprehensive solutions for scheduling tweets, including long-term planning, bulk scheduling, advanced analytics, and the ability to target specific time zones.
It is one of the best social media automation tools that provides features for monitoring interactions, automating responses, and the ability to publish tweets on multiple Twitter accounts at once.
So, here are the steps you can follow to schedule your tweets with Socinator.
Login to the Socinator application.
Select Account Manager.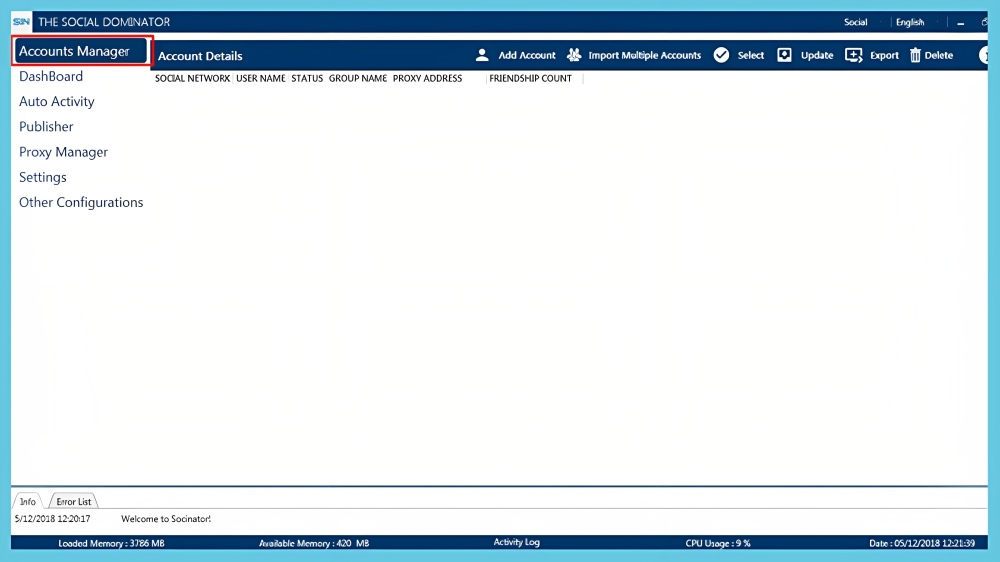 Click on the Add Account tab.
Next, a pop-up will open where you need to add your account details and save them.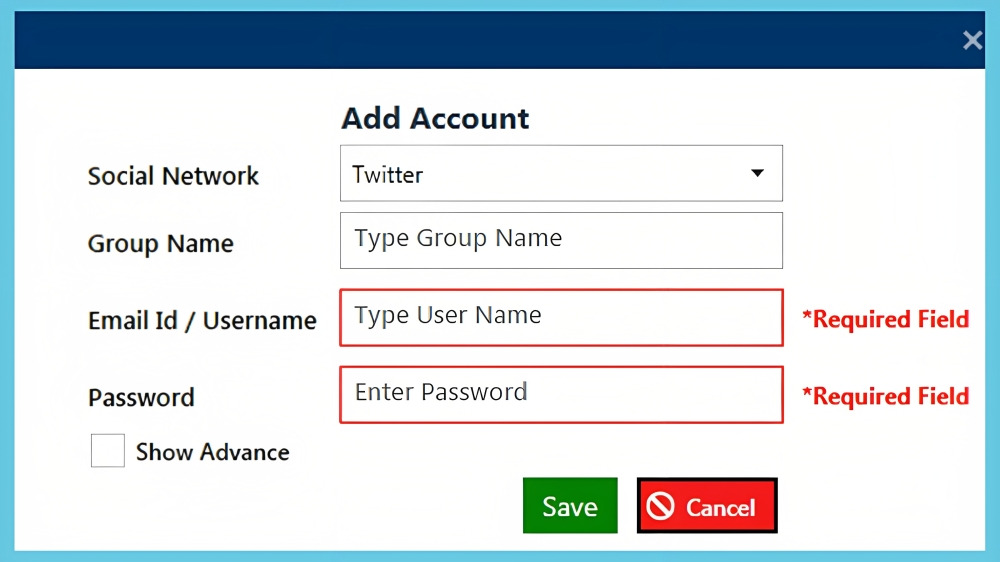 Now, you will see that your Twitter account has been added.
Go to the Sociopublisher option.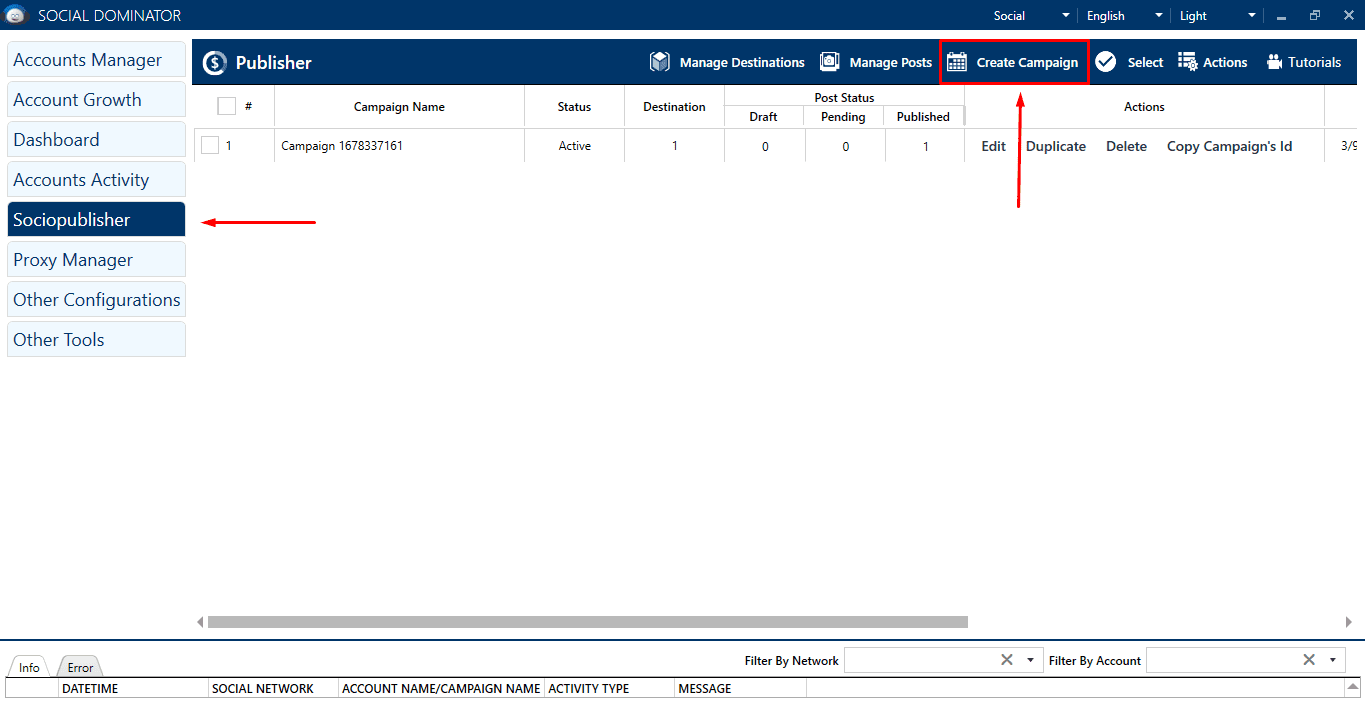 Click on the Create Campaign tab.
On the next page, give a campaign name.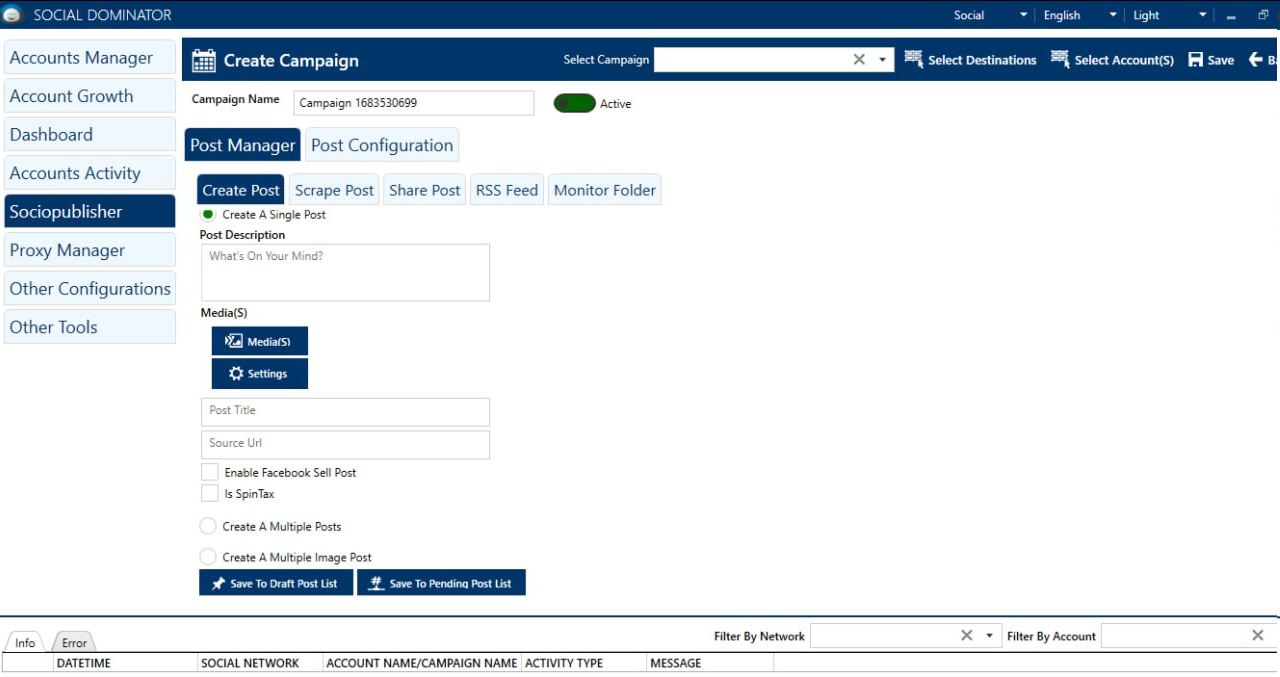 Below there, you have the option to create a post, where you can also add media files.
Now go to the Post Configuration.
Under the Settings, configurations add the number of posts you want to publish per day.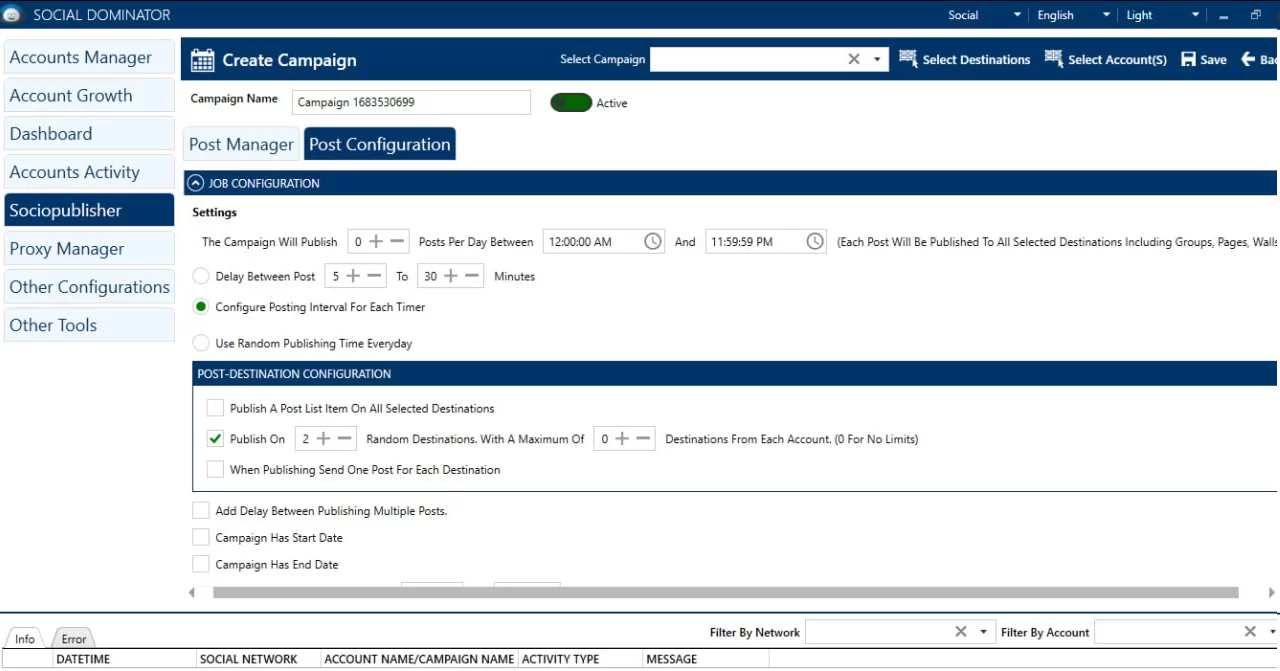 Also, provide the timings at what time you want your posts to be published.
It also has the option to add a delay between each post.
Select the days when you want your posts to be live.
On the top, you have the option to select the destination for your post.
Select your Twitter account as the destination and click on the save button.
Likewise, you can create multiple tweets using Socinator and publish them to your Twitter accounts at once. It also has a feature using which you can control the delay between each tweet so that it doesn't seem spammy at all.
Benefits of Scheduling Tweets
Scheduling tweets can be a game-changer for individuals and businesses looking to make the most of their presence on Twitter. Here are five key benefits of scheduling tweets:

Consistency in Posting:
Scheduling tweets allows you to maintain a consistent and reliable presence on Twitter.
By creating a posting schedule and automating your tweets, you ensure that your audience can expect content from you regularly.
This consistency is essential for building and retaining a loyal following. When your followers know when to expect your tweets, they are more likely to engage with and share your content.
Optimal Timing for Maximum Engagement:
One of the most significant advantages of scheduling tweets is the ability to post at the most opportune times for your audience.
Twitter users' activity varies throughout the day and week, and it's crucial to reach them when they are most active.
With tweet scheduling, you can analyze your followers' activity patterns and choose to post during peak hours, even if those hours don't align with your availability.
This results in higher engagement rates, more likes, retweets, and replies to your tweets.
Global Reach and Time Zone Management:
Twitter has a global user base, and your audience might span different time zones.
Scheduling tweets enables you to reach international followers without having to stay up late or wake up early to post in real time.
By carefully selecting the timing for your tweets, you can engage with users from various parts of the world, increasing your reach and expanding your network.
Efficient Content Strategy:
Scheduling tweets encourages thoughtful content planning. It provides an opportunity to strategize and curate content effectively.
By preparing tweets in advance, you can ensure that your messaging aligns with your brand's goals and remains on-topic.
Additionally, you can plan campaigns, promotions, or special events well ahead of time, making your Twitter presence more purposeful and organized.
Time and Resource Management:
Scheduling tweets saves you time and resources. Manually posting tweets throughout the day can be time-consuming, especially for businesses managing multiple social media accounts.
With scheduling tools and software, you can prepare content in batches, allocate a few dedicated hours to schedule, and then let the automation take care of the rest.
This efficiency allows you to focus on other aspects of your social media strategy, such as engagement with followers and content creation.
5 Tips For Scheduling Tweets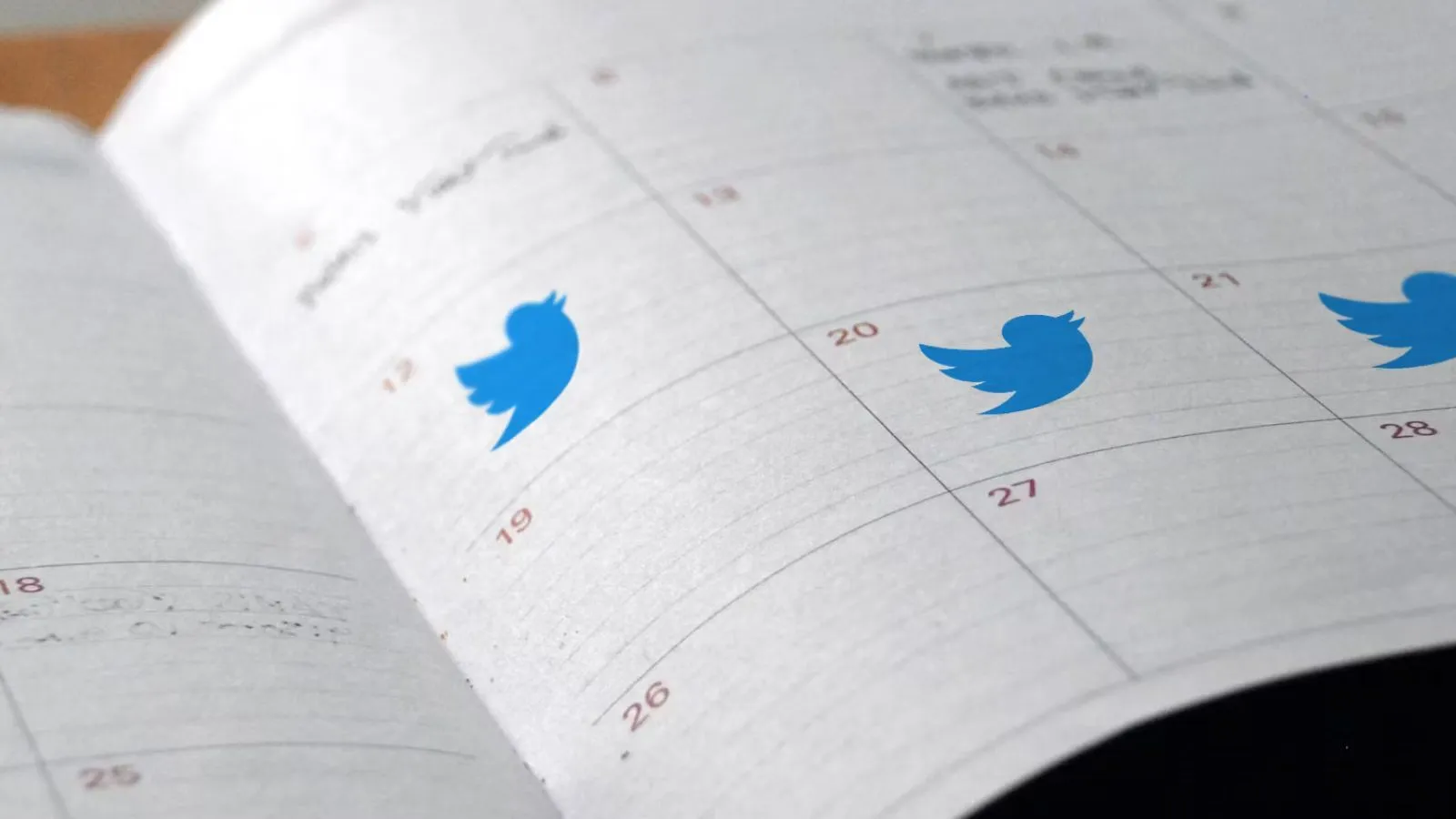 With the right strategies and tools, you can reach your audience when it matters most, ensuring your content gets the attention it deserves.
Here we have explored five valuable tips on how to schedule tweets that will help you maximize your Twitter presence and engagement. Whether you're a business looking to boost your marketing efforts or an individual seeking to enhance your personal brand, these tips will empower you to take control of your Twitter strategy and make the most of your online interactions.
Post at the Best Time:
To maximize your tweet's reach and engagement, always consider your audience's peak activity times. Use scheduling tools to post your tweets when your followers are most active. Experiment with different posting times and observe which ones generate the most interactions. Consistently scheduling tweets at optimal times can significantly boost your Twitter presence.
Analyze Your Audience:
Understanding your audience is crucial. Use Twitter analytics and insights to gain insights into your followers' demographics, interests, and online behavior. Tailor your scheduled tweets to cater to their preferences, ensuring your content resonates with your target audience.
Diverse Content Schedule:
Avoid monotony by diversifying your tweet content. Mix informative, entertaining, and promotional tweets in your schedule. This approach keeps your followers engaged and interested in your feed. Balance your content calendar to maintain a healthy mix of posts that align with your brand's objectives.
Use Hashtags Wisely:
Incorporate relevant and trending hashtags in your scheduled tweets. These tags can expand your tweet's visibility and connect you with a broader audience. However, use them judiciously, focusing on quality over quantity. Overloading your tweets with hashtags can appear spammy and deter engagement.
Visual Appeal:
Tweets with visual content tend to capture more attention. Add images, GIFs, or videos to your scheduled tweets. Visual elements make your content stand out in users' feeds, increasing the likelihood of interaction and retweets.
Conclusion
By strategically planning and automating your tweets, you unlock the power to connect with your audience when they're most active, engage followers across various time zones, and maintain a consistent and impactful online presence.
The tips, tools, and techniques we've explored on how to schedule tweets provide you with the means to elevate your Twitter game, whether you're an individual or a business.
So, take charge of your Twitter strategy, make your voice heard, and watch your influence grow, one scheduled tweet at a time.