Marketing automation
is a method of automating repetitive marketing tasks using the software. 
A
marketing automation system
streamlines and simplifies all these processes for swifter work execution and a more promising consumer experience.
Marketing teams can automate time-consuming processes like email marketing, social media posting, and even ad campaigns to save time and deliver a more personalized experience for clients.
Marketing automation benefits lead generation, nurturing, overall campaign ROI, and scoring.
As a company expands in size and complexity, automation time and cost-saving benefits increase.
How Does Marketing Automation Work?
Marketing automation streamlines segmentation and targeting processes for swift & efficient identification of the relevant audiences. 
Emails, website visits, app usage, and social media interactions are all used to collect client data. This data helps build a complete picture of each consumer.
Messages get customized automatically to each customer's profile. 
Whether you have 100 or 100 million consumers, you can create relevant and tailored communications for email, mobile, social, web, and other channels in a few clicks, providing individualized experiences for them effectively.
We'll look at the benefits of marketing automation for businesses in this post, as well as how to make the most of it in today's fast-paced marketing landscape.
What are the Benefits of a Marketing Automation System to Your Company?
When it comes to the most predominant business tribulations, generating leads and keeping consumers engaged is always on the top of the list. 
In addition to these pursuits, organizations confront an avalanche of data (which they are unable to utilize).
By optimizing our procedures and putting data to work, marketing automation tools can assist us in overcoming these impediments.
Most companies consider marketing automation as a tool for nurturing leads through automated email series in the epicenter of the funnel. 
Prospects are pushed through an imaginary sales funnel with extraneous touchpoints and material. Businesses serve up the same playbook on repetition rather than modifying specific consumer requirements.
Automated marketing
, if intelligently integrated (throughout customer journey) generates productive ground for strong, long-term customer connections. 
Marketing automation, when done perfectly, provides three primary advantages to your business:
Each of your prospects' activities delivers an additional data point for your marketing plan, providing you with imMediate need of your consumers. 
This data is extremely beneficial, but manually tracking these activities is unattainable. 
Businesses may, however, combine these inputs across many channels to gain a deeper understanding of their consumers' needs and offer accurate content at the right time using marketing automation software.
These processes direct qualified prospects to relevant material, resulting in leads that can lead to a successful conversion with intelligent customer care support.
The benefits of marketing automation don't end there. Businesses may continue to engage customers with bespoke strategies that lead to loyal, repeat customers who refer friends and family when the customer is at the heart of the flywheel.
Streamline your operations, keeping your customers at the heart of the whole process to bring your entire company together. 
Build cross-functional processes that relieve consumer grind at every level of the experience. Break down silos and collaborate to deliver a consistent client experience from the first contact through the final sale.
Since everything is stored automatically in your central data storage with successful marketing automation, there's no need for complex hand-off approaches. 
Further, internal workflows can support you in prioritizing jobs as they're needed.
Integrated Data and Analytics
Businesses can track user behavior with a
marketing automation system
by analyzing the data collected.
And this massive amount of data is gathered to have a better understanding through analytics.
Every prospect action is a data point analyzed to develop a winning marketing plan that provides customers with exactly what they want when they want it.
Manually tracking these actions is also impossible, which is where marketing automation systems come in handy.
Businesses use these vast integrated data inputs from several channels to better understand their consumers' wants and present the appropriate information/offers at the right time to increase revenues.
These processes assist in directing qualified opportunities to relevant information, resulting in warm leads. 
How to Use a Marketing Automation System to Its Full Potential
Marketing automation is a mix of tech, strategy, and customer focus that enables you to nurture leads with highly customized and relevant material for successful conversions of prospects and later devoted advocates.
Businesses should weave automation throughout their organization to break down silos and integrate teams with time-saving techniques to get the most out of marketing automation. 
Marketing automation, when used smartly with human intelligence, may generate a flywheel effect that propels your company ahead.
Instead of focusing on your company's needs, begin by focusing on the client's journey. 
Identify possible touchpoints where marketing automation could help and create processes to help customers transition from one touchpoint to the next.
Use a CRM which integrates with your marketing automation to keep track of your contacts.
Connect clients to the next phase of their journey, whether through educational content, a salesperson, or a customer success check-in, using these data points. 
The ability to apply this white-glove approach with thousands of clients at once is one of the benefits of marketing automation.
A good
marketing automation system
aligns your teams by prioritizing work and streamlining handoffs. 
The marketing team can own contact records until the lead is warm and ready for sales to contact it, at which time automation assigns and alerts the sales agent.
Customer success is notified when a customer buys something, and they can view all of the previous discussions and actions the customer had on their journey to the purchase. 
The procedure is smooth, efficient, and establishes a long-term relationship between the customer and the company.
What Is the Impact of Marketing Automation on Your Customers?
It's not just about what marketing automation can achieve for you. It also benefits your customers by addressing frequent omnichannel pain points.
Your clients are inundated with data, making it cumbersome to locate the answers they require. When customers finally get in touch with your firm, they often face a disorganized experience through channels and platforms.
Connecting teams, capturing data in an accessible format, and prioritizing behind-the-scenes tasks are all ways that marketing automation may help minimize friction.
Check Benefits-
Provide More Relevant Information
You can personalize what each customer is looking for with marketing automation. Use buyer personas and behavioral targeting to send only the required information, from advertising to email marketing. 
Automation helps cut to the chase by highlighting the most relevant material at the correct time, based on the data collected.
Marketing automation aids businesses in prioritizing activities and managing leads, assuring that incoming inquiries get promptly addressed at the right time.
Additionally, by storing behavioral data in your CRM, front-line staff can deliver more relevant assistance without asking for information first. 
Understand your customers' history and respond automatically based on previous purchases, in-app actions, or lifetime value.
Offer Seamless, Omnichannel Experiences
Nobody enjoys having to say the same thing over and over again. 
That's why marketing automation benefits clients so much. Your marketing software collects, stores, and uses data to provide a tailored experience for your customers, such as pre-filled forms, targeted emails that address their needs, and customer care that seems as familiar as the store down the street. 
Customer journeys are the total of each customer's unique interactions with your brand. 
You can approach clients at any point in the customer lifecycle, from acquisition through advocacy, with
marketing automation system
. Convert prospects into lifelong brand champions by providing timely, relevant content that reaches customers when, when, and how they like.
What are Some of the Best Practices in Marketing Automation?
When devising your marketing automation approach, keep the following best practices in mind:
Make a list of your objectives and persuade your stakeholders with hard data to invest in a marketing automation platform.

Visualize your operations through illustrations of your marketing automation workflow to effectively and efficiently convey your big picture goals to your whole team.

Make a strategy for your material and create a library of content. Also, create captivating, engaging, and appropriate messages for your audiences.

Before you start, get your team's input and approval as several departments get impacted by your marketing automation plan. 
Also, it is advisable to work with other teams to achieve joint company goals.
5. Prepare to partition your database after thoroughly evaluating your client's information. For better results, consider who you want to engage and why.
6. Use smart
marketing automation platform
Socinator for a seamless marketing automation
Socinator
is an easy automation tool for busy marketers that effortlessly handles consistent social media posting needs with easy marketing solutions for Facebook, Instagram, Twitter, LinkedIn, Quora, YouTube, Pinterest, and Reddit.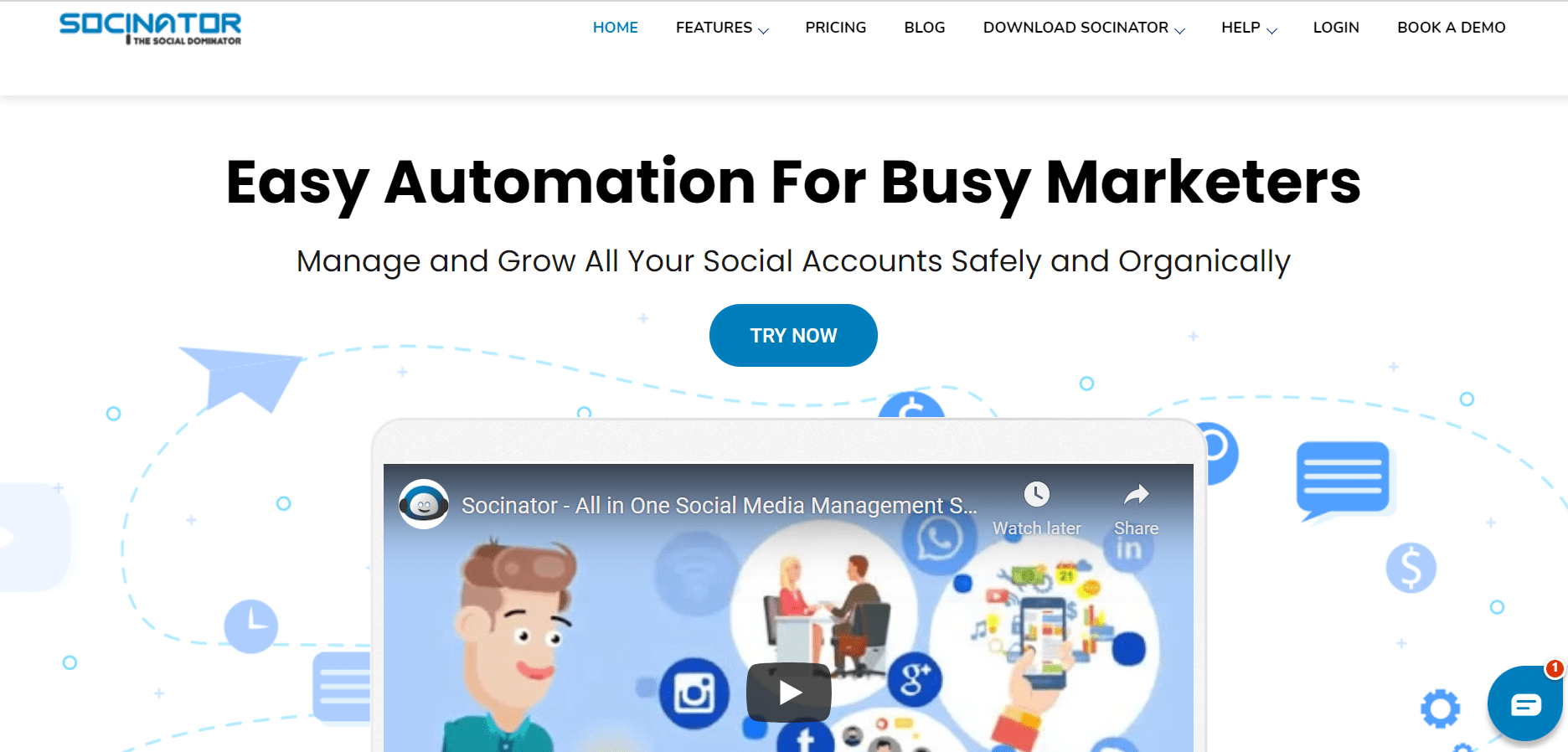 For busy marketers, Socinator manages and grows all of their social accounts safely and organically.
It also saves you time and effort by integrating all of your accounts into a single login, a consistent user experience, and marketing automation options for all major platforms.
Socinator allows you to schedule and auto-publish your posts across several social media platforms, including Instagram, Twitter, Facebook, Google+, and LinkedIn.
You may post to all sites at the same time, saving hours of daily time by consolidating all of your accounts across several networks into a single application.
You can also assure uniformity across all social media networks by posting the same information on various accounts at the same time.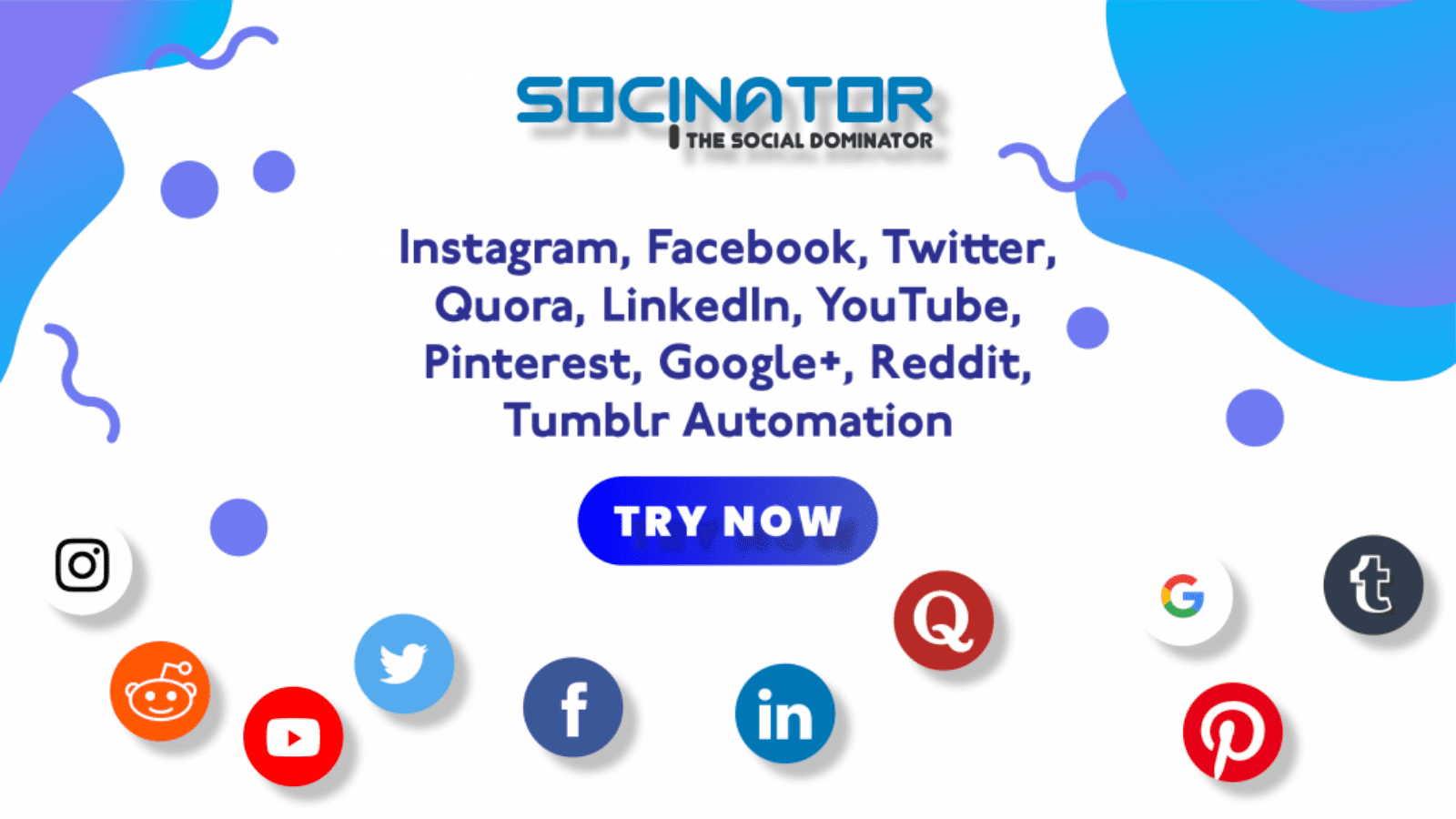 Read More–
Instagram Reels Algorithm: Facts You Must Know
8 Awesome Tips To Use Linkedin Automation Tool For Lead Generation