Social media automation is a term that is increasing its credibility every single day to coincide with the expectations of online business owners. The companies branding their products and services on the social media platforms are juggling to handle altogether. Every business today has multiple social media accounts and what bothers them most is the presence.
Hit The Play Button To Listen This Podcast:
The companies have to appropriately mark their presence on each of the sites they are present. Hence, marketers have started hunting automation tools that work wonders for their brand. It is necessary because you cannot manage everything at once. Let something get scheduled from before and automatically published on the platform. 
It is also true that the social media intelligence tool has proven to be the best thing to implement if you are looking to manage all your business pages. Put your posts and advertisements on autopilot mode and see them receiving heights of audience engagement and traffic.
Overview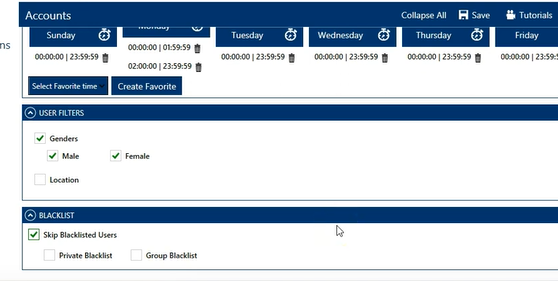 Facebook is one of the most well-known social networking platforms. It gets used by around 02 Billion users by now. We are not new to the algorithm and usage of Facebook. The platform lets hundreds of business owners every day proffer more audience with their content and posts. If it is the most popular brand, then the most hype of social media automation should be Facebook itself. 
Yes, Facebook automation  is engaging a lot of space in recent times. The marketers advertising on Facebook are looking forward to tools and procedures to automate and schedule their posts, so they never miss out on posting. Facebook keeps the users updated about what is trending the most. But if the advertisers miss that, there is no point in posting it all over again.
Facebook Automation
Some business owners seem to freak out when they hear the word automation. Well, it is not frightening. It serves as a helping hand for the advertisers. It refers to a software or tool that manages all your activity on Facebook. Like you can create your content and schedule your posts. It will automatically get posted at the exact time. 
Here we will be discussing Facebook automation, the tools required to automate the following activities on Facebook.
Like and share on different posts, including pictures and videos.

Commenting on advertisements, stories, and posts as well

Inviting followers and users sharing similar niche to join specific pages or your business page

Allowing users to send follow requests and accepting or rejecting them.
How Does It Work?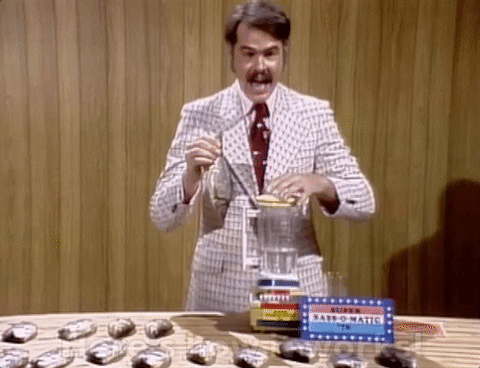 Facebook automation tools proffer a different look and enhanced feel to the Facebook business page. The software accommodates enormous other extraordinary features. All you need to do is choose a great tool and place your Facebook business page in its hands. Then you are all set to attract and engage more audience to your page.
We do not want to scare you out from the very beginning, but you indeed need to play safely while using a tool for Facebook automation. There are enormous positive points of using an automation tool, but at times you have to bear the consequences as well. 
Let us look at a situation where the tool randomly likes, shares, or comments on a picture that is inappropriate. It might become a little tricky to handle the situation. After all, it is the software it needs to get instructed appropriately to work. So, you have to be a little prepared for some errors from the beginning itself.
Socinator- The Social Dominator
Socinator is a social media intelligence tool that works wonders for different social networking platforms. It is one of the best social media automation tools that every business owner should look forward to implementing in their business. Let us look at some of the most intriguing features of Socinator for automating and scheduling posts for Facebook business accounts.
Facebook Marketing Features
Facebook Activity Statistics And Records
Perceive all the records and statistics for the Facebook activities accomplished with your business accounts, assisting you in a more meticulous analysis of your business and advertising strategies.
Auto Accept Or Reject Friend Requests
Redeem enormous time with auto accepting or rejecting friend request features alongside the dominant filters to retain friends engrossed in your niche.
Auto Engross with Likes and Comments
Auto-connect with your followers by liking and commenting on the posts they share. You can schedule getting involved in various sites like the Facebook timeline, their friend's timeline, communities, Facebook business pages, etc. It will help you in acquiring enormous traffic with limited effort.
Auto Like Other Websites
Improve likes to your office or other websites with easy automation and your best Facebook profiles, obtaining assistance for Search Engine Optimization purposes.
Auto Publish And Share Latest Content In Your Facebook Groups
Increase your audience traffic and post clarity by automatically sharing them with your target audience in your associated groups.
Auto Scheduling of Posts
Schedule and automate nearly every activity you conduct on Facebook to save a lot of time and perceive the advantage of automated information filters to increase the audience in engaging your criteria.
Schedule Sending Friend Requests
Expand your target audience and interested users by forwarding friend requests to audiences and users engrossed in your similar niche with intelligent filters and Facebook algorithms. Experience convenient search options not possible with any other device obtainable in the corporate world today.
Extra Added Features of Socinator Facebook Automation
1. Auto Reply to Latest Messages From Followers
2. Auto Engagement On Life Events
3. Broadcast Messages
4. Effective Facebook Account Management
5. Filter Support
6. Discover Facebook Groups and Business Pages in your niche
7. Complete Facebook Account And Record Export
8. Join and Remove Facebook Groups in your niche
9. Live Chat with Users
10. Bulk Downloading picture from Facebook
11. Proffer Facebook users In your niche
12. Auto Invite users to join groups
13. Auto Request users to like Facebook business pages
14. Auto Unfriend
15. Remove Unwanted Facebook Groups
Not only Facebook, Socinator provides automation service on 08 different platforms. It includes Instagram, Twitter, LinkedIn, YouTube, Quora, Pinterest, and Reddit. It acquires several features from all other social networking sites.
Use Facebook Automation In The Correct Way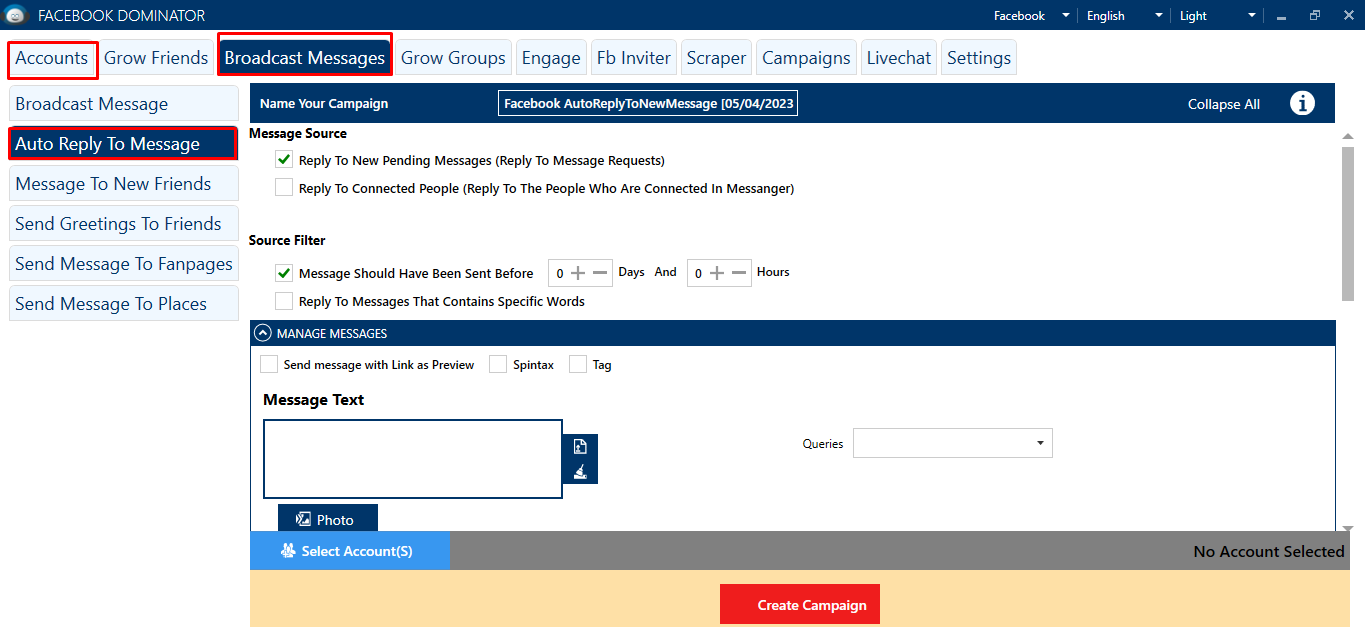 Check out the following ways to use Facebook automation tools in the right way.
Schedule Your Posts
Publishing different posts on Facebook becomes a little daunting when you are creating unique and appealing content altogether. So scheduling your posts using an automation tool will help you manage all your activities. So, the best way to utilise a Facebook automation tool is to schedule your posts and stories. It automatically gets posted at the scheduled time.
Run Your Advertisements
It is necessary to run the advertisements on your page. The reason is you need your customer to remain aware of your latest content. The most relevant and ads related to your new products must reach each of the users. So keep running your ads every time to keep your audience engaged and updated.
Check Out Our Latest Posts:
09 Approved Social Trends for marketers to grow their business
Are You Ready For Instagram Verification? You Should Be
Excellent Strategies To Win The War For Perfect Instagram Captions
Facebook Automation and Businesses
New business owners have a different choice and opinion while managing their social media profiles on multiple sites. There is no issue while switching from personal touch to automating tools. It will help brands striving to increase their business on Facebook to achieve more friends and target audiences.
Socinator and other automation tools are great alternatives for managing the accounts at ease. You will never miss out on posting and sharing the latest and relevant content with your audience. These tools help schedule your posts and stories. Hence, you can focus on knowing more about your followers.
So what are you waiting for? Cut down on your time spent on publishing posts and stories by using Socinator for automating your Facebook business page today.
I hope the article helped you know more about Facebook automation. Is there something that we can incorporate? Please drop your thoughts in the comments below. I would love to hear from you!