Do you want to reach more users on Instagram, where you want to connect and engage with them? Do you want to transform them into customers?
Well, it is possible through Instagram Ads. Facebook and Instagram ads are evolving and improving, allowing us to create better ads. They provide a massive audience for businesses to connect with and promote their products or services.
However, with so many businesses vying for attention on the platform, it can take time to stand out and reach the right audience. That is where an Instagram automation tool comes in, providing benefits and strategies to help businesses maximize their advertising efforts.
There is a lot covered in this article. Here we will explore the different types of ads available on Instagram, including photo ads, video ads, carousel ads, and more. This guide will provide valuable insights to maximize your advertising efforts and some tips for using Instagram for marketing.
Listen To This Podcast:
What are Instagram Ads?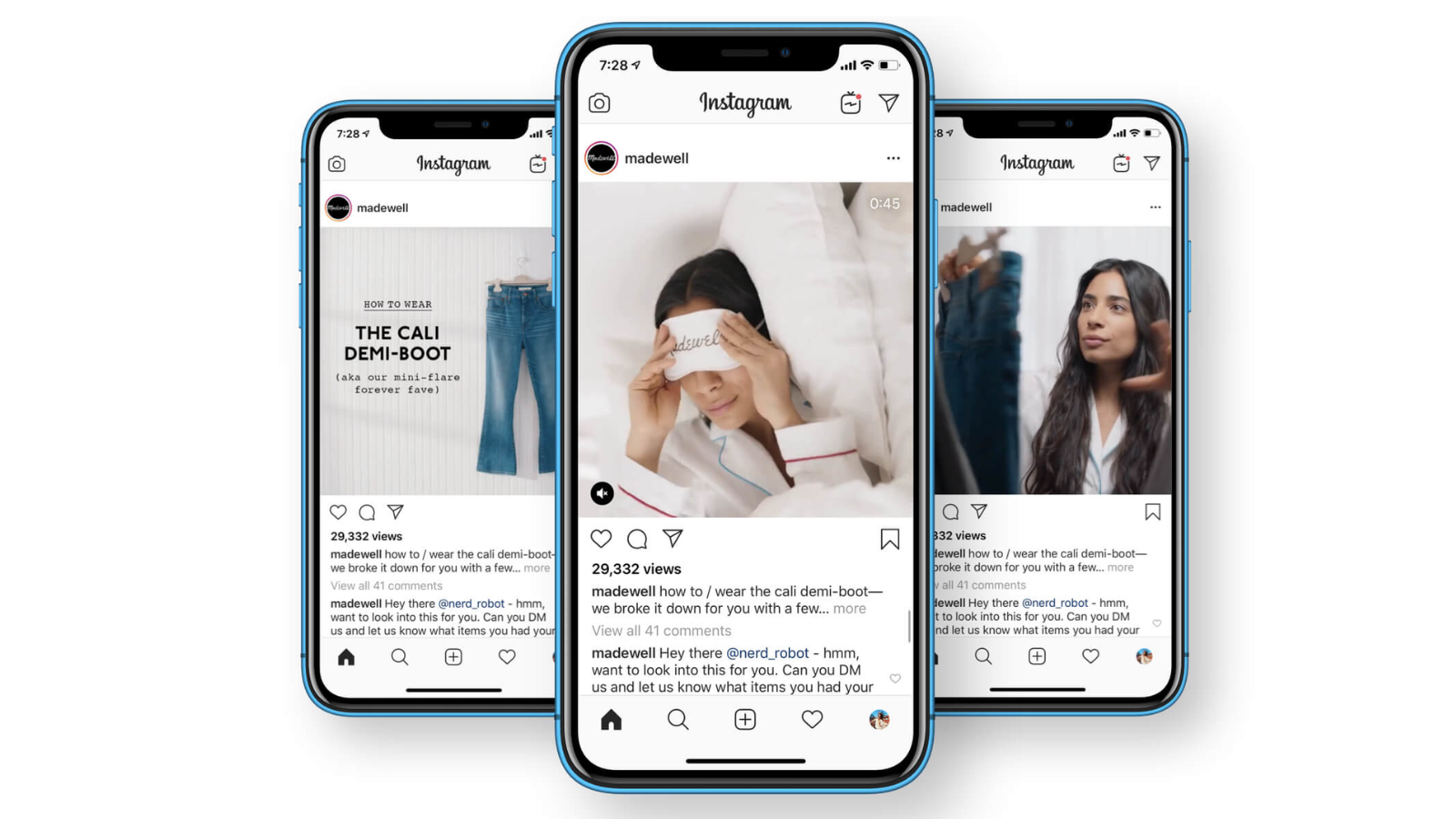 The posts or stories in your Instagram feeds are nothing but Instagram Ads. These ads appear in the feed, stories, explore page, and other sections of IG and can be targeted to specific audiences based on demographics, interests, and behaviors.
The Instagram paid promotion looks similar to regular Instagram posts but is identified through the "Instagram sponsored posts" label. You can add a call-to-action button to drive traffic and increase conversations.
The paid ads by businesses who want to promote their ads to users' Instagram feeds reach maximum audiences and generate leads to convert them to customers. Also, to be consistent with your ads Instagram automation tool can help businesses create, manage, and optimize their ad campaigns more efficiently and effectively.
There are e-commerce features added to Instagram types that we will discuss later in this article. So continue reading till the end of the post.
How Much Do Instagram Ads Cost?
It is a sensitive question to answer. There are many factors that impact the cost of your Instagram ads. Some of them are:
Targeting 

Ad format

Ad placement

Time of the year
There are also a few factors that are not revealed to us by the platform. This model is based on CPC (cost-per-click) and CPM (cost-per-impressions), and the prices are according to the Instagram ad auction.
Other than that, the best way is to decide how much you want to spend per result. You can start over with Instagram advertising with a small budget. The price you want to spend on ads depends on you. It can be $3 per week, or it can also be $300,000 per week.
A good strategy on spending limits and a daily budget can let you have control over your Instagram Ads.
Types of Instagram Ads:
Like Facebook, Instagram also provides various ad formats like
Story ads

Photo ads

Video ads

Carousel ads

Collection ads

Explore ads

IGTV ads

Instagram sponsored ads
Businesses having different goals adopt different ad formats having other call-to-action options available. Let's see them in detail below.
Story Ads: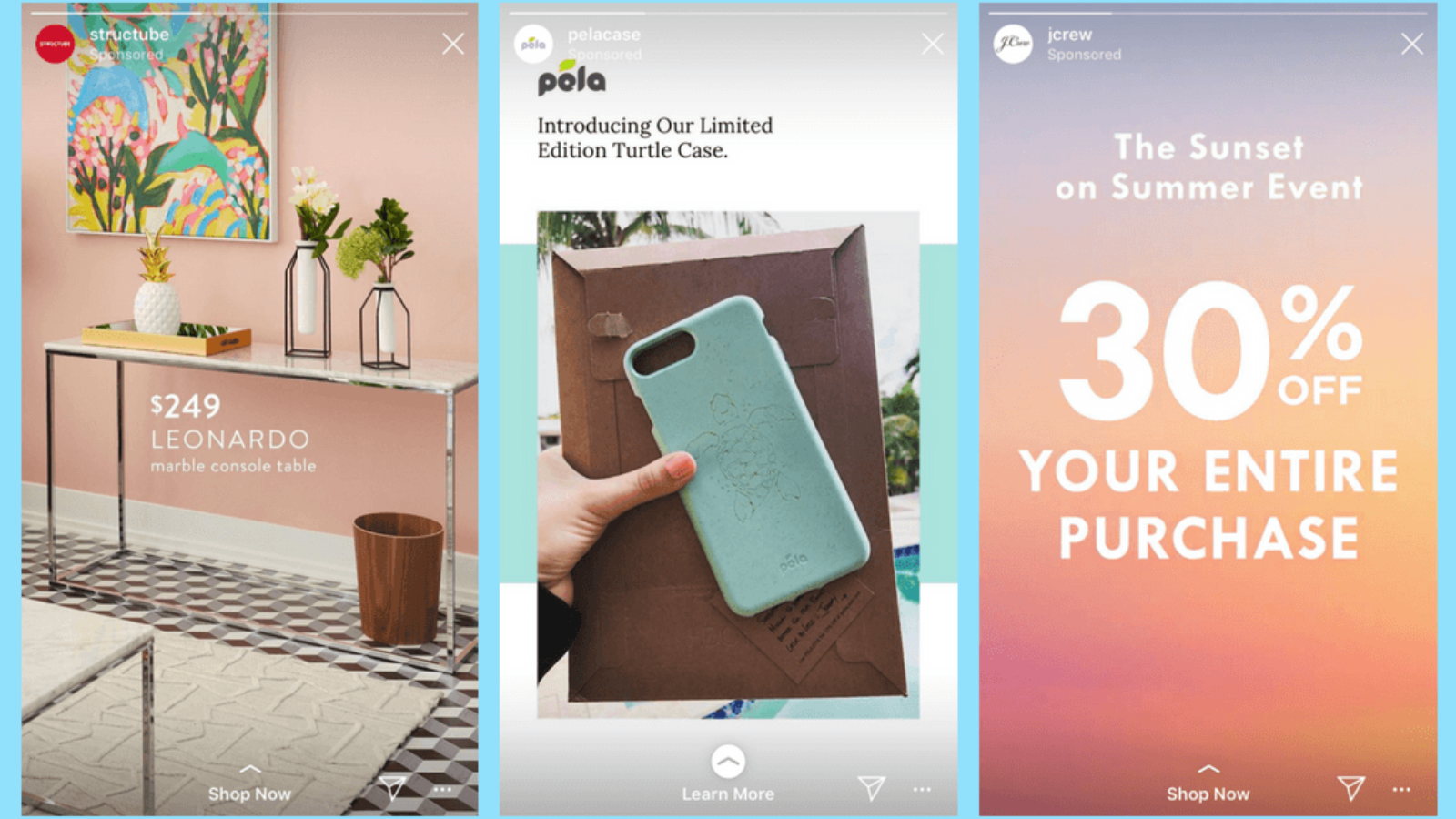 Instagram story ads appear on full screen. There are 500 million Instagram story viewers who view Instagram stories every day. It can help you reach maximum audiences with Instagram stories.
You can also use Instagram story features like video effects, face filters, funny text, and unique promotions to make you more creative and create a flawless experience for audiences. Also, the Instagram automation tool can help streamline the ad by automating repetitive tasks and freeing up more time for strategic planning and analysis.
Photo Ads: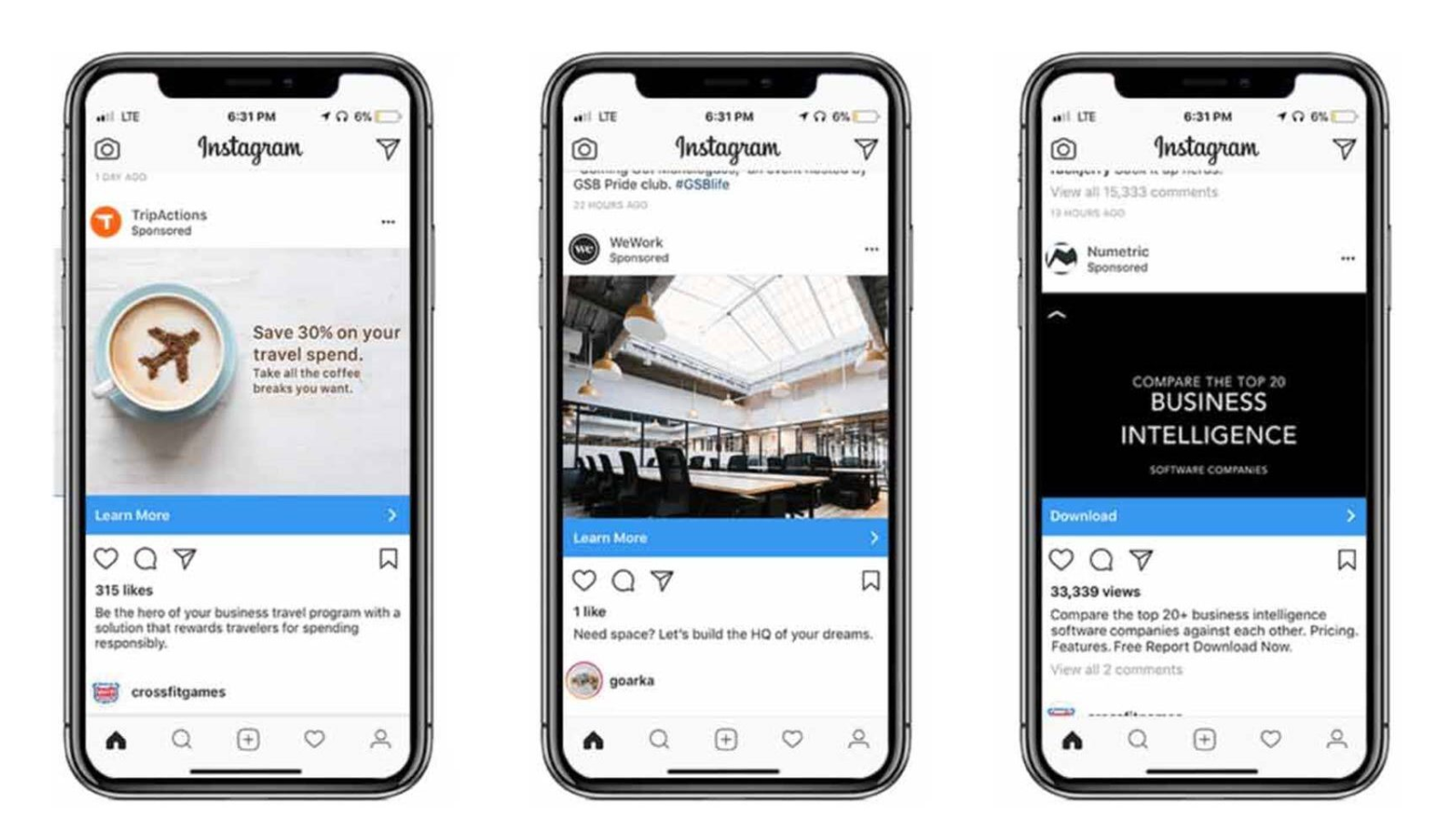 Photo ads display products and services through attractive images. When you craft top-level visual content, Instagram provides you with the platform to share it with more users. You can also create new content specifically to run photo ads.
Which of them do you think is best to achieve your goal? Do you want to redirect your visitors to your website? Or do you want them to check your profile? Please comment and share your answers with us.
Video Ads: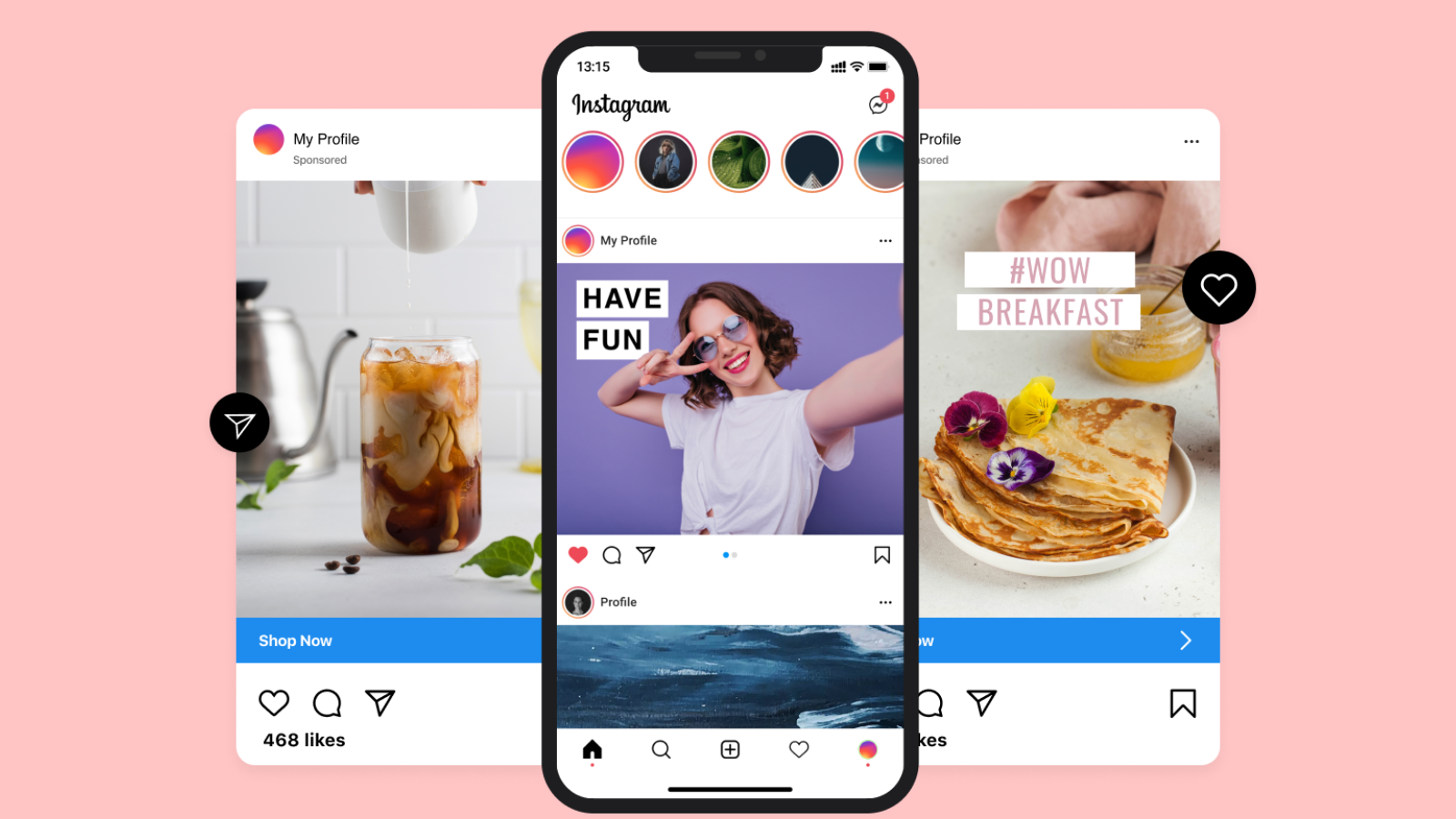 Instagram provides you with 1 minute to promote your brand, products, or services through video ads. Short videos are more effective. Also, Instagram video ads can be more effective if you include branding in the first few seconds of the ad.
Carousel Ads:
In carousel ads, there will be a sequence of photos or videos that you can swipe to see. The carousel ads emphasize multiple products and share stories or photos.
Collections Ads: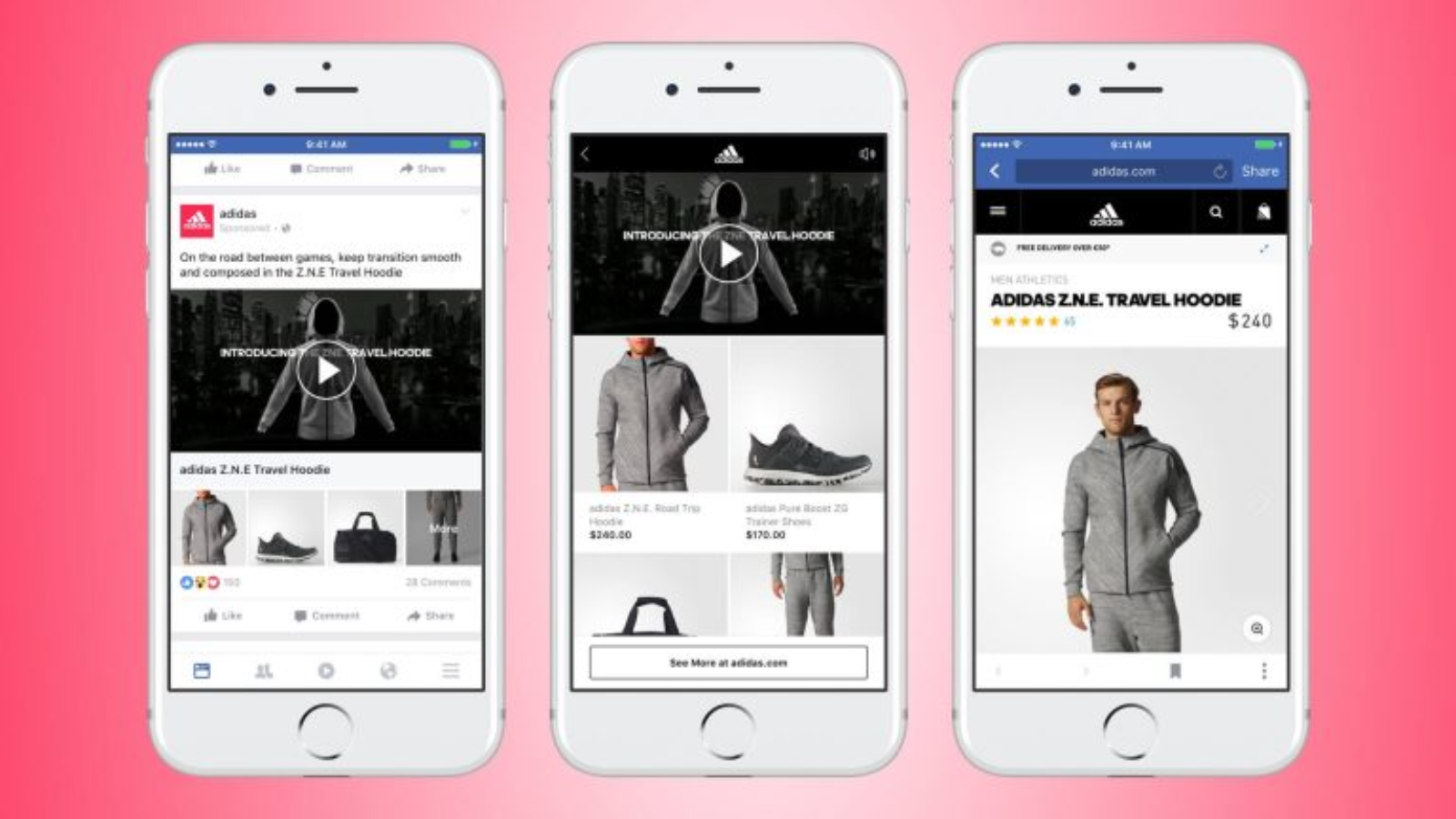 Instagram collection ads provide an eCommerce feature: From the ads Instagram users can directly purchase the products. When they click on the product ads, they redirect to Instant Experience Storefront. These ads become all-in-one powerful advertisements that combine the power of images, videos, and direct marketing. Using an Instagram automation tool can help businesses maximize the impact of their advertising efforts on the platform and reach their target audience.
Instagram Explore Ads:
Users discover new content and account through the explore screen on Instagram. Many Instagram users access it every month. Explore grid or tropic channels do not contain ads. These ads appear when someone clicks on the photo or video in Explore.
If you choose to Explore as an extra placement, you can use your regular images and videos in Explore.
IGTV Ads:
Advertisements in IGTV are a brand new development, announced recently by Instagram. The brand strategy proved successful as an increasing number of users requested more videos of a similar nature. Unlike Instagram feeds, IGTV allows users to post videos up to 20 minutes in length, thus surpassing the time restriction on traditional Instagram video posts.
How to choose the best Instagram ad type:
You can choose the best Instagram ad type if you know your target well. Here, the target will provide a way to select one format for your ad. 
What is Your Objective?
Identify your Instagram marketing objectives, whether to increase brand awareness, drive website traffic, or boost sales. Different ad formats can help achieve multiple objectives.
What is Your Goal?
Review your social marketing strategy and discover the best goals for your Instagram ad campaign. You can use the business objectives of each Instagram ad format that helps you achieve your goals. 
It is essential to engage with your audience and consistent with your posts. So you can use an Instagram automation tool to schedule your entire month's posts. Moreover, you can also change or modify the ad type to improve your Instagram advertising strategies. 
Evaluate your budget:
Determine how much you are willing to spend on your advertising campaign. Some ad types are more expensive than others. It is vital to choose an ad format that aligns with your budget. 
Instagram automation tool can help you test and optimize your ad strategy by providing data insights and automating ad creation and scheduling.
Tips to Advertise on Instagram Using Automation Tool: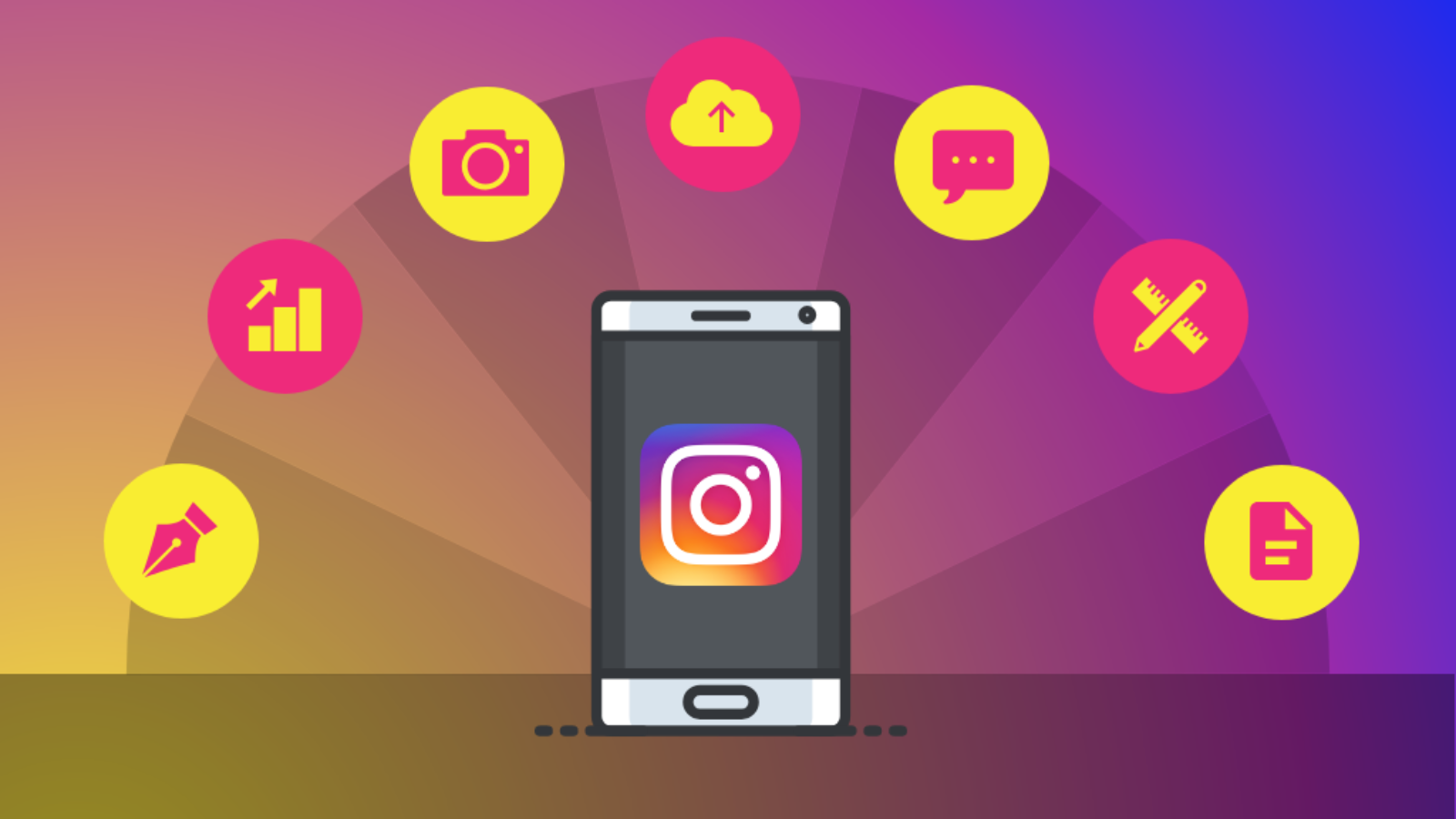 After having a brief idea about how to advertise on Instagram, you need some tips to keep in mind while you create Instagram ad campaigns.
Here are some tips for advertising on Instagram using a social media automation tool:
Know your audience:
When you know the audience, you can create Instagram ads according to their choice. And it will be easy to use the Instagram automation tool to schedule the posts. The most important thing you need to know is-
Their needs and wants.

What offers do you provide them?
Use Text Wisely:
In Instagram ads, you can use only 2,200 characters where only two rows of text will get displayed. So use the text wisely to connect with your audience and make them bound to use the CTA button.
Engage:
Never ignore responding to likes and comments on your ads reply to all the questions asked in your comment section. Not only the person whom you answer but also the way you address your client can drive more purchases. By continuously posting through the Instagram automation tool, engagement becomes more effective with users.
Test, Measure, and Optimize:
You can view the result of your Instagram ads through the Facebook ads manager. Monitoring results can improve your strategy and get the most out of your Instagram ads budget.
Also, you can repost your ads on Instagram and all other social media platforms. It is possible by a single software called Socinator. When you are tired of doing repetitive posts on social media, you can go for the all-in-one solution.
It is one of the best Instagram automation tools that handles ad postings on social media platforms like Facebook, Instagram, YouTube, Twitter, and many more. Automatic features like auto-follow, auto-unfollow, auto-comment, auto-like, auto-post with the scheduled date and time, etc.
It makes your work easy with its automatic features and helps you manage your social media platforms with fewer efforts.
Read More Blogs:
14 Best Tips For Using Instagram For Business
Is Automation the Key to Social Commerce's Success?
The Best Instagram Marketing Tools To Dominate Your Audience
Wrapping words:
Wow, it was a long Instagram ads guide with much important information.
This guide has covered all possible topics related to Instagram advertisements. So, do read once and share your experience.  
Did you ever use the Instagram automation tool before? If so, what was your master plan? Did it work? What was your experience with it?
Let me know in the comment section below. We feel good to hear about your experiences!!