In the fast-paced world of social media, the ability to captivate your audience and increase your reach is crucial. With over 1 billion active users, Instagram has become one of the most popular platforms for sharing content and engaging with followers. However, this platform is much more than simply posting a photo or video. As it also provides you with the opportunity to gain the visibility and engagement you truly desire so that you can make an impact and master the art of sharing Instagram content effectively. In this article, we will explore five proven strategies that will help you repost Instagram story like a pro and maximize the exposure of your Instagram posts.
Whether you're a social media influencer, a business owner, or simply looking to expand your online presence, Instagram trends shall empower you to make the most out of your Instagram content. Get ready to enhance your reach, inspire engagement, and take your Instagram game to the next level. In this blog, you will learn how to repost content on Instagram like a PRO in five effective ways.
Listen to this Podcast
Why Should Your Brand Repost On Instagram?
Instagram has evolved into a powerful social media platform that offers immense opportunities for brands to increase their reach, engage with their target audience, and drive new business. While creating original content is essential, reposting on Instagram can bring several benefits for brands. Here are the compelling reasons why your brand should repost on Instagram.
1. To Save Time and Resources
The primary reason to repost Instagram story or a post is to be consistent on Instagram and create high-quality content by resharing. Else creating all posts and reposting no post can be a time-consuming and resource-intensive process. 
By reposting, you can supplement your original content with curated posts that align with your brand's aesthetic and messaging. It not only saves time, but it also allows you to focus your resources & other aspects of your business.
2. For Diversifying Content
Reposting allows you to diversify your content mix. Instead of solely relying on your content creation efforts, you can tap into a vast pool of user-generated content (UGC) and curated industry content. This variety keeps your Instagram feed fresh, engaging, and interesting for your audience to watch.
3. To Amplify Brand Advocacy
When you repost Instagram story or other content from influencers, partners, and satisfied customers, it showcases their support and positive experiences with your brand. This serves as social proof, building trust and credibility with your audience. It can encourage others to engage with your brand, leading to visible brand advocacy and word-of-mouth referrals.
4. For Tapping into User-Generated Content
Reposting user-generated content is a powerful way to engage and involve your audience. When users create content related to your brand, they endorse and promote it. By reposting their content, you show appreciation & strengthen the sense of community and brand loyalty.
5. To Foster Relationships and Collaborations
Repost Instagram story allows you to build and nurture relationships with content creators, influencers, and industry thought leaders. By sharing their content, you create opportunities for collaborations and partnerships. It can lead to increased exposure, access to new audiences, and mutually beneficial relationships within your industry.
6. For Engaging Your Audience
Reposting content opens up avenues for engagement with your audience. When you credit or tag the original creators, it acknowledges their contribution and encourages them to interact with your brand. Additionally, reposted content provides conversations, comments, and shares, leading to increased engagement and a vibrant community.
7. To Tune into Trends and Industry News
Reposting curated industry content and trends positions your brand as a knowledgeable and relevant player in your field. It demonstrates you actively keeping up with the latest developments and sharing valuable insights with your audience. This can attract industry professionals, thought leaders and potential customers to engage with your brand.
Reposting provides numerous advantages for brands especially when you repost Instagram story. It helps diversify content, saves time and resources, fosters engagement and collaboration, amplifies brand advocacy, and positions your brand as an industry expert. By incorporating reposting strategies into your Instagram marketing efforts, you can enhance your brand's reach, engagement, and overall success on the platform.
How to Repost Instagram Story Manually?

There are a few different ways to repost an Instagram post. Let's learn how to share someone's story on Instagram.
Step 1-

  First you need to open the Instagram app and look for the post you want to repost on Instagram.

Moving to Step 2

– You need to tap the three dots of the post in the top right corner.

Step 3-

Tap- "

Add post to the story

".

Moving to Step 4-

Now on the story editor one can add text, stickers, and other effects before sharing it.

Step 5- Now

Tap "

your stories

" to post the same on your story.
How to Automate Instagram Story?
Several third-party apps allow you to auto-repost Instagram posts and one such efficient software is Socinator. It is a social media management tool that offers a range of automation features not only for Instagram but for the leading social media platforms as well.
The software typically has a few features that make them easier to use than the native Instagram application. Such as adding text, stickers, and other effects to the reposted post. Check out how you can auto repost Instagram story with Socinator.
1.Sign in to the dashboard and select the Instagram option from the dropdown menu.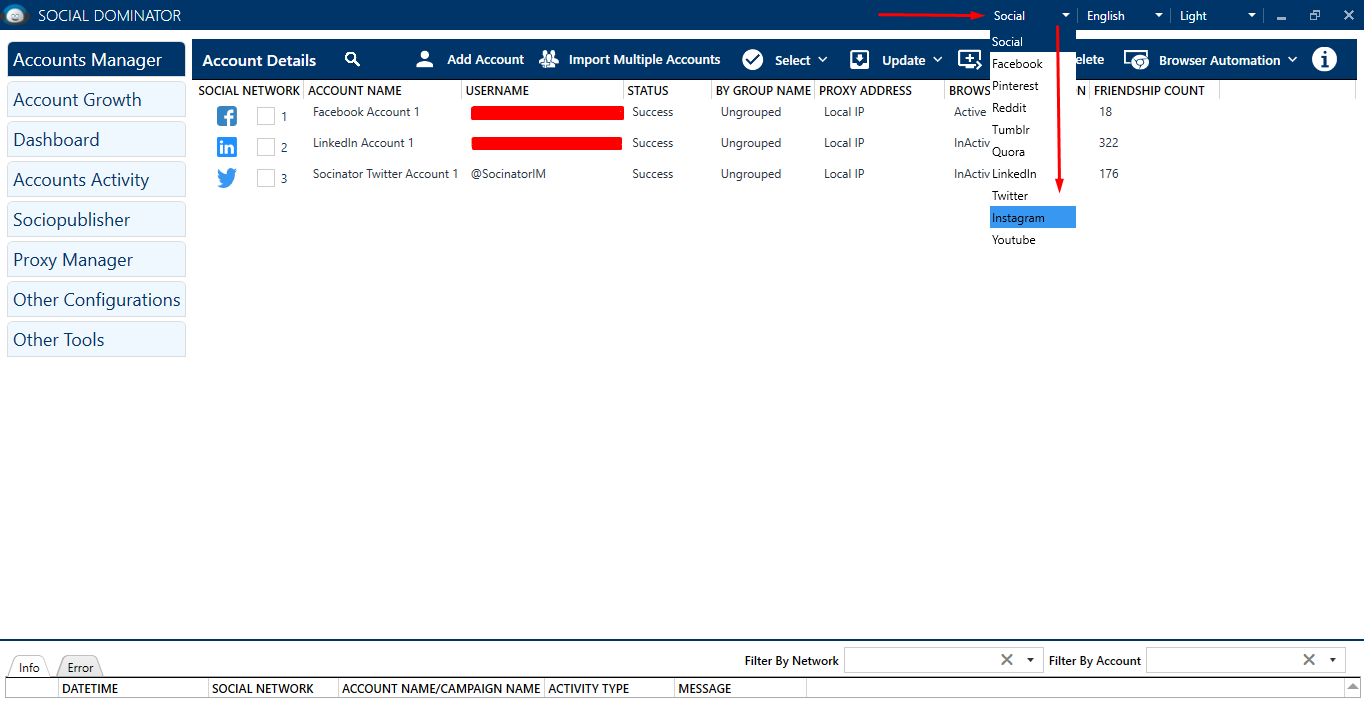 2. Go to the "instaposter" option, and add a query about which Instagram post you want to auto-post. After adding the query, customize your process using Advanced settings, add the required filters and click on Create Campaign. Once the campaign is created you can run it anytime. This way you can repost Instagram story with Socinator.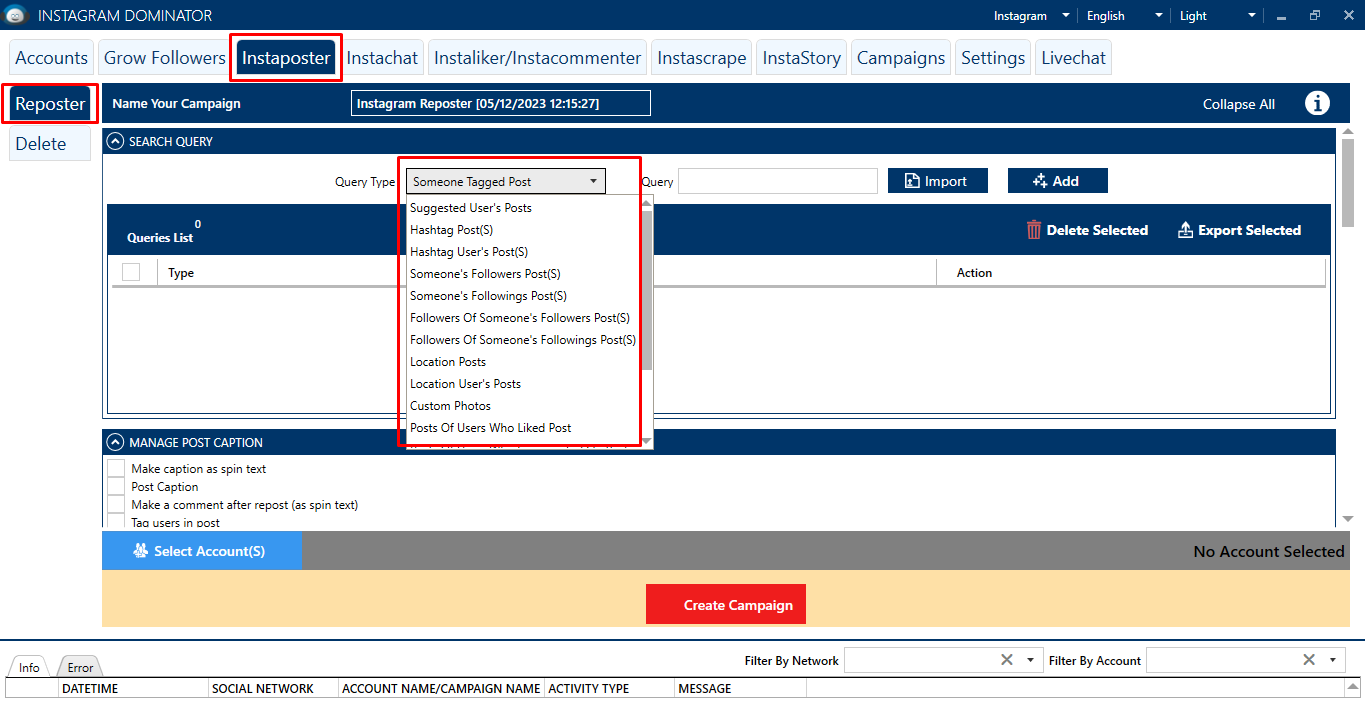 Similarly, you can create as many campaigns as possible and automate multiple processes. Socinator allows you to schedule posts, likes and comments on posts, follow and unfollow users, and send direct messages.In addition to these, you can also use Socinator to monitor your Instagram account's performance with real-time analytics, track hashtags, and search for relevant content.
With its easy-to-use interface and comprehensive set of features, Socinator is the ideal solution for anyone looking to take their Instagram presence to the next level.
How to Repost Reels on Instagram?


Instagram provides a built-in reposting feature that allows users to share other users' reels and posts on their Instagram Stories. However, this functionality has its limitations. It only permits temporary sharing, meaning the reposted content will disappear after 24 hours. 
Users can add the repost Instagram story or reel to Highlights to maintain content permanently. While posting the story, you need to ensure that the Instagram story dimension and size of the post are accurate as per the space given in the story and not abrupt.
To make the content stay for a longer duration a user can post a reel that would be seen, heard and acknowledged by their followers and can be reposted over Instagram story, if extremely relatable or helpful to your audience. The steps to reposting the reel and posts to the story- are shared below.
How To Repost an Instagram Reel to your feed Manually
Open the Instagram app and find the post you want to repost.
Tap the three dots in the top right corner of the post!
Tap

button
Click on "

add reel to your story

" to add reel to the story.
Tap the "

copy link

" button to copy the post link and now open the repost app.
And paste the link to get the link and add a watermark in the colour you wish be it a black/white rectangle frame having the username of the page from where you reposted the reel. 
Now Open Instagram and repost the reel you wish to post with a watermark of the page in the corner chosen. Then your reel will be successfully reshared on Instagram.
Also, Read
10 Instagram Trends That'll Blow Your Mind
What are The Right Instagram Story Dimensions And Size?
09 most effective ways to get more Instagram story views
Important things to keep in mind when reposting an Instagram post
When reposting an Instagram post, it's vital to keep a few things in mind:
Such as giving credit to the original poster.

Not reposting copyrighted content without permission.

Always tag the person in your repost post/story/reel to get due credit for their work and attract their following.
If you need to know whether or not you have permission to repost Instagram story or a particular post, it's best to check first and then do it. Don't spam your followers, if you're constantly reposting other people's posts, your followers may get annoyed. Be sure to repost only the interesting ones.
Conclusion
Mastering the art of reposting on Instagram can be a game-changer for your brand's online presence. By diversifying your content mix, saving time and resources, tapping into user-generated content, amplifying brand advocacy, and fostering relationships and collaborations, you can take your Instagram strategy to new heights.


When you repost Instagram story, you showcase your creativity and perspectives of yourself and strengthen community engagement and build trust with your audience. It enables you to curate industry news and trends, share user testimonials and reviews, and offer a behind-the-scenes look into your brand, all of which contribute to a more dynamic and engaging Instagram presence.

Remember to obtain permission and give proper credit to content creators when reposting. Using third-party reposting apps or tools you can simplify the process, add personalized commentary to create value, and maintain consistency with your brand's aesthetics. When you incorporate these effective reposting strategies to boost story views of your Instagram marketing efforts or you use these to expand your reach, increase engagement, and foster a thriving community of brand advocates.