Are you a new business looking to expand your reach with a strong social media presence? Then Instagram is the place you are looking for!
The entire social media, including Instagram, has created so many new job opportunities which we never even knew earlier. Instagram has made many people famous for sharing travel and lifestyle photos. 
It was just the start of new opportunities, now social media has moved to an entirely different level. Every scale of business in every industry has realized that a huge base of potential customers is daily scrolling through their posts at every opportunity. 
But numbers speak louder than words. Instagram, started in 2010 and acquired by Facebook in 2012, now has more than 700 million daily active users and one billion active monthly users. It means a lot of potential customers are waiting for your first step to engage with them.
Users on Instagram are growing every second, and they are missing 70% of posts from the people they follow. It is because of the algorithm working to show the relevant content to its users. We can not change its algorithm. But what we can change is how we grow business on Instagram. It means encouraging users to like, follow, and interact with your content regularly.
Lay Back And Listen To The Podcast:
But to have effective engagement on Instagram, you first need to have followers. Unfortunately, followers count don't increase automatically. It takes time to grow an Instagram account. It requires time, effort, and consistent content strategy. But how can you make one? In this article, we will grow through every crucial topic, you need to know for growing your business on Instagram. So let's dive in
What Is a Business Account on Instagram?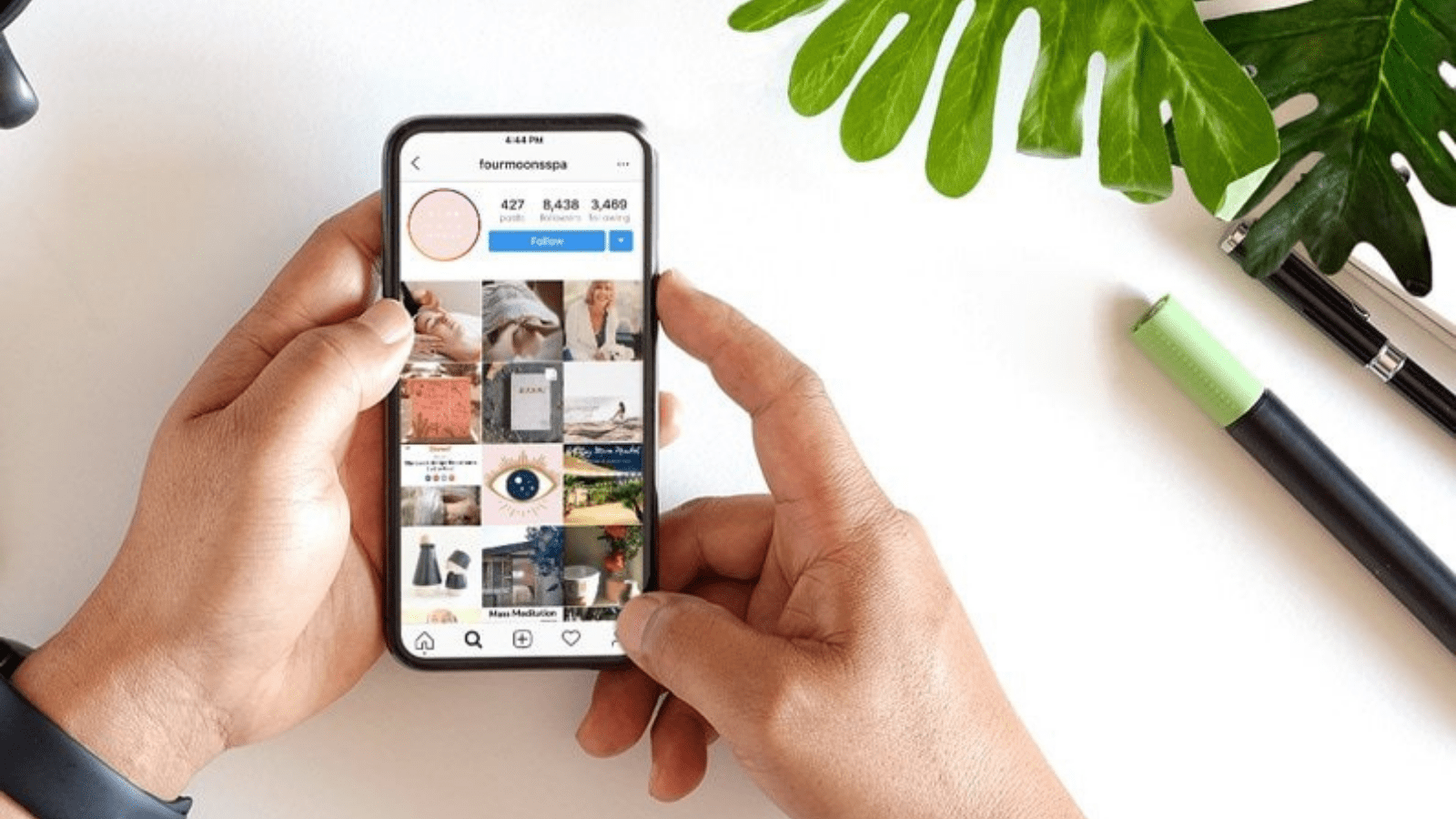 An Instagram business account is different from a normal Instagram account. It is an account made for businesses with special features required to get crucial insights. With an Instagram business account, you get access to additional features, such as the ability to run ads and tools to get every metric. A business account legitimizes your Instagram account and allows you to add critical information like your company's business hours, location, and phone number.
How To Create An Instagram Business Account?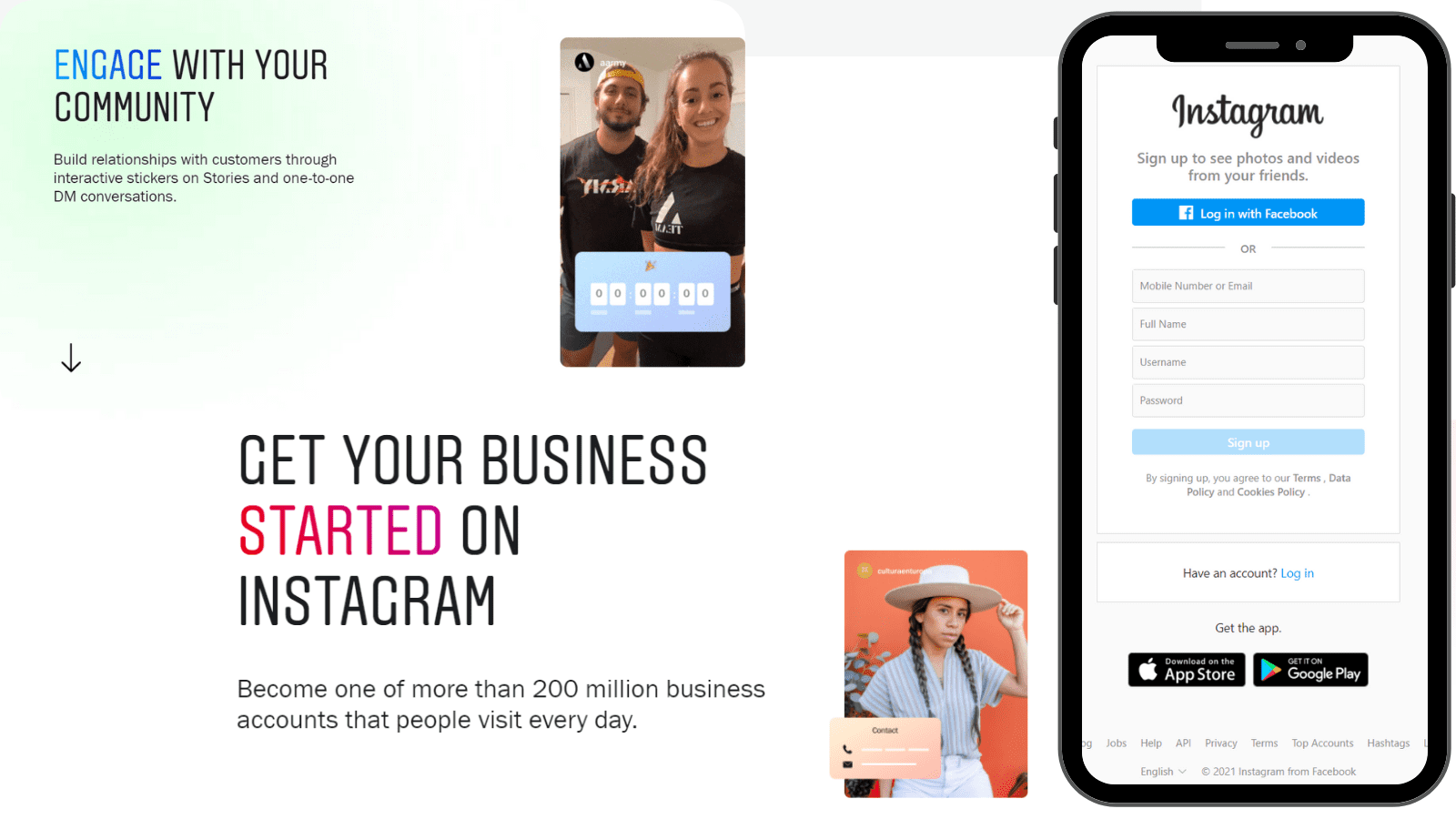 If you want to use Instagram for your business, you need to create an Instagram business account. Here is a step-by-step guide for creating an Instagram business account!
You need to

download and install

the Instagram app for iOS, Android, or Windows.

After installation is complete, open the app and click on the

sign-up

button.

You can choose to sign up with your

email id

,

mobile number

, or an option to

log in with Facebook

.

If you choose an email id or mobile number, you need to provide all the required details.

If you choose to

log in with Facebook

, it will directly sign you in.

Now that you have created an Instagram account, you need to change it to a

business account

.

From the settings menu, tap on the option to

switch to Professional Account

.
Now, you have successfully created your Instagram business account. If you want to give access to multiple users or to connect your Instagram business account to your Facebook Page, make sure to Log in with Facebook, or use an admin email id to sign up.
How To Use Instagram For Business?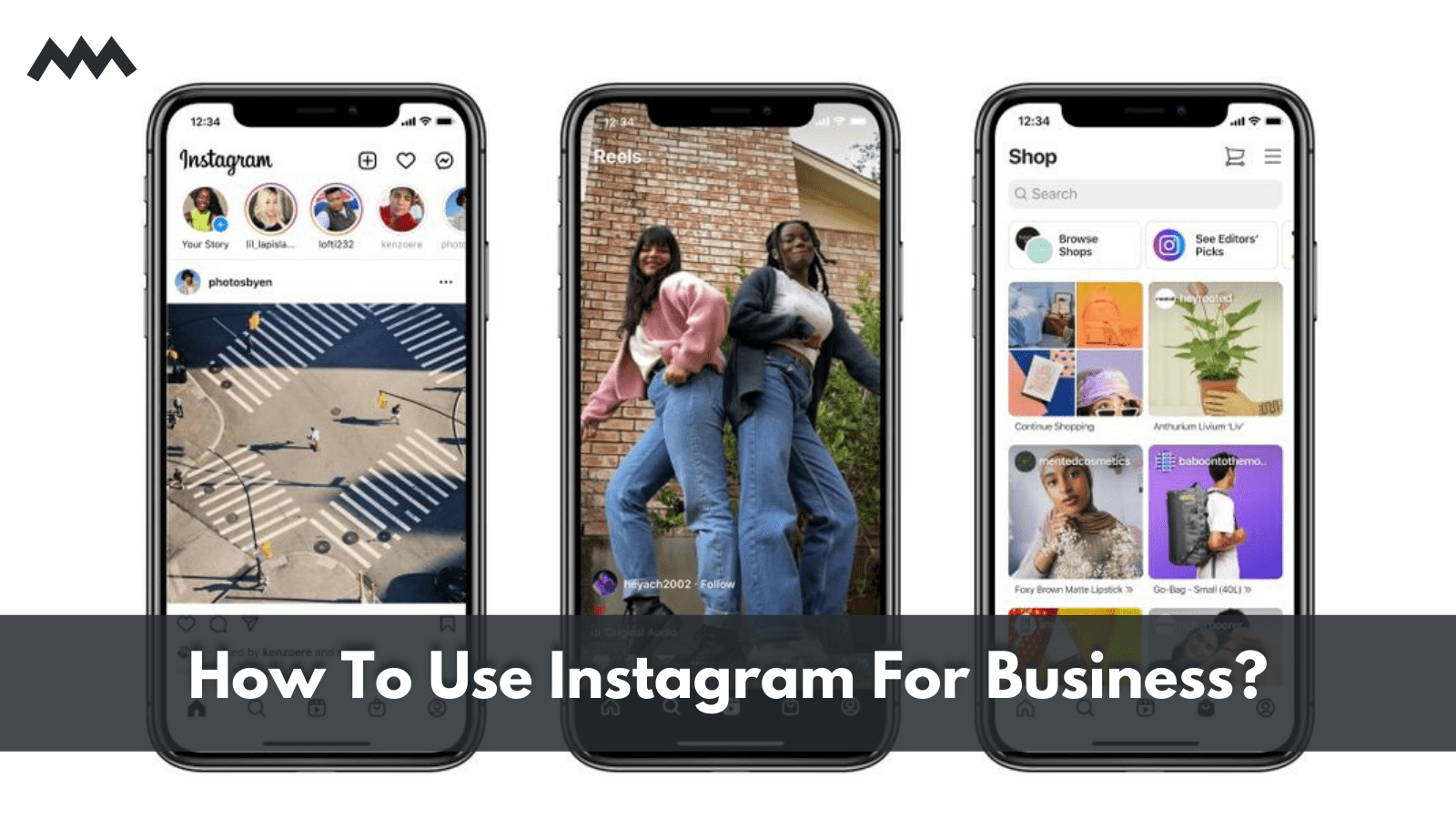 Instagram is an effective tool to grow small businesses, but first, you need to understand the basics. Here is a step-by-step guide for starting your journey with business on Instagram. It will kick start the process to grow business on Instagram.
Optimize Your Bio:
Optimize your bio, fill in all the required details. You need to mention what your business is about and what you provide in the bio section. So that if a potential customer visits your profile, they get an idea of what to expect from you. 
Create A Easy And Unique Username :
Create a catchy username that is unique enough to remember and easy to search. If your username is not easy to find, you might get lost in the ocean of other businesses on Instagram follow you. Your profile pic should be creative and attractive. You can have your brand's logo as your profile picture.
Add Value With Your Content
Most importantly, Instagram is a visual platform. To attract an audience, you must spend time delivering high-quality, thoughtful content.
Instagram has the highest engagement rate, surpassing Facebook and Twitter. To succeed on Instagram, you must create valuable content that attracts an audience and encourages them to engage with your business. Consider how you can delight your customers while staying true to your brand.
Start Posting Quality Content:
Once your profile is optimized, start posting. It's a good idea to decorate your feed with ten to 15 high-quality posts before you really start engaging people. If users visit your profile and find it empty, they probably won't follow you. Post high-quality and relevant content on your profile.
Get Your Existing Audience From Other Platforms:
You can connect your other social media handle with an Instagram account and get your audience on Instagram as well. You can push your followers on Facebook, Twitter, Tumblr, and other sites to your new Instagram account. 
Start Posting Instagram Reels:
The reel is a new feature of Instagram. Instagram is heavily promoting reel content, you can utilize this opportunity to grow your followers. You make short videos of your product, services, behind-the-scenes videos, etc, and share them as reels.
Stay Updated with New Trends:
Social media platforms are all about trends. If you are using Instagram For business, you need to keep looking for new trends and change your campaign strategy according to them. Because what's working now, may not work tomorrow.
Invest In Influencer Marketing:
Influencer marketing is on a boom right now, you can leverage this for your brand's growth. It is one of the best ways to build up your Instagram following when you are starting from scratch. If your budget is thin, you can also look for micro-influencers with a nice-sized following. 
Micro-influencing in particular is a strong opportunity for brand endorsement. In fact, one survey found 82% of consumers are highly likely to follow a recommendation made by a micro-influencer.
Create More Videos:
You might already know the importance of video content on social media platforms. Videos are a vital part of marketing on social media platforms. As mentioned earlier about reels, you can also post long videos on IGTV. Even though photos currently generate more engagement, video is on the rise. Instead of waiting for other brands to dominate while you play catchup, get started right now.
Capitalize on Instagram Ads:
One of the biggest obstacles that stop businesses from trying social media advertising is costs. With a strict budget, it is difficult to justify spending money on advertising campaigns. But Instagram Ads provide a great opportunity for small businesses because it's extremely affordable. There are two reasons you might use Instagram ads — to spread brand awareness or to increase sales.
Maintain A Consistent Aesthetic:
Imagine each Instagram post as an individual page of your website — while each post should be good on its own, ideally, you'll need to create a cohesive theme to maintain an audience's loyalty. You'll need to create a consistent tone of voice and a unified feed aesthetic. Ultimately, the more specific and consistent you are with your posts, the more likely you are to attract your most authentic audience.
You might think it's better to appeal to more people through various themes, but ultimately, staking your claim in a specific niche will help you create stronger, more genuine connections.
Engage With Your Audience:
Engaging with your audience helps your followers feel valued and, as a result, more connected to your business.
There are various ways you can engage with your audience. You might reply to comments on your posts, participate in comment threads, run contests or giveaways, use the Instagram Stories polls feature, or give shout-outs to followers on your Stories, particularly if they post something relevant to your brand.
Utilize Social Media Managing Tools: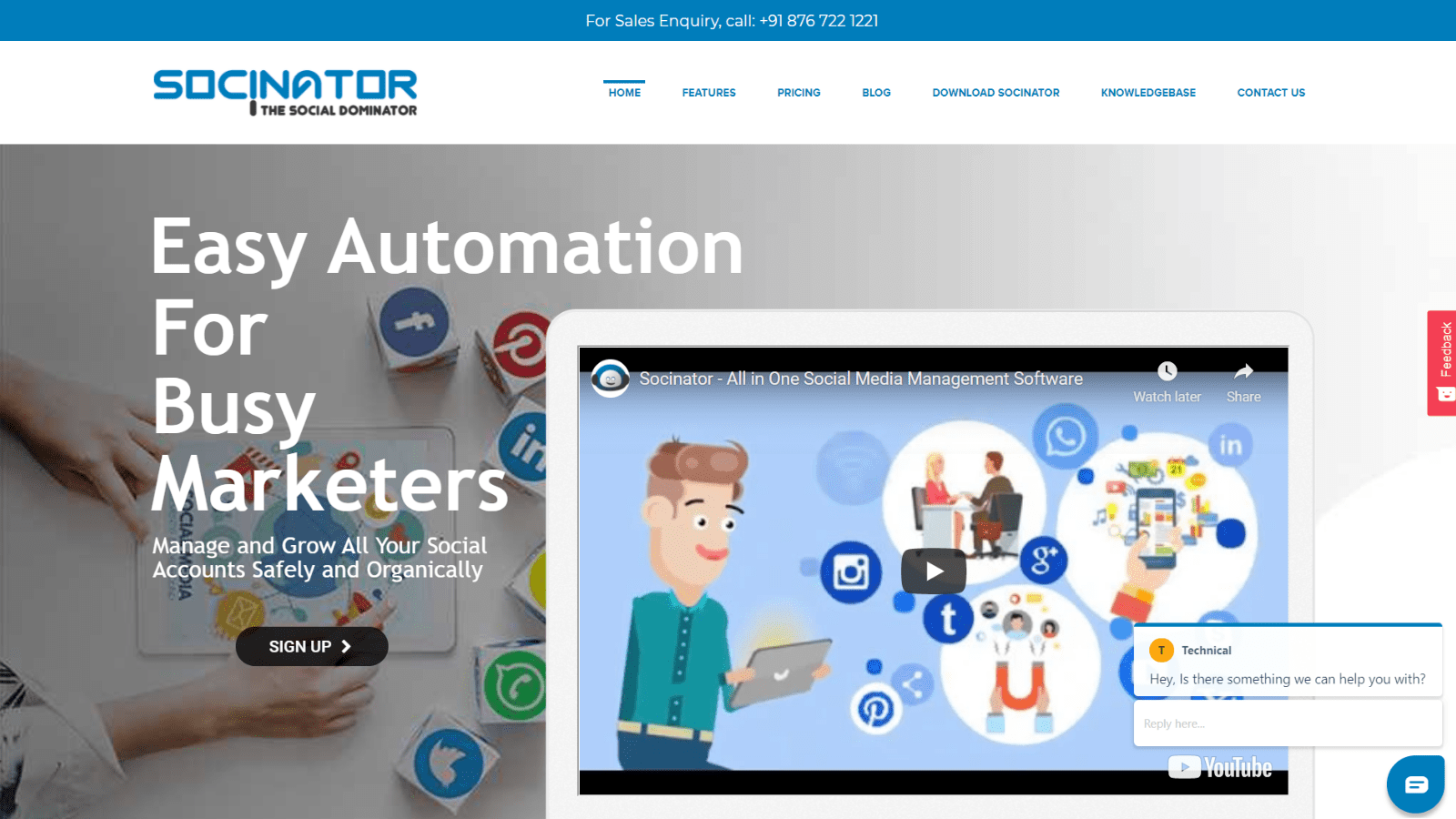 There are many social media managing tools to help you grow your business on social media platforms. One of the best tools you can get is Socinator.
Socinator is a cloud-based social media automation tool. It helps to automate activities on Facebook, Instagram, Twitter, YouTube, and various other platforms. With the help of Socinator, you can take your social media marketing game to another level.
Key Features:
With the help of Socinators auto-publish feature, you can schedule posts on Instagram, no push notifications are required
Auto Engage with Likes and Comments:
Socinator automatically likes, comments, and engages with the audience, which improves your engagement rate and helps you grow your social media reach.
Auto Post/Share Content In Your Groups:
Auto-post/share to social media accounts, schedule your posts, select which groups you want to post or share on all groups from your various accounts.
Activity Statistics And Reports:
It provides detailed reports and statistics for all the activities performed with your social media account, which can help you analyze your marketing campaigns.
Efficient Account Management: 
Socinator's advanced algorithms offer to manage all your accounts efficiently and provide complete control over all activities while looking like a natural human being.
Socinator has many more useful features such as auto endorse connection, auto-engage with likes and comments, auto-publish content from RSS feed, auto-scheduling, etc.

Utilize Shoppable Posts:
Shoppable Posts are a blessing for small businesses. It is an Instagram feature that makes selling on Instagram easier. Instagram allows you to create posts that provide users with a seamless shopping experience directly on the platform. The advantage of this being less friction for turning your followers into customers.
Also Read:
How to Mass Unfollow on Instagram & Remove Ghost Followers Who Won't Follow Back?
Supreme Digital Marketing Tools To Invest In For Rapid Business Growth
Top 10 Pinterest Trends That Will Impact Growth
Wrapping Words:
It is easy to get likes on your travel photos or videos of your cats and puppies. But building your business and growing a dominant presence is not as simple. 90% of Instagram users follow a few brands on Instagram with their personal accounts. What makes those business accounts worth following and let that inspire you? Think about it, and combine that inspiration with the tips and guidance we have laid out here to grow business on Instagram. Regardless of your business goals, Instagram is a powerful tool that can connect you with millions of potential customers. Get started with Socinator today and start managing everything from scheduling to reporting all in one place.