In the modern world, LinkedIn has become an indispensable platform for professionals everywhere. It is a great place to connect and share experiences with others in the LinkedIn community.
Posts on LinkedIn are a way for members to share their professional expertise and anecdotes with their connected people.
These posts can vary from a status update to videos, polls, announcements, promotion of events, or a simple brief statement. Since its founding in 2002, it has grown to be one of the largest professional networks in the world.
With more than 950 million members in more than 200 countries and territories worldwide, LinkedIn has been creating economic opportunities for every member.
It is also very much valued for lead generation, as many businesses cite LinkedIn as the most reliable source for driving qualified leads.
Thus, LinkedIn has become an inseparable part of the lives of all professionals. Nowadays, if we talk about professionals or for business, people are utilizing automation solution for post creation. To ease the task of post generations, you can also make use of a LinkedIn Post Generator.
But what is a post generator on LinkedIn?
Let us understand this first.
In a hurry? Listen to the blog instead!
What Is A LinkedIn Post Generator?
By using it, you can create and publish posts on LinkedIn that are engaging and effective. A post generator simplifies the task of creating engaging posts by offering features such as text formatting, hashtag recommendations, content suggestions, and media integration.
A LinkedIn post generator focuses on enhancing the impact and visibility of your LinkedIn posts by optimizing them for a professional audience. You can draft posts efficiently and maintain their consistency online. It makes a post generator a valuable tool for professionals and businesses aiming to connect and engage with their network on this platform effectively.
It is a free tool that helps you to get LinkedIn post ideas that helps create posts that are attention-grabbing and professional easily. You can also select the topic and the tone of voice and click to make a post.
Since generating posts becomes easy with a post generator for LinkedIn, the question that emerges here is, "What is the need for it ?"
Well, we will get to it now.
Also Read:
9 Ways Automatic LinkedIn Posts Can Make You Invincible
How To Find The Best Time To Post On LinkedIn?
Need Of A Post-Generator For LinkedIn: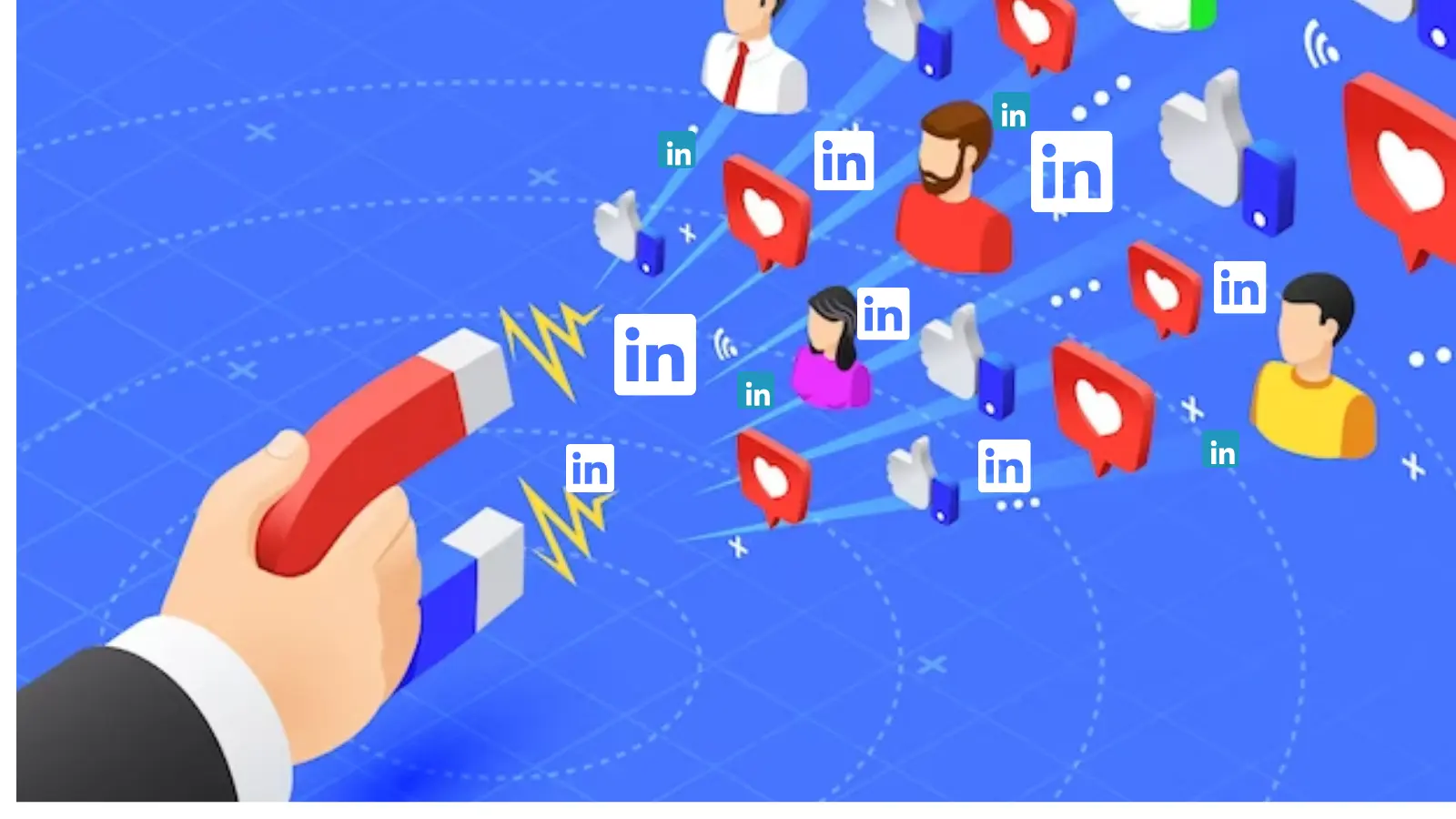 Like all content creation, writing valuable content on LinkedIn takes a lot of time. Consistency on the platform is crucial. When you post content at least once a week on LinkedIn, you see twice as much engagement on it.
There are many benefits of using a post generator in Linkedin. Below are some benefits you get, when you use a post generator for LinkedIn.
Generate High-Quality Content:
When you use a post generator tool, you generate well-structured and high-quality content that can captivate your audience effectively. When you use an automated LinkedIn post generator, you get the benefit of the algorithms, which enhances your content's readability and increases the impact of your content.
Save precious time and effort:
Through the use of this tool, you get to create posts for your LinkedIn page in a mere few seconds. Simply enter a topic or keyword, and the post generator will create it for you. You get relief from wasting valuable time brainstorming, writing, and editing your posts.
You get to create posts that resonate with your LinkedIn followers. It does not matter what industry you belong to; using a post generator becomes handy in every sector.
When you use a LinkedIn post generator, you get to elevate your professional status with better posts that clarify your position as an expert in your industry. You get to share your expertise, opinions, and insights across topics.
Thus, using a post generator for LinkedIn is highly beneficial for you. But here, two questions come to mind- how to use this tool, and can you schedule posts on LinkedIn?
The answer is Yes. Although Linkedin allows you to schedule your posts, there are also other solutions, using which you can schedule LinkedIn posts using an automation tool like Socinator.
When you use automation tools, you get the benefits of automating and scheduling of your posts on LinkedIn. But before diving deeper into automation, let's learn how to use LinkedIn post generator tools.
How To Use Post Generator On LinkedIn:
Post generator tools for LinkedIn are the tools that use artificial intelligence to create professional posts. They save your time and effort by generating post ideas.
Some of these generators are:
LogicBalls,
SocialPilot,
Hootsuite,
Postfluencer,
Resonatehq,
Jasper.
Using any LinkedIn post generator is very easy. You need to follow a few steps to do it. Following are the steps you can use to generate posts easily.
For example:
LogicBalls: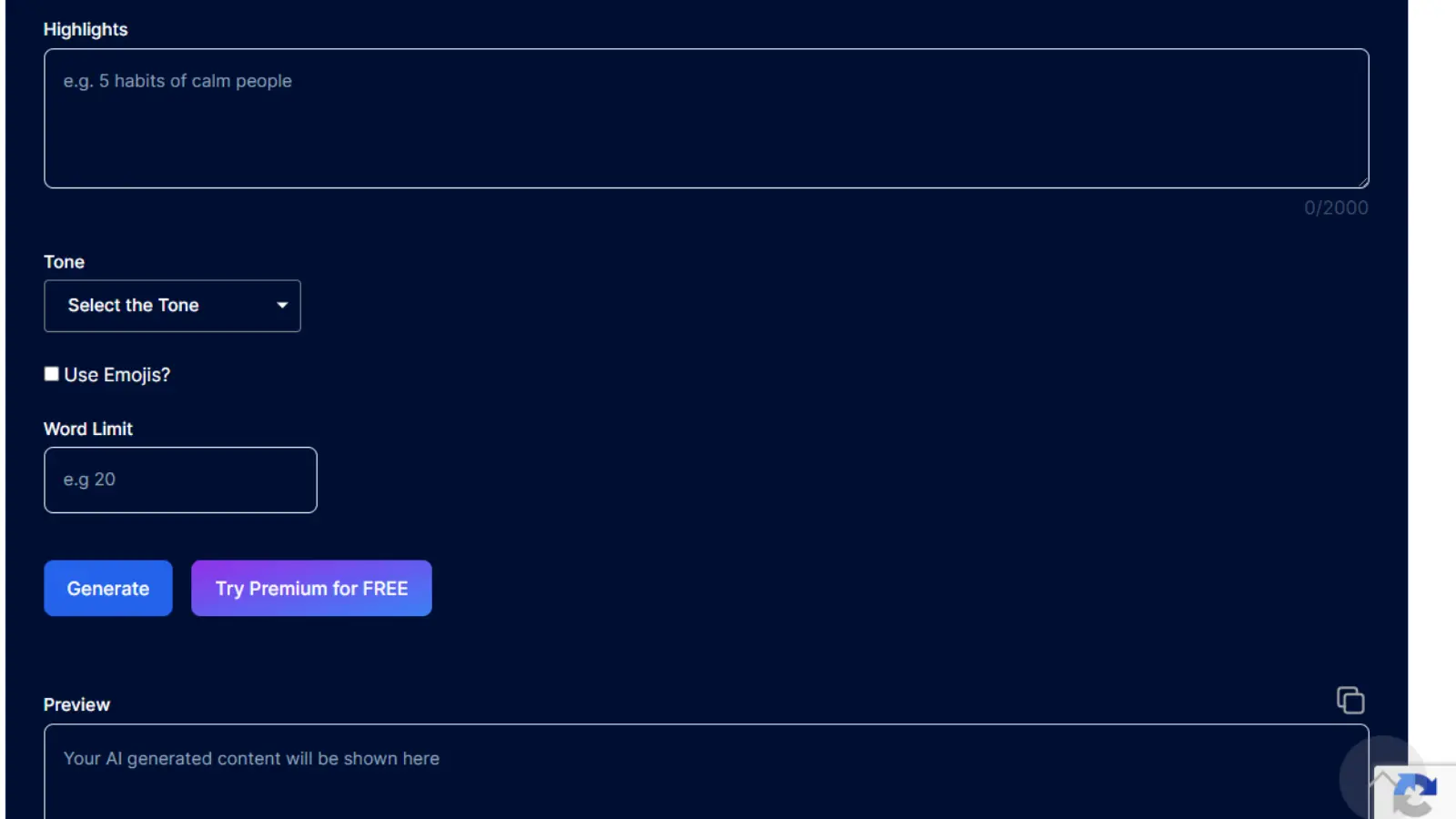 Add your topic:- You can start by entering the main topic or theme related to your post. It must be within 2000 words.
Select the tone of your choice and word limit:- You have to select the tone you intend your post to be in. There is an option of choosing from 15+different choices in the dropdown menu, which ranges from casual to convincing.
Generate and review:- You can then select- generate post, and the artificial intelligence tool will make a post idea for you. The option of editing it lies with you.
Jasper: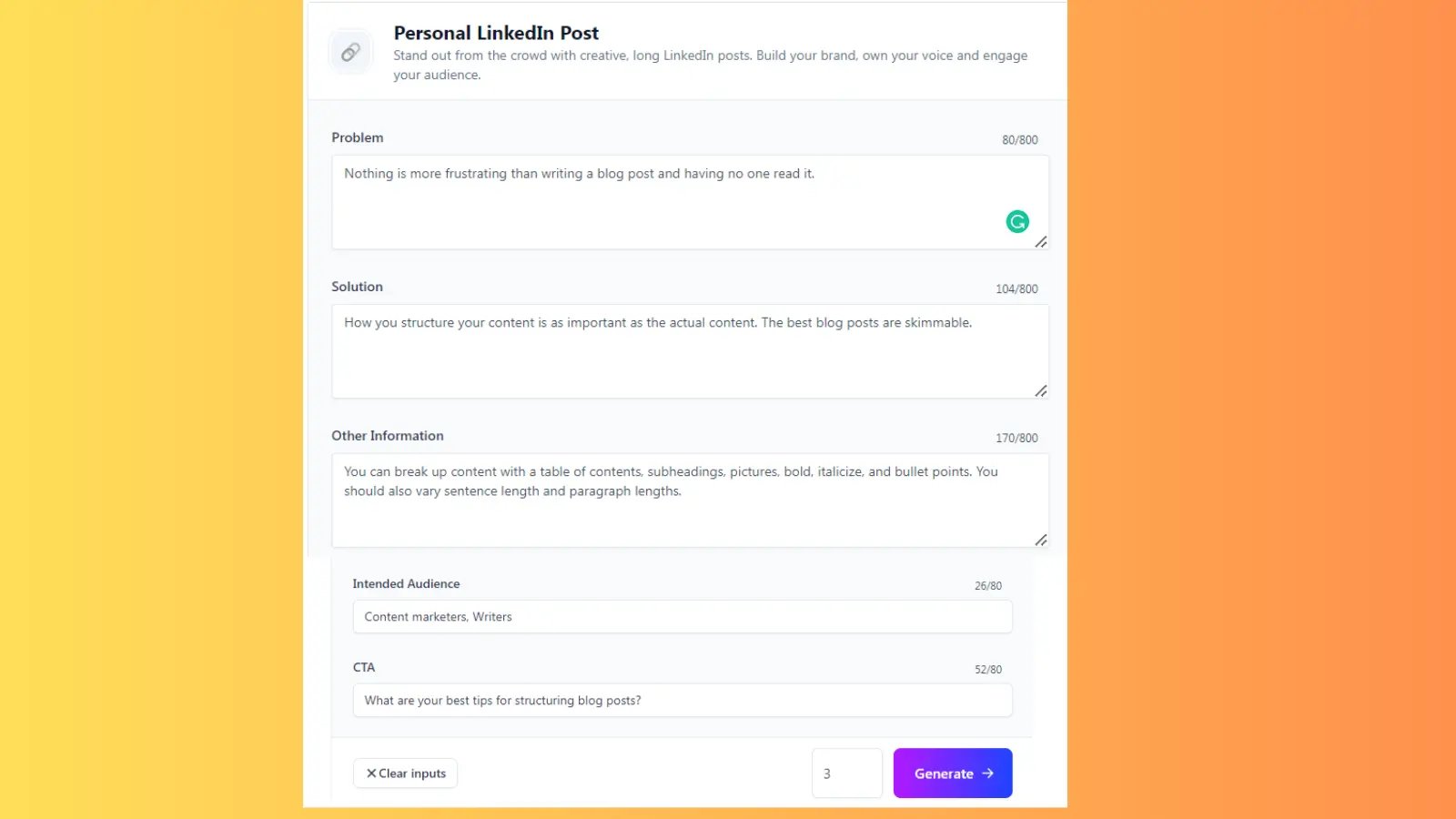 When using Jasper as your LinkedIn post generator, you need to fill out a template and then hit the generate button to create a post. The template will ask you to outline the following:
Problem:- You need to describe a problem or a challenge that your business has faced.
Solution:- Then you have to explain how you overcame that obstacle.
Other information:- Use this to add context, some tips, or other lessons.
Intended audience:- Here you need to describe your audience and get creative with it too, like creative product managers, Gen Z finance majors, or discouraged sales associates.
CTA:- Now, you need to craft a convincing and compelling CTA. you have to inform your audience where or how they can take action. Then you can click generate to generate posts.
A LinkedIn post generator like Jasper and LogicBalls take the help of AI tools to facilitate the writing process by providing a framework for posts. These tools suggest relevant hashtags and can change the length of posts, which makes your content algorithm-friendly.
So automation in LinkedIn post generation is an inseparable part. Without AI, post-generation will become very complicated and burdensome too. So, let us see what role automation plays here.
Role Of Automation In LinkedIn Post Generator: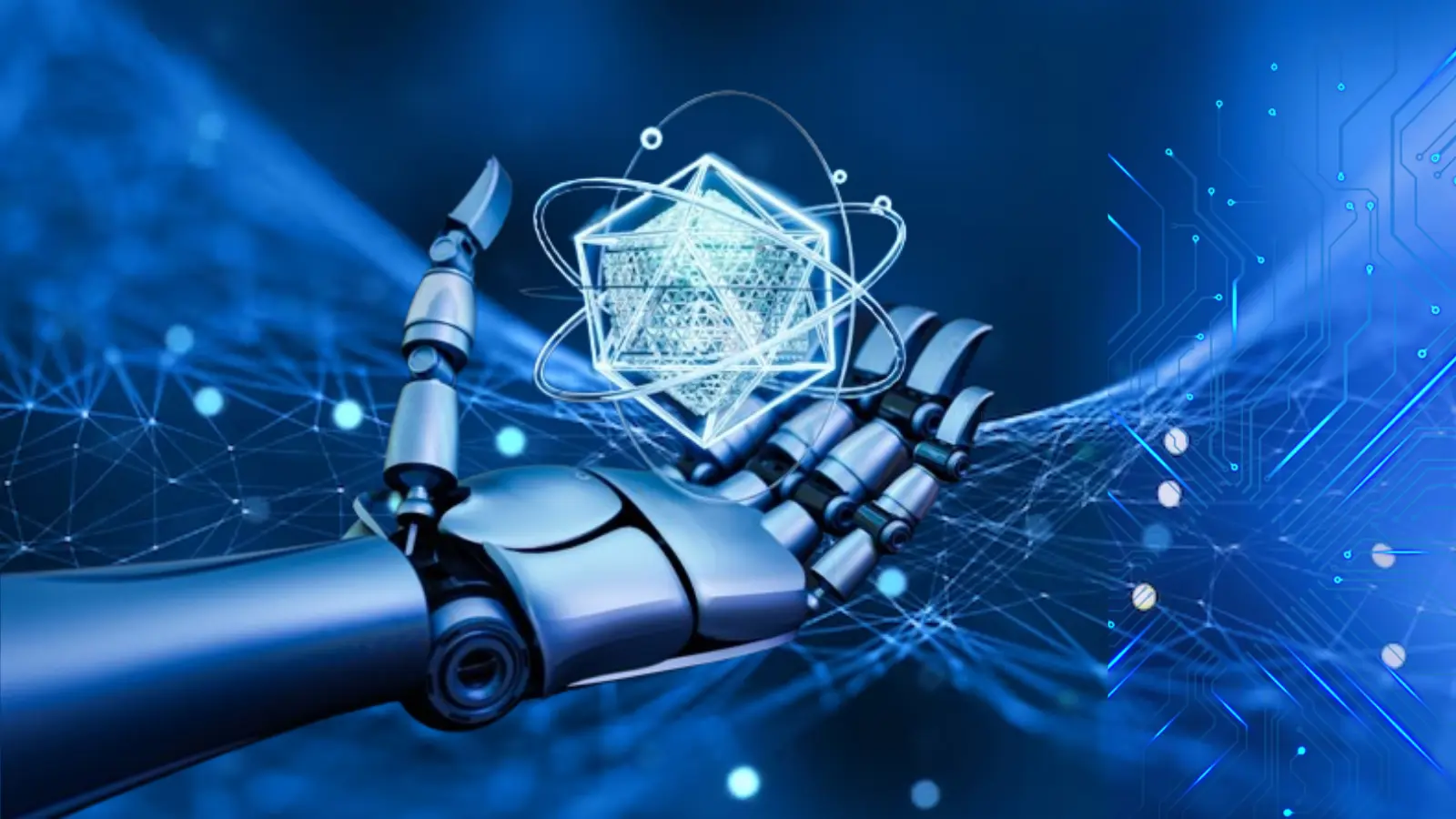 Automation has become an integral part of our online life. And when automation takes over, all our work becomes effortless. Thus, using LinkedIn automation tools, you can improve your outreach efficiency on social media platforms.
By automating your tasks on LinkedIn, you can make efforts and focus your time on the things that require a human touch. You can reduce the number of people on your team by automating LinkedIn messages. It helps to save your budget for other things instead of hiring a person for the task that can be automated using software.
Social media automation tools become handy, especially when it comes to posting on various social media platforms, including LinkedIn. Automation of posts saves your time and effort by eliminating the need to regularly and constantly logging in and posting.
Social media marketing automation assists you in proper marketing of your page and also gives suggestions on how to improve your marketing techniques.
An automation tool like Socinator helps you here a lot. Using automation for LinkedIn post generator eases up your tasks significantly.
So, let us discover what Socinator is and its benefits for you.
Socinator- A Social Media Management ToolIt is a tool that can benefit professionals who look to establish themselves as a brand using automation. You get to build relationships and generate new business opportunities.
By leveraging this powerful tool, you get to showcase your expertise and accomplishments while staying up-to-date with industry news and trends, thus attracting new and better leads for your businesses, which are profitable.
Through the use of this social media automation tool, you get a large number of benefits, such as:
Automation tools help to boost your reach on the platform and help you post consistently in your network without having to log in manually to your account every time. This helps you to expand your network, attract new followers, and boost your post engagement.
Using an automated posting tool helps you to schedule posts in advance. It helps individuals and businesses with limited time and resources as it enables them to publish content consistently without leaving out other tasks.
Use of automation in a LinkedIn post generator, and brand reinforcing can be done effectively. Consistent sharing of relevant posts can benefit you, as you can portray yourself as an expert in your field and build a reputation for yourself.
Demonstrate leadership of thought:
For you to establish your authority in your industry, you need to showcase yourself as an industry expert. Ensure that you share LinkedIn posts that are insightful, informative, and relevant. It can include blog posts, infographics, articles, or videos, that show your expertise and knowledge in the field.
Interacting and engaging with your audience and building relationships with your network can be achieved easily with automated LinkedIn posts. To have an engaging audience and build relationships effectively, you should focus on creating content that will provide value to your audience and begin conversion.
Generate new leads and opportunities:
You can accelerate your career and growth by consistently building your brand and leveraging the power of automation on LinkedIn. By showcasing your skills and expertise in your field, you can capture the attention of potential partners and clients, thus generating new leads and opportunities using an AI powered LinkedIn post generator.
Posting regularly and engaging yourself in industry-related content helps you to stay informed on the latest developments and make potentially valuable connections. Consider sharing news articles, industry-specific content, or thought leadership pieces to be relevant and informed.
Showcase your accomplishments:
When you share posts showcasing your professional achievements, you create a credible image of yourself and help to attract potential clients or opportunities. Sharing your success with your network consistently through LinkedIn posts aids you to showcase your achievements.
Conclusion:
Using a LinkedIn post generator to generate content becomes very helpful in the long run. It saves your precious time as it minimizes your efforts to stay relevant on the platform.
An automatic posting tool such as Socinator helps you schedule your posts in advance and sets them to go live at the best time. This allows you to focus more on vital tasks, and helps you to maintain consistency in publication of your content without leaving behind other vital tasks.
With the advent of technology and its benefits in the modern world, anyone will seldom deny taking help from automation in their business profile. And using a LinkedIn post generator, your professional career is destined to achieve amazing feats in the field of your expertise.