Knock knock.
Who's there?
It's Norma Lee.
Norma Lee who?
Norma Lee, I don't eat so much!
Well! Well! Well! Thanksgiving it is, and what's not to love about this festival that brings friends and families together for a fun-fledged get-together while getting their hands on lavish feasts? In fact, it's not only restricted to family and friends but is expanded to marketers and their customers with a fierce rush of coming up with creative Thanksgiving social media posts.
And if you are a marketer and you are stuck in between the frenetic race to get enough quality branded content in social media, your worry ends here. Influencer Marketing is at your rescue. You can have your turkey and enjoy it to the fullest while enlisting influencers that can promote your business exceptionally well on social media. 
But it's not easy to compete in a market that is rapidly evolving, particularly with the emergence of hybrid shopping ventures. Therefore, we have come up with creative Thanksgiving social media posts and campaign tips for influencer marketing that will be as easy as 1-2-3-4-5.
So, Want to break the wishbone? I'm wishing you get a massive social media presence. This blog will help you get that. Let's go
01- Define Your Campaign Goals Budget
Prior to anything else, it is more than necessary to carry out an influencer marketing campaign with a goal and budget in mind. By establishing these objectives, you can efficiently and without any stumbling blocks shape the campaign. Having said that, this will also help to brief the influencers about your social media thanksgiving interactive posts.
Once your goals are set, it's crucial to establish a budget for your Instagram Thanksgiving campaign and decide how much you want to spend. After all, there is much more that you need to decide beforehand. For instance- Christmas and new year campaigns can not be left in the corner. 
In a nutshell- Planning ahead and allocating a chunk of your annual marketing budget for your Thanksgiving campaign typically helps.
02- Collaborate With the Right Influencers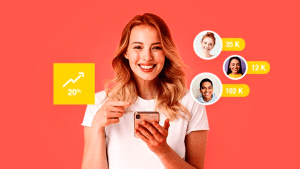 Let's start off; by just imagining A fashionista influencer is promoting a techy gadget- Does it make sense? 
That's the whole point of this topic. Brands must pick an influencer of their own niche. Believe it or not- Influencers can make it or break it. And there should not be any compromise with the Thanksgiving social media posts.
You can, in fact, use a variety of influencer search tools to find Instagram users who are influential in your niche. The search results may also be filtered based on influencer parameters like geography, engagement rates, and follower counts.
The next big mistake is evaluating influencers on the basis of their number of followers or engagement rate. Relevance should always be the primary consideration when choosing influencers.
03- Social Media Takeover
Have your friends ever hijacked your social media account and created a ruckus on your social media? Well! If your answer is yes, I am pretty much sure that the ruckus definitely brings along a lot of engagement.
So, I hope by now you know the storm that's gonna hop in with your social media account. Influencers can take over your social media for Thanksgiving, sharing their day with your followers through tweets, Snaps, and Instagram posts. Believe me; This is one of the best Thanksgiving social media engagement posts ideas one can ever come across.
The motto is very clear; To level up the curiosity, double the engagement, and of course, skyrocket your brand's success.
Pro Tip- Leverage social media automation tools like Socinator that can help you schedule your posts across various social media platforms. You might be wondering what's the need for a social media scheduler. Well! It can help you schedule all your content and plan all the content beforehand to avoid the ruckus on "The Day".
And Socinator being on your side, you can come up with an impactful social media campaign across various platforms. Socinator offers you affordable pricing and distinctive features that can help you with your Thanksgiving social media posts. Hop in to have a brief look into its distinctive features.
Activity Reports And Statistics

Auto-Publish Posts, Comments, Followers, Followers Back, Likes, and Email Repost, confirm accounts and unfollow

Send out Messages

Compelling Account Management

Discover And Extract Targeted Users, Hashtags, And Engaged Users
So, what's stopping you from managing a Thanksgiving automatic reply for your audience? Sign up Now!
04- Run a Thanksgiving social media posts contest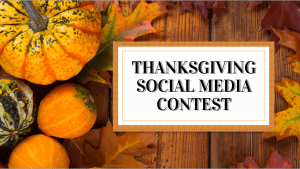 This social media idea can go well with your trivia posts or it might be completely original on its own. Giving away something with happy Thanksgiving social media posts will give your consumers something to anticipate all year long.
Test the Thanksgiving knowledge of your audience! You can raise the curiosity level by adding historical facts about Thanksgiving as well as polls on some of your social media followers' favorite Thanksgiving-related topics, and you can ask them to respond to the questions in the comment section. Furthermore, Your prizes don't have to be pricey either. You can provide the winner with a voucher, discount, or gift. Your level of engagement will rise, and that itself will be priceless!
Pro Tip-  Rather than awarding them with a free item, how about giving the winners special access to the Black Friday & Cyber Monday pre-sale?
On that note- Here's a bonus blog for you for your Black Friday Campaign.
4 Alternative Ways To Approach Black Friday In 2022
05- Offer fall deals
Is it even a Thanksgiving, if it's not about free gifts, offers, deals, and lavish meals? Well! Deals are the catch here. Offers and discounts entice shoppers to buy "in time," increasing the likelihood that they would make impulsive purchases. Therefore, to entice your customers- compelling deals for Thanksgiving social media posts can ace your brand game. 
Let your consumers know about special deals in the weeks leading up to Thanksgiving is an impactful way to get their attention. Believe me or not, you can witness 10X growth in your reach when special deals and advertisements are combined throughout the shopping season. Additionally, you'll make a lot more sales in less time.
06- Build and Maintain Influencer Relationships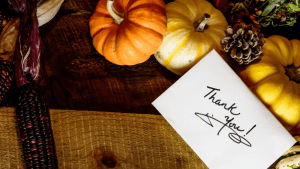 Lastly, all is well if it ends well. So, make sure you maintain a healthy relationship with your influencer even after your influencer campaign is over and if at all feasible, set long-term collaborations. If your brand appeals to the influencers, they can wind up supporting it even after the compensated partnership has finished. After all, it's a win-win for both of you.
The most effective approach to extending these relationships is via little acts of gratitude. To make them feel special, a little Christmas gift can make their day. Or just a Thankyou letter works as fine as a lavish gift.
Make them feel unique no matter what you do. This can assist you in converting them into long-term brand evangelists.
Check out our latest blogs:
The Day Itself!
Thanksgiving was never meant to be shut up in a single day. While Thanksgiving can prove to be a turning point for your brand, it can also put you in a holiday rush. It's up to you how you glitter up your Thanksgiving social media posts campaign. On that note- Don't overlook the things that might strengthen or weaken your brand's reputation. Also bear in mind that honesty and humor sell better than anything else these days on social media. Last but not least, don't overlook the day itself! Consider a humorous approach to celebrate Thanksgiving with your audience in 2022.
So, that was all in this blog. I hope the above thanksgiving social media post examples and tips for running a successful Thanksgiving social media campaign will help you with massive success. 
Happy Thanksgiving!