Twitter, with over 300 million monthly active users, is an all-embracing microblogging platform. It provides room for numerous social media marketers to promote their brand on this social networking site. Hence, every Twitter user actively participating with the platform looks forward to an update every month. 
Also, knowing these Twitter updates from before can let you be the trendsetter in the upcoming days and make the most out of the platform for advertising your products and services.
Hit The Play Button To Listen This Podcast:
While some Twitter updates are already rolling out, it is time to check out the upcoming features, which will provide a completely new look and feel to the platform for all the social media managers out there.
Share Your Tweets As Instagram Stories: Good News For iOS Users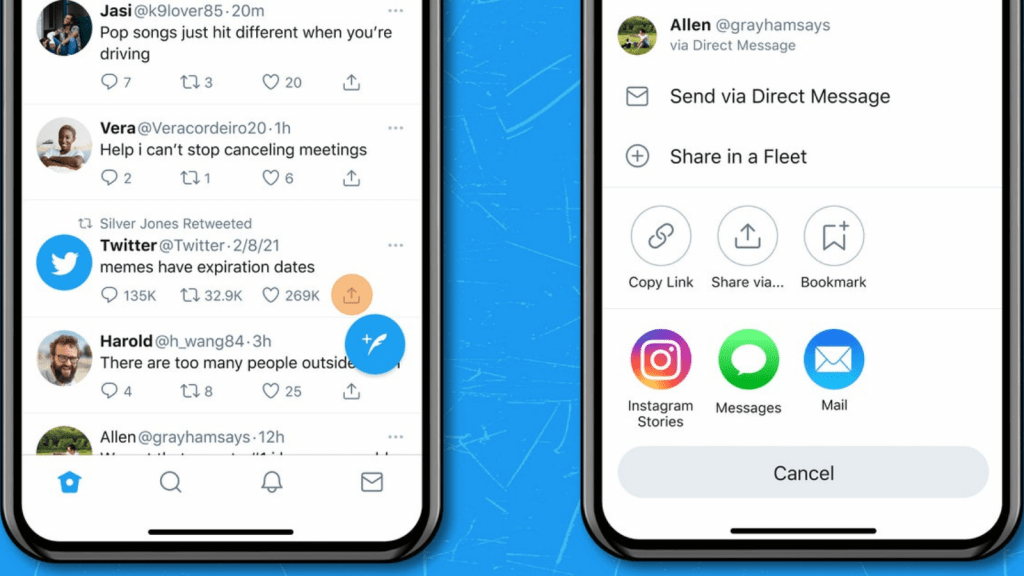 Twitter recently announced the release of an update that enables Twitter's iOS users to share their latest tweets to their Instagram stories. The Twitter feature works from the iOS share sheet. So, you need to click on the share button below any tweet, and a list of supported applications appears. Hence, tap on Instagram stories to get your tweet shared on Instagram.
Again, once your tweet appears in the Instagram stories section, you can resize, reposition and add stickers, music, filters, or any other element to make the tweet look more attractive.
However, before Twitter released this update, users could click a screenshot of the tweets they shared and upload it in the Instagram stories. But with the onset of this update, the entire process has become a lot easier. 
Also, the users need not capture the screenshot, save it to the gallery, edit the content, and then share it on Instagram. It merely takes a few steps to take your Twitter content to Instagram.
So, moving on, this feature is currently able to import text and image posts. It does not support sharing video content directly.
While it has become much easier to share a tweet on Instagram stories with the latest Twitter update, the reverse is still not possible. Sharing any Instagram post on Twitter shows up a simple URL that redirects the users to the Instagram page. 
Also, a pretty similar Twitter update rolled out last year in integration with Snapchat. But it was also only available to iOS users, with no traces of having the same for Android users any time soon.
Twitter Enables Contents Creators To Monetize Their Posts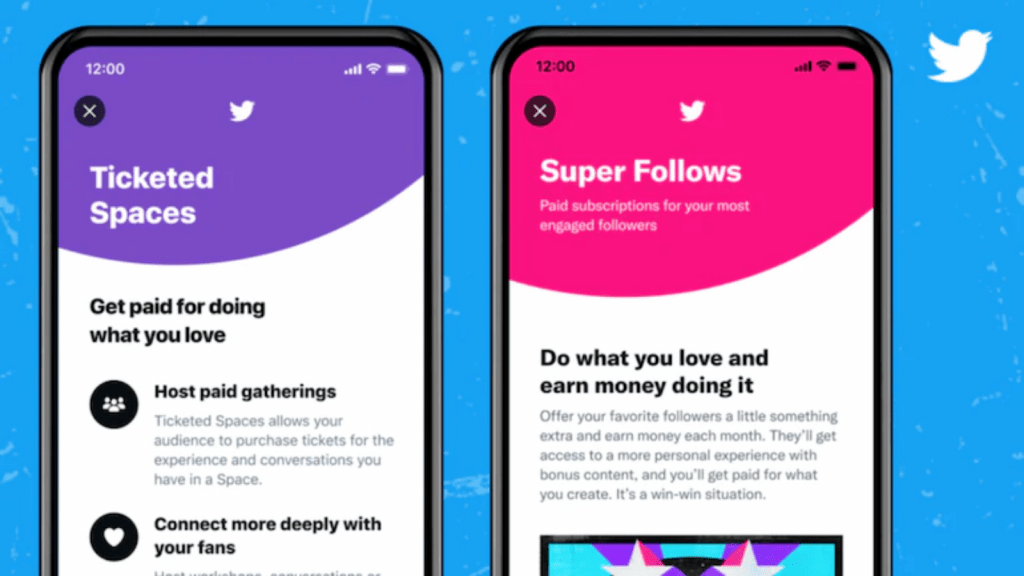 Twitter has released 02 new monetizing features on the platform and has started receiving applications from the content creators for the same. It has introduced test groups for influencers to be a part of Super Follows and Ticketed Spaces. 
These 02 latest Twitter updates will encourage the content creators to earn 97% revenue from the exclusive content they share on Twitter.
With the Super Follows features, the creators can demand $2.99, $4.99, or $9.99 per month to let brands use their content. Again with Ticketed Spaces, they can create individual audio rooms on the platform. It can cost from $1 and can range up to $999. But Twitter said it will be only available to a small group for now.
So, if you are a content creator on Twitter, you can earn up to 97% revenue from the recent updates, and Twitter will only take 3% share out of it when you reach $50,000 earnings from both the products.
Both Super Follows and Ticketed Spaces are available on the sidebar of the Twitter account. The update is currently open to only US users and will be rolling out to all the other countries soon this year.
Tweet Reaction Picker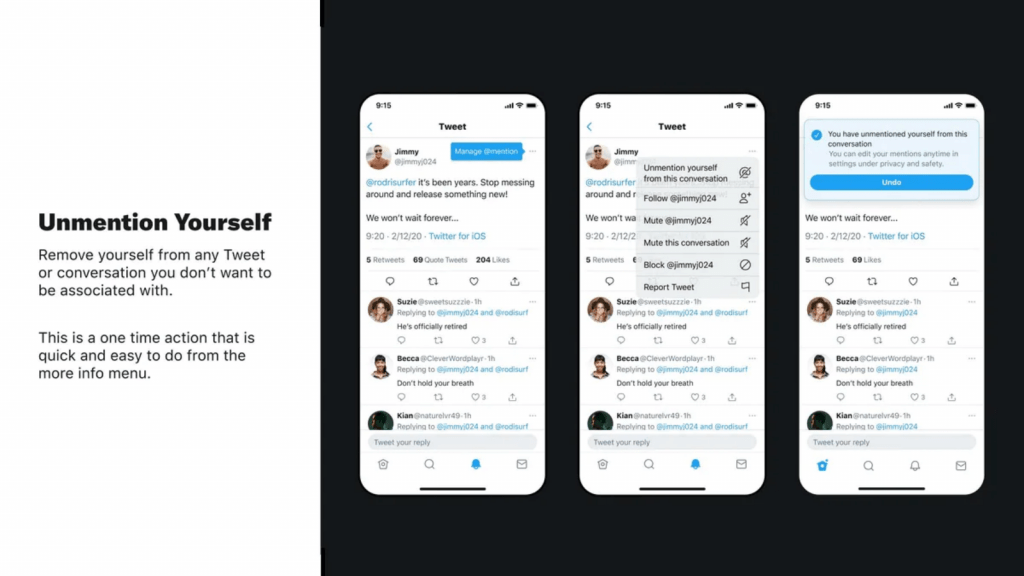 Twitter is working on a feature lately to enable its users to react to any tweet through some selected emojis. The update will be pretty similar to the emoji reaction on Facebook.
Apart from this, it is also working on a feature to remove their mentions from any tweet or conversation.
Coming back to tweet reactions, there will be five emojis that will get displayed at once, and selecting a particular emoji will show what it indicates. All of these five emojis will be  'Like,' 'Cheer,' 'Hmm,' 'Sad,' and 'Haha,' along with their emojis.
Again, the unmentioned feature will enable the users to keep themselves away from unwanted conversations. 
With this feature, the users can remove themselves from any conversation or tweet in which they are mentioned directly. It will be available in the three-dot menu next to the tweet, and the users can untag themselves.
Also, if you unmention yourself through this feature, the author can not mention you for the next one, three, or seven days.
Socinator- The Social Dominator

With all these Twitter updates, it might become a little daunting to manage your Twitter presence along with other social media channels. So, to make the most out of these Twitter latest features and save time to interact with your audience and create the perfect engagement, you should get your hands on a social media management tool like Socinator.
Socinator is a social networking intelligence tool that enables you to schedule and automates all your posts from a single and uncomplicated dashboard. You can create unique and organic content from before, and with Socinator's automation process, it can get posted on the platform according to your preferred time.
The tool works amazingly for about 08 social media platforms in total, and these are Facebook, Instagram, Twitter, YouTube, LinkedIn, Quora, Reddit, and Pinterest. It acquires numerous features, and all of them are according to the social networking site for which it is getting used.
So, let us have a look at Socinator's Twitter marketing features.
Auto Publish Posts
Activity Statistics And Reports
Auto Comment
Auto Follow
Auto FollowBack
Auto Like/Favorite
Auto Reply Messages
Auto Retweet
Broadcast Messages
Efficient Account Management
Find And Extract Engaged Users
Find And Extract Hashtags
Find And Extract Targeted Users
Full Account And Report Export
Tweet From RSS
Mention Users
Monitor Folder Feature
Proxy Support
Schedule Profile Pic Change
Spintax Support
Unlike
Message To New Followers
Scrape User
Scrape Tweet
Auto Re-post
Welcome Tweet
Tweet To
Delete
Mute
Unfollow
Apart from acquiring all these extraordinary features, Socinator has a reasonable and flexible pricing plan. And this makes it compatible with small and medium-scale businesses as well. 
So, without any more delay, get started with Socinator today to make the most out of all the social media platform updates and to always remain on the trending list.
Check Out Our Latest Posts:
Influence Of Social Media Analysis In Your Marketing Strategy
Are Instagram Reels Worth Your Marketing Strategies ?
How To Choose A LinkedIn Automation Tool That Won't Get You Banned?
Closing Lines
So, here we come to an end of all the latest Twitter updates which have rolled out recently or will be up soon. Hence, if you do not want to miss out on the engagement and hype that these latest features will be creating in the market, get your hands on Socinator today and start scheduling and automating your posts right away.
I hope the article helped you know more about the latest Twitter updates. Is there something that we can incorporate? Please drop your thoughts in the comments below. I would love to hear from you!