Are you looking to share your unique videos on Instagram? Well, you've come to the right place! 
With over a billion active users, Instagram is an excellent platform for sharing your creativity and telling your story. Although Instagram provides many features for posting a variety of content, one feature that gained maximum attention and has been loved by all is Instagram Reels. It has become a powerful form of content on social media and is known to drive high engagement levels. 
Well! Posting videos on Instagram has numerous benefits. It helps to increase your reach and grow your audience by bringing maximum engagement. There is no denying that millions of people are using this feature on Instagram. However, many people still lack knowledge of how to post a video on Instagram.

So whether you are an expert or a learner, this guide will provide you with every detail from scratch on posting videos on Instagram.
So let's get started!
How To Post A Video On Instagram?
Tip 1:
Set Up Your Instagram Account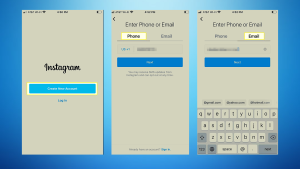 Before posting videos on Instagram, you need to set up your account. Here are the steps you need to follow to create and set up your Instagram account:
Create an Account: 
You might be wondering how to post a video on Instagram. But before that, it is vital to set up a few things. To create an account on Instagram:
Download the app from the App Store or Google Play Store.

You can launch the app by tapping on its icon after installing it.

Click "Sign Up" and enter your email address or phone number. You will receive a confirmation code via email or text, which you will use to verify your account.
Verify Your Email and Phone Number: 
Once you've entered your email or phone number, you will receive a confirmation code. Enter the code to verify your account. It will ensure that you receive notifications and updates from Instagram.
Create a Profile: 
After verifying your account, you will be prompted to create a profile. Enter your full name, username, profile picture, and bio. Your username and profile picture are essential, as they will help people identify you on Instagram. Your bio should briefly describe who you are and what you do. Now you are close to how to post a video on Instagram.
Set Up Privacy and Security: 
Instagram provides several privacy and security options that you can use to control who can see your posts and interact with your account. You can adjust your privacy settings by going to your profile, tapping on the three lines in the upper right corner, and selecting "Settings." Under "Settings," you can adjust your privacy settings, such as who can see your posts, tag you, and view your story. You can also set up two-factor authentication to enhance the security of your account.
Following these steps, you will successfully set up your Instagram account and are ready to start posting videos. Regularly update your profile and privacy settings to ensure that your account remains secure and your content reaches the right audience.
Tip 2:
Prepare Your Content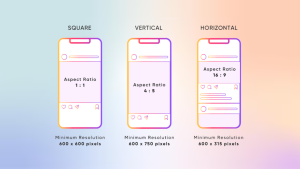 Before posting a video on Instagram, you must prepare your content. Here are the steps you need to follow to ensure that your video is ready for posting:
Choose the Right Video Format: 
Are you aware of how to load video to Instagram? Let's know about it!
Instagram supports several video formats, including .mp4 and .mov. Make sure to choose a format that is compatible with your device and provides the best quality. The recommended aspect ratio for Instagram videos is 4:5, but you can also use 1:1 or 9:16.
Record Your Video: 
It is a crucial part of your query: how to post a video on Instagram. Record your video using a high-quality camera or smartphone. Make sure to consider your video's lighting, sound, and composition. Aim to create a video that is visually appealing and tells a story.
Edit Your Video: 
Once you've recorded your video, you can use a video editing app to enhance it. You can add filters, effects, and music to engage your video more. Trim your video to ensure that it meets Instagram's time limits (up to 60 seconds for regular posts and up to 15 seconds for stories).
Add Captions, Hashtags, and Locations: 
Add captions, hashtags, and locations to make your video more discoverable. Captions can help tell the story of your video, while hashtags and locations can increase your visibility on Instagram. You can add up to 30 hashtags to your post and include the location of the video.
Tip 3:
Post Your Videos to Instagram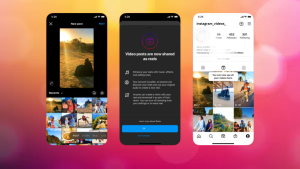 Now that your video is ready, it's time to post it on Instagram. Here are the steps and know how to post a video on Instagram:
Access the Post Option: 
Open the Instagram app and tap on the "+" symbol in the middle of the bottom navigation bar. It will open the camera, where you can take a photo or record a video.
How To Upload Videos To Instagram:
After opening the camera, select the video that you want to post. You can either record a new video or select one from your camera roll.
Add Filters, Effects, and Text: 
Instagram offers a variety of filters, effects, and text options that you can use to enhance your video. You can add filters, adjust brightness and contrast, and add text to your video.
Preview Your Post: 
Once you've added filters and text, preview your post to ensure everything looks good. You can also add additional captions, hashtags, and locations before posting.
Post to Instagram: 
After previewing your post, tap on the "Share" button to post your video on Instagram. Your video will be visible to your followers and discoverable through hashtags and locations. You can also share your post to other social media platforms and save it to your camera roll. So this was the basics of how to post a video on Instagram.
How To Post Youtube Video On Instagram
To post a YouTube video on Instagram, simply copy the video link from YouTube and paste it into your Instagram story. The video will automatically appear as a thumbnail and can be shared with your followers. Alternatively, you can download the video and upload it directly to Instagram.
Additionally, it's important to note that Instagram only supports video uploads from your camera roll, so you will need to download the video from YouTube first. You can use a video downloader tool or save the video to your device using the YouTube app.
Tip 4:
Optimize Your Video Post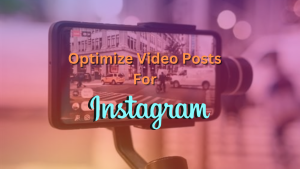 Well! We will soon be covering the topic: how to post a video on Instagram story. Till then, let's know how you can optimize your video post. 
Posting a video on Instagram is just the first step in getting your content seen. Here are a few ways you can optimize your video post to enhance its visibility:
Enhance Your Visibility with Hashtags: 
Hashtags are a powerful tool for increasing your visibility on Instagram. By including relevant hashtags in your post, you can make your video discoverable to people interested in your content. You can use up to 30 hashtags in a post, so choose them wisely.
Use Instagram Insights to Analyze Your Post: 
Instagram Insights is a tool that provides valuable data about your account and your posts. You can use Insights to see how your video post performs, including its reach, engagement, and audience demographics. This information can help you understand what is working and what you can do to improve your future posts.
Repost and Share Your Video: 
Reposting your video on Instagram can help you reach a wider audience. You can share your video with other social media platforms or feature it in your Instagram stories. You can also collaborate with other accounts to reach new audiences and build relationships with content creators. 
Tip 5:
Best Practices for Instagram Video Posting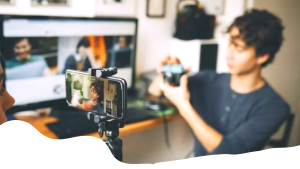 Instagram is a highly competitive platform, and it's essential to follow best practices to ensure your videos stand out. Here are a few tips to keep in mind:
Post Consistently On Instagram
Consistency is key on Instagram. But it becomes a task to post regularly without missing the peak online traffic hours, isn't it? After knowing how to post a video on Instagram, you should check whether you can acknowledge your audience regularly. 
Don't worry! We've got you a solution! 
You can manage your Instagram posts consistently without affecting your daily routine. Yes! Socinator is a social media automation software that assists budding social media influencers manage multiple social media platforms and leverage success.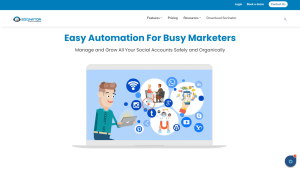 Socinator is a social media automation tool that can automate various tasks on Instagram, including posting videos. With Socinator, you can schedule posts, automate your follow/unfollow tasks, automate commenting and liking, and much more. This tool can help you save time and increase your engagement on Instagram, allowing you to focus on creating great content. Here are a few features:
Socinator schedules and automates posts across multiple social media platforms, including Facebook, Twitter, Instagram, LinkedIn, and more.

Bulk upload of posts allows users to upload and schedule multiple posts at once.

The tool also provides advanced analytics and reporting, including metrics on post engagement, follower growth, and more.

The socinator assists in social media monitoring and management, including the ability to respond to comments and messages across all connected social media accounts.

Collaboration tools that allow multiple team members to manage social media accounts together.

Post templates allow users to save and reuse post templates for quick and consistent posting.

Integrated image editor allows users to create and edit images directly within the platform.
Create a Consistent Theme for Your Videos: 
By creating a consistent theme for your videos, you can establish a strong brand identity and make it easier for your audience to recognize your content. It can include using the same filters, editing style, and overall aesthetic for your videos.
Keep Your Videos Short and Engaging: 
Now that you know how to post a video on Instagram, here is how to keep the videos more engaging! Attention spans are short on social media, so it's essential to keep your videos short and engaging. Instagram allows for up to 60 seconds of video, but it's best to aim for 30 seconds or less. Ensure your videos are visually appealing, have a clear message, and are easy to understand.
Stay Up to Date with Instagram's Terms of Service: 
Instagram has strict service terms that you must follow to avoid getting your account flagged or banned. Make sure to stay up to date with the latest guidelines and avoid spammy posting content, offensive or in violation of community standards.
Collaborate with Other Instagram Users and Brands: 
Collaborating with other Instagram users and brands can help you reach a new audience and gain exposure for your videos. You can participate in Instagram challenges, tag other users in your posts, or work with brands to create sponsored content.
Also Read:
How To Upload Videos On Instagram From Mac?
How To post On Instagram with this 12 step-guide
What It Takes To Succeed At Scheduling Instagram Posts?
Conclusion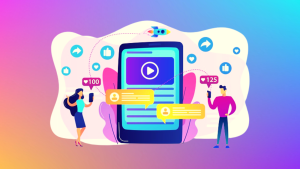 In conclusion, posting a video on Instagram can be a great way to reach a new audience and build your brand. In this guide, we walked through the process of setting up your Instagram account, preparing your content, and answering your query- about how to post a video on Instagram.
Instagram video posting is a powerful tool for building your brand and reaching a new audience. With the right strategy and creativity, you can use your videos to connect with your followers, establish yourself as a trusted source of information, and grow your account over time. So go ahead, try it, and see what you can achieve!