Want to drive more traffic to your website from Instagram? You might be looking for ways to add clickable links to your Instagram posts. Unfortunately, you would find even rare opportunities to share your links in post captions.
But there are still some ways to get around it. If you are looking for ways- how to add links to Instagram posts, here are the things you need to know.
You may have even noticed that the swipe-up feature has also been retired by Instagram. On the other hand, you can still add links to your Instagram stories using the Instagram link sticker.
Likewise, you may also know about the option to add links in the Instagram bio section. So here, we will list out all the different ways to share your website links on Instagram, explained step-by-step.
Listen To The Podcast Now!
Instagram Has Removed Swipe Up
It was a great feature that was only available to influencers and marketers having more than 10k followers on Instagram. The swipe-up feature has helped many brands, marketers, and influencers achieve great success with Instagram marketing by allowing them to add their website links to Instagram stories.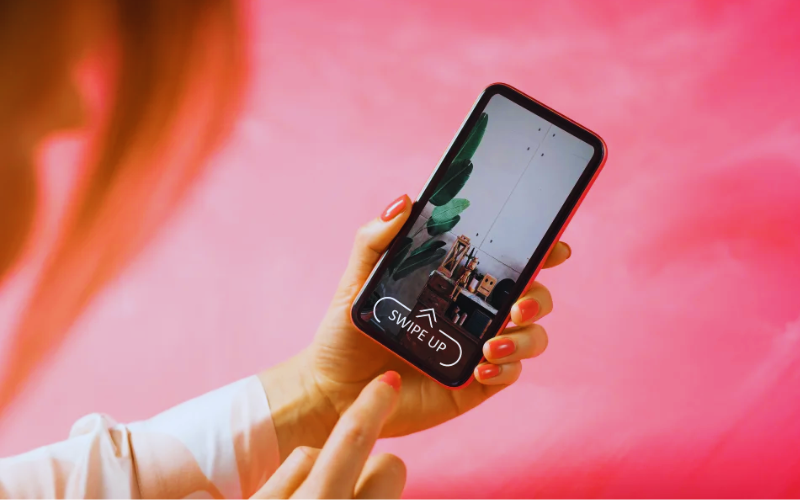 However, as we know, in August 2021, Instagram announced removing the swipe-up feature. In contrast, there is no need to worry as you can still add links to your Insta-stories using link stickers. The good thing is that even if you don't have more than 10k followers on Instagram, you can use link stickers to drive traffic to your website.
What Is Instagram Link Sticker?
Instead of using the swipe-up feature on Instagram stories, you can now use link stickers to add external links to your story posts. It can be an excellent solution for brands to attract website traffic from Instagram. You can also keep track of the engagement and clicks on Link stickers through the Instagram analytic option. Along with that, these stickers are much better than the swipe-up feature.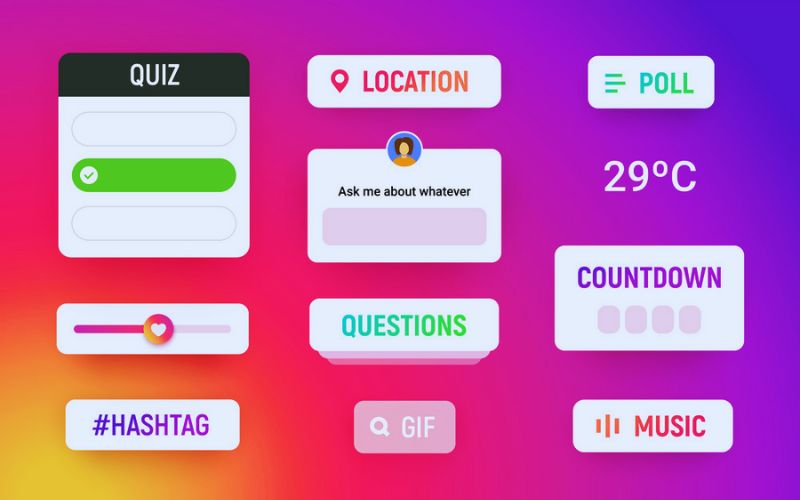 Stickers have more creative options, using which you can make your Instagram story look more attractive.
Stickers have more creative options to make your Instagram story look more attractive.
With more customization options, you can use stickers to ask questions, share locations, create questionnaires and polls, etc.
The link sticker allows people to engage with the story, whereas the swipe-up story posts don't allow users to reply or comment.
Also Read

Sponsored Instagram Posts: Little Money Goes a Long Way
How To Use Instagram Link Stickers?
Stories can stay active on Instagram for up to 24 hours only. However, if you can utilize Instagram stickers more accurately, it's enough for you to attract many views and conversions for your website. After creating a story post on Instagram, tap on the sticker option in the top row.
Type in your website URL.
Also, type the CTA text you want to mention in your sticker.
Now place the sticker on your story.
Set the sticker to your story post.
You can change the color of the sticker as per your story visuals.
Post your story, and you are done.
Just to remind you you can also track your story metrics. And it can help you further optimize your stories to gain more engagement and click-through rates. If you are not getting enough clicks, try to create a clear CTA without putting too much information in your sticker text.
Add Link In Your Bio
One of the simplest ways to display your website link on Instagram is by adding it to your bio section. Moreover, there is some twist. Now, you get the option to add more than one link to your Instagram bio. Recently, Meta announced that users can now include up to 5 links in their bio. Isn't that great?
It was one of the most awaited features by Instagram marketers all around the world. Want to know how to add link to Instagram bio? Here are the steps you can follow:
After opening the Instagram app on your device, go to your account profile.
You can see the option- "Edit profile." Click on it.
Tap on Add link.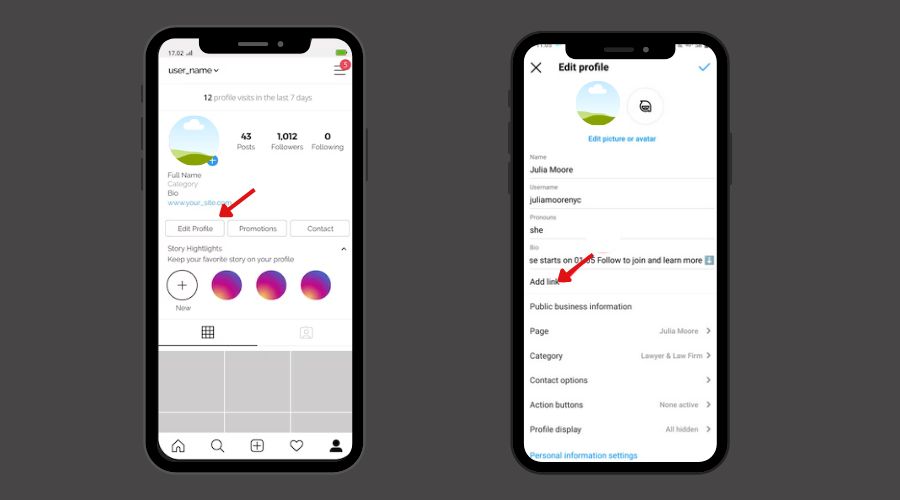 Select Add external link.
Type the link URL and the title of the website you want to include.
On the top right corner, hit the blue tick.
Again, you can select Add the external link to add more links.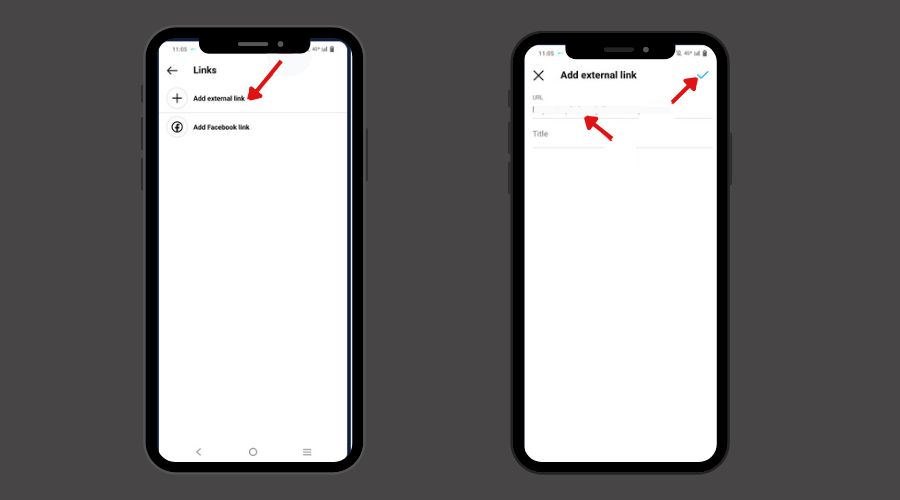 You can also easily remove the links that you don't want to showcase in your Instagram bio.
Just go to Edit profile again.
Tap on the Links.
Select the links you want to remove.
Hit the Remove link button.
Now you are ready to go, and you can easily add up to 5 external links and remove them whenever you want.
Share Links Through Instagram DMs
If you are still not satisfied and curious about how to add link to Instagram, one way is by sharing them using direct messages. Posting engaging content would help you attract the audience's attention. You can ask them to DM you and want to know your website link, or you can also use the link sticker- "DM me" in your story post.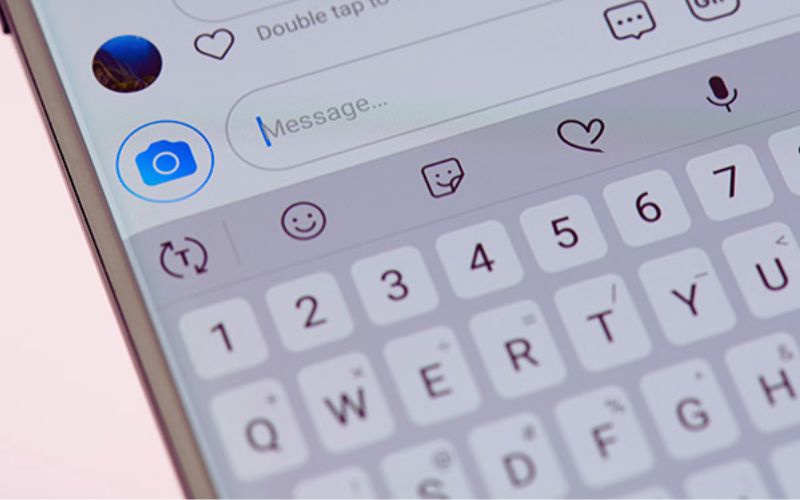 Those who feel like they have some interest in your business would send you messages to ask for your website link. You can share your website links with them, and it will eventually assist you in drawing more traffic to your website.
Pay For Sponsored Instagram Posts
Another way to post a clickable link to your Instagram is by using sponsored Instagram posts. However, first, you need to have an Instagram business profile. This way, you can even reach the people who haven't followed you on Instagram since it is not possible to use organic posts for sharing links on Instagram. On the other hand, using sponsored Instagram posts, you can do so.

Benefits of adding links to Instagram posts:
Getting more traffic to your business website is not the only benefit of adding links on Instagram. As it will not only help you gain conversions but also get you genuine followers who are engaging in your Instagram posts.

Increased traffic
Adding clickable links to your posts and stories makes the users tap on the link, which is easier than the link on post captions, where the users have to shorten the links and copy and paste them into the web browser to know about it. Bio links are also clickable links that direct the users to the specified page without any additional process.
Improve sales
Creative photos with links attached to them that will direct the users to the product page to shop immediately improve the number of sales. It does not contain any additional process to reach the product and buy it. Short processes and immediate action make the users fasten the process of immediate shopping.
So, I hope now you might have a grasp on how to add link to Instagram. But before you start posting your links on Instagram, I suggest you build your brand name to be known on Instagram. For that, you should post engaging content to your audience that attracts more views, likes, and followers. And the quick way to achieve that is through the Instagram automation tool.
Why Should You Be Using Instagram Automation Tool?
Even if you know how to add link to Instagram, you won't be able to leverage it unless you have an engaging Instagram profile. And to build a likable Instagram profile from scratch would be a time-consuming process.
Having a reliable Instagram automation tool like Socinator not only helps you schedule your posts but can also help you boost engagement on Instagram. You can use this tool to auto-like, auto-comment, and auto-follow other creators. So you would be able to build connections with other creators, and it would also help you in building trust with audiences.
Socinator is the ultimate social media marketing software with a seamless, easy-to-use interface and powerful automation features; it lets you streamline your social media workflow. It has a comprehensive suite of tools- from post-scheduling and automation to social listening and analytics; it covers all aspects of social media management.
Wrapping words
As discussed above, there are a few ways we have shown – how to add link to Instagram. You can also add your website link in a post caption, but that would not be a clickable link. However, you can try the above-shown methods. So those who have been visiting your profile might click on the links you have published. It would help you bring audience traffic to your website, which could result in getting more conversions in your business.
Are there any other ways you know- how to add link on Instagram? Do you have any secret way to link Instagram posts? Please mention them in the comment section.