Are you looking to up your Twitter game? If so, you are in the right place. We all know that nowadays, people are overwhelmed with information through multiple social media platforms. In such a scenario, audiences are gearing toward professional platforms and prefer to rely the most on getting authentic and informational content. And thus, with the help of Twitter Advanced Search, users are making their best effort to meet their audience's needs. 
First off, what is a Twitter advanced form of search? Well! Put simply – it is a feature that allows you to refine your search results on Twitter. You can use it to filter tweets by language, location, date, and much more. It makes it much easier to find the tweets that are most relevant to you.
You might be wondering why mastering advanced Twitter search is so important. Well! It can help you find your target audience on Twitter. By filtering your search results by location, for example, you can find people who tweet about topics that are relevant to you in a specific location. It can be valuable for businesses looking to connect with potential customers.
In addition, mastering Twitter Advanced Search can help you keep tabs on your brand reputation. By setting up custom alerts for specific keywords or phrases, you can get notified when people are talking about your brand on Twitter.
So, in this blog post, we cover some tips and tricks for mastering Advanced Twitter Search. We will discuss best practices for making the most of this powerful tool.
Sound good? Let us dive in!
Basic Search Vs. Advanced Search
Basic search on Twitter allows users to search for keywords, hashtags, and usernames. However, it does not offer many filtering options. 
On the other hand, advanced search provides a wide range of filters to narrow down search results. This includes filters like location, language, date range, and sentiment analysis. Advanced search allows users to find specific tweets, track trends, and monitor conversations. 
It is also useful for conducting competitor analysis, identifying potential leads, and finding influencers. In summary, while a basic search on Twitter is useful for basic searches, an advanced search is essential for in-depth research and analysis.
Understanding Twitter Advanced Search
Advanced Twitter Search is a powerful tool that allows users to find specific tweets, track trends and monitor conversations on the platform. Understanding the syntax of advanced search queries that Twitter provides is essential to use advanced search effectively. This section will discuss the syntax of advanced search queries and the various search operators available on Twitter.
Twitter Advanced Search Tips From Experienced Users 
How to find the right keywords to search for:
Brainstorm a list of relevant keywords related to your topic or industry
Research what keywords people use to discuss subjects related to your industry
Look for popular hashtags related to your industry
Use keyword research tools such as Google AdWords Keyword Planner or Ahrefs to find new keywords
Using Boolean operators for complex searches:
Use AND to find tweets that contain both keywords
Use OR to find tweets that contain either keyword
Use NOT to exclude specific words from your Twitter advanced search
Use parentheses to group multiple keywords
Finding and engaging with influencers in your industry:
Look for famous people in your industry, such as bloggers or experts.
Use Twitter's advanced search to find people who frequently tweet about your industry.
Engage with them by retweeting their content or responding to their tweets.
Participate in Twitter chats related to your industry to connect with influencers.
Keeping an eye on your competitors:
Use Twitter's advanced search to monitor your competitors' tweets.
Follow your competitors on Twitter to keep up with their latest news and updates.
Monitor their followers and engage with them to expand your audience.
Use tools such as Hootsuite or Mention to monitor your competitors' mentions on Twitter.
Finding new customers or clients:
Use Twitter's advanced search to find people discussing topics related to your business.
Use keywords related to your business or industry to find people interested in your products or services.
Engage with them by responding to their tweets or offering helpful advice.
Use Twitter advertising to target specific demographics that are likely interested in your business.
Here is something more about Twitter advanced search concepts that will influence your growth!
What are Impressions On Twitter?
Have you ever heard someone mention the term "impressions", when talking about their Twitter account? If you are new to Twitter or not quite sure what is impression in Twitter, do not worry – it is a simple concept to understand.
In Twitter, an impression refers to the number of times users have seen a tweet on the platform. It means that even if someone has not interacted with the tweet (such as by liking, retweeting, or replying), they still count as an impression if the tweet shows up in their feed or search results.
Impressions can be a useful metric for measuring the reach of your tweets, as it gives you an idea of how many people are potentially seeing your content. However, it is vital to note that impressions do not necessarily equate to engagement or conversions. Just because someone has seen your tweet does not mean they have taken further action or are interested in your content.
Tricks To Enhance Your Twitter Reach:
Schedule your tweets with third-party tools:
You might be wondering how the schedule can help you grow on Twitter. Well! Scheduling your tweets allows you to post content at the optimal time for your audience, even if you are not available to post in real-time. There is a peak time for posting. And to your surprise, every niche has a different peak time when they can grab most of their audience's attention. 
But how to post consistently without missing the highest traffic hours on Twitter?
Well! Apart from the Twitter advanced search, you can automate posting to uplift your reach. Yes! With the help of an automation tool, you will never miss posting at the right time.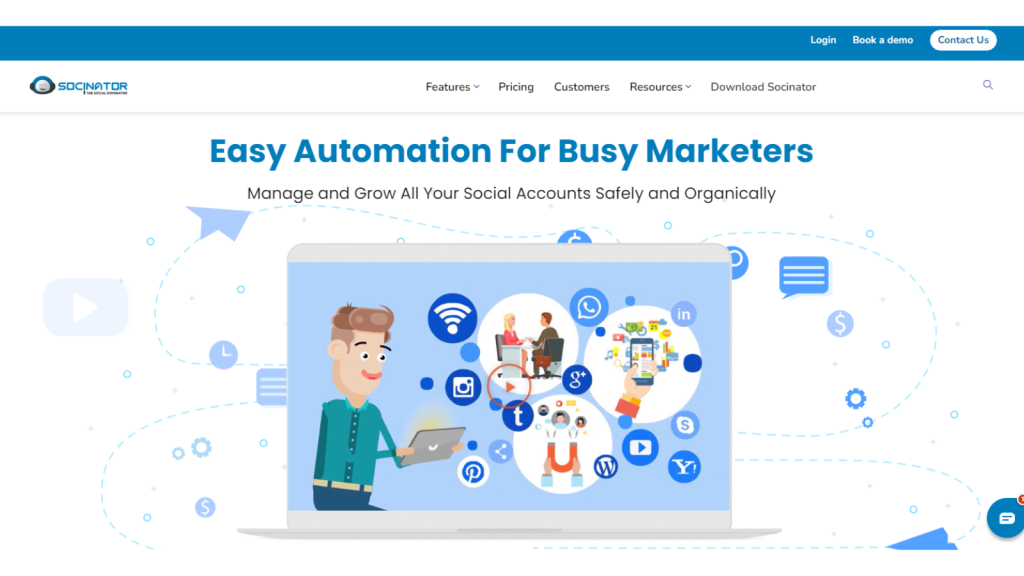 Socinator is a third-party tool that allows you to schedule your tweets in advance, ensuring that you publish content at the most effective times. Using a tool like Socinator can help you stay consistent in your posting schedule, leading to increased engagement and followers over time. In addition to scheduling tweets, Socinator also offers features such as analytics and auto-follow, which can further enhance your Twitter reach and engagement.
Let us know how Socinator can assist you in improving your Twitter presence in other aspects.
Publish Posts/Tweets Automatically
Provide Detailed Reports 
Activity Statistics
Automated Comments
Auto Follow and Followback
Auto Like/Favorite
Auto Reply To Tweets
Message Broadcast 
Auto Retweet
Dedicated Account Management
Find engaged users
Auto-Search Twitter Trending Hashtags
Find Targeted users
Full Account Report With Export Option
Tweet From RSS and more!
Use Twitter analytics to track your performance:
Twitter's built-in analytics tool allows you to track basic metrics such as impressions, engagements, and follower growth over time. But with the help of a Socinator, you can access detailed analytics and strategize your content accordingly.
By analyzing your performance data, you can identify which types of content and posting times are most effective in reaching your audience.
Use Twitter advanced search information to adjust your strategy and create more impactful content in the future.
Use relevant hashtags to increase visibility:
Hashtags are a key way to increase your reach on Twitter, as they allow users to discover the content when searching for specific topics.
Use relevant hashtags that are related to your topic. It ensures that your content drives the right audience.
Avoid using too many hashtags. It can come across as spammy and reduce engagement.
Engage with other users and participate in Twitter chats:
Engaging with other users on Twitter can increase your visibility and help you build relationships with others in your industry.
Participating in Twitter chats related to your industry can also increase your visibility and help you connect with other like-minded individuals.
Be sure to add value to the conversation and avoid self-promotion, as this can turn off potential followers and damage your reputation.
Combining these tactics and tools can enhance your Twitter reach and engage with your audience more effectively.
Also Read:
How To Use The Advanced Twitter Search With Its 07 Best Parameters
Twitter Impressions : How They Play A Heroic Role For Your Brand
How to Grow with Trending Twitter Hashtags
Conclusion
In summary, mastering Twitter advanced search is an unavoidable skill for anyone who wants to use Twitter for business or personal purposes effectively. By understanding how to use search operators and filters, you can find the most relevant and useful content on Twitter and engage with other users in your industry.
Some benefits of mastering advanced Twitter search include finding new customers or clients, keeping an eye on your competitors, and connecting with influencers in your industry. Additionally, using tools like third-party schedulers like Socinator, Twitter analytics, and relevant hashtags can further enhance your Twitter reach and engagement.
Whether you are a business owner, marketer, or simply an active Twitter user, mastering Twitter can help you become more efficient and effective in your Twitter usage.
So, start mastering Twitter advanced search today and take your Twitter usage to the next level!