Even though many individuals consider LinkedIn a website for job seekers and expanding your professional network, LinkedIn introduced the LinkedIn business page in 2018, an equally efficient tool for generating new leads for business and developing referral connections.
Learn how to create a LinkedIn business page? Alternatively, if you are unsure, you may need one.
This post will go over how (and why) to build a LinkedIn business page and recommendations for showcasing your finest promotional strategies and gaining new followers on this often underestimated platform.
What is a LinkedIn Business page?
LinkedIn Company Pages are devoted to specific businesses, organizations, and institutions. They enable LinkedIn users to find and interact with particular companies and discover more about each company's brand, products or services, job openings, etc.
Among the benefits of utilizing a business page on LinkedIn, a company page allows you to narrate your company story, connect with followers, and boost your word-of-mouth promotion.
Create an informative, unmistakable, and managed LinkedIn business page to urge your audience to approach your business and consider your organization as a trustworthy source. Other advantages of utilizing LinkedIn for corporate business pages include:
Benefits of LinkedIn Business Page
Let's peek at why you should create a LinkedIn Business Page (or try to make your existing LinkedIn page perhaps better.
Connect with your target audience
Particularly for B2B companies, a LinkedIn business page is an excellent way to connect with your target audience.
LinkedIn allows you to engage with many business owners or professionals through posts, comments, sponsored posts, and LinkedIn Inmail.
And LinkedIn Inmail has a 400% higher response rate than mail.
Still not convinced? Check out the LinkedIn stats for businesses
LinkedIn is the most popular medium for B2B marketers to disseminate content, accounting for 94% of the total.

LinkedIn accounts for more than half of all social traffic to B2B websites and blogs.

LinkedIn generates 80% of B2B leads.

LinkedIn converts thrice more than Twitter and Facebook.
Publish helpful and quality content
LinkedIn is a fantastic resource for posting material relevant to the audience. You can share your blog posts on your LinkedIn business profile to build awareness about your product and guide them through the milestones of the customer life cycle.
Learn What Is The Best Time To Post On LinkedIn
You can increase traffic to your site and convert them into potential customers by offering engaging, LinkedIn SEO-friendly content.
Promote your products and services
A business page on LinkedIn gives an incredible platform to sell your products and services or branding. You may emphasize your product and services, highlight its benefits to your followers, and share the link to that specific page.
Once you have a LinkedIn business page, you may also create a LinkedIn showcase page. This page serves as an extension of your current LinkedIn business page and may be used to highlight certain brands or initiatives.
Look out for potential job candidates.
With a LinkedIn business page, you can effortlessly seek out the best potential candidates.
You may post new job openings and see their LinkedIn profile page to locate the ideal fit for your organization.
On top of that, prospective applicants may discover more about your company's past and what it is like to work for your firm merely by reading through your LinkedIn business profile.
Increase your brand visibility
You can increase traffic to your site and convert them into potential customers by opting for automatic LinkedIn posts and an SEO-friendly content. Furthermore, adding links to your website on your LinkedIn business page will help you rank higher in search engine results.
How To Set Up a LinkedIn Business Page?
Once we begin, it's important to understand there are a few prerequisites you must achieve to create a LinkedIn business page:
A personal LinkedIn profile that includes your full first and last name

Your profile page must be no more than seven days old.

The profile level ought to be "Intermediate" or "All-Star."

Your LinkedIn must have several connections.

A company's website with an email address (no generic emails like Gmail.com)

In the "Experience" part of your LinkedIn page, you must have been listed as a current employee of the firm.
Let's begin if you fulfil those prerequisites.
Create a business page
Log in to your personal LinkedIn accounts first, and then select the 'work' button in the top right corner of your dashboard.
A window will appear; scroll to the bottom and click on the 'create business page +' button.
Subsequently, LinkedIn will prompt you to choose the sort of company page you want to create.
You may choose Small businesses (fewer than 200 employees) or Middle to Large companies (more than 200 employees) and a showcase page for an existing business page or an educational institution.
Fill up your company details.
You must fill out your company name, website, industry, company size, and company type.
You may also include the company logo and tagline.
After entering pertinent company information, check the consent box to verify you are an authorized person of the respective organization, and then click the 'Create Page' button.
Ta-da, now you have an authorized LinkedIn Business page.
Wasn't that simple? However, to stand out from the crowd and get the most out of your LinkedIn Business profile, you must take specific essential steps.
Groom your LinkedIn Business Page
Add a cover picture
Adding a cover picture to your company page will give it a more professional appearance. A cover photo is a large picture on top of your profile, similar to a Facebook Timeline picture. 
Your business cover picture must be relevant to your company as the picture of the products you offer, a group of your employees. Make sure your cover picture represents your brand and is of the correct size. 
Groom your LinkedIn business page by sharing content/scheduling content on a regular basis likewise, you can engage with your audiences. Try to connect with them by replying to their relevant comments in your post. 
This only seems to be time taking. Right? Don't worry
Use Socinator – The best social media automation software in the industry.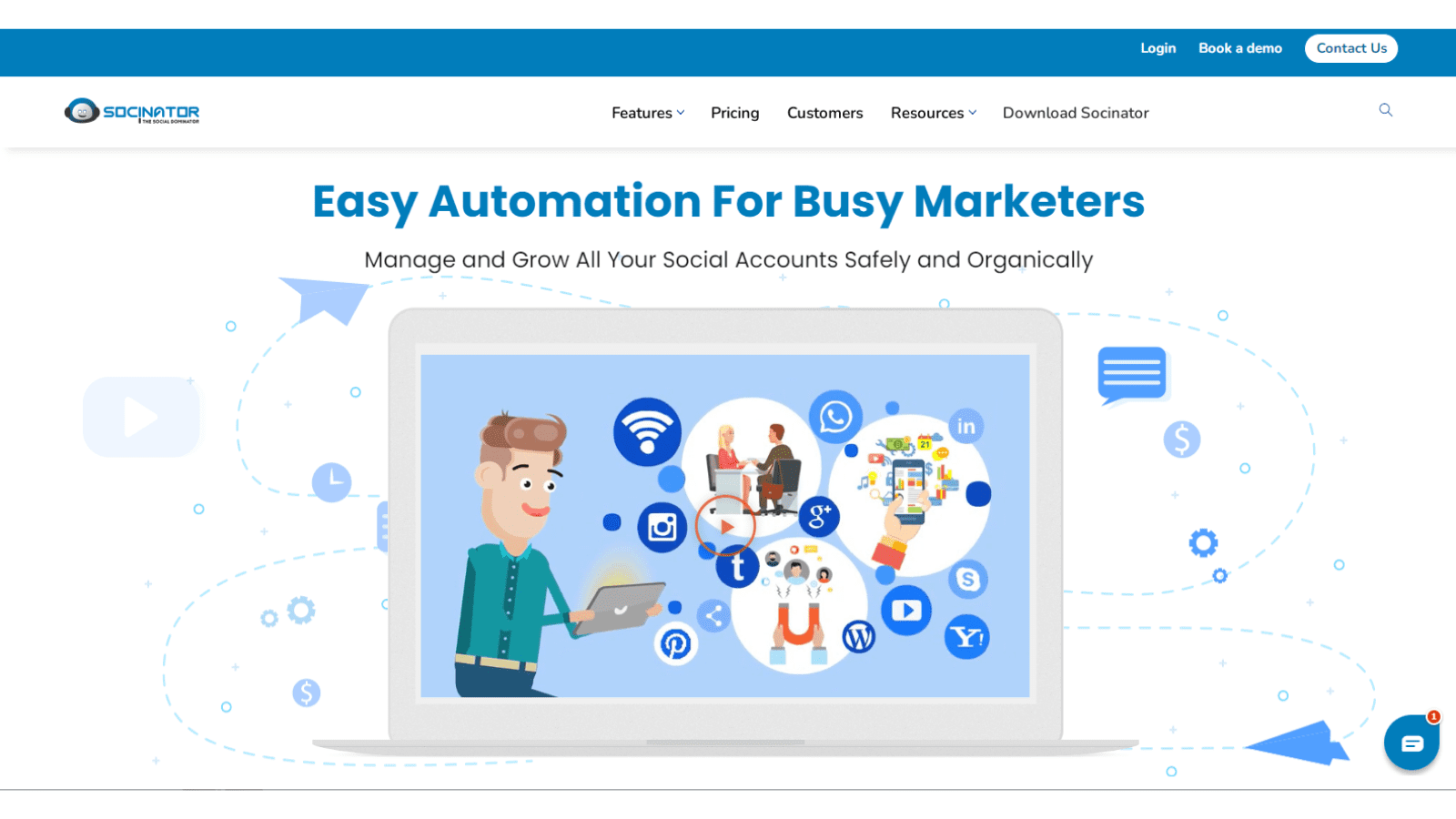 Automate your LinkedIn business page using Socinator
Socinator has a plethora of ready made attributes for your linkedIn page :
It allows you to provide timely reports and statistics on the actions conducted in your accounts, which may further assist you in analyzing your LinkedIn marketing strategies.

It aids you in accepting all connection requests at once.

It immediately validates all of your connection abilities.

Socinator allows you to automatically respond to likes and comments.

Using Socinator, you may automatically post/share to LinkedIn groups and schedule your updates from multiple LinkedIn accounts.

It also helps you make connection requests based on your niche and expand your network.

Simply entering your target keywords generates a list of groups or pages in your niche.

Socinator provides vast and in-depth insights into your full account.
Create a Captivating Summary
Following that, you must create a persuasive synopsis of your company. Your summary will display in the About section of your company page under "Overview."
In your overview, you inform readers about your company and what it does. You may either utilize it to market your product/services or persuade candidates why they must work for your company.
LinkedIn restricts your characters in this part to 2000, so carefully select your words if you want to stand out.
Remember to include important keywords in your summary and throughout your company page to make it simpler for people to find in search engines.
Include Your company Location
You may indeed add your company's Location.  Adding your Location to your LinkedIn business page can help people find your company and job openings on LinkedIn.
If your company has several locations, in that case, you may add multiple locations.
Share Content consistently
So now your company page has been created, it's time to begin posting content.
Don't panic; you don't have to create whole new brand content for LinkedIn; instead, you may share current blog pieces.
By publishing your blog articles on LinkedIn, you can keep your page updated, showcase your company as a leader, try to interact with followers, and generate traffic to your website.
You may also use your LinkedIn business page to reveal company or industry news, updates, or forthcoming events.  Sharing content on your company profile regularly will help you engage more LinkedIn followers.
Check Out Our Latest Blogs :
How Twitter Handle Can Change The Way You Handle Twitter
Step By Step Guide To Make Most Of The Twitter Spaces And Extend Your Business Rapidly
Spread the Word About The LinkedIn Business Page
Talking of gaining new followers, if you would like your LinkedIn company profile to be seen, you must market it.
Begin by connecting with your staff on LinkedIn. To increase the legitimacy of your company page and connect to their networks, ask them to add your organization to their page as their current workplace.