What is the best time to post on LinkedIn for me so I can get responses?"; is what most creators think of when they are trying to maximize the attention of their audience on the platform. LinkedIn is no different! The time in which a post gets published holds massive importance to brand growth as it directly impacts the potential revenue generation of the company. Read ahead to learn more!
Called the "professional social networking platform" by its users all around the globe. LinkedIn consists mainly of the B2B (Business-To-Business) and B2C (Business-To-Consumers) crowd.
Professional personnel looking to increase their network and those who want to develop business relationships. With over 55 million companies registered on the platform, LinkedIn has approximately 740 million members on the app, the number only growing as days pass by.
Why LinkedIn?
LinkedIn as a social media platform does very little for users who want entertainment on their phones, and for marketers, it's a lead-generating gold mine. According to surveys, LinkedIn has proven to be 277% more effective than Twitter and Facebook at generating leads. Approximately 80% of the marketers see LinkedIn as a good source of potential customers, with half of them admitting to having sourced at least one consumer from the platform.
Posts On LinkedIn: Is There Something You Should Know?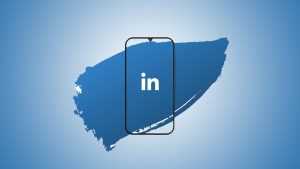 The answer: Yes.
LinkedIn is a social media platform but is very different from the big shots of the social media game. Unlike Facebook and Twitter, LinkedIn focuses on professional social networking and is a very business-oriented platform. The rules regarding posting for the other websites will not work on LinkedIn as the users themselves are business professionals with hectic lives.
As a business-oriented platform, tracking the best time to post on LinkedIn is very prevalent. Thanks to its timing analytics which facilitate the traffic boost and raise brand awareness which leads to driving sales and revenue generation ultimately. These timing analytics help users across the platform to ensure that their posts reach their desired target audience.
LinkedIn is not so different from the big-shots in the industry. Tools available on other platforms like Facebook and Twitter are present in LinkedIn as well. These tools let you directly message your clients and help you tailor target specific audiences for different types of audiences.
The primary difference between LinkedIn and platforms like Facebook and Twitter is that LinkedIn is less of a mass media platform but more of a networking platform for professionals to create and develop new one-on-one business relationships.
What Is The Best Time To Post on LinkedIn?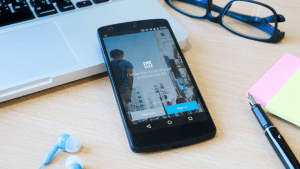 All social media platforms have those times in the day when their user base starts flooding their pages with posts and activities. Marketers around the globe use these time windows to put out their advertisements and surveys for their audience to interact.
Analytics on LinkedIn says that most users are active on the platform from Tuesday-to-Thursday as Monday is the busiest day in the entire week. Fridays are usually meant for personal/family time by most digital marketers/entrepreneurs or broadly the users of LinkedIn.
During the day, LinkedIn users are most active in the early hours that is 7 in the morning to an hour from that. As the day ends, they like to wrap it up by going through what their peers are doing. As LinkedIn users are proactive people in their professional users, 63 million unique users use the platform on their smartphones monthly.
Timing your posts and finding the best time to post on LinkedIn is crucial in increasing your personal or your brand's reach amongst your peers and customer base. As the crowd on LinkedIn usually focuses on viewing other's content more than putting out content of their own. It gives you a cutting-edge advantage in putting yourself out there!
Ensuring Maximum Reach Whenever You Post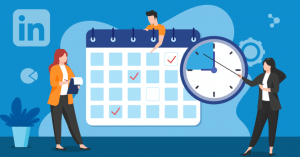 The best time to post on LinkedIn and scheduling your posts on LinkedIn will contribute nothing to your reach if the content of your post does not resonate with the viewers. As important timing is, what you post consists of majorly dictates how its response will be once the post is published. According to statistics, users spend at least two hours weekly on the platform on their smartphones.
There are several things to be noted before posting on LinkedIn. The demographic of LinkedIn consists of 61 million users in executive positions. While another 40 million are decision-makers. It helps in tailoring our content as the answers to their questions. It helps us in getting more clicks and more traction on our posts.
Along with the best time to post on LinkedIn, it is crucial to take care of the content put up on the platform as well! Users on LinkedIn love blog posts, with their preview text doing the work of grabbing the attention of potential readers
Posting engaging content from other creators works wonders. It shows how deep-rooted you and your brand are into the industry. That leads to better reach from the audience in the industry.
Native video posts in the form of short snippets of interviews, clips from important events work wonders if you're looking to boost your reach. Similarly, plain text containing valuable information works for most users on LinkedIn. They usually enjoy reading and absorbing as much information as they can from their time on the platform.
Socinator: The Only Tool You Need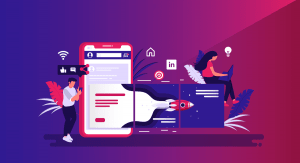 LinkedIn has several tools built into its platform to help you reach the maximum potential of your posts. And to achieve their maximum reach possible. But being a LinkedIn user, brainstorming, curating, and posting content goes on to being a vicious cycle nobody wants to be a part of in their right minds.
The future of pushing the best content out there at the best time to post on LinkedIn and other social media platforms is scheduling and automation. Earlier, without these tools, users would have to sit day in and out to manage their posting schedules and wake up at odd times to ensure their posts reach their audience on the other side of the world. All for not missing out on the valuable clicks that marketers cherish.
SociNator helps you automate everything for your business and provides you further insights than you already have.
SociNator has features such as:
Auto Publishing of Posts at the best time to post on LinkedIn
Automatically replying to comments that you have received with a template.
Automatically following accounts back who have followed you.
Auto Liking
Automated verification of new accounts.
Scheduled and automated publishing of posts, so you can post even when you cannot.
Handle multiple accounts single-handedly with a culminated dashboard.
Extract statistics on relevant hashtags
Reach People In your niche
Spintax Support
Get complete reports and statistics on your accounts and their performance.

Check Out Our Latest Blogs:
7 Confirmed Methods To Skilfully Practice LinkedIn Live Will Boost Your Company
The Only Guide You Will Need For Creating An Ultimate Marketing Plan
Getting Hands-On With Socinator:
To get started with Socinator, first head to Socinator's official website to check out their prices. The following is what is in front of you when you open the app: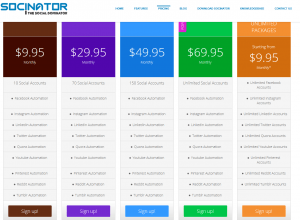 After you have selected the package best fit for your needs, you are directed to a sign-up page for your login credentials the first time you use this app.
After logging in and signing into your favorite social media platforms, we are now ready to create our first post through Socinator!
Publishing posts through Socinator:
Socinator comes with SocioManager as one of its tools on the right-hand column of the screen that lets you manage all the accounts you have in one dashboard:
The following window should open up as you click 'Sociopublisher' that tracks and manages all your ongoing campaigns. To create a new one, click Create Campaign.
Clicking 'Create Campaign' opens up the following window:
Under Create Post, you have the option to curate one single post for your audience containing your desired media and the link to your brand website.

You may add desired media to lure in your audience and increase awareness of your brand through image and video posts.
Upon clicking the settings button, Socinator lets you add a title to your post and a custom URL to be clicked upon, redirecting your audience to your website.

Upon selecting Create Multiple Posts, the following window opens up:
Same as the above, "Create Multiple Image Post" lets you post multiple image posts across all the platforms you're engaging your audience.
If "Use File Name as Post Description" is checked Socinator will automatically save the file with the same name as the post's description. Similarly, with the "Add Only Unique Post" box checked, Socinator makes sure that unique images are picked and posted to your social accounts!
Easy, wasn't it? Posting on your social media accounts is crucial in this day and age. It is not fit for humans to be handling so many responsibilities at once. It is not required to be awake every time a post needs publishing for the people on the other side of the world either.  Never miss the reach your accounts were missing out on and post at the right time of the day and go to sleep relaxed.
Posting multiple posts to your social accounts has never been easier. Ease out on your social media handling job and take a breath of fresh air while Socinator takes care of your business. To take a look at the different ways Socinator can help you with your LinkedIn posting needs, make sure to check out our official website!