On Twitter,  you have only 160 characters to make your bio look interesting and engaging for viewers. However, to make it look amazing, you have to come up with something original that can easily catch the attention of other users.
People try their best to bring out intriguing one-liners and funny captions to make their tweets engaging. But that is not enough! If you really want to gain more followers on Twitter, then you must have an engaging bio on your profile.
Nowadays, brands also use funny emoji and texts to their limit (160 characters) so that they could pick on more views from audiences. Considering the competition of marketers on Twitter, it's high time for you to re-furnish your Twitter bio.
Tap on Play Button To Listen Podcast –
So here we have come up with some of the great Twitter bio ideas and examples that will inspire you to create one for your own.
But before that, these are the things you must know!
Make sure to have a unique bio on Twitter. Because with millions of users on Twitter, your profile is going to stand out the most, which increases your chances of getting more Twitter followers.
Remember one thing, that Twitter bio is also get indexed by the search engines like Google, Yahoo, and Bing. So you may also try to include a few keywords in your bio to make it recognizable on search engines.
The bio on your profile shows the persona of your brand on Twitter. That's why you should make it in a way, showcasing your brand's identity on Twitter.
Now you may have a clear idea why Twitter bios are quite important.
Introduce Your Business Upfront –
On Twitter, you might have seen many business profiles with cheesy lines in their bio that do not even describe their brand pretty well enough. On the other hand, there are also brands on Twitter, which utilize the Twitter bio to introduce their business. It is always better to go with the second option so that people could be more aware of your brand.
For example, have a look at the Twitter bio of Mailchimp. As you can see that they are focusing on describing their business purpose within the word limit. They have literally nailed their profile with an engaging bio and also explained about their services. And that's what makes their profile visible to those who are looking for similar services.
Keywords Are Important –
Another factor to consider while creating a Twitter bio is the usage of keywords. As we have already told you that using strong keywords in your bio can help you to gain more views on your profile. Based on what keywords you have used, people can find your profile while browsing online. Especially for beginners, using the right keywords can help them to draw the audience's attention and gain better impression on Twitter.
Add Your Location –
Technically, location is not a part of your bio. But if you are using Twitter for business, showing the business location will help you build your brand image and trust with audiences. Particularly having a physical storefront means that you can connect with the local audience. And by showing the Geolocation might help you drive more conversions. In fact, your business location is an important part of your brand's identity, and including it in your Twitter bio will help you to improve your brand credibility. So, while creating your Twitter bio, make sure to mention your business location.
Mention Your Achievements –
Twitter bio is a space where you should give some credit to yourself. As a creator, marketer, or business person, show off your achievements in front of your audience. Based on what you and your brand have accomplished, people will recognize your brand. In short, adding your achievements is like social proof for the audience who are interested in your brand.
Just have a look at the Twitter bio of Neil Patel! There you will find that he is a best-selling author, a top entrepreneur, and a top marketer declared by Forbes.
So, if you have also achieved something great in your professional or business career, don't forget to mention that in your Twitter bio.
Your Website Link –
Do you know that social media drives 31% of all referral traffic to eCommerce websites? Just by adding your business link in the Twitter bio, you could be able to grab the attention of the audience that you want to target. Instead of a website URL, you may also add a link to your landing pages or blog page that can easily get caught in the eyes of viewers.
There you may also add a trackable link so that you could be able to gauge the traffic in-coming on your website from your Twitter bio. For example, have a look at the Twitter profile of Salesforce. There you can see the link on which people can just click to visit the website of Salesforce.
Tell About Your Products –
Many brands also do tell about their products in their bio. And you can also do the same. People who use that product can easily connect with the brand they follow on Twitter. Hence you can say that it might help you to gain more engagement with your targeted audience.
Give A Personal Touch –
Adding a nice little personal note on your Twitter bio gives the feel of a human connection. Of course, nowadays, marketers on social media use tools and software to automate their posts. And it shows that somewhere around, because of automation, brands are also losing the personal connection with their audience.
So, if by any means, if you can build a better connection with your audience, then you should definitely go with that. As you can see in the given example of Jeff Bullas, who has brilliantly described what they do is for inspiring and educating new creators and marketers. So you can also take inspiration from him and his work!
Talking about automation, it has now become the need for social media creators to schedule their posts on social media. Of course, you want to add a human touch to your post. But also don't want to be left behind by your competitors.
Also Read:
The simple guide to delete Instagram posts
The 10 Minutes Guide To Schedule Posts On Instagram
How to automate social media posts? | A complete guide to social media automation.
About Socinator –
Here we have the Socinator – highly intelligent software that lets you analyze the audience engagement and insights. Based on that analysis, you can create and share lucrative posts on your Twitter account. With awesome automation features, it can help you to boost all of your social media activities. So you can bring better ROI and engagement to your business.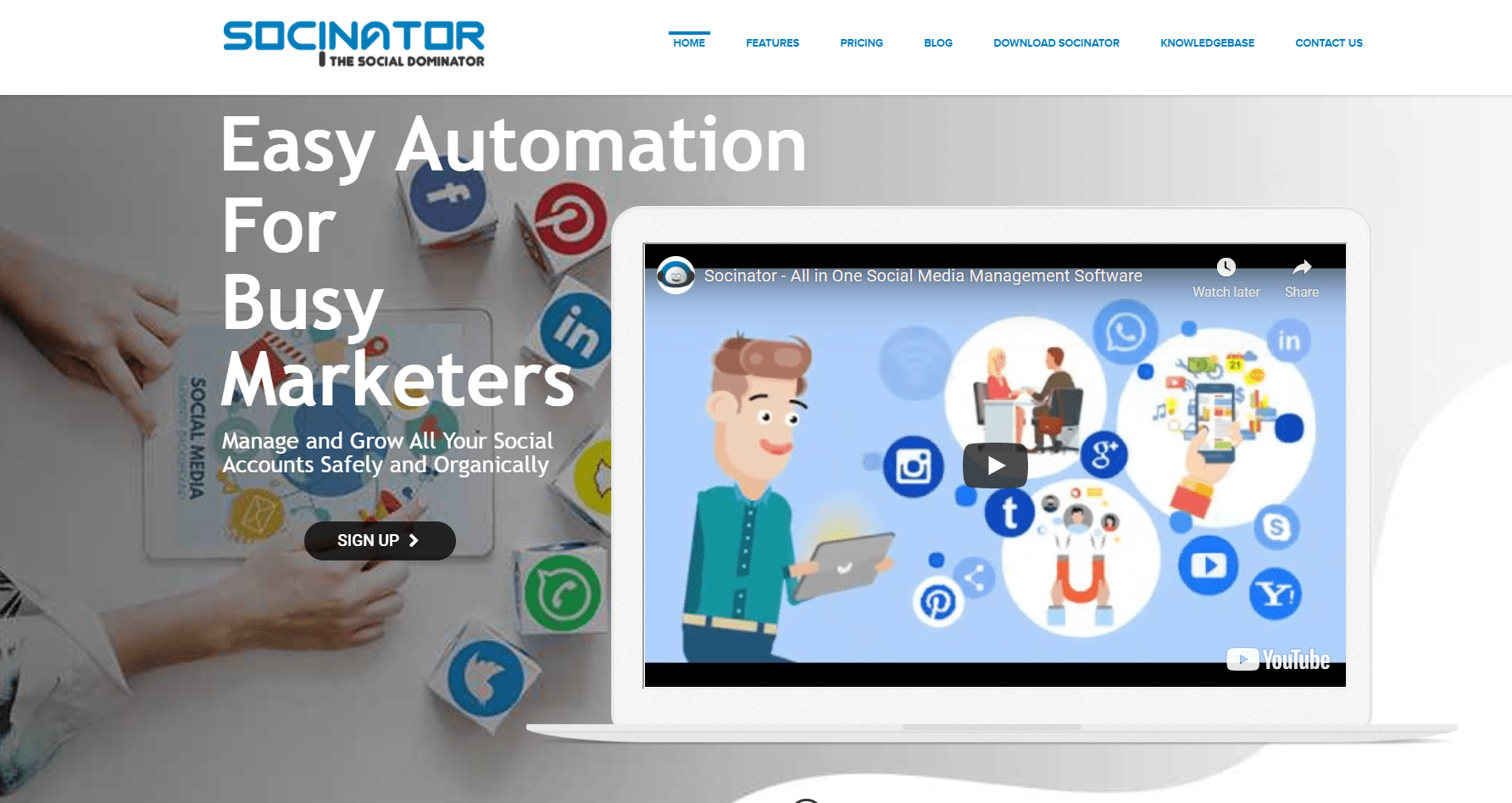 Socinator is an all-in-one social dominator that allows you to schedule and automate most of your social media activities on platforms like Twitter, Facebook, Instagram, YouTube, Linkedin, Pinterest, Quora, Reddit, etc.
Ready To Revamp You Twitter Bio!
Your Twitter bio shows the personality of your brand. So make sure to mention a few praise words about your brand that may appeal to your target audience. There you can tell people why they should follow your brand. So it also gives you this opportunity to reach more consumers for your brand products. We really hope that after going through these 7 smart Twitter bio ideas, you might have picked one or two things that can bring you more exposure and followers for your business.
In case you have any further queries, please mention them in the comments section given below.