Hashtags can really play a huge role when you are promoting your business using social media. However, do you know why they are so important that social media marketers are going nuts over them?
According to the study, we found that hashtags can bring you more engagement on social media. With a single hashtag in your Instagram post, you can bring 12.6% better engagement than the post, which doesn't have any hashtag.
Considering the engagement, you may know that Instagram is the best platform. And it can really help you to bring better exposure to your business.
In fact, you can use multiple hashtags on Instagram to bring more engagement to your profile. Doing a bit of Instagram hashtag research, you can also increase the number of views, likes, and followers on your Instagram account.
You might have been using some hashtags on your posts. However, if you do some hashtag research, and compile it in a better way, you can expect to see way better results from your Instagram marketing.
So, here in this article, we are going to discuss- how to search and use Instagram hashtags strategically to increase your reach with the audience and can also bring conversions for your business.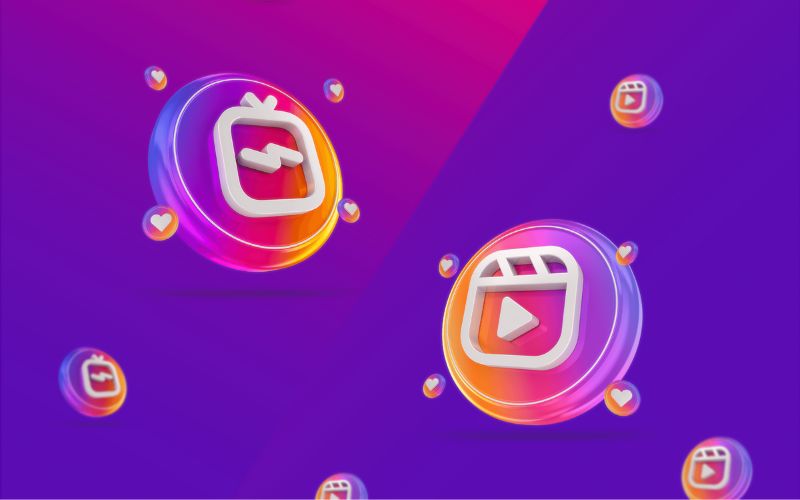 What Makes A Great Hashtag For Your Instagram Post?
Before starting the research, you might want to set your priorities for your Instagram hashtags, which needs to comply with great results for your business.
You want to add hashtags in your Instagram posts that can bring more views, likes, and comments.
Though you should be looking for popular hashtags, however, it shouldn't be so popular to be overly competitive and look spammy to the audience.
With time, your post would get better recognition on Instagram while you also need to step up and use competitive hashtags to bring more audiences on your Instagram post.
Make sure to use hashtags that are relevant to your posts on Instagram.
Also, you can make preparation for future Instagram posts by creating and saving new hashtags.
These are some of the things which you shouldn't overlook while finding great hashtags for your Instagram posts.
Now that we already know what kind of hashtags a marketer should look for, let's explore it further.
Things to Lookout for Before Starting Instagram Hashtag Research-
Make Your Instagram Hashtags Relevant To Your Posts:
Instagram has rolled out the feature, which allows people to follow hashtags to search for any posts. Now, if a user is interested in the relevant niche, the Instagram algorithm will automatically show the content on their feed results.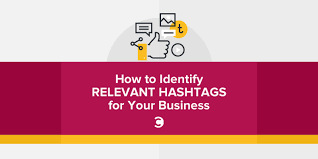 That's the reason why you need to make sure that your hashtags should be relevant to your posts. The algorithm of Instagram favors posts that have specific and relevant hashtags, which makes more sense.
Don't Copy & Paste Similar Hashtags To Avoid Spammy Behavior-
Have you been using similar hashtags in every post on Instagram? It won't just impact your engagement but can also make your posts look spammy. While you need to switch up your hashtags for every new post so that your content would get a better reach with newer audiences.
Every time when a new person views your posts on Instagram, you have the opportunity to get a new follower. With the same hashtags, you can target only a certain group of people, which limits your overall engagement. This kind of thing always happens with brand-centric hashtags.
Even if you are repeating some brand-centric hashtags in your several posts, you should add some new popular hashtags that could bring you more engagement.
Avoid Using Gimmicky Hashtags-
People use unnecessary hashtags on their Instagram posts, for example, #like4like, #follow4follow, #love, #goodmorning, etc. These kinds of gimmicky hashtags won't get you better reach on Instagram for a long time.
If you don't want your post to be lost amidst millions of other posts, then you must make better use of precious hashtag space and wisely fill them with hashtags that can bring more views of the audience on your Instagram posts.
Also Read
How to find what is the best time to post on Instagram?
How Many Hashtags To Add In Your Instagram Post?-
There is a lot of conflict between marketers about how many hashtags can be usable on an Instagram post. You might have heard that using too many hashtags can make your post look spammy and can make your account shadowbanned on Instagram. But that's not the truth. Instagram's head of product already confirmed that using 30 hashtags (maximum number of hashtags can be added on Instagram), your Instagram account won't get penalized.
In fact, the rule is very simple. You can add as many relevant hashtags on your posts. Having more hashtags can help you to attract more audience to your posts. So don't feel anxious and make sure to search for highly competitive and relevant hashtags for your Instagram posts.
Add Hashtags In Your Comments-
Don't you want to make your Instagram profile appealing? If yes, then you should work on creating attractive visual contents for your post that would give a pleasing experience to your audiences. While you need to make sure that everything on your Instagram should look compelling to get you a few followers. Adding a whole block of hashtags in the caption make your post look stuffy and can result in more instant turn off visitors after viewing your post.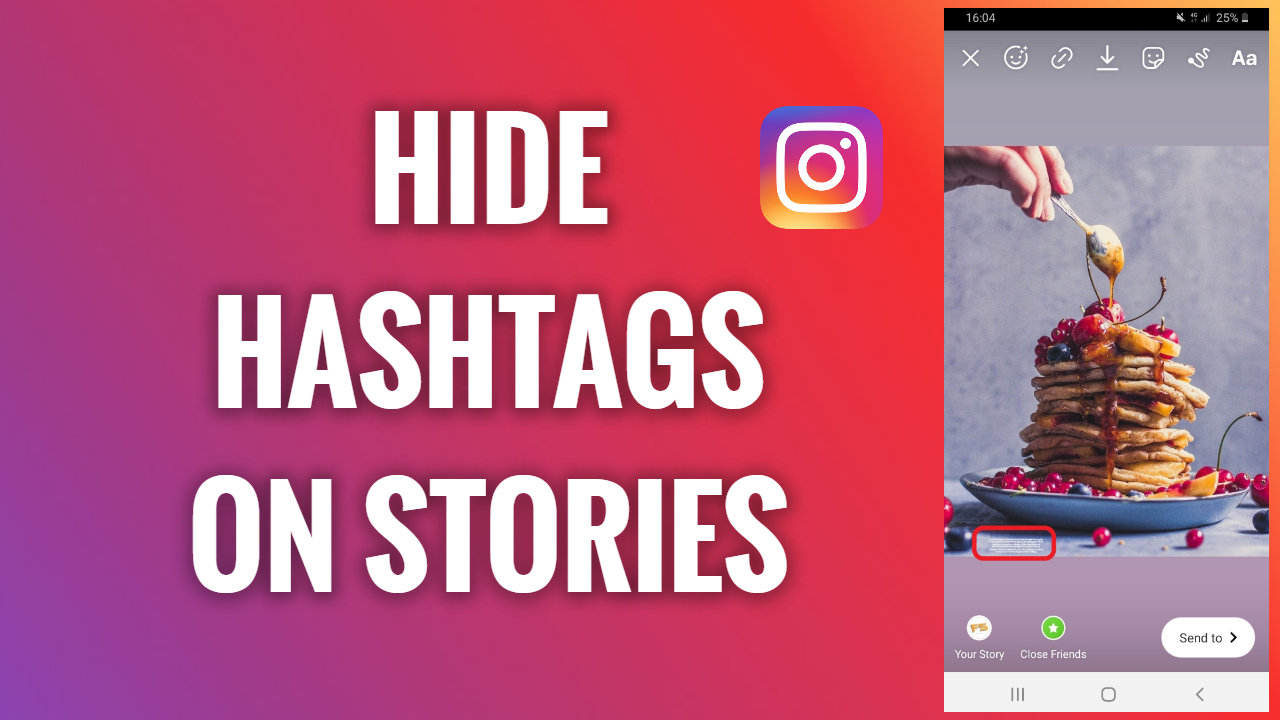 In such a case, you can add hashtags in your comments and can also bring you engagement. So, if you want clean-looking cation, without any distractions, then you should include hashtags in the comments section of your Instagram posts.
Add Hashtags To Your Instagram Stories-
You can also use hashtags with your Instagram stories. There you have the option to add up to ten hashtags in each story with a clickable hashtag sticker included. But if you are worried that using such hashtags will impact on the quality of your story creation, you can make your hashtags invisible. In the edit option, using camouflage to hide your hashtags with the same background-color, or you can also make creative use of hashtag stickers.
Entice Your Viewers To Follow Your Brand Hashtags
To explore relevant media on Instagram, people can follow their favorite hashtags. It means that you can entice your viewers using your brand hashtags that can deliver more engagement, likes, and share on your post. Using hashtags, you can form a community for your brand and can also help you to increase the number of your followers on Instagram.
You can also say that following a hashtag is quite similar to following an Instagram profile. When users follow an Instagram account, the media content from that profile would be visible to the users in their feed result.
Just like that, by following hashtags, users can view the posts that are relevant to the hashtags they have followed. While you can use your brand hashtags to attract more audience to be interested in posts so that you can explore better sales opportunities for your business.
Start Your Instagram Hashtag Research:
Now you know the best part of what you are looking for in your hashtags, you are ready for doing your Instagram hashtag research. There are tools and apps which people can utilize to search for trending and popular hashtags on Instagram. While you also need to make your own brand strategy so that you can target more audience compared to your competitors.
Here are some steps that might help you with your research on finding the best hashtags for your Instagram marketing.
Level.1- Offhand Research for Hashtags:
In offhand hashtag research, you need to be active with your reaction. When you post content on Instagram, you might be thinking of a few hashtags to use in your post before hitting the share button. Thus you don't have the knowledge about the effectiveness of the hashtags. And it can also lessen the influence of your posts that can make a reach with a few people only.
The only advantage of the offhand strategy is that you don't have to spend much time and effort on hashtag research while you can publish more content on Instagram.
Sometimes this strategy may work great for you, but you know in real life when you speed up too much, there is always a chance of an accident. Similar to that, the offhand hashtagging can also backfire your strategy and may not give you the result as you have wanted.
Level-2: Look Out For Popular Posts:
Do you know that including popular hashtags in your posts, you can bring up to 70% more engagement on your Instagram profile? All you need to do is to search for some trending posts on Instagram in a similar niche as yours while you can use the same hashtags in your own posts.
So, have you been looking for some popular and competitive hashtags in your niche? Check out the amazing feature of Socinator to search for compelling hashtags within a few clicks.
Also Read
13 Creative Instagram Marketing Ideas That You Need To Learn From Meme Pages
To start searching for popular hashtags on Instagram with Socinator, here are the steps to follow:-
Open the Account Manager on Socinator dashboard from where you can navigate to configure all the social media accounts.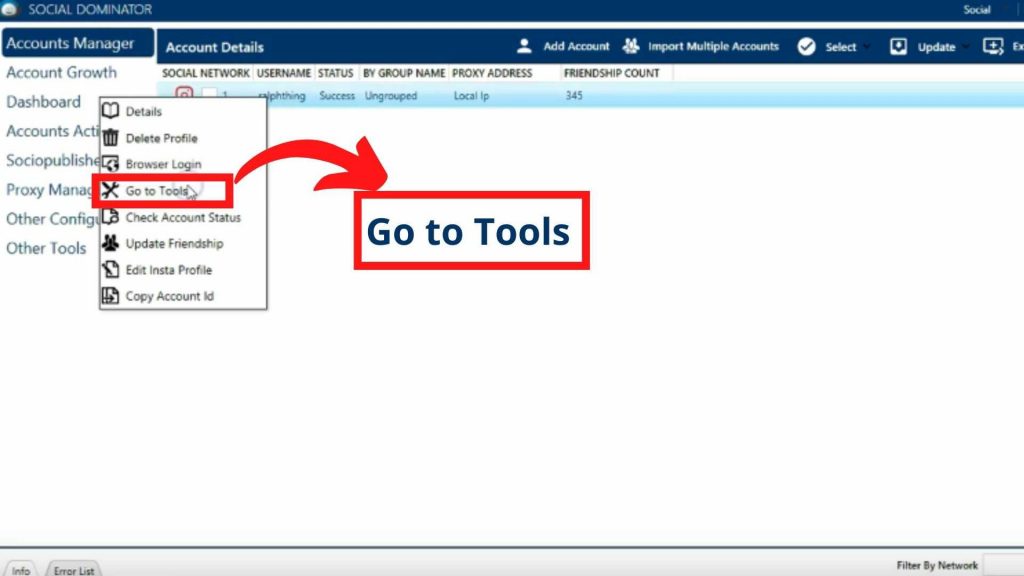 Right-click on your Instagram account and hit on 'Go to tools.'
It will take you to the account configuration screen where you can check the activities that you have automated on your Instagram account.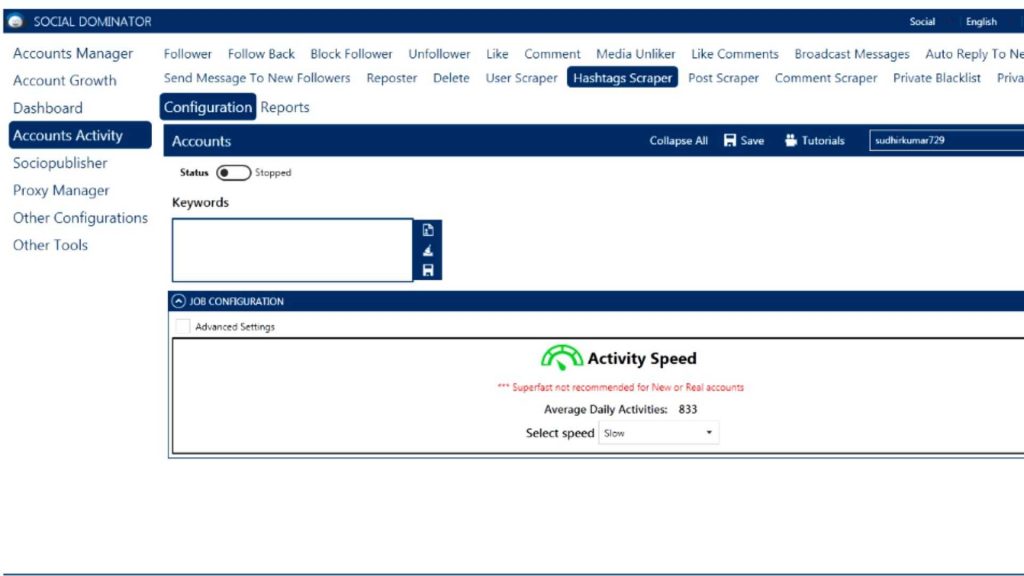 On the top of the screen, you have the 'Hashtag Scrapper' tab. Hit on that.
Here you can search relevant niche keywords to find the best hashtags, which you can use on your own posts to get better engagement on Instagram.
There you have the keyword box, where you can fill the keywords based on which you want relevant hashtags. You also have the option to import keywords directly from the CSV or Text file to save your time.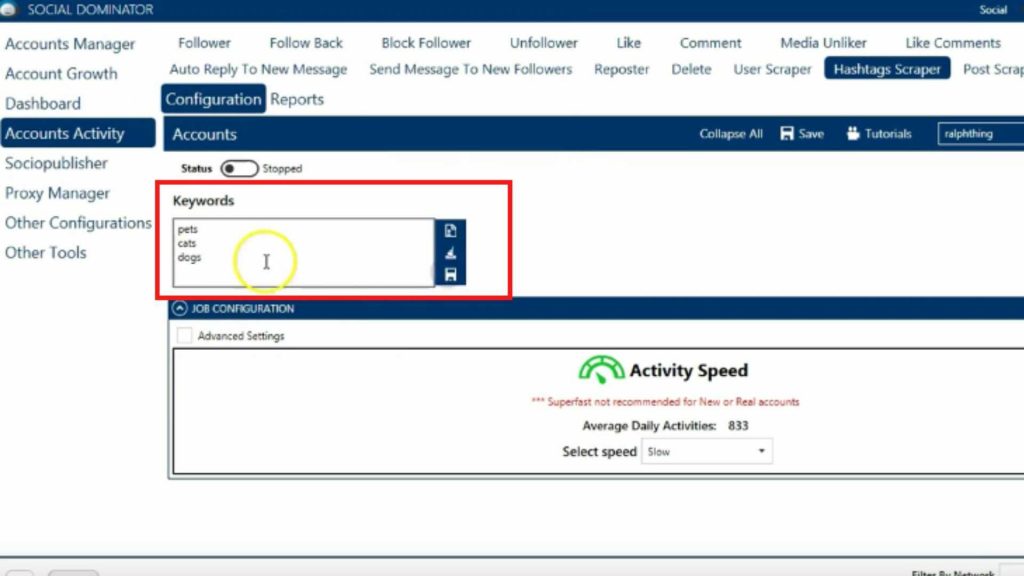 In case you want to make edits, there you have a Clear all button.
Now, if you are done with the keyword part, click on the Save button.
Under the Job configuration, you can define the speed at which you want to scrape popular hashtags for your Instagram post.
Also, you can use the Advanced settings using which you can define the time taken to search for hashtags, and you can also set the number of accounts that you want to target.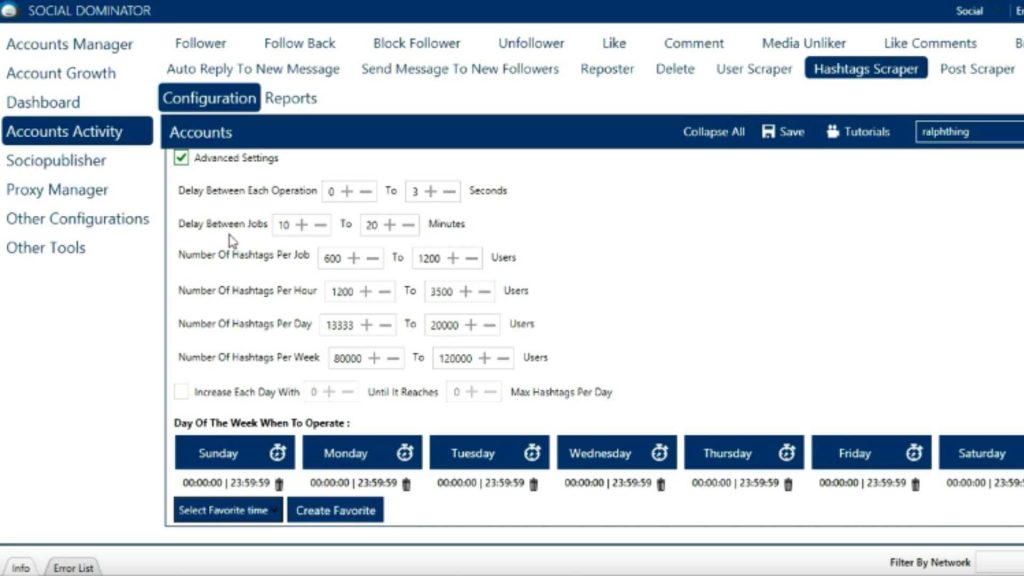 After saving that, you can switch on the status to active so that Socinator software will automatically search for the relevant Instagram hashtags.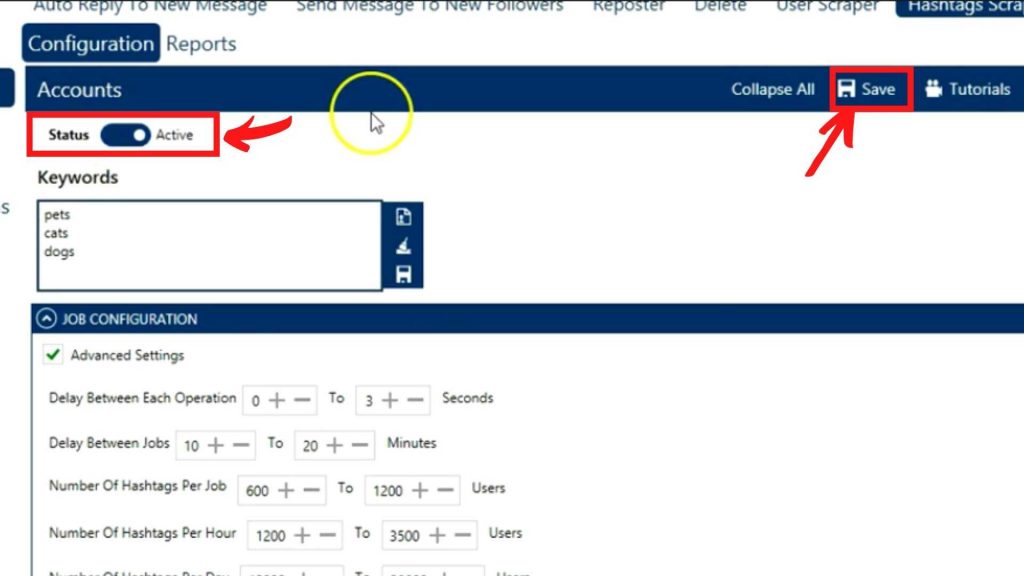 To check the results, click on the Reports tab beside Configuration.
Besides, Socinator gives you another option to search for hashtags, which perfectly fits well for running Instagram campaigns on multiple accounts.
On the top corner, click on the Social drop-down button and select Instagram.
It will take you to the Accounts tab. On the top, you have an Instagram Scrape tab, hit on that.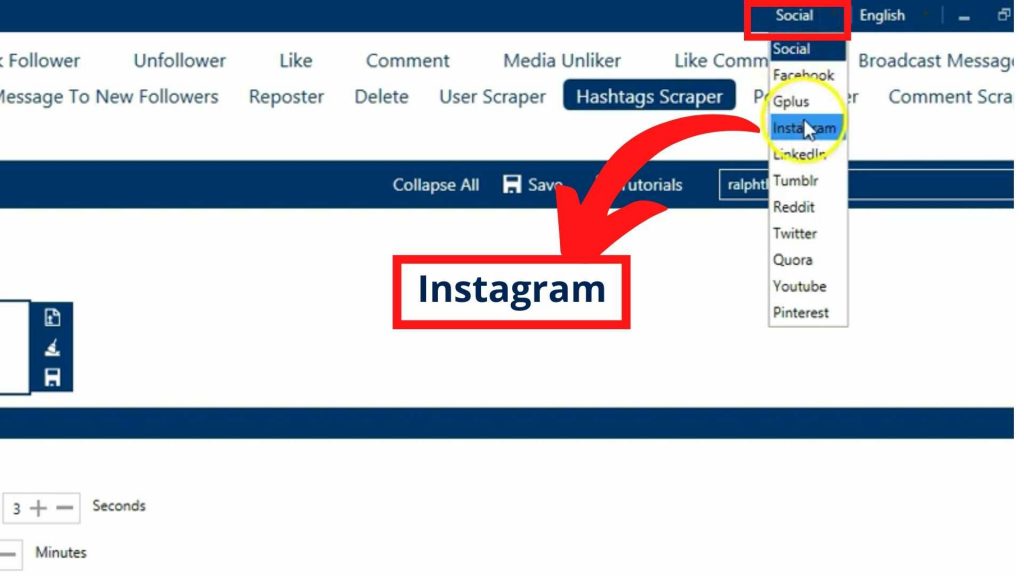 On the left side of the dashboard hit on the Hashtag Scrapper tab.
There you have the option to name your campaign, and then you can enter the keywords to search for the hashtags for your Instagram campaign.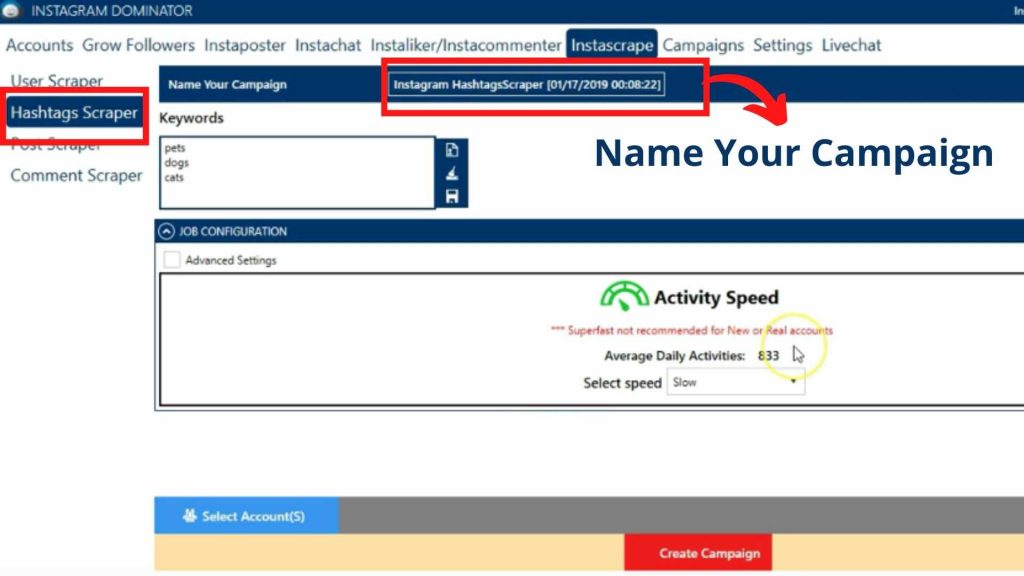 At the bottom, you need to click on Select Accounts. There you can select multiple Instagram accounts on which you want to run your marketing campaign.
Now hit on the Create Campaign button and save. It will show you the newly created Instagram hashtag scraper campaign.
There you can check the status of your campaign is active or paused.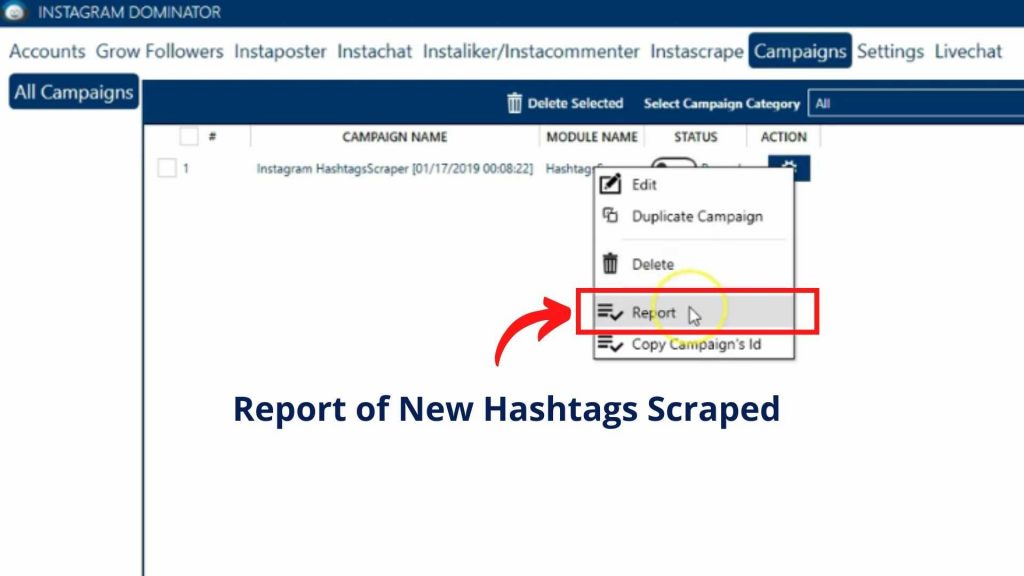 On the right, you have the Action button, hit on that, and select the Report option to check the new hashtags for your campaign.
For further detail you can watch this video
Level-3: Build A Portfolio of Hashtags-
Now that you have collected lots of hashtags, you need to filter out some of the best ones and use them in your Instagram posts. You need to be strategic for creating a portfolio of relevant hashtags only. There you can define a certain group of hashtags with varying degrees of engagement level.
Utilizing the different set of hashtags, you can inspect their performance and can make appropriate changes in your hashtag strategy to gain more views and engagement on your Instagram profile.
Final Words:
So, have you started your Instagram hashtag research? If not, then you must make a mantra to target and win new followers with every new hashtagged post.
If you are using this guide for your hashtag research, what is your experience? Are you getting some success in your Instagram marketing? Please let us know about your experience in the comments section.