Youtube is an exceptional social media platform. It allows people to express themselves better and to make a living out of it. In this article, we are about to talk about how to make money on youtube without putting in much effort.
You have probably seen people make money on youtube and earn right through their videos.
Hey! You can do that too!
Well, expecting popularity and eight figures is quite an unrealistic hope, but you sure as hell can lay the foundation for achieving those expectations.
Stick to the blog and get your answers on –
How to make money on Youtube?
How many subscribers do you need to make money on Youtube?
How to make money on Youtube under 18?
How to make money on Youtube ads?
How many views to make make money on Youtube?
How to make money on Youtube without 1000 subscribers?
How to make money on Youtube without showing your face?
So let us get started with the basic money-making methods on youtube. Get better-earning prospects on your youtube videos.
How To Make Money On YouTube?
Know, How To Make Money On Youtube Step-By-Step
In this edition, we are going to talk about all the aspects of how to monetize youtube videos effectively in the year 2022. This can include recent updates, older methods, new trends, and so on! So, let us get started!
Meet YouTube Monetization Guidelines.
Earlier, when youtube first started giving monetization permission, some users began to abuse it. So, to protect the creator's community, youtube has introduced a few guidelines that will judge the authenticity of your youtube channel before approving it for monetization.
So, how many subscribers do you need to make money on Youtube?
The monetization guidelines include channels to be a minimum of twelve months old, have acquired at least a thousand subscribers, and videos should have four thousand watch time over a year. Plus, your age should be 18, or your channel should be handled by a guardian to be eligible for monetization criteria.
So, you are eligible to have a monetization approved channel if you have successfully met these guidelines.
Setup Adsense Account.
To make money on youtube, you have to have an Adsense account. You can sign up on Google Adsense for free through its website. As always, you need to be at least 18 years old to set up an Adsense account, or if you are younger, you can have a guardian sign up for you.
For creating an Adsense account, you need to provide your bank account information or Paypal account and verify through a valid mail ID. Well. for starters, you will only be getting utterly small amounts in per click and view, but nothing to worry about, as it will keep adding up over time. This is the first step for – How to make money on Youtube?
Join the YouTube Partner Program.
Once you have fulfilled all the monetization eligibility criteria, the first thing you might want to explore is to make money on youtube from ads. Many YouTubers have opted for this module to get additional revenue on youtube.
But there is a catch: you have to be in that country where the youtube partner program is available.
To make it work, you have to decide the placement of the ad in your youtube videos. Make sure your audience sees the ad to the end or at least engages with it for a while. If your viewer skips the ad, then you will not be getting any ad revenue. That is why the placement of the ad is crucial. What you can do to make your viewer engage with the ad, place it at the beginning of your youtube video, or put it just before you begin to share some interesting information.
For example, you are halfway through the video, and you are beginning to say something interesting, like "..to avail of a youtube partner program, I did … ad …" complete the sentence. Now, your viewer has grown curious, and they have to stick through ads to know what you are going to say.
Well, once set up, the ad revenue will split between you and youtube. Where your share is 55%, and the youtube share is 45%. It is the way google pays you for giving a platform and exposure to the ad.
Explore Youtube Revenue Generation Resources.
YouTube is a great platform to earn from mere videos. It is more like an investment because views are not getting less anytime in the future. They will always increase, and so is your revenue. Thankfully, there are so many ways to make money on Youtube.
So, let us scroll through all the ways on – How to make money on Youtube channel?
Ad Revenue

We have already discussed how ad revenue is stretching the revenue generation in YouTube. To make it happen, you need to enable video ads on youtube by going through your settings.

Well, ads seem like a neat option to make money on youtube videos, but you need to keep in mind that no one likes ads. So, if you want to keep your viewers happy, you can have short video ads at the beginning and one informative or entertaining one in the middle.

In case your youtube video is less than 15 minutes, you can put two ads on it, but if your video is large, you can add the appropriate number of advertisements in your youtube video.

So, did you know how to make money on Youtube through ads? Now let us move on to how you can warm yourself from adless videos too!
Youtube Red Revenue (Premium)

It means that you will get paid for having a view from a premium youtube account. Isn't it amazing? You are getting paid on adless streaming!

However, many YouTubers were worried that this could hamper their ad revenue. Well, it turned out to be just fine!

Additionally, youtube personalizes the experience of premium users by providing them adless streaming, even if the original youtube video is composed of ads. So, this is proving to be an additional revenue stream to the YouTubers.
How to make money on Youtube exclusively? Get Channel Membership

Once you get a minimum of 1000 subscribers, you can set up a channel membership. In this module, you can charge a monthly fee for your viewers to watch particular videos.
Short Fund Support.

When money is all you need to keep up with existing videos, you can crowdfund or initiate fund support from your audience. It is another way to make money on youtube!

Many channels put out an exciting trailer for their viewers, which generates their curiosity, and hence they fund their channel to contribute to the creation of that video.
Super Chat And Super Sticker

It is a feature of youtube that allows the viewers to get seen in your live streams in exchange for some defined amount. Apparently, your viewer needs to buy a super chat or super sticker, to have that. You can avail of this feature in two conditions:
You have to have a minimum of 1000 subscribers to unlock this feature.
This feature is not available in every country, so you need to be present in some particular countries to have this feature.
Launch Youtube Merchandise.

Many tutorial channels first provide solutions of the product and sell them, then and there. As the expansion of e-commerce is highly apparent, it will be more convenient to launch your own merchandise of exciting products. Once you have over 10,000 subscribers, you can set up your own merchandise and interact with your audience through your branded products. This is how to make money from Youtube!

Become an Affiliate Marketer.
Ad revenue is not forever! After some time, you will need to go ahead of ads and use your audience's trust to make money on youtube. Large marketing agencies leverage youtube influencers to sell their products.
You can be one of those too! All you need is to promote a legitimate brand and ask your viewers to click the given link on the description to make a purchase.
Through every click, you are given some amount as your commission via the company for each sale.
How to make money on Youtube without monetization? Well, with this technique, you do not necessarily need 1000 subscribers on your channel. But, having more subscribers can make you seem more authentic to the brands.
It helps to boost your market value and also to strengthen interactive trust within the audience community.
License Your Content.
If you are an original creator, then it is advised that you should license your content. It will help you make money on youtube. If your content goes viral and someone else wants to use your content, you can either charge them for doing so or make them purchase the copyright. This is another excellent way on the topic of how to make money using Youtube!
Well-Timed Youtube Video Pop-ups.
Once you have built a repo on youtube, you might want your audience to engage with most of your videos. Well, you can provide links to your other youtube videos on descriptions, or you can attach video popups at the end of your video when there is less interference on the screen.
Build A Blog To Complement Your Channel.
When you happen to be a marketer or someone who loves to share valuable information, then a blog might help you boost your reach and revenue. Always remember, youtube is an extension of your engagement that lets you express better and more conveniently in a short range of time.
However, a blog assists you in tracking your audience and checking up on them through emails and stuff.
One more thing you can do is attach your youtube video of the same topic on your blog or website, and whenever someone reaches out to your blog and clicks on the video, their view will be counted and added to the overall views of that video.
How to make money on Youtube videos fast? Schedule them periodically!
The continuous flow of content is what is going to establish a firm ground of loyal audience. It is understandable if you are facing difficulties in posting youtube videos regularly. That is why you need to schedule your content in advance so that you can save time and remain consistent, all at once!
One such excellent software which can help you remain updated and consistent is Socinator. Through this tool, you can not only schedule but also automate your youtube channel. Sometimes when you get comments in bulk, it is not that easy to reply to everyone, but a simple Comment Like is appreciative. With Socinator, you can make it happen. Apart from that, Socinator allows you to increase the view count of youtube videos too!
Additionally, socinator integrates and automates nine-plus platforms including, Facebook, Instagram, YouTube, Reddit, Twitter, Pinterest, Tumbler, Linkedin, and Google+.
So, how to make money on Youtube?
Grab Socinator and become a successful digital marketer at Youtube!
Leverage Other Platforms For Wide Engagement Prospects.
The awesome way to get engagement and views on youtube videos is by promoting the content on other social media platforms. Yeah, just because your content is available on youtube doesn't mean you cannot channel viewers from other platforms.

Grow your reach and spread the word to your viewers from different platforms. Make your content reachable to everyone and make money on youtube. This is how to make money off Youtube, technically and methodically!
How many views on youtube to make money?
So, in this edition of Youtube – how to make money, we will be discussing the number of views you require to monetize those videos. And along with that, this section will cover how much Youtube pays per view!
So, how many views do you need on Youtube to make money?
You need at least 4000 public watch hours to enable monetization on your youtube video. And this is common for every user around the world. However, what is not common is the ratio of views and revenue generated out of them.
There is a huge misconception about revenue generation on youtube. That specific amounts are paid for defined views. Well, this is not true. Few factors govern the payment distribution to the youtube channels.
Engagement stats.
Country or demographic location.
Well, YouTube video views are not exactly the parameter of money-making. Instead, the more views a video has, the more ad clicks there have been! Which ultimately means greater revenue. And this narrows down on certain view statistics. There is no exact evolution of the YouTube views algorithm, but here are some assumptions on YouTube ad revenue.
According to the research of medium.com, for 1000 views on ads, you will generate ad revenue around $3 to $5. The ratio of ad views to the revenue will always be 1000:3 or 1000:5.
For example, for 10,000 views, it will be around $30 to $50. For 100,000 views, it will be $300 to $500, and so on.
It is not an actual earning but an estimated one. Moreover, we have all talked about monetized views. Many youtube viewers have installed an ad blocker, so their view is not monetized, and hence you will not get any earning out of it.
So far, we have covered topics regarding – how many views do you need to make money on Youtube? Now let us move on to another amazing topic!
How to make money on youtube without creating videos?

There are countless ways to make money on youtube, but putting in a minimum effort and generating maximum revenue is one most exciting way. Reuse the videos of other content creators who did not license their content and present it on your channel.
How to make money on youtube without showing your face?
There are several video content available on YouTube libraries that fall under Creative Common Licence. It means anyone can take the content and publish it on their channel as it is.
Easy, right? If you run into the youtube content of the CC-BY license, you can tailor them as per your convenience and enjoy monetization on youtube from it. So, are you ready to act upon how to make money on Youtube videos?
Conclusion
So, you have all the information you need regarding – How to make money on Youtube?. I am convinced that you might want to begin your journey as a YouTuber right now. Well, as much as it is important to understand many ways to monetize on youtube, it is also necessary to remain consistent and dedicated to the growth of your channel.
So, why waste any minute? Download Socinator and map out your success!
Schedule, automate, and grow.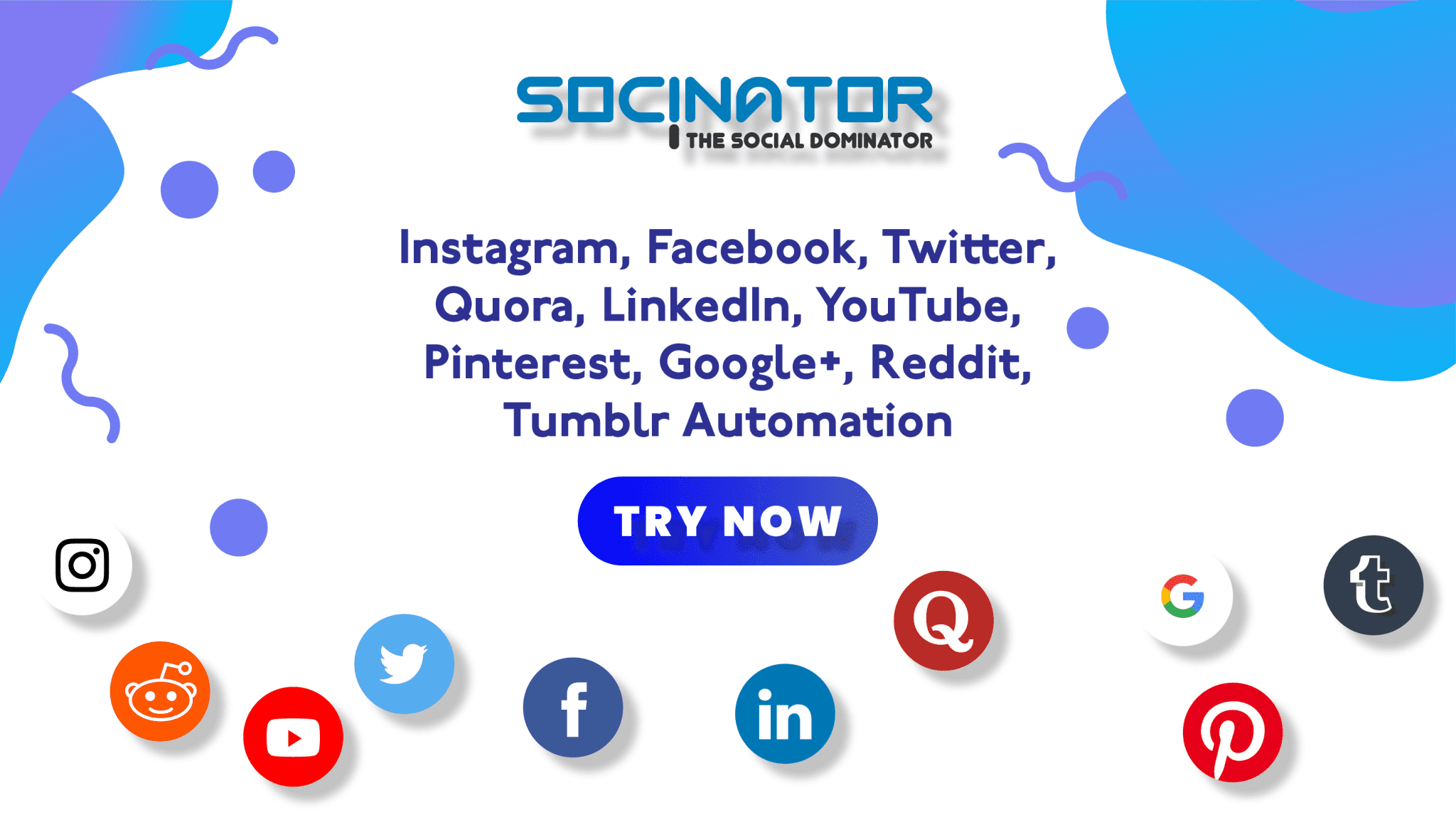 Read More
The Best Instagram Tools You Should Try In 2022
Instagram Scheduling Tools Available With Socinator – Socinator
Step By Step Guide To Make Most Of The Twitter Spaces And Extend Your Business Rapidly (socinator.com)