Facebook is the constantly changing, ever-evolving network that businesses must stay up with. You can't afford to miss any updates because Facebook is still one of the most popular sites for users to connect with their favorite brands.
Facebook is developing a new design for Facebook homepage that will remove the "Like" count, provide a cleaner and more readable layout, and make it easier for Page owners to use and administer their pages. These features were first tested with a small set of users on the mobile app, but they are now being rolled out to a larger group of Pages.
Hit The
Play

Button To Listen:
All the new features that come out are very important. Considering the high competition on the platform, it is crucial to be updated to stay ahead of the competitors. So let's checkout all the new layout changes on Facebook's Home Page and ways to make it more SEO friendly.
How To Make Your Facebook Homepage SEO Friendly: The Most Recent Changes
Facebook has a lot of customization options so that you may target your ideal clients at any point in the marketing funnel. Here are the most recent changes to be aware of:
Facebook Cover Photo Size Changes
:
The cover photo size on the former Facebook homepage banner size was 851px by 315px. Its width is now somewhat larger when displayed on a desktop, measuring 820px by 360px.
Even though the changes are minor, you'll need to adapt your current Facebook banner size to fit the new dimensions. Otherwise, your image will appear distorted.
Consider including a short video or compiling many photos to display as a slideshow while you're at it. It can increase audience engagement because it attracts your visitors' attention when they land on your website and encourages them to keep scrolling. And if you want to know about new video specs, click here!
Page Layout that is Simpler and More Intuitive:
Facebook homepage is getting a makeover to make engagement, navigation, and management more effortless.
Thanks to the new design, you can now rapidly transition between your personal profile and your company's public page. It's also cleaner and simplified, making it easier to discover your bio, posts, and contact information.
The profile photo overlaps the lower-left corner of the cover photo. In addition, the new intuitive design improves the entire user experience. The following are some notable page layout updates:
For easier viewing, the About section has been moved to the left-hand side of your Page.
The "Our Story" section has been removed. The content should be moved to the "Additional Information" section by Business Page owners.
Make it a priority to examine and improve your About section in 2022. Incorporate your goal keywords into the content in a natural manner. Transfer your "Our Story" content to the additional information area for easier viewing and avoid customers missing critical information about your company.
Increased emphasis on followers rather than likes:
Facebook will soon phase out Page Likes to focus on your Followers. Rather than merely getting more people to like your Page, this new feature allows you to pay more attention to users who actively follow and engage with it.
Your Page Followers are people who want to receive updates about your company in their News Feeds, comment on your postings, and interact with other users in the comment box.
Another aim you have for 2022 is to encourage your fans to interact with and engage with your Page. To persuade them to do so, provide more personalized content to their preferences, answer their problems, and simplify their lives.
Your Business Page Now Has Its Own News Feed:
If you haven't noticed, News Feed is also available for Pages!
You can now find and join exciting conversations, follow trends, and communicate with your followers thanks to a dedicated News Feed.
Like your company Facebook homepage, you'll also be able to engage with and like other pages. It will even make suggestions for new business relationships, such as other public persons, Groups, and Pages.
Pages News Feed is a business-oriented version of your standard News Feed. Here you'll find the most relevant posts about your subject, industry updates, competitor postings, and other content that you're interested in.
You might wonder why this is important.
It's all about making connections and forming relationships in business, not just with customers and prospects but also with other companies. As a result, liking and commenting on another business's Page as your own allows you to form new connections and cooperate with other creators.
You can also browse content from pages you choose to follow if you have a separate News Feed for businesses. This means you'll be able to see what your competitors and industry leaders are up to. It's a fantastic place to conduct research and develop new ideas.
Furthermore, it provides an excellent opportunity to learn from what other sites post and what information their followers are interested in.
Automate Every Activity On Social Media Using Socinator: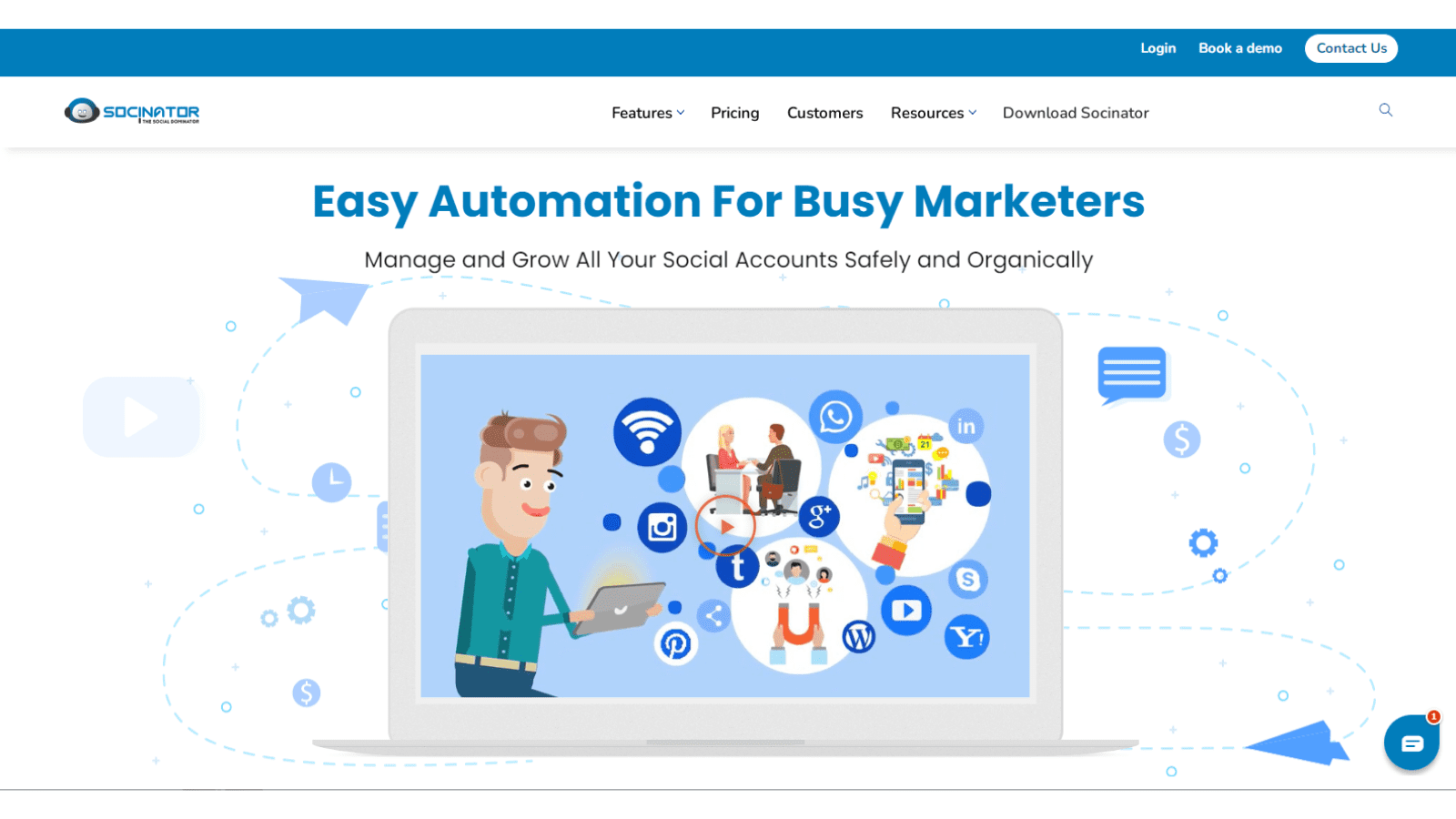 You may build your social media handles safely and organically with its industry-leading features. One of the best social media management and automation solutions available is Socianator. Socinator automates over nine different sites, including Facebook, Instagram, Twitter, YouTube, LinkedIn, Quora, and Pinterest.
Socinator provides capabilities tailored to the platform you want to administer and an RSS feed reader. A good user dashboard allows you to manage your social media accounts in one spot.
Features:
Publishing Report

Automation of all activities

Statistics and Reports on Activity

Content from RSS Feeds automatically published.

Efficient Account Management.

Auto Accept/Cancel Friend Requests

Auto Post/Share Content In Your Groups, etc.
Pricing:
Socinator has various packages and starts at $9.95 per month.

New Features for Safety and Integrity:
Facebook has increased its ability to detect spammy behaviors and dummy accounts, such as hate speech, violent content, and impersonation, to make the platform a safer place for businesses to thrive and interact with their consumers.
To let people know that your business Page is genuine, you should apply for a Facebook verification badge. Because a verified Page's comment on another Page's public post is displayed higher in the comments section and is more likely to appear in the News Feed, it's required.
Actionable Insights for More Effective and Better Marketing Campaigns:
Because more actionable data means better outcomes for your campaigns, Facebook is rolling out an update that gives pages more accurate and trustworthy insights.
To assist businesses in better understanding their audience and how their content performs, page notifications and insights have been improved. The update gives you actionable information and notifications for your company page, such as reminders to post to your audience and stay engaged.
You'll also get a notification when users comment on your post, and their comments will appear at the top of the list.
Users will be able to follow your Page straight from a button in your articles or comments where your Page is suggested, which is another update to look forward to. Maintaining a presence on Facebook increases your organic reach and search visibility.
The Call-to-Action Button Can Now Be Personalized:
We all know how important CTAs are in websites, landing pages, advertisements, etc. They guide consumers on what they should do next or where they should go, encouraging them to take the next step and reduce friction in the sales funnel.
In its new Pages layout design, Facebook incorporated a more prominent call-to-action button that is customizable. This is excellent news since customers at various phases of the customer journey may see your Page and decide to convert straight away.
With so many possibilities for your business, designing your CTA button to encourage users to convert right away is necessary.
To Increase Engagement, Use a Q&A Post Format:
Do you want to increase the number of people that visit your Page, community, or group? The new post type allows you to hold Q&A sessions on your Facebook Page, where your fans may ask you questions about a particular subject.
Q&As on the Page is live and last for 24 hours. Your responses are then put into a collection of reactions that your followers can go over. You also have the option of cutting it shorter.
People join Facebook groups, communities, and pages to seek professional assistance from those who are skilled and experienced in a particular field or issue. As a result, Facebook developed a new Q&A tool to encourage more engaging interactions on the platform.
Explore this new tool to encourage your followers to interact with your Page, enhance your credibility, demonstrate your expertise, and, most importantly, keep in touch with your community.
Create a Story for Your Page:
Because short-form video contentis so popular right now, adding a Stories feature to Facebook Pages makes perfect sense. It will keep your followers engaged, but it will also allow you to capitalize on FOMO or the fear of missing out on potential customers.
You may use it to promote your website by posting time-limited specials and promotions, fast corporate updates, and any other form of content that will assist keep your brand in front of your audience's minds.
A "+" will appear beside your profile photo on your Page. You may begin publishing Stories by clicking on them.
How to Change the Template of Your Facebook Homepage?
Page designs include primary tabs and buttons for several types of Pages (e.g., a restaurants and cafes template for restaurant Pages). If you are thinking about how do you change your facebook homepage layout? You can modify the template of your Page at any moment.
To modify the template of your Facebook homepage:
Click Pages in the left menu of your News Feed.

Go to your Personal Page.

On your Page, go to Settings.

In the left menu, select Templates and Tabs.

To the right of the current template, click Edit.

Select the template you'd want to use.

Review your Page's new buttons and tabs before clicking Apply Template.
Check Out Our Latest Posts:
   Can You Change Your Twitter Handle In 2022?
   Top Social Media Strategies 2022 For Better Social Media Campaign
   Get Verified Badge Instagram In 2022
Wrapping Up:
As one of the biggest social media marketing platforms, marketers have a lot to keep up with Facebook if they want to fully leverage the options it has to offer. We have covered all new Facebook Homepage updates and tips on how to utilize them. I hope it was helpful. What are your thoughts about these updates and how will you utilize them? Let us know in the comments below!