Every Facebook users love videos. Monthly, 1.25 billion of them view videos just on Facebook's streaming video service Facebook Watch. Maybe you are also one of the 1 billion users. Then probably you have also noticed this sudden change of becoming video content a trend? It has become a trend and Facebook video ads allow marketers to nail the video marketing game.
There are many benefits of video ads. Video ads get more clicks and also give more creative freedom and flexibility to represent a brand's true personality. Video ads are the most effective way of connecting with your audience. Facebook video ads have proven to be one of the most efficient formats for conversion and better ROI. It is a skill to create scroll-stopping, engaging video ads on Facebook. And you need to learn the art of creating video ads, it will help you become spontaneously more competitive on the platform.
Hit The
Play

Button To Listen The Podcast:
The thing is, it is not a secret anymore. Every business has become aware of the power of video ads and trying everything to give their viewers what they want. So what are you waiting for? Start to explore the way to how you can utilize this feature to gain benefits? In this article, we will discuss everything you need to know about video ads and Facebook video marketing. Let's get started!
What Are Facebook Video Ads?
You may already have an idea of what Facebook video ads are. Facebook video ads are the format of Facebook ads in form of videos. It is more than just posting text or uploading static images, you need to create a video by yourself, get the help of someone to create one, or use your existing video and upload it to the native video player of Facebook. Here, you will get various customization options to play with such as video description, thumbnail, budget, and target audience.
Why Should You Run Facebook Video Ads?
Facebook video ads open up a whole new world of opportunities that you can explore, and it is worth your time and effort. Facebook video ads create a brand image that pulls visitors back to you. It is not just that is trending on Facebook, it's a strategy that works to help you achieve the desired result of your marketing campaigns. So, let's explore all the benefits that Facebook video ads provide.
The Second Largest Audience After Google:
Numbers never lie. With more than 2.9 billion active users, Facebook is one of the most popular platforms for running video ads. The advantage of having such a large and diverse audience makes it the best place for marketing. Facebook empowers marketers with the best targeting option possible to make the most relevant audience possible. And this is the reason why most of the companies are leveraging Facebook advertising.
Increase Brand Awareness:
As mentioned above, Facebook has a huge user base. With that sort of audience, creating a community and strong social media presence is a piece of cake for any business. But, getting access to this audience is not enough. You need to find and reach out to users interested in the kind of product or service you offer.
The key advantage that comes with Facebook video ads is getting marketers to the desired audience. Facebook has a powerful algorithm in place to help businesses create objective-specific advertising campaigns, and Brand Awareness is one of those objectives. And the recommended ad format for Brand Awareness campaigns according to Facebook is video ads.
Drive More Conversions:
Facebook ad conversion rates are much higher than on most other platforms, which means businesses can generate higher ROIs.
Among all ad formats on Facebook, video ads drive the highest CTR on average. These ads drive more conversions as they help you create an emotional connection with your audience.
Grab Attention Immediately:
There is no doubt that videos are far better for grabbing attention than images. Therefore, showing up Facebook video ads such as In-Stream ads to a highly targeted audience is more likely to grab instant attention.
In-Stream ads are the best way to grasp attention since they appear more than one minute into another Facebook video. After watching this long, there is a pretty good chance that they will watch completely including your ad.
Access To More Platforms To Run Promotions:
The Facebook family consists of four platforms where marketers can spread their messages: Facebook, Instagram, Messenger, and the Audience Network. In addition to Facebook, video ads can be run on two other placements: Instagram and Messenger. You can spread your budget among all three of these placements to reach a much bigger audience and consequently increase brand awareness and plenty of other metrics.
Increase Ad Engagement:
Facebook shorts out larger audience sets based on engagement rates and allows advertisers to reach out to them. You can also leverage that by creating a custom audience based on their engagement rate. It could be anyone, for example, viewers who have watched your video for a particular amount of time. 
There are higher chances that these users know about your brand and are interested in your offering, retargeting can definitely drive a higher conversion rate and higher ROAS. In addition, picking the right ad format can drive more engagement as well.
How To Set Up Facebook Video Ads?
Now that you know how beneficial video ads can be for your business, how do you start creating Facebook video ads? This process is quite similar to the normal ads on Facebook. Here are the steps:
On the top of your profile page, you will find an option Create ads, click on it.

Then select your objective- Get video views.

Determine your audience, budget, and ad schedule.

Create your ad! This is where the fun begins.

Finally, write the copy above your video, you can also see the preview, and watch your video views fly.
Facebook provides many options to make your video more creative. You can upload a video, choose one from your library, or design a slideshow with images. And now, with our Shutterstock integration, users have access to millions of free, high-quality video clips to create their ads.
How To Use Facebook Live For Marketing?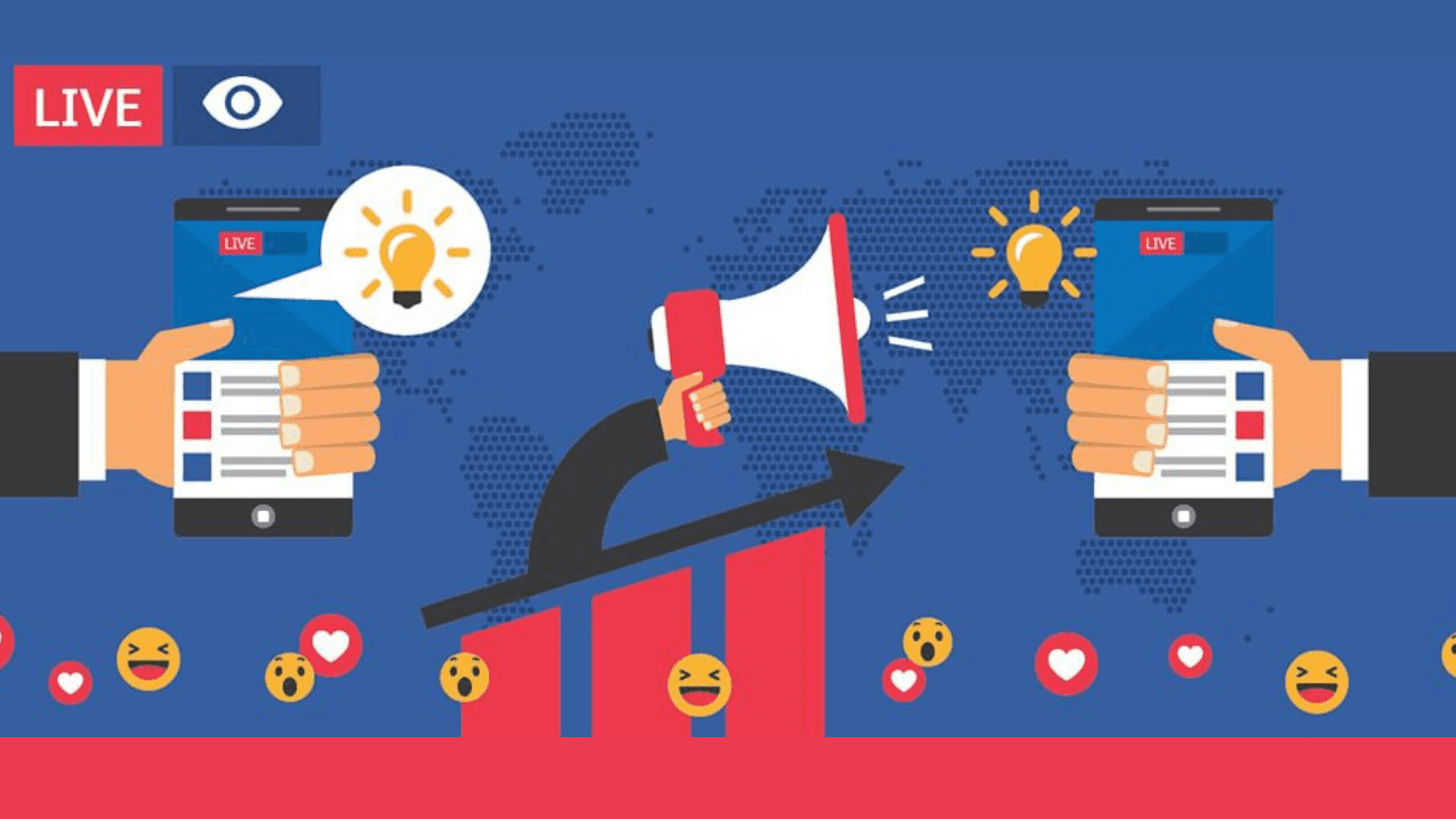 With time, marketing on social media platforms has changed drastically. Easy access to the internet has empowered everyone to be a part of the growing market. It has blessed the marketing industry with many effective options to make its marketing campaign successful. Here are the ways you can use Facebook live for marketing and grow your business.
Using an Influencer:
Influencers are individuals who have gained a reputation of having knowledge and expertise in specific topics. Influencer marketing is a widely used platform. Influencer marketing is very beneficial for businesses as it gives you access to the existing audience of that influencer. People tend to listen to their favorite content creator or influencer. As if they are one of their own, this connection brings many benefits for your products and services. It also creates a sense of faith toward your brand
Creating a Video Talk Show:
Do you know why many people visit YouTube? Because of channels that create a similar type of content. Many viewers visit daily for information, and it works to boost brands and subscribers. It can be also applied to live streaming on Facebook.
It is one of the most important Facebook Live tips. Creating a regular talk show or live content to share information might be hard. However, the engagement factor for the brand is often worth the effort.
Be Authentic:
Think for the long-term success of your business. If you want your customers to stay connected with you, providing good products and services is not enough. You have to make a connection with them. And the best way to do it is by being authentic. Nothing sells more than being authentic. The voice of your brand is a vital component in marketing. 
Authenticity is crucial if you want to engage an audience. During a live Facebook video, the pressure is on to remain authentic. As many as 80% of people state how authenticity is a primary factor while following a brand. It means you need to be true to your industry, audience, and word if you want to have the most success in Facebook Live marketing.
Socinator: The Social Dominator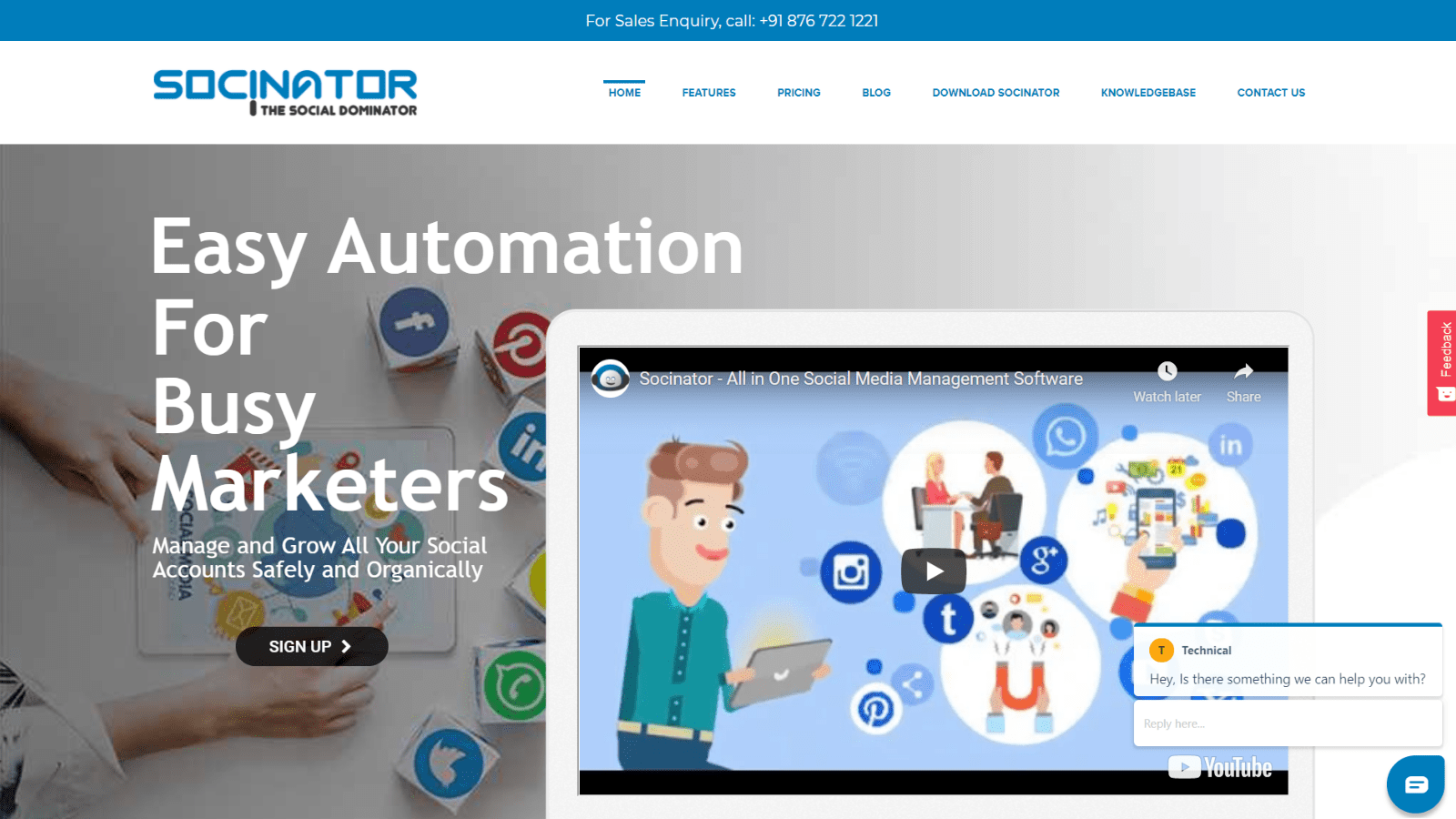 As a marketer, managing multiple social media account for marketing can be overwhelming. Especially with so little time and fierce competition in the marketing. You don't want to waste a single second. But how can you do that? That's where Socinator comes is play.
Socinator is the best social media managing and automation tool that you can get. It helps you to grow and manage all your social media account safely and organically. It automates all your activities on Facebook, Instagram, Twitter, YouTube, and various other platforms. It provides many useful features like Activity and Statistics Reports, Auto Publish posts, Auto comments, Auto Like, and much more.

Engage The Audience:
Just think for a minute, if you happen to watch something which is not engaging, why would you watch it? And it is so obvious. Why would anyone watch something that is not engaging? Your live sessions have to be engaging that your audience can enjoy. 
Being engaging is not only about sharing entertaining viewpoints. It's about connecting with the audience and making them part of your show. For instance, you can ask the audience what they think. Make them part of your live stream.
Be Unique With Your Content:
Being unique with your content can be a game-changer. Many videos get popular because they are so unique that people don't usually have the option to experience them. For example, concerts are widely watched as many can't afford the tickets or live in another geographic location.
Think of die-hard sports fans who spend hours watching their favorite teams instead of going in person. This is why channels like ESPN have such a profound following.
Create Tutorials:
Most people use the internet to learn how to do something. In fact, "How-To" content is one of the most effective ways to create material on the Internet. And you can use this to your advantage by creating how-to videos.
Yes, your business and industry can be a factor as well. Many things are impractical to show because of time allotment. But, you can always show parts of a project as part of an ongoing, and create a weekly series. It will only help your customers but also increase your regular viewership.
When any business creates tutorials and how-to videos, customers get a sense of care. This type of content build trust, which heavily affects the perspective of your audience towards your brand. Instead of only creating advertisements for your products, you can show your audience how to use them properly may help boost viewership.
Promote Your Upcoming Live Feeds:
Lastly, make sure you promote your upcoming live feeds before going live. Many people may not have any idea of when your Live is going to start. Or maybe someone joined late, and they want to get back to it. While you can rely a little bit on people sharing your content in their own Facebook feeds, never assume that you will get higher engagement immediately. By letting people know when your next Facebook Live event is going to happen, you may tempt visitors to come back.
Check Our Latest Posts:
Instagram videos: How long should your videos be for them to be a masterpiece?
YOUTUBE AD PERFORMANCE: 7 METRICS TO ANALYZE YOUR YOUTUBE AD PERFORMANCE
14 Best Tips For Using Instagram For Business
Wrapping Words:
We should not overlook the power of video content on social media platforms. There are some things to keep in mind to make sure you are utilizing video ads the right way. Facebook Video ads are a very effective marketing tool. It continues to stay in one of the fastest-growing ways to reach your target market. 
Effective video advertising will bring you much success and many paying customers. Hopefully, these strategies will help you feel more confident in creating video campaigns and get you started down a whole new path. No doubt, there will be obstacles in this path. You can use Socinator to remove all the hurdles that come in your path. 
What are your thoughts on this? If you have any queries or suggestions, let me know in the comments below!