You may turn to Instagram, scroll through TikTok, or opt for a YouTube video to keep up with current trends. However, over 400 million people use Pinterest for business to stay up with the emerging trends.
Pinterest is much more than just a visual platform connecting with existing customers and meeting new followers. It has transformed the lives of entrepreneurs, bloggers, and even big companies. Like any other social media platform, it allows companies to reach their full potential by interacting with new individuals, using their skills, and discovering new possibilities all at the same time.
And, as evidenced by predictions of Pinterest trends 2021 — the visual platform sees a lot of experimentation. As trends are the industry that pleases the audience's eyes, you can easily see why Pinterest is the place to define the latest trends. Moreover, Pinterest is now more than just a visual platform, It is an excellent marketing platform for small businesses.
By saying that, have you started pinning for the next month? If you haven't already, you should get started right immediately. You may be wondering what you should be pinning, and that, my friend, is why I am here talking about trends.
Let us dig deeper, deeper, and deeper with the trends that are going to blow your mind for the next six months and into the coming year. And that is not the only thing you will get in this blog. Read further to know more and trend more.
Let's Get The Pinterest Trends Rolling
Pinterest has its way of doing everything. It comes out with its annual Pinterest Predicts reports that cover trends from beauty to DIY, fitness, crafting, health, travel, and so on entirely. And what makes Pinterest more unique is its way of predicting future trends, not just stating current ones. Isn't that cool?
Wait, there's more! According to Pinterest, eight out of ten of its 2020 trend forecasts came true.
Enough of the chatter though, let us get into the top trends Pinterest thinks you will be seeing everywhere in the days to come.
Travel: (popular with the Boomers category)
It appears that the COVID-19 tunnel is about to come to an end, and people are already into traveling. People who have been pent up in their homes for far too long are eager to move out of their comfort zones and explore new places.
01- Car Getaways
In the coming days, cars will become more than just transportation. A creative approach to making the car comfortable and functional will emerge as a new trend. Be it for family date night, family movies, and even create their man cave.
In simpler words, pinners will set the car as third space this year. Cars will become increasingly essential in enriching the whole lifestyle, from romantic dates to just acting as a place to chill for a while.
02- Nomad Aesthetic
In 2021, enthusiasm for the great outdoors is expected to remain high. Last year, Pinners were thinking about ethical travel, going outside, and eco-tourism. This year, they plan for basic camping, road adventures, and trips to national sites to get lost in the outdoors.
03- Dreamy Getaways
It seems like a dream for many pinners to get into a palm-fringed island that has the essence of dreamy getaways with a long diving space and a place to rest in a hammock in paradise. It is still a fantasy found in a Pinterest home.
Hearing about vacations already makes me feel so good. Don't you also want to pack your bags and just get lost in the dreamy locations?
Anyways! Pinners start dreaming about the trip again, whether it's for wildlife, wild waves, or just wild drink ideas. They are planning some incredible holidays, including luxury vacations, romantic getaways, and breath-taking scenery.
Makeup Trends:
This year, Pinterest predicts a move away from caked-on makeup and a strenuous approach to beauty for the new generation. Or should I say, a natural approach to beauty? Anyway! These are the top three beauty trends you can expect to see everywhere in the years to come.
04- Skinimalism
The reason I came up with a natural approach to beauty is because the time has come. The time has come to say goodbye to your full coverage foundation. Instead, people are more into minimal skincare. It is the new glow-up, with people ditching complex contouring and cake faces with natural beauty and improved skincare regimens.
05- Brows, Brows, Rainbrows
You have probably heard of statement brows, but we are talking about brows that stand out, that make a STATEMENT.
Believe it or not, brows will be the next big thing. It will be one of the most influential trending searches this year. Since bold is the new name of the game, GO BOLD.
Goth brows, which are highly drawn-on, dark, and angular, are trending 120 percent on Pinterest, while bleached brows are in trend with 160 percent. On the other hand, rainbows are a delightful sensation style that includes transforming brows into brightly colored arches.
In simpler words: Makeup is about to get a whole lot more exciting and entertaining.
06- Color Pops
Colors never went out of trend. This new makeup trend belongs to the "indie beauty." A category that is predominantly made up of Gen Z- A generation is known for its vivid colors, crop tops, and baggy pants, as well as makeup and emoji-inspired nails.
In short, you will get to see a burst and flash of color in the inner corner of the eye, a smiley face within your nails, and butterfly-themed eye makeup.
Health And Wellness Trends:
Taking care of oneself in natural, holistic ways is rising on Pinterest, and, with it, a flurry of new wellness trends emerges that is too prominent to overlook.
07- Mental Health
Emphasizing the importance of our minds being as healthy as our bodies is currently in trend. People have outgrown themselves to self-care routines and getting outside in nature with a self-care challenge that encourages them to take a break from scrolling and take a few deep breaths.
You can expect a flurry of posts that help followers with the messages to take care of their mental health and spread a positive mindset.
08- Plant-based living
More and more people are becoming aware of the numerous advantages of a plant-based diet. Vegan, vegetarian, and overall plant-based lifestyles will undoubtedly be the most popular wellness trends in 2021.
A surplus of plant-based recipes and a display of products that are plant-based is emerging as an influential factor among Pinterest trends. Also, a journey to plant-based living with the audience, including a gorgeous photo of fruit, is one of the most trending searches of 2021.
Food And Drink Trends:
More individuals than ever before are likely to turn to the kitchen in 2021, both out of necessity and boredom. It turns out to be a creative and exploring way of feeding themselves while also having fun. The thing is, if you are unable to visit a restaurant, bring that restaurant home.
Not literally. Bring that restaurant-quality food to your home.
09- Spicy Recipes
The heat is on, as Pinterest predicts the spicy food is about to dominate in 2021. Pinners have had enough of the same old spices and are ready to turn up the heat. This year, chefs are looking for more delicious concoctions and spice-filled sauces.
10- Next Level Charcuterie
This year, charcuterie platters grabbed the globe by storm. Those meat and cheese platters appeared to be all over the place, from celebrity tables to baby showers to fancy banquets.
This trend is here to stay and will continue in 2021, but with a twist. This year, pinners are looking for new spins on an old favorite.
How To Find Current Trends On Pinterest
Now that you know what's trending on Pinterest. Let us know how to find trends on Pinterest.
Use your desktop or mobile browser to access Pinterest Trends.
By selecting the directional arrow in the top-left corner, you may see the country's statistics you wish to see.
In the top search bar, type keywords or click on the popular topics below to learn more.
A list of keywords or terms will appear right in front of you. These keywords are the ones that are the original searches on Pinterest related to your niche.
If you do not find an appropriate term or keyword, you can check again within a few days because Pinterest adds new keywords every week.
What Do Pinterest Trends Mean For Your Business?
Pinterest is an influential platform for improving conversions, with more users than Snapchat and nearly four times the amount of purchases as other social networks. It is an altogether different way of social listening that ultimately provides you access to a previously unexplored world of customer data.
If you do your keyword research correctly, a single pin may last for years (unlike other social media sites, where they might vanish in minutes!).
More people are utilizing Pinterest to uncover business ideas and strategies, according to the Pinterest Trends 2021 research. That brings us to the fact that it enables your content to reach a larger audience on Pinterest, allowing them to discover your content.
Socinator- The Social Dominator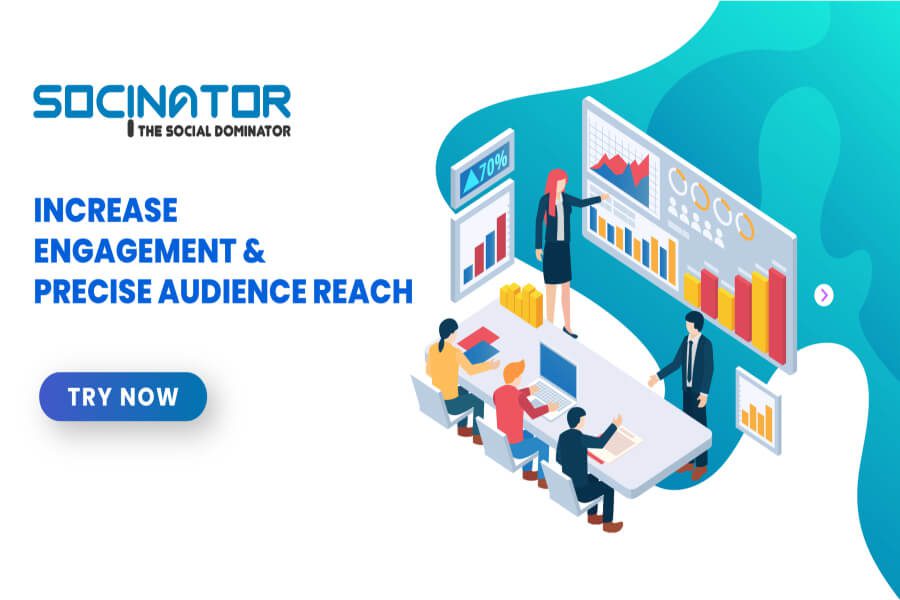 There is no doubt having all the features of Pinterest in one place can be a big deal. Furthermore, tools like Socinator can assist you in so many ways that you can hardly imagine. It has a user-friendly interface, and you can customize its setting for your online needs. Let us head into features to know more:
1- Posting hundreds of pins at a single time will lead you to nowhere. Instead, post them throughout the day using Socinator. The pinDominator can help you schedule your posts efficiently.
2- View your performance with detailed reports and statistics from time to time. It can let you have a better analysis of your marketing strategies.
3- Follow your competitors or other users in your niche using the auto-follow feature of Socinator.
4- Socinator lets you auto-comment on your niche-based pins to get yourself recognized by more people that might like what you have to offer.
5- Pins in your niche are automatically repinned based on keywords, any board URL, user, or specific pins.
If you want to become well-known on Pinterest, turn website visitors into leads, and increase Pinterest followers, the first step is to connect with your followers. The easiest and the simplest way to do this is by using Socintor that will help you get where you want.
Also, check out our latest blogs
Facebook
Lookalike Audiences: Why Is It Important & How To Use It | 07 Best Tips
How To Monitor Employee Internet Usage 
Wrapping It Up:
Pinterest has evolved to become one of the essential social networks for businesses since its inception. Pinterest trends are the most influential factor that boosts your engagement, sales and assists you in building stronger relationships with your target audience.
I hope you enjoyed reading this blog filled with Pinterest trends. If you have any queries or any suggestions, keep them coming. Just drop them down in the comment section given below. I would love to hear them out.