There is a trend going on these days. You seek out your competitor & study their recipe for success for the good of your own campaign. Well! In English, we call them Social Media Monitoring. 
Agencies & brands across the world are desperately looking forward to new ideas & strategies for their social media presence. However, it is a lot rare to find any new techniques. 
By the way, who is not aware of social media marketing these days? Every other person markets himself or his business on top social media platforms like Instagram and Facebook. These days individuals are showcasing their creativity on such platforms and emerging as impactful influencers for others.
Social media monitoring is just as important as social media marketing and strategizing. Unfortunately, that's not the consensus among small businesses.
Many view social monitoring negatively, viewing it as a time-consuming task that doesn't return enough value for the time invested. Monitoring social media can feel arduous, but it's necessary to keep your business competitive in today's market. 
Fortunately, there are plenty of ways you can monitor your competition without much effort on your part. This blog post will explore the benefits of social media monitoring and how you can do it more efficiently.
Tap On The Play Button To Listen To The Podcast:
What is Social Media Monitoring?
Social media monitoring is tracking and analyzing social media content in real time. The goal is to stay informed of your industry's news, discussions, and customer sentiment so that you can respond promptly. Typically, social media monitoring is done by collecting and analyzing data from public social media posts. You can do this manually or with the help of social media monitoring tools, which can save you time and help you focus on other areas of your business.
Why You Should Monitor Your Competition?
Regardless of your industry, keeping an eye on your competitors is smart. It gives you insight into how your competitors are marketing their products and building their brands, allowing you to improve your strategies. 
When you're monitoring your competition, you're looking for ways to improve your own business. You can stay one step ahead of your competition, so watching for new products or services, changes in pricing, and other updates is critical. Monitoring your competition lets you stay on top of your industry's and your niche's current events. 
You can also see what topics are trending, what people are talking about, and how your competitors are responding to these topics and issues. By monitoring your competition, you can more easily stay on top of any new developments that may impact your business. You can quickly identify the most critical topics for your target audience and adjust your strategy accordingly.
Should You Use A Tool Or Do Social Media Search Manually?
You're better off employing an automated tool than attempting to manage jobs manually in the quick-paced world of digital. You might risk missing crucial talks if you handle everything manually, which can quickly become unreliable. Additionally, monitoring every aspect could be more time-consuming. 
So, how about spending time on other tasks rather than banging your head 24×7 and analyzing social activities? 
You can also go for the best free social media monitoring tools to have a basic lookout on how things are working, but it might help you in the long term as you need to monitor activities specifically. Then let's check out some alluring tools.
Tools to Help You Monitor Your Competition on Social Media
Social Media Monitoring Tools – If you're looking for a more hands-off approach to social monitoring, you can use social media monitoring tools, such as Socinator, to track your competition. 
The platforms allow you to set up alerts for your preferred social channels, including Facebook, Instagram, Twitter, and more. You can set these alerts to notify you whenever someone is talking about your industry or using keywords related to your business, allowing you to react in real time. 
Social Media Analytics Tools – If you'd like to understand more about the people you're targeting, you can use social media analytics tools to analyze your competition and find out who is talking about them. These tools allow you to get information about your competitors' most popular posts, what posts receive the most engagement, and what posts bring in the newest followers. This information can help you understand your competitors' strategies and determine the most effective content type. 
Social Media Management Tools – If you'd like to track more than just your competitors, you can use social media management tools to track keywords, topics, and influencers across different social media platforms, including Facebook, Twitter, Instagram, and more. This approach lets you quickly see what's trending in your industry and what your target audience is talking about.
But we think employing all these tools could be heavy on your pocket, isn't it?
Well, we agree.
No need to worry; after a deep comparison and analysis, we have developed software that consists of the workability of all these functionalities, as mentioned earlier— Socinator.
Employ Socinator For All Your Social Media Automation Functions
You can automate direct messages, organize events, plan and schedule posts, follow users, add friends, and get metrics for the bot's performance by using Socinator. You can get started right away, and the fee is relatively reasonable. Typically, the social media site in question will dictate the feature supported.
Sure the benefits that the Socinator offers keep some users utilizing it. You can think of the features as the automation bot's advantages. 
Socinator is an effective tool that uses cutting-edge algorithms to enable you to manage all of your accounts simultaneously and give you total control over your online actions.
It offers comprehensive data and analytics on all the activity on your social media accounts, which you can utilize to understand your marketing strategy better.
Now let us check what you can monitor to exponentially empower your social media presence.
Monitor for Keywords and Language Usage
One way to monitor your competition on social media is to track keywords and language usage. You can use a free tool for essential monitoring and see which keywords are most popular in your industry and how much they have increased or decreased in popularity. 
Keyword monitoring can help you understand which keywords are most important to your audience and which are losing popularity. You can also use social media monitoring tools to track language and word usage. It lets you see how your audience is talking about a specific topic. 
It can also help you better understand their frustrations, interests, and other emotions surrounding the issues they're discussing. Moreover, you can also create compelling content for your social media channels and target your audience.
Monitor For Behavior and Sentiment
Another way you can monitor your competition on social media is by tracking behavior and sentiment. You can use social media analytics tools to look at purchasing patterns, how often people engage with your competitors' posts, and how many new followers are joining their pages. 
You can also use social media monitoring tools to track how people feel about a specific topic or event. 
For example, if a hurricane were to hit your area, you would want to know how your customers and potential customers are feeling about it. Monitoring social media allows you to understand their concerns and how they feel your company could help them.
Two more reasons to monitor your competition with social media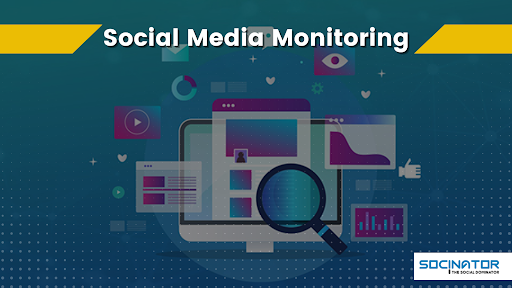 Research Solutions – Social media monitoring tools allow you to research your industry. You can track keywords, find out what people are talking about, and determine the most critical issues for your target audience. This information can help you create compelling content and determine the most appropriate times to publish content. 
Lead Generation – With social media monitoring, you can track your competitors' most popular posts and the number of likes and shares they receive. It allows you to quickly discover what types of posts are most effective for your competitors, helping you mimic their strategies and bring in new leads.
Read Our Latest Blog To Stay Updated!

Advance Your Business With The Best Youtube Marketing Software

Conclusion
We believe you have understood how monitoring social media is a worthwhile step for your marketing. By now, you must have realized social media monitoring and analytics tools are essential for social media strategies. 
Additionally, you should be aware that social media monitoring and the search will progressively assist you if you consistently use them.
You may monitor behavior and sentiment, keep an eye on language and term usage, and keep tabs on which postings get the most interaction.