Reddit is no doubt one of the biggest social media sites we have today. In fact, it is one of those platforms where you can target people very niche-specifically. Millions of online communities are on it, which share their thousands of business ideas on a daily basis. Due to which, competition is somewhat, increasing on Reddit. 
However, if you have some mantras up your sleeve for doing well on the Reddit marketing realm, then nothing is impossible. No wonder, Reddit is not one of the conventional social media platforms like Facebook and Instagram. It is more of a niche-oriented hub. Where professionals, believers, and all kinds of people share their views, opinions, and ideas on subreddits: niche-specific forums on Reddit.
Click The Play Button-
So, how can Reddit help you in 2020 regarding your business? Have you ever thought about it? Or is it your first? I know some of you don't consider Reddit much as of Instagram, Facebook, Twitter, LinkedIn, and stuff. But, frankly, excluding Reddit for your business marketing is a big mistake. Here's why!
Reddit's monthly active users are 330 million that reportedly surpassed the total monthly active users of Twitter. Also, Reddit helps you to contact potential customers to your business not based on salesy content. But, purely as per relevance, that's, of course, the key to success.
So, considering all this, I definitely vouch for Reddit as one of the potential platforms for businesses in 2020. But, as I mentioned above, competition is really invading on Reddit with time. That's why, in this blog post, I'm going to share with you a complete guide concerning how you can master content posting tactics on Reddit. I hope after reading this blog, all your concerns regarding how to post on Reddit put to rest once for all.
Hence, are you ready? If so, then let's start!
But, before digging deeper into this topic, let's first learn how to post images on Reddit. 
You Can Also Read: 

How To Post Images On Reddit?
If you're new to Reddit, then I'm sure you don't know how to post images on Reddit. As you cannot directly upload pictures on your Reddit website from your computer picture gallery. So, here're steps that you have to follow for this-
Step 1: Visit the website Imgur (http://imgur.com).
Step 2: Upload your image on it (you can also drag and drop).
Step 3: Copy the image URL.
Step 4: Now, go to your Reddit website.
Step 5: Create a new post and paste that image URL here.
Now, you're good to go! This way, you can post images on Reddit in a matter of just a few seconds.
Beginner's Guide To Reddit Posting:
So, other than images, if we talk in an overall manner, there are two main types of content found on Reddit.
The first type, content that directs towards something outside the periphery of Reddit. The second one, the types of content that direct to something within the Reddit realm.
If you simply want to post a link to some other website, then you have to select the "Submit a new link" button. Where, you can add a link to some video, image, or anything you want to post. Then, you have to go to the option "Choose where to post" and select whether you want your post to appear on your profile or some subreddit.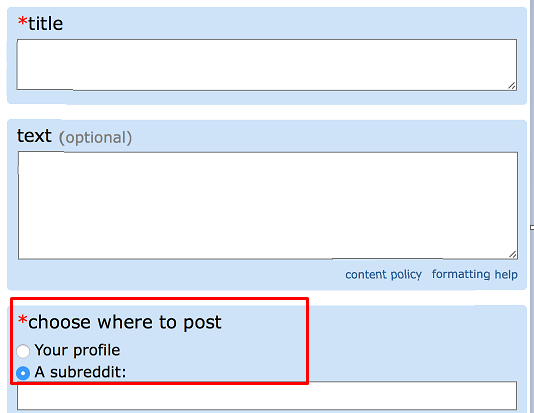 Besides, if you want to post some original content on Reddit, then you have to choose "Submit a new text post." Next, you have to fill out all the asked information, including title, text, and the subreddit.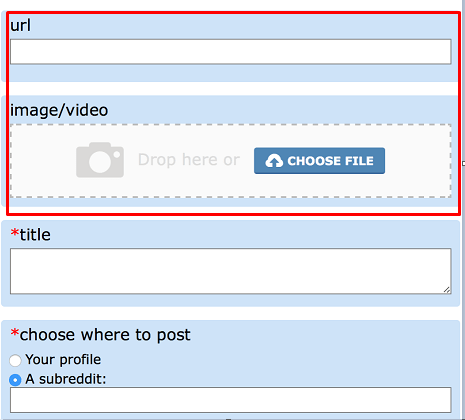 That way, you can successfully post anything on Reddit. But, always remember, Reddit only supports engaging and quality content. In case, if it finds your content irrelevant or something offensive, it can take some action. So, be careful. And, to make sure you're on the safe road, prefer reading the guidelines of subreddits, at which you want to post your content. So, you don't break the rules and regulations of dedicated online communities.
Here's How Socinator Can Help You Auto-Publish Your Content On Reddit?
Before getting into this, let me introduce you to Socinator: an all-in-one social media management software. By using it, you can manage and automate your social media activities for platforms like Facebook, Instagram, Reddit, Quora, LinkedIn, Pinterest, Twitter, and YouTube. 
So, now, we see how you can implement auto-publish features on Reddit using Socinator. 
Step 1: Sign up/login into your Socinator account.
If you're new to Socinator, then, of course, first, you have to go through the Signup process. 
And, if you already have an account on Socinator, then you can simply login into your dashboard.
Step 2: Go to the "Create Campaign" option given at the right top of your dashboard.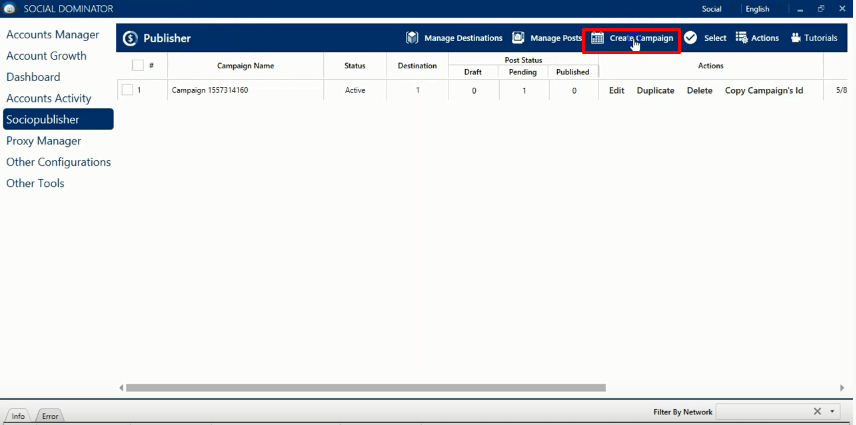 Step 3: Next, you can give the unique name for your campaign or go with the preset campaign name.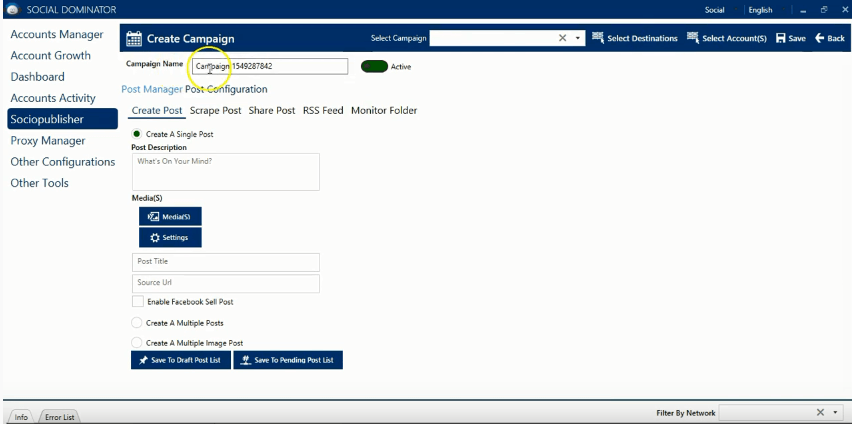 Step 4: Select the option "Create a single post." Accordingly, give the post description, attach media file, and so on.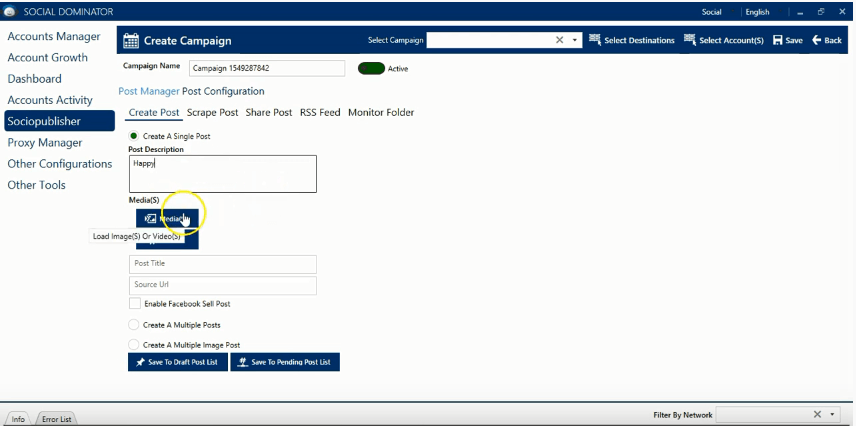 Step 5: Go to the "Settings" option given right below the media alternative. First, pick the platform for which you want to run a campaign like here's Reddit. Now, you have to set the post settings. Tick mark the box that you want to reflect in your auto-post function on Reddit. Like, there're options, like, not for work, original content, spoiler, and disable sending replies. Choose accordingly and save the changes made.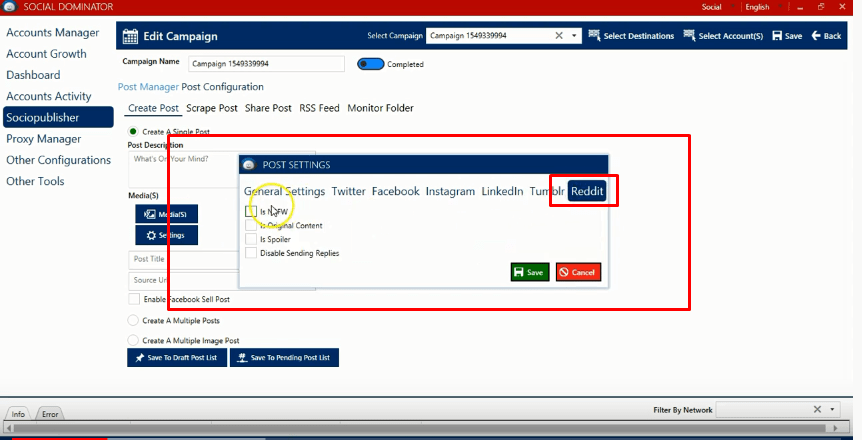 Step 6: Next, if you want to implement all these auto-publish functionalities for multiple posts, then select the "Multiple posts" alternative. And, according to that, give the post description and other requested data. Here, you can also upload content URL. For example, if you want to automate image posting on Reddit, then simply you have to paste the image URL in the box "Upload from URL," and that's it.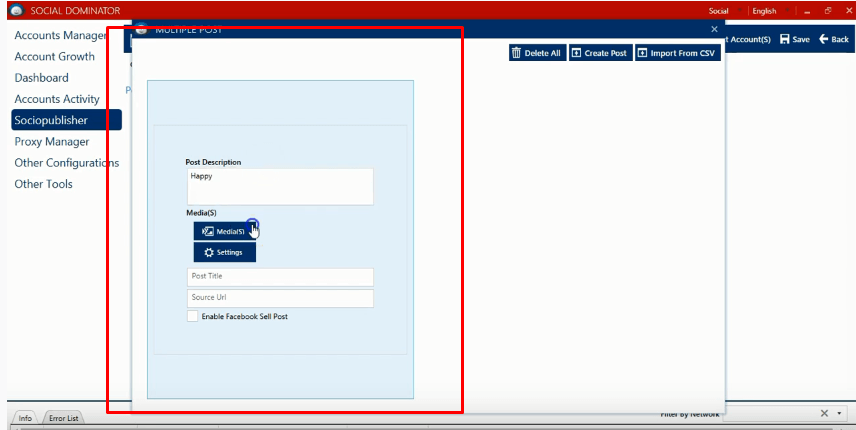 Step 7: Now, there's a "Share post" tab, where you can implement post sharing from a custom post list.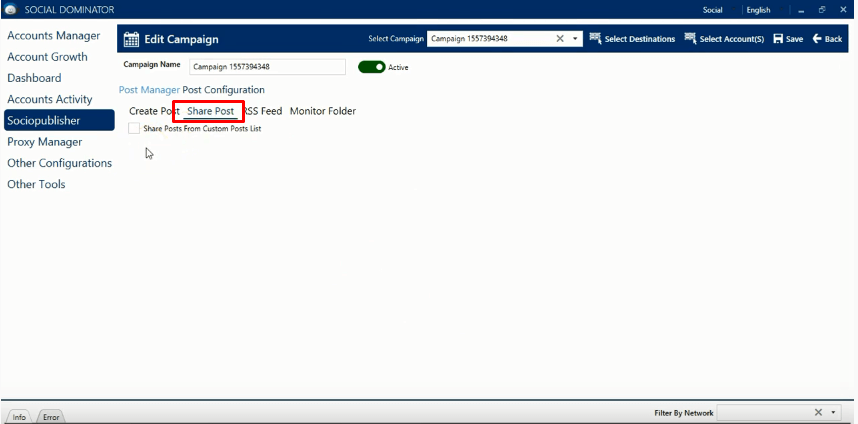 Step 8: Next up, there's an "RSS feed" window that allows you to create posts from RSS feed and post the same to assign destination. Here, you have to give feed details, feed URL, feed description, and feed publish date. Lastly, click on the "Save feed URL."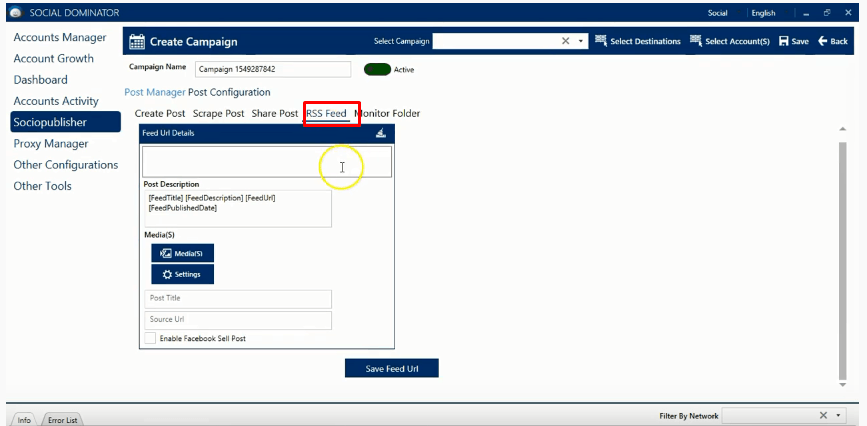 Step 9: Now, there's a "Monitor folder" tab. According to it, you can monitor the folder path. Accordingly, implementing the settings here and that's about it.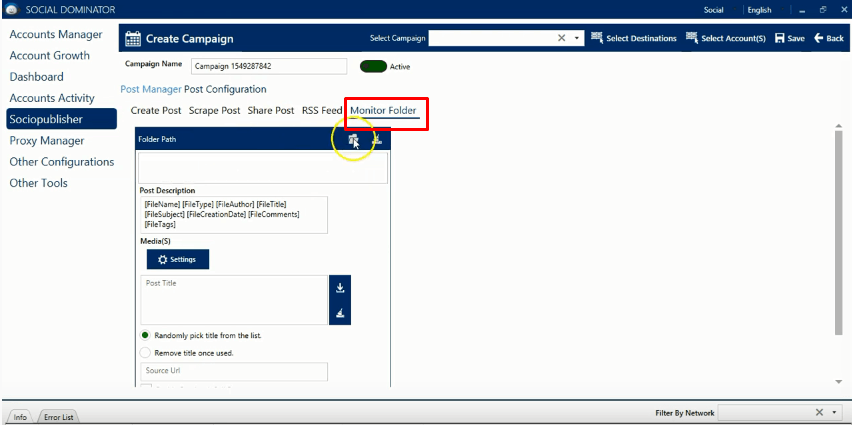 After all this, it's time to advance Reddit auto settings on Sociopublisher.
Step 10: Go to the "Edit campaign"> "Post configurations."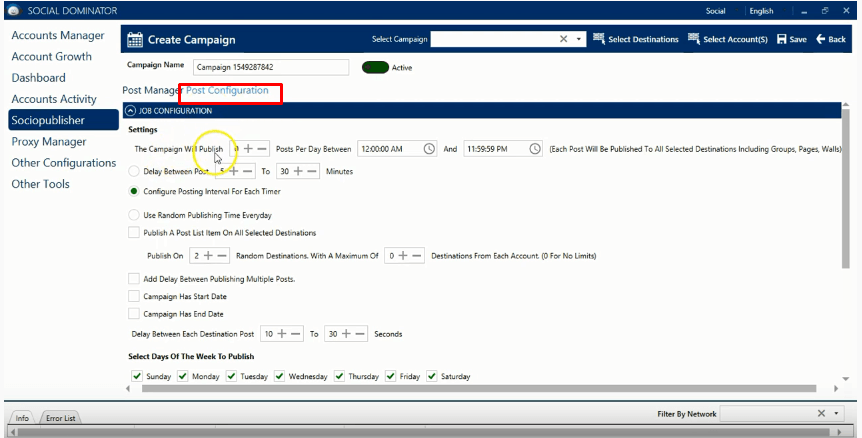 Here, you have to decide how and when the Socinator tool will execute the Sociopublisher actions. 
Accordingly, the user has to set the given advanced setting attributes. Again, select Reddit as your targeted platform for this campaign and click the "Save" button.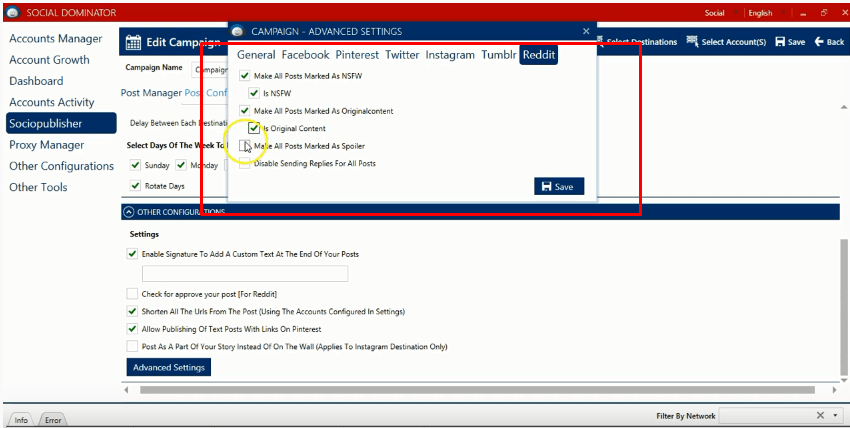 Step 11: Now, go to the "Select destinations" alternative given at the top of the screen and pick your desired destination.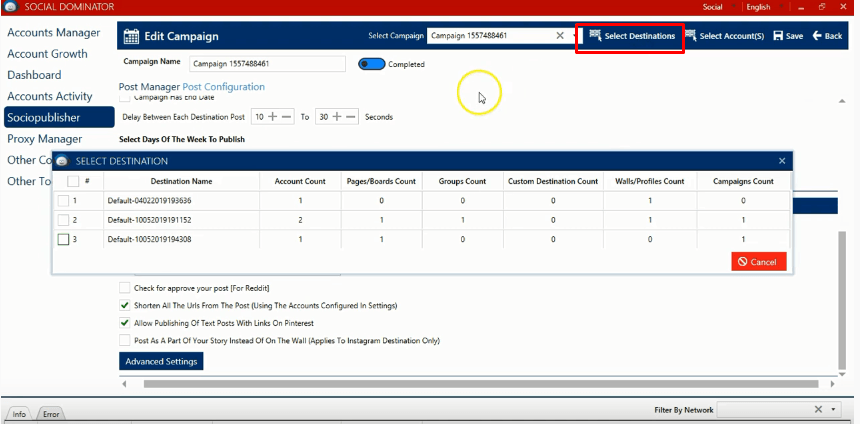 Step 12: After this, visit the "Select accounts" option. Here, you have to choose Reddit.
Next, you can also select different Groups to create new destinations.
Also, here, you can add different wall profiles of Reddit.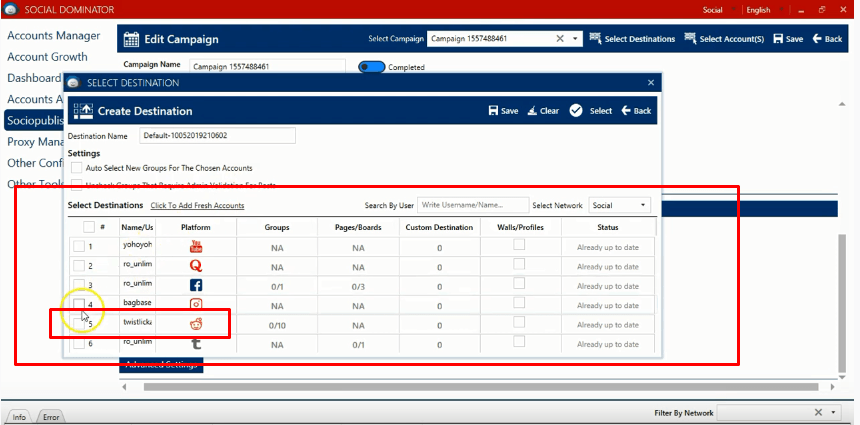 Step 13: Lastly, click the "Save" button given at the right top of your Edit campaign tab.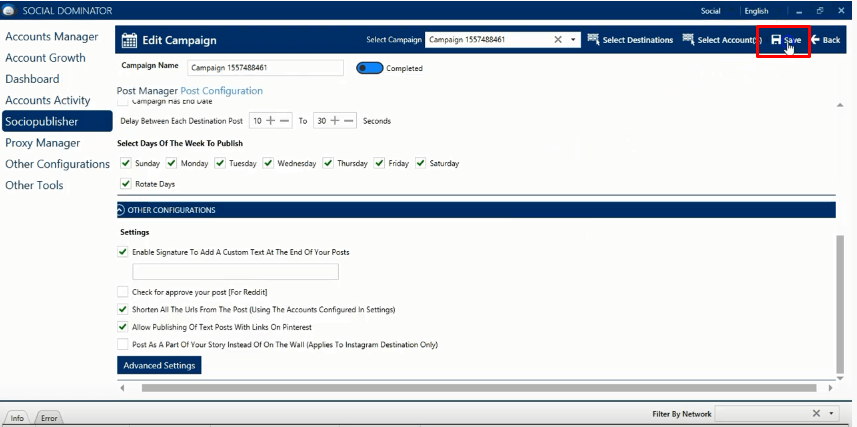 So, according to this, you can automate your posting endeavors for Reddit using Socinator.
Main Characteristics Of Reddit That Affects Your Posting Directly:
Subreddits-
As we all know, subreddits are nothing but the online communities dedicated to particular subjects on Reddit. They get denoted by /r/ prefixed by the subreddit's name. For example, if you want to post something related to fitness on Reddit, then you have to look for /r/fitness subreddits on this platform. While posting on this social media site, selecting appropriate subreddit for your post is very critical. 
Karma Points-
It's another most crucial attribute of Reddit. Karma points are the reward points you get whenever users upvote your content on Reddit. It helps you to know how well your content is performing on the platform. Other than this, Karma points also get considered in some of the online communities. For posting on some subreddits, they ask you to have specific karma points. So, if you will have below the demanded range, then you will not be allowed to post. 
Reddiquettes-
Yes, you heard it right. The combination of Reddit+etiquettes= Reddiquettes. Every social media hub follows some rules and regulations. That's very vital for users to follow. You cannot disregard them if you want to gain credibility for your business. Reddit also follows some set of ethics that you should look after inside out. Here're the three main don'ts for Reddit-
Don't talk about yourself only- 
It is one of the main things you have to look after on Reddit. You are on this platform for your business, but also to make connections. And, connections can't be built if you're only self-promoting yourself all the time. You have to provide users with insightful content that can help them to improve in their respective fields.
Don't submit Irrelevance content-
As we all understand, Reddit is for people who want to come in touch with niche-oriented communities for their business. Also, subreddits play a significant role in categorizing your content according to the relevancy parameter. That's why the submission of irrelevant content across the subreddits can push Reddit to ban your account.
Don't overtly plead to users-
Most often, people on Reddit start asking other users to upvote their content. Sorry, but if you're here to plead overtly, then this is not the right place for you, because Reddit bans the accounts that regularly send comments in subreddits to upvote their content. You have to make your place with good content on Reddit. Besides this, there's no chance of your surviving on this social media site.
So, these were some of the main attributes that directly affect your content performance on Reddit. Make sure to follow them!
Related Posts:
How To Grow Your Business On Reddit From Scratch?
Final Verdict:
Reddit is becoming a prominent hub for businesses that are super specific about their niche. And, according to researchers, 2020 is all about understanding your buyer intent. So, think about it, which social media site better than Reddit can help you achieve this. If you have fantastic content to offer as a business community, then Reddit is for you.
By considering all the information mentioned in the above blog, you'll definitely be able to fill a potent place on Reddit. 
Did I miss something important regarding how to post on Reddit?
Do you want to ask more about Socinator concerning how to post images on Reddit?
If yes, then go for it. Feel free to ask us anything. We'll love to help you out.