(an updated version of 2022)
We all have been binge-watching Youtube, and content becomes the best time pass and a savior for our most problems. Most of us like to search on YouTube for most of our answers. Whether it's the craved music or craving some special dish and wanting the perfect recipe, YouTube has everything to the highest point. 
That makes YouTube marketing a perfect choice for most marketers and advertisers, not because it has answers to every question but because of its 2 billion active users every month. Don't forget the amount of time each user invests in the platform.
YouTube is a famous entertaining channel and yet a powerful and ironic tool. It makes YouTube the second largest search engine after Google and adds to its social media platform. This article will discover every aspect of YouTube marketing and how to achieve its milestone in 2022. 
Jumping the article with the benefits of YouTube marketing and what strategies can assist in getting the peak of the success ma
rketing and what strategies can actually assist in getting the peak of the success. 
What is YouTube Marketing and How Beneficial It Is for the Succession of Businesses?
In technical terms, YouTube marketing is a strategy that involves creating videos and content to promote the brands or products to gain exposure. To enhance the brand awareness, reach new audiences, attract more leads, and more. 
YouTube marketing is the favorite strategy for businesses or brands due to its audience and the high count of active users, and it's proven to be cheaper than paid Facebook advertising. 
YouTube Marketing is beneficial in numerous ways, and here we are discussing some of the benefits of Youtube marketing ;
Marketing on YouTube will assist you in seeing on Google
Utilizing YouTube as part of your marketing strategy for the business will automatically increase the authority and generosity of your website. The more authoritative your website is in Google's eyes, the higher your pages will rank in the search results. 
In YouTube marketing, your content never Perishes
Using YouTube for business can assist you in repurposing content without spending a lot of time. Repurposing content is an effective form of content marketing, as it reaches the audience who loves them.
Grow your audience worldwide 
One of the tremendous benefits of using YouTube for business is growing your audience worldwide. Consistently, creating the video content welcomes new visitors to your business any other way. 
Build your email list on YouTube 
Another tremendous reason to market on YouTube for business is the ability to build your email list to provide valuable, engaging content. 
Target audience with AdWords for video 
One of the most prominent advantages of AdWords for video is that you have to pay for engaged views. Also, it can grow your audience through earned views. You can laser-target focused access to your audience by advertising on videos that your audience is more likely to watch and seek.
Now YouTube lets you earn some extra bucks also. Creating regular video content will acquire some money directly from the videos through Google's Adsense for the video program. 
To reap the most benefits from Youtube marketing for any business, we have extracted some of the best and well-researched marketing strategies that will serve you in 2022. So without any further delay, let us jump into our segment; 
 05  Tactics To Nail YouTube Marketing Strategies In 2022 ( that works)
Timing! Timing! Timing!
In Social media marketing, timing is the most crucial strategy to reap the most benefits because, like any other social media channel, analyzing and investing the best time to post on youtube makes sure the content you are uploading will get more eyes and get the utmost reactions. So when is the best time to post on YouTube?
What time is the best time to post on YouTube?
According to studies and research have done, some of the best times to post on YouTube are; 
The best day to post on YouTube is Sunday and the
best time to post on YouTube is between 9 AM to 11 AM. 
–
Thursdays, Fridays, and Saturdays
are yet another best days to post on YouTube 
And some more best times to post on YouTube to skyrocket your businesses are; 
Monday – 2- 4PM 

Tuesday- 2-4 PM

Wednesdays- 2-4 PM 

Thursday -3 PM

Friday – 3 PM 

Saturday -9AM-11AM 

Sunday 9 AM- 11 AM
Now after the best time to post on YouTube, here comes the timing that is worst to post on Youtube, and you don't want to mess up your content by posting at the wrong time; 
Technically, YouTube doesn't like posting done in the early mornings and late evenings. Because most of the users either get ready to kick start the mornings or doze off from hectic working hours. 

So the worst times to post on Youtube on average is in the morning, like 9 AM or late after 5 PM. 

When strategizing YouTube marketing, timing is the prominent factor that helps your content reach the targeted audience. 

Analyzing when your content is getting the most desired traffic is the best time to post on Youtube to get your desired outcomes. 

Posting and automating the content on social media at the right time is one of the best tactics to make your social media marketing plans go whoossshhhh!
One software has precisely designed features for all social media marketers under one roof. With budget-friendly pricing plans with easy automation for all marketers to let you manage and monitor social media accounts to grow organically, Investing in such social media management software makes the task much more comfortable yet manageable. 
Investing in such social media management software makes the task much  comfortable yet manageable. One of the software that has precisely designed features for all social media marketers under one roof. With budget friendly pricing plans with easy automation for all marketers to let you manage and monitor social media accounts to grow organically. 
Socinator – The Social Dominator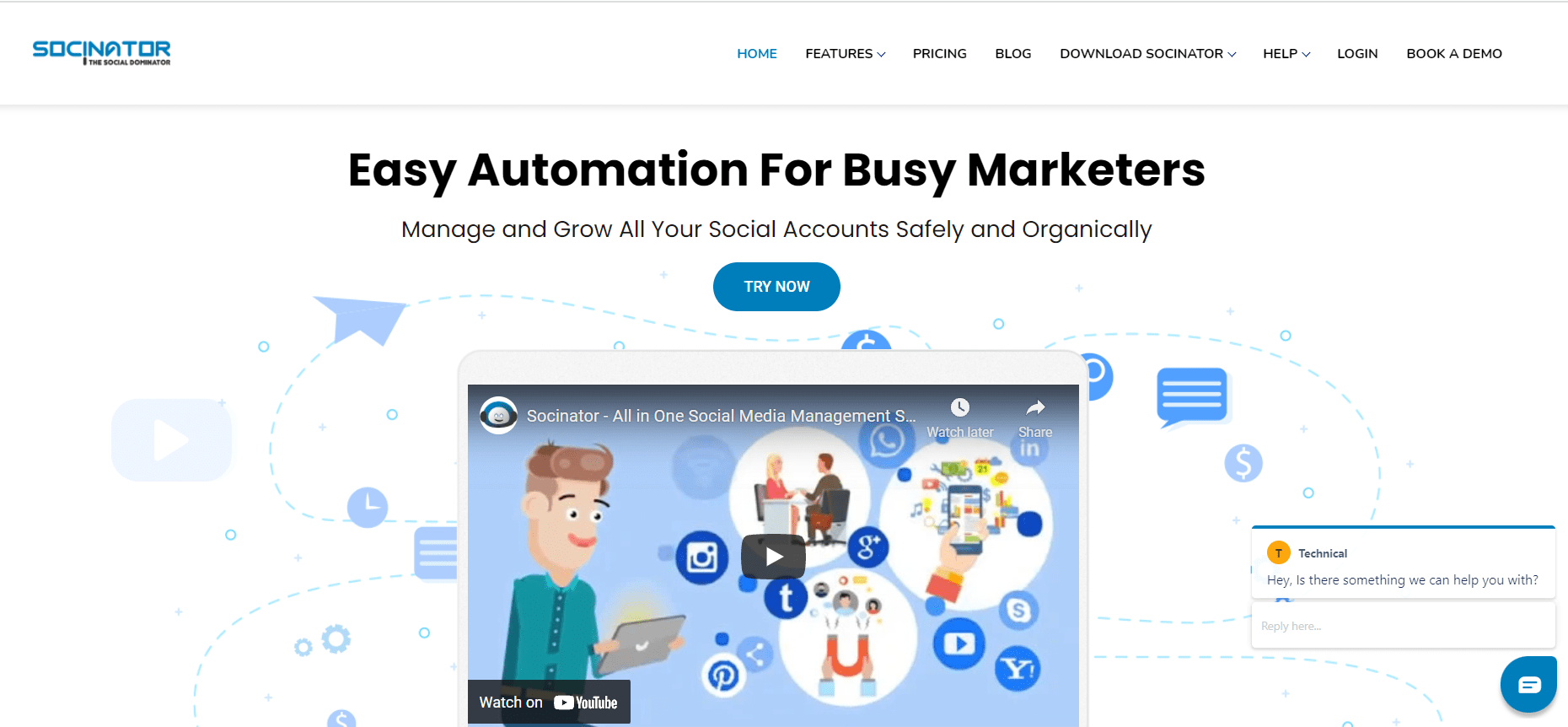 With efficient automation in all social media platforms like Facebook, Instagram, Reddit, YouTube, Quora, LinkedIn, Reddit, and Pinterest, Socinator makes a good choice for marketers and advertisers. 
Socinator has all the designed and precise features for each social media platform, like; 
Features for YouTube Marketing ; 
Activity Statistics And Reports
View all the reports and statistics from time to time for the activities performed with your accounts, which can help you better analyze your marketing strategies. Gain insights on all the essential aspects of your YouTube channel.
Auto Subscribe
Add subscribers to your YouTube channel by creating an automatic subscription link. It will help you to increase the number of subscribers to your medium. 
Auto Like Videos
It gets mass auto likes on videos using multiple accounts.
Auto-Watch Videos
Increase views of your videos using different IPs and Proxy automatically.
Auto Comment On Videos
Post mass comments or replies using multiple accounts and spinning text mode.
Efficient Account Management
Streamline Account Management. This excellent software will let you manage multiple YouTube accounts and channels more intelligently.
Spin Syntax Support
You can customize all your videos with Spintax. This feature is a significant time-saver and will help you look more authentic at the same time.
Filter Support
Powerful filters help you grow your YouTube channel only with the targeted audience, increasing your chance of getting higher conversions, more views, loads of comments, and more money.
To know more about Socinator's YouTube automating posting feature, watch the YouTube video. Click
here.
Promote Your Videos
Like it's very paramount to comprehend the best time to post on YouTube. Simultaneously, it is significant to promote your content across several social media platforms. Sharing is the half part of promoting the video on YouTube. Adding relevant keywords to the title, encouraging the subscribers to hit the notification button, adding the proper hashtags, and scheduling the email to notify the users that you've uploaded new content are excellent methods to promote your channels.
Also, automating your response to the notification or comment can make your presence on YouTube more ironic. This way, you can respond to your subscriber's feedback and responses. 
Socinator's auto liking and commenting features make this task more leisurely with the massive posting of likes, comments, and replies to the words.
Count the Success Metrics
Once you are done with uploading the content, track and analyze the necessary metrics and parameters to track the progress. So that you will know what content your audience is enjoying watching, and what is a strict no ! no!
The data and information you will get will assist you in creating the content further, studying the traffic sources, audience demographics, and the graphs of subscribers. 
Analyzing and investigating the metrics of YouTube can improve your content so that next time your content will reach more audiences and meet their needs. 
Research Your Target Audience
Before creating the content, you need to analyze YouTube demographics. Explore the location, age, and viewing preference to meet the necessities of audiences. Research and scrutinize what your audience needs and likes to watch so that you can create valuable content.
Upload Content to your Channel 
Create and schedule to upload your videos in time, and viewers will get notified the new episodes are available. Check the best time to post on YouTube to get the highest level of engagement and views.
These tactics ensure to nail the YouTube marketing in 2022 and provide the best time to post on YouTube, which widens the audience reach and awareness of the brand. Automate and schedule your YouTube content accordingly to get the right audience.
YouTube marketing depends on the timings, quality of content, and analyzing the success of metrics and whether the content is serving the desired outcomes. 
With Socinator, automate and schedule content all over social media platforms, and each specifically designed feature enables better marketing approaches. So, why the hassle of managing every account when you can effortlessly manage them under one roof. 
Try Socinator today !