The world of social media marketing has changed a lot since its inception. The late 2000s and early 2010s saw the birth of Facebook, YouTube, Twitter, Instagram, and Pinterest, but those platforms have only grown more sophisticated in the past decade. As the algorithms of these sites have gotten better at surfacing relevant content for users according to their interests and preferences, marketers have had to get better at designing and implementing new marketing ideas that would be noticeable and profitable.
And though not every social media campaign can reach the heights of the Ice Bucket Challenge, you can continue experimenting with new and different marketing campaign ideas to help stand out from the rest of your competitors.
Without a solid social media marketing strategy, it is impossible to succeed in today's marketing environment.
But where do you start? How do you know what to do to ensure your social media marketing success? There are so many creative ideas out there that it can be hard to know where to begin. So, without further ado, let's get right into the various social media marketing ideas you'll need to succeed in 2022.
Top 11 Social Marketing Ideas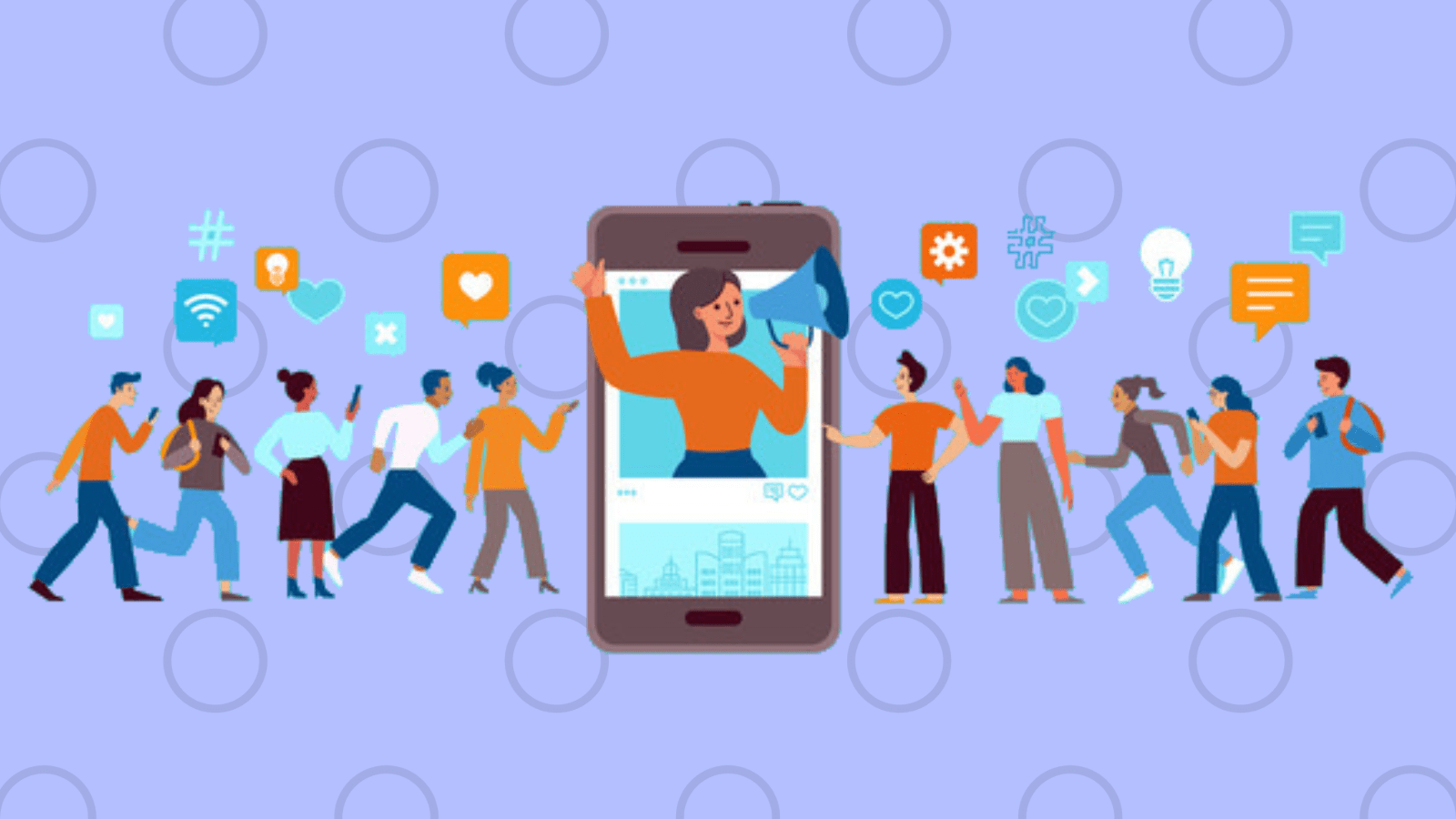 Every social media marketing idea you come across will be different, so you'll have to choose the ones that best suit your goals. No matter what social media marketing campaign ideas you choose, your ultimate goal should be to build an audience for your business. Following are the top social media marketing ideas that you need to try. 
Highlight Happy Customers
The best brand ambassadors for your business are your current customers. You can spotlight happy customers who have used your product or service by liking or sharing their social media posts.
Not only does this save you time (and brainpower), it helps build a community around your brand. If you have an authentic connection with your customers, they'll enjoy seeing their photos featured on your page.
Host Giveaways
A giveaway is a fantastic social media advertising tactic as people love receiving freebies and discounts. You can run many different types of social media giveaway competitions, from the straightforward "like and comment to enter" to those that need users to share your post, tag someone, finish a form on a landing page, and so forth.
Go Live
The most effective method to advertise your events is through social media. However, your advertising shouldn't end on the day of the event. Instead, think about using social media to stream live segments of the event. As a result, the event will attract more attention, attendees will be more engaged, and those unable to attend will benefit.
Post Offers And Discounts
In addition to your integrated marketing campaign plan, you can also promote deals and discounts on social media. Discounts can help you increase brand recognition and draw in new customers who may not have previously utilized your goods or services.
Now, publishing deals and discounts implies you are running advertising, and the limitless social media metrics need to be tracked and analyzed. This can be a complex process. Socinator, on the other hand, has you covered.
Socinator is a social media automation and management program that automates all of your social media platforms. But more on it later. 
Get Into Influencer Marketing
There are claims that influencer marketing is dishonest, and occasionally it is. However, when done correctly, influencer marketing is the most sincere kind of digital advertising currently accessible. For example, 55% of Instagram users have purchased clothing as a result of seeing it on influencers. As a result, you should consider setting up a social media influencers giveaway campaign.
Produce Behind The Scenes (BTS) Content
One of the most acceptable ways to connect with your audience is to include behind-the-scenes content in your interactions with your audience. By giving clients a peek behind the scenes, you can educate them on your current standings, highlight your staff, and establish an emotional connection that keeps you in the public view. Behind-the-scenes films may help you show off your personality and diversity in your content in any social media campaign.
Holiday Sales
You can use your social media profiles to promote a holiday sale, a Halloween contest, Diwali promotions, or the sale of holiday-related merchandise such as ornaments and gifts. Even if it isn't the holiday season, recent events may serve as inspiration for your innovation marketing ideas. Remember that nothing you post on social media happens in a vacuum. They should be current and relevant since they occur in the real world.
Stay On Top Of Popular Trends
It's critical to remember that when you're brainstorming social media campaign ideas at a marketing meeting, the world is still moving. Consider the trends of today and follow them. Look for popular hashtags and trends to join if you want to give your posts some individuality. Customers want to know that the companies they follow are up to date, which helps strengthen your bond with them.
Create Buzz For Your Product Releases
Before releasing a product, service, or event, develop a social media plan to create buzz. Customers will be interested in your products if you give them sneak peeks or hold contests to learn more about them.
Find New Ways To Engage With Audiences
Be a pioneer in implementing b2b marketing ideas on a new social media platform. These advertisements are more likely to be seen by your target audience because the sites haven't yet developed sophisticated algorithms. Additionally, you should constantly search for fresh ways to engage your audience and discover more about them.
Include CTA's In Your Post
A CTA will increase the click-through rate (CTR), engagement, and effectiveness of your social media marketing campaign ideas. Include a CTA in every social media post you make to increase interaction and engagement. CTAs might be as easy as inviting users to join up, subscribe, learn more, or leave a comment. 
Mentioned above are some intriguing and distinctive marketing ideas that you can try to make your social media marketing journey successful.
Social marketing often entails providing high-quality material that engages followers, analyzing the outcomes, and running social media ads. However, social marketing can be challenging, and it is often impossible to monitor and assess each platform and how they function.
But don't be concerned. Remember how we talked about Socinator earlier? Let us now look at how Socinator can assist you in managing and automating your social media marketing.
Social Marketing With Socinator: The Social Dominator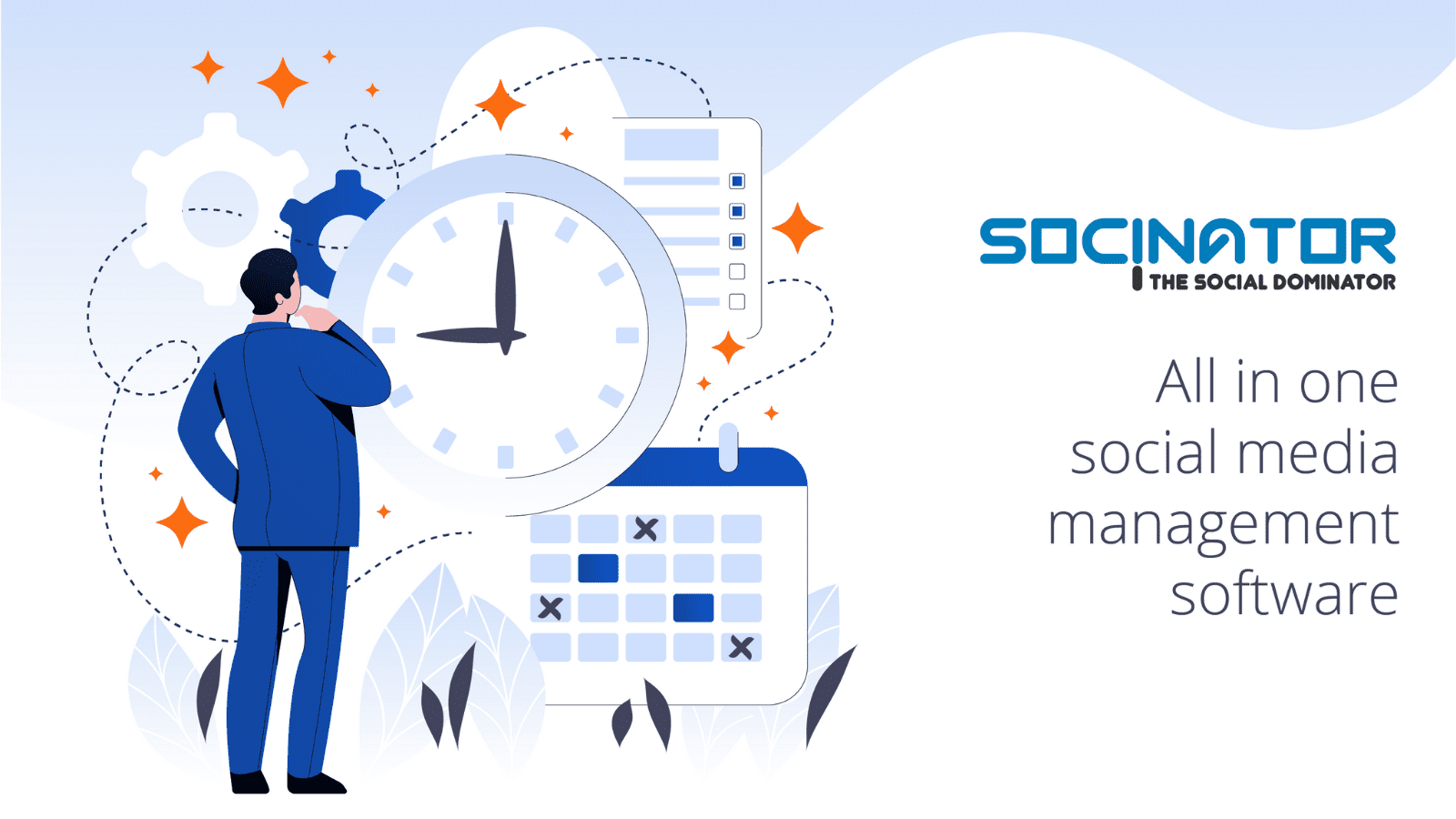 Socianator is an excellent social media management and automation software. With its industry-leading functionality, you may organically and safely expand your social media handles. Socinator automates over nine websites, including Facebook, Instagram, Twitter, YouTube, LinkedIn, Quora, and Pinterest.
Socinator allows you to publish to all platforms by merging your accounts from various networks into a single application, saving you time every day. You can also ensure that your approach is consistent across social media platforms by concurrently releasing the same material to many accounts.
Auto-publishing articles from RSS feeds, auto-shortening URLs, auto-captcha verification, and activity reports are just a few of the features offered by Socinator. It also provides integrated browsers for each network, detailed analytics, and growth indicators, allowing you to evaluate social interaction data to understand who is connecting to your content from where and how frequently.
Depending on the automation needs, Socinator can be utilized in the following two modes- 
Normal Mode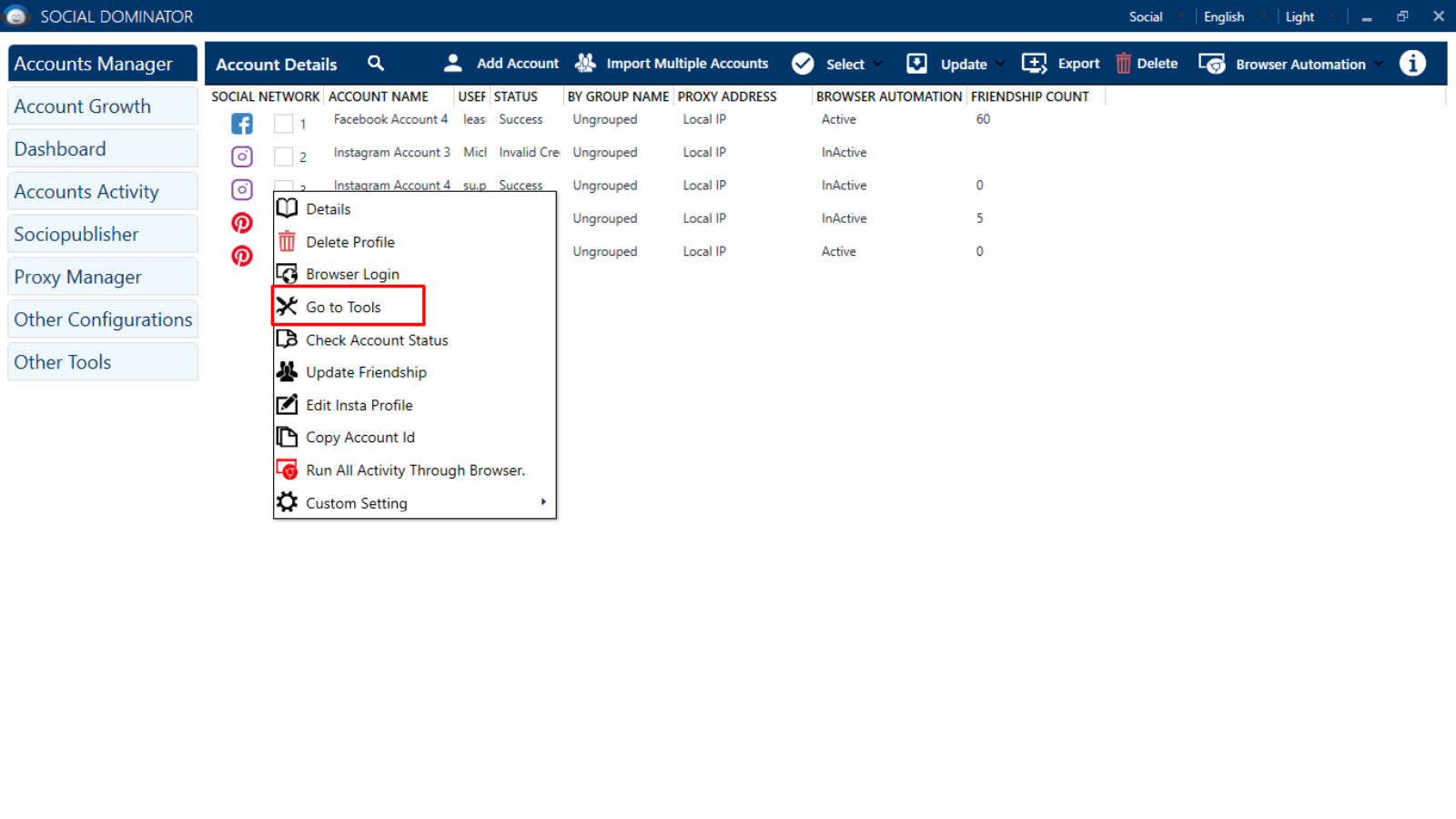 Using the Normal option, you can customize the individual activities for each social media account. 
For example, five Instagram accounts have been added to the program. With this feature, each activity for each account can be customized separately, such as different search phrases, job settings, filters, and so on. Furthermore, each worker will do the duties separately. In Socinator, you may learn more about Job Configuration and Search Queries.
In this mode, you can view each platform's independent report. It also displays the program's lifetime activities from that account, regardless of whether they are in campaign mode or normal mode.
Campaign Mode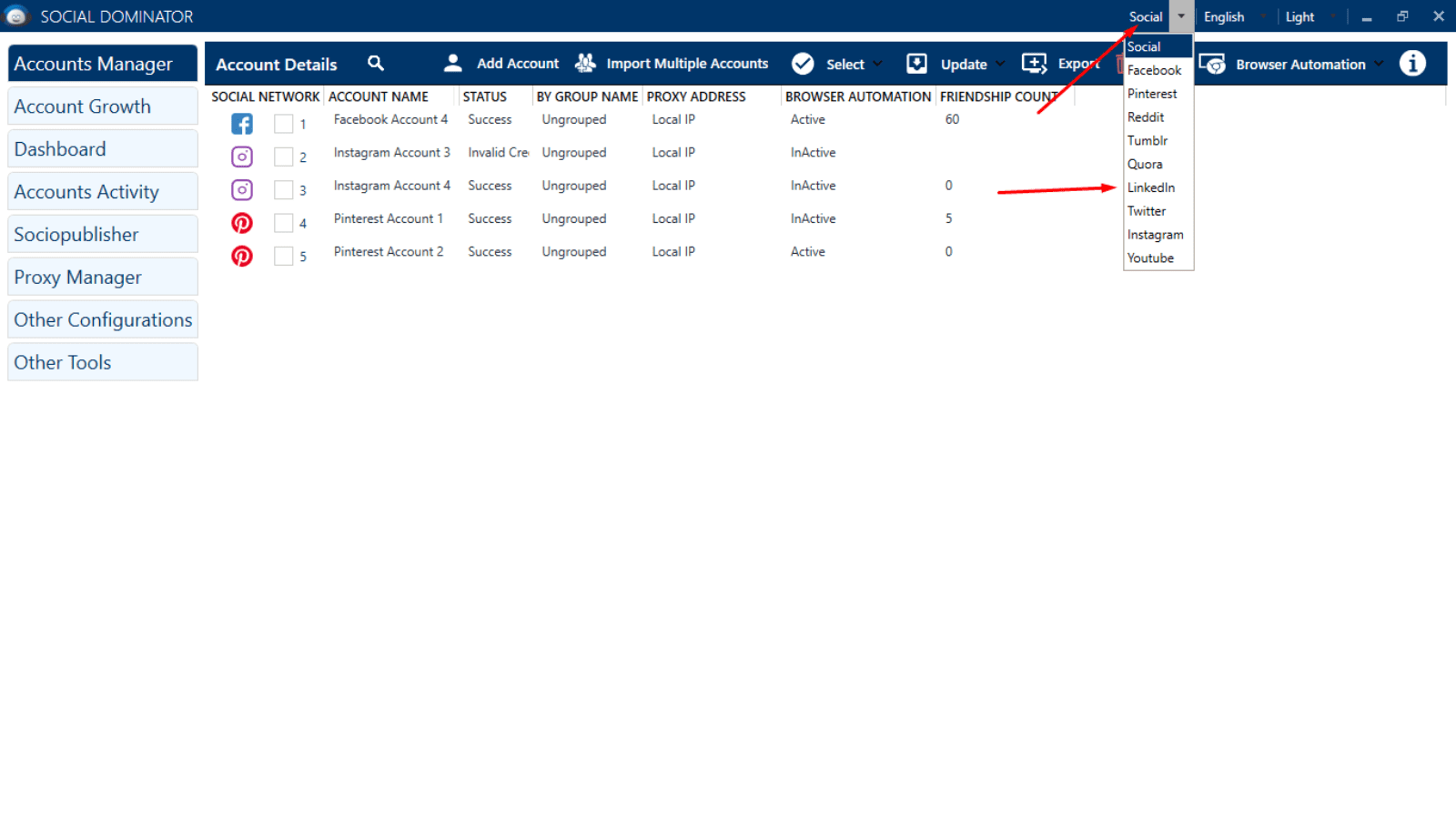 This option helps configure activities for a group of accounts. 
Once established they will share the same configuration parameters.
For example, five Instagram accounts have been added to the program. Each activity can be configured for any of the five accounts or a single account. Filtering, task settings, and search queries are some possibilities. Furthermore, all assigned accounts will do the job under the same conditions
In this mode, you can view an aggregated report of all the accounts for certain campaign activities. Reports are only generated for an account while in campaign mode; if the account is later taken out of campaign mode and switched to Normal mode, the following activities will only be displayed in Normal mode reports.
Read More
Conclusion- Marketing Ideas
Social media marketing has benefits beyond merely boosting visibility and site traffic. It gives your company a personality that customers in your target market can relate to and connect with on a deeper level.
On Social media, you can express yourself, show off your marketing ideas, share important information, and help others through social media. People would automatically follow you and promote your work, so you wouldn't need to pitch. By employing the strategies mentioned above, you'll accomplish all the intangibles of your commercial objectives.